Do you love making salmon, but hate waiting for it to thaw? This Easy Frozen Salmon in the Air Fryer recipe won't keep you waiting! This recipe is delicious and super easy to follow. It takes under 20 minutes to make. We love it so much that it has become a staple in our house. We use it every week for meal prep. The dijon mustard combined with the lemon juice as some nice flavor without too much kick!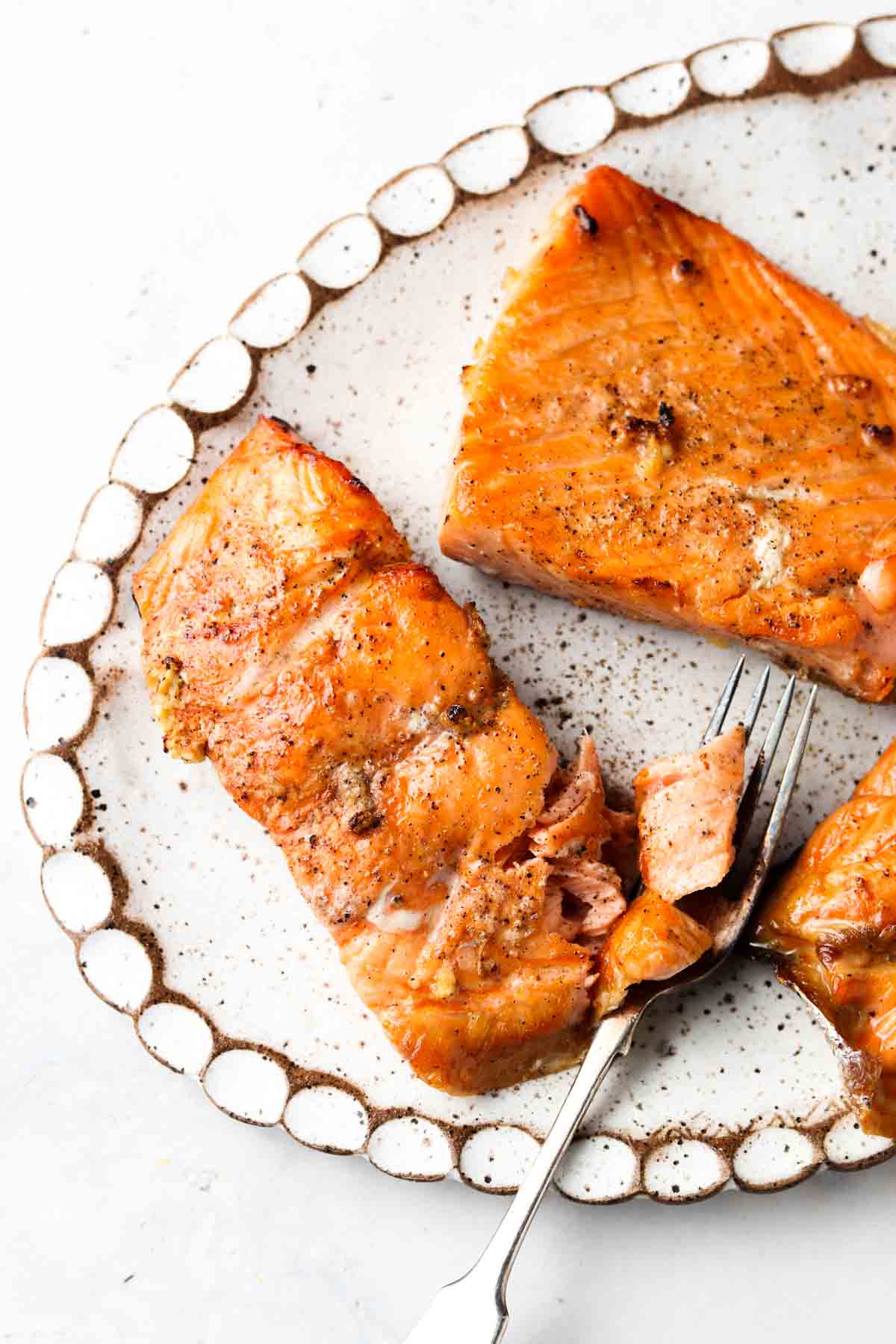 Are you like me and always feel like your meats and seafood go bad just sitting in the fridge? This recipe is for you! You can take the salmon directly out of the freezer and cook it in the air fryer. This recipe will have your salmon coming out nice and moist and the salmon will literally melt in your mouth.
[feast_advanced_jump_to]
Why I Love This Recipe
This recipe only takes 5 minutes to prepare and under 20 minutes to bake.
You can use this salmon for nearly anything. It goes great on salads, tacos, and so much more! My favorite recipe to pair this with is the Fig Honey Mustard Salad on my blog. It is so good with salmon.
This recipe is naturally keto, Whole30, paleo, gluten free, dairy free, nut free, soy free, and low carb friendly.
Salmon filets like this make for the best kid friendly food option. It is easy to chew and not too many over powering flavors.
Ingredients
You will need the following ingredients to make this super easy frozen salmon in the air fryer: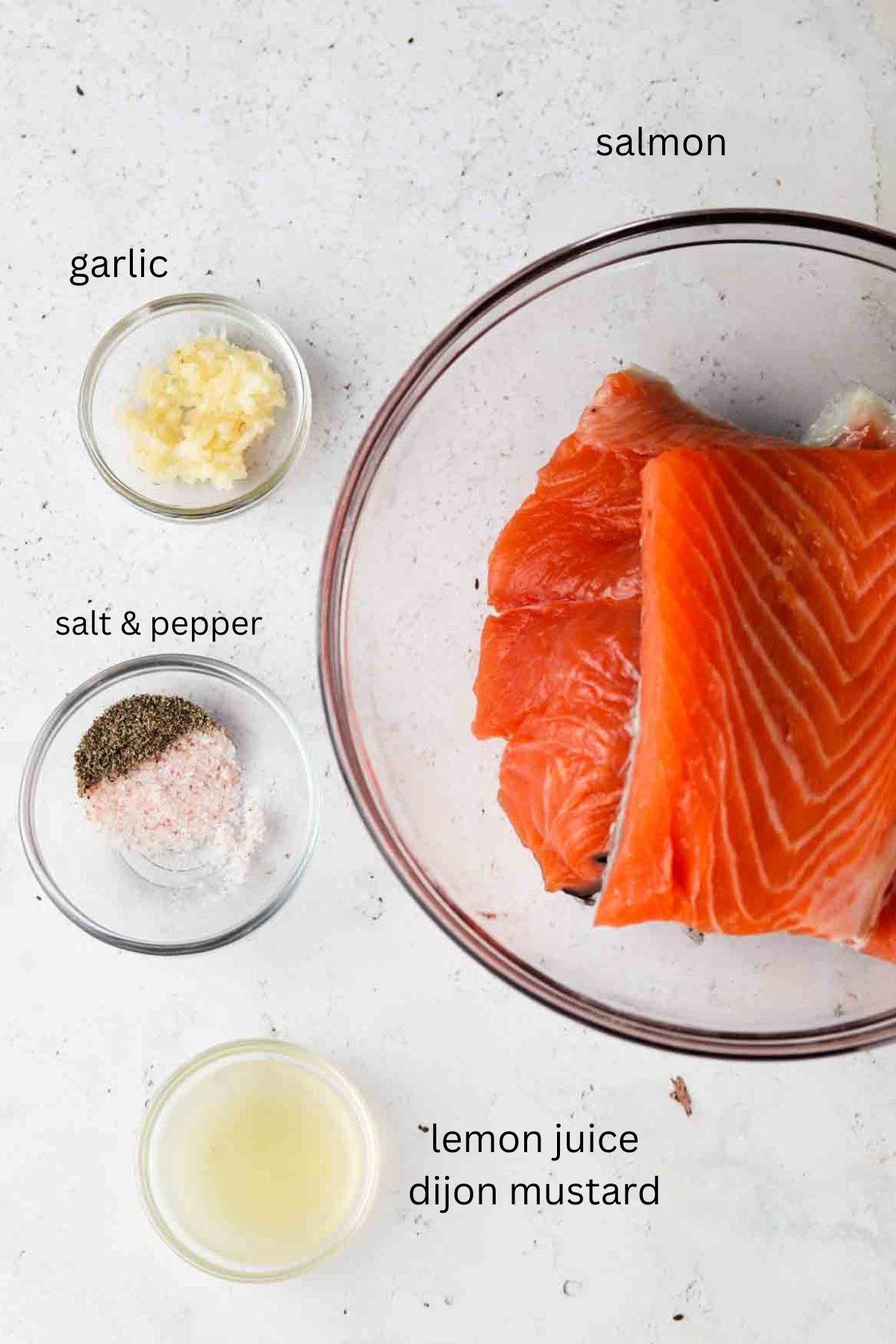 Salmon-While any salmon will work I prefer wild caught salmon. It has the most nutrients in it and it literally melts in your mouth. I do suggest making sure that the salmon you use is already filleted. It is easier to cook it this way in the air fryer and it also makes it easier to just grab one portion.
Oil-I prefer to only cook with healthier oils like olive oil, avocado oil, ghee or coconut oil. While any oil in this recipe will work, I like using olive oil.
Dijon and lemon juice-This adds so much flavor to the salmon! However, you can totally leave it off and make the salmon more plain.
See recipe card below for a full list of ingredients and measurements.
Substitutions & Variations
Oil-If you are looking for the same flavor profile, I suggest either olive oil or ghee. I have a Homemade Ghee Recipe on my blog. The ghee will give the salmon a "buttery" flavor without the milk proteins. For people like me with a dairy sensitivity, ghee is a staple in my house.
This recipe has not been tested with other substitutions or variations. If you replace or add any ingredients, please let us know how it turned out in the comments below!
Air Frying Instructions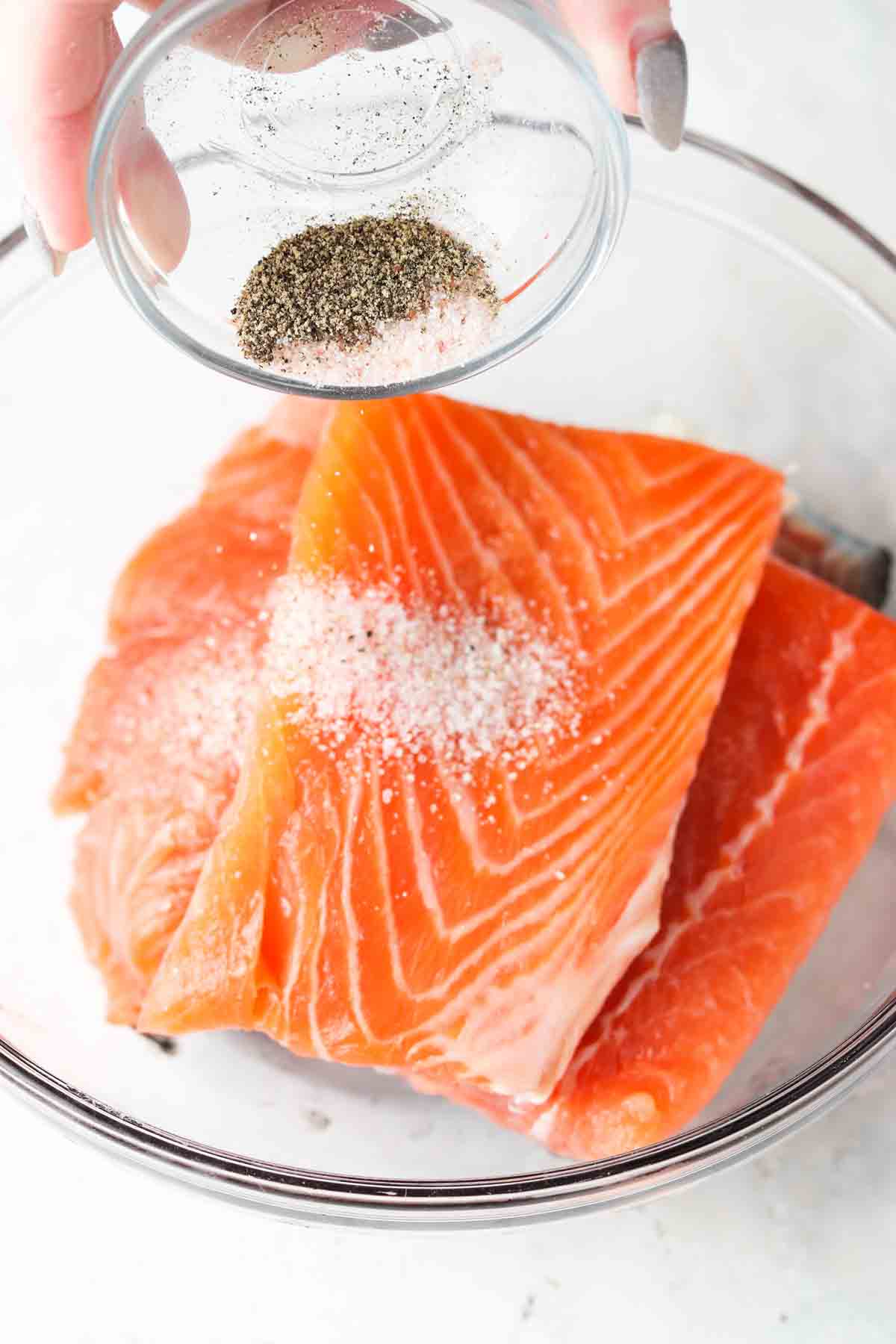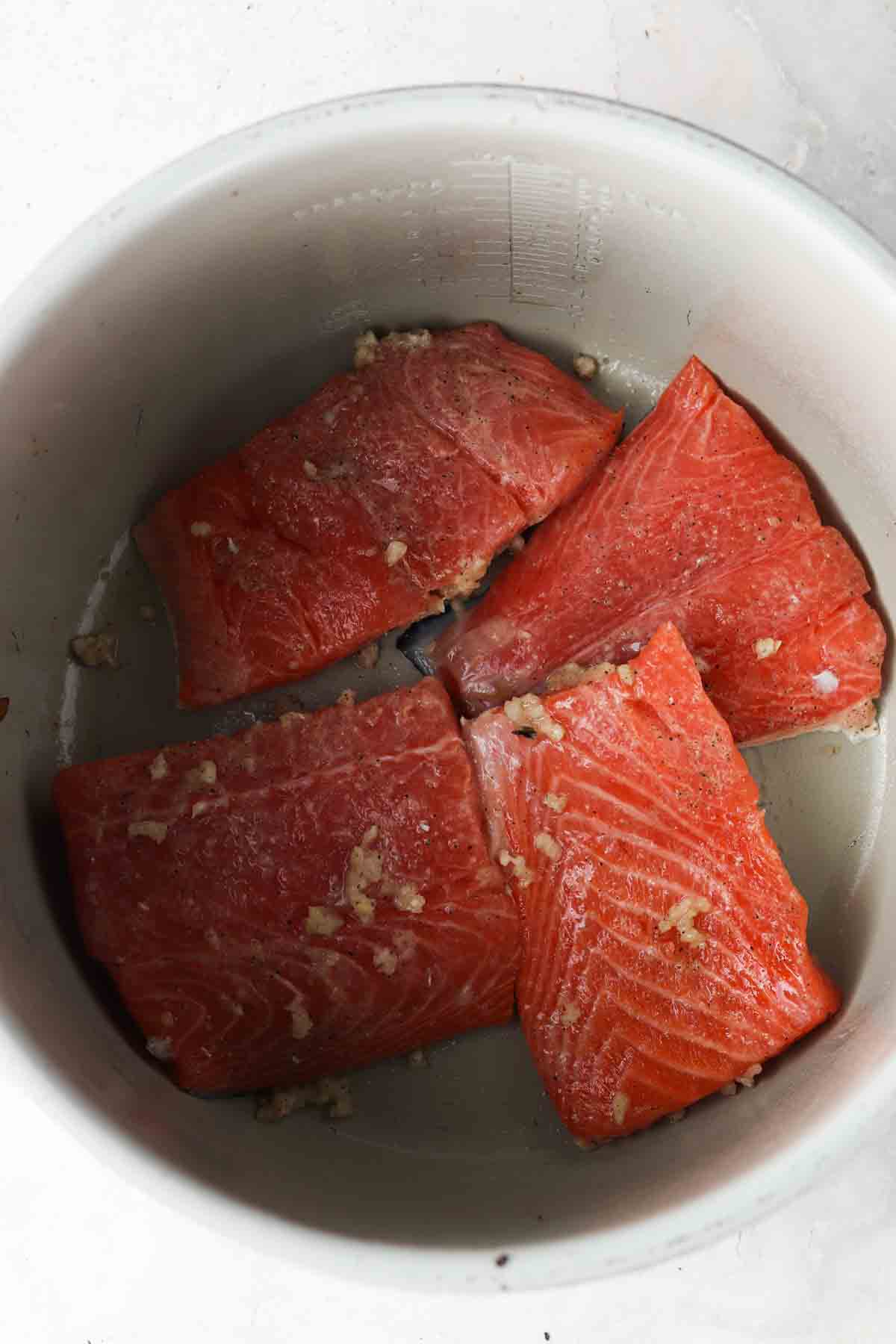 Equitment Needed
Air fryer-I have had the Ninja Air Fryer for years now and am obsessed! The one I have has multiple different functions.
Expert Tips
Tip #1: Leave the skin on! The skin is so good for you. If you like your skin crispier, be sure to flip it in the air fryer and cook it for at least 5 minutes with the skin facing up to get it nuce and crispy.
Tip #2: Be sure to cut your salmon into small filets. This helps the salmon cook more evenly. I suggest doing this before you put the salmon in the freezer. This will allow you to portion out your salmon so if you only want to bake 1 portion rather than a whole fish, you can do that!
Recipe Frequently Asked Questions
Can I use thawed salmon?
Yes! You will need to adjust the cooking time. It will take approximately 5 minutes less. Salmon should be cooked to 145 degrees F.
Where do you get your salmon?
I love getting my salmon from Butcher Box. They have the best salmon it is always wild caught!
Have you tried Costco salmon?
I have. While I always prefer wild caught fish, Costco brand would work too.
Should I use skinless salmon or skin on salmon?
Either works! I love the skin, especially in the air fryer because it gets nice and crispy. Plus, the skin is loaded with nutrients!
What if I like my salmon skinless?
I highly recommend removing the skin prior to freezing it! It will be hard to remove while it is frozen.
How long should I cook thawed salmon in the air fryer?
If your salmon is already thawed, I suggest cooking it for 15 minutes or until the internal temperate reaches 145 degrees F.
How to serve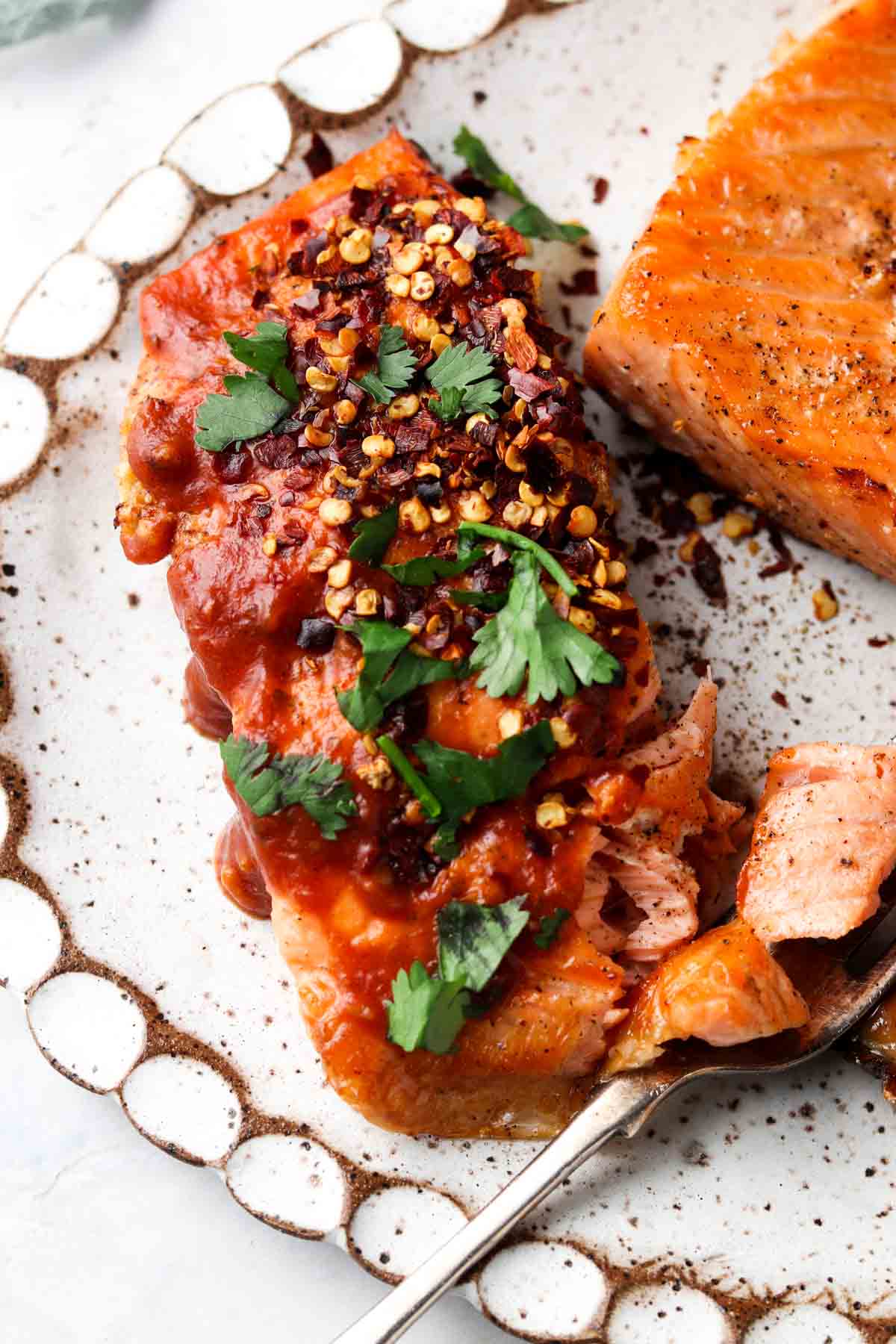 Storage instructions
I suggest using this recipe within 3-4 days for optimal freshness. To ensure freshness, store the salmon in an air tight container. I prefer to use glass containers for meal prep!
Other Salmon Recipes You Will Love
D
Want to get all of the details on my latest recipes? Be sure to hop on my email list. When you subscribe, you will get a copy of my FREE anti-inflammatory swap guide with all of my favorite healthy swaps.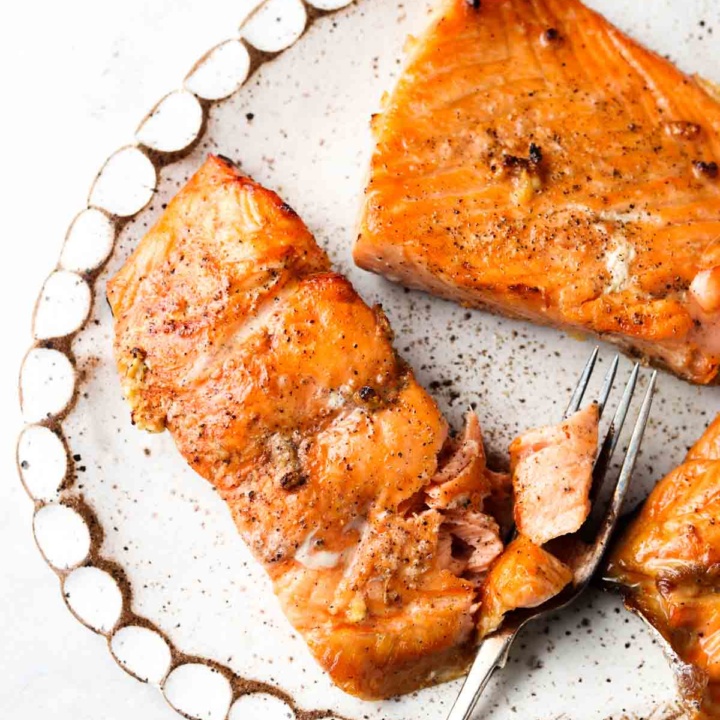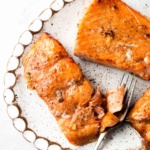 Easy Frozen Salmon in the Air Fryer
389
kcal
Print Recipe
Pin Recipe
Ingredients
1

lb

salmon

cut into desired filets

1

tbsp

olive oil

1

garlic clove

minced

½

tbsp

lemon juice

1

tsp

dijon mustard

¼

tsp

sea salt

¼

tsp

black pepper
Instructions
If the salmon is not already cut into filets, cut the salmon into 5-6 ounce pieces.

Mix the seasonings together and sprinkle over the salmon filets. Brush the wet ingredients (lemon juice, dijon and olive oil) on top.

Bake the salmon in the air fryer at 390 degrees F for 18 minutes or until the salmon reaches an internal temperature of 145 degrees F.
Notes
Servings: This recipe yields approximately 2-3 servings.  Nutritional info: The nutrition info in this recipe is an estimate and not a guarantee.  Storage: You can store this recipe in the fridge for up to 3-4 days. 
Serving:
1
filet
|
Calories:
389
kcal
|
Carbohydrates:
1
g
|
Protein:
45
g
|
Fat:
21
g
|
Saturated Fat:
3
g
|
Polyunsaturated Fat:
7
g
|
Monounsaturated Fat:
10
g
|
Cholesterol:
125
mg
|
Sodium:
418
mg
|
Potassium:
1128
mg
|
Fiber:
0.2
g
|
Sugar:
0.1
g
|
Vitamin A:
94
IU
|
Vitamin C:
2
mg
|
Calcium:
33
mg
|
Iron:
2
mg