These Whole30 and Paleo compliant crispy potatoes with peas, dill, and dairy free ricotta have become a staple in my meal prep rotation. These potatoes are crispy and loaded with flavor. Included in this recipe is how to make homemade dairy free ricotta and also where to buy store bought dairy free ricotta if you are short on time. With this recipe only taking 10 minutes to prep it is a no brainer.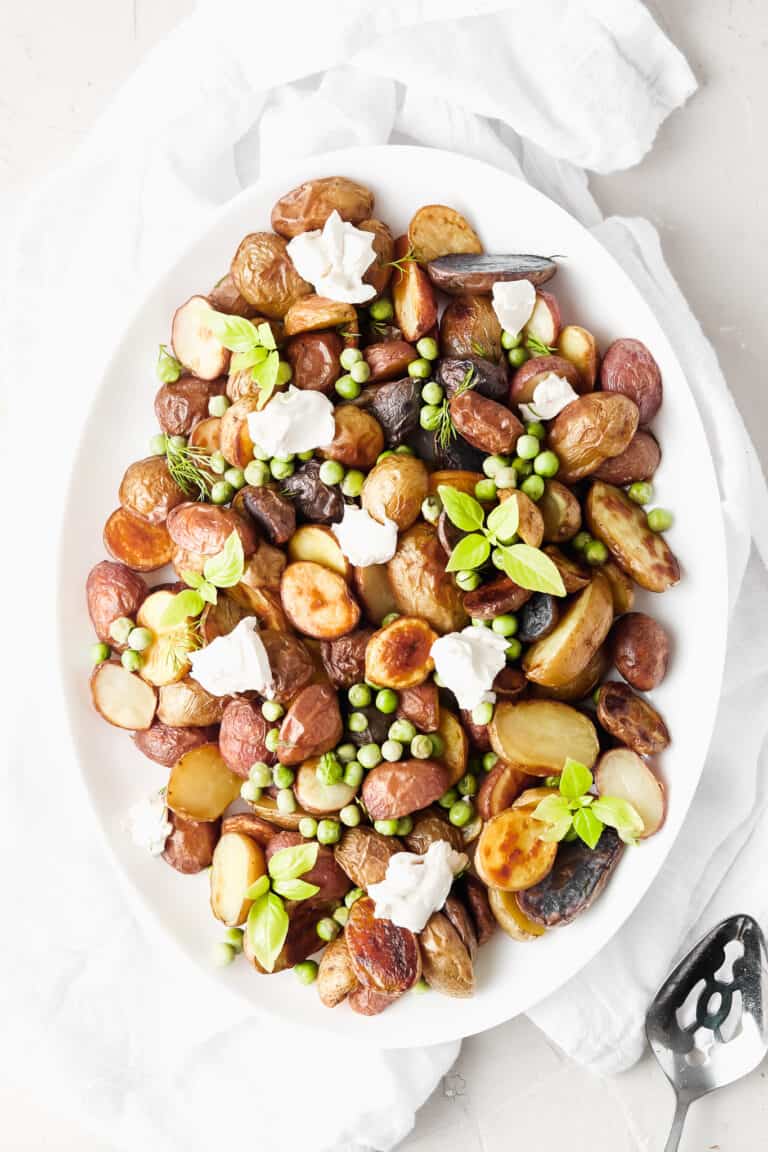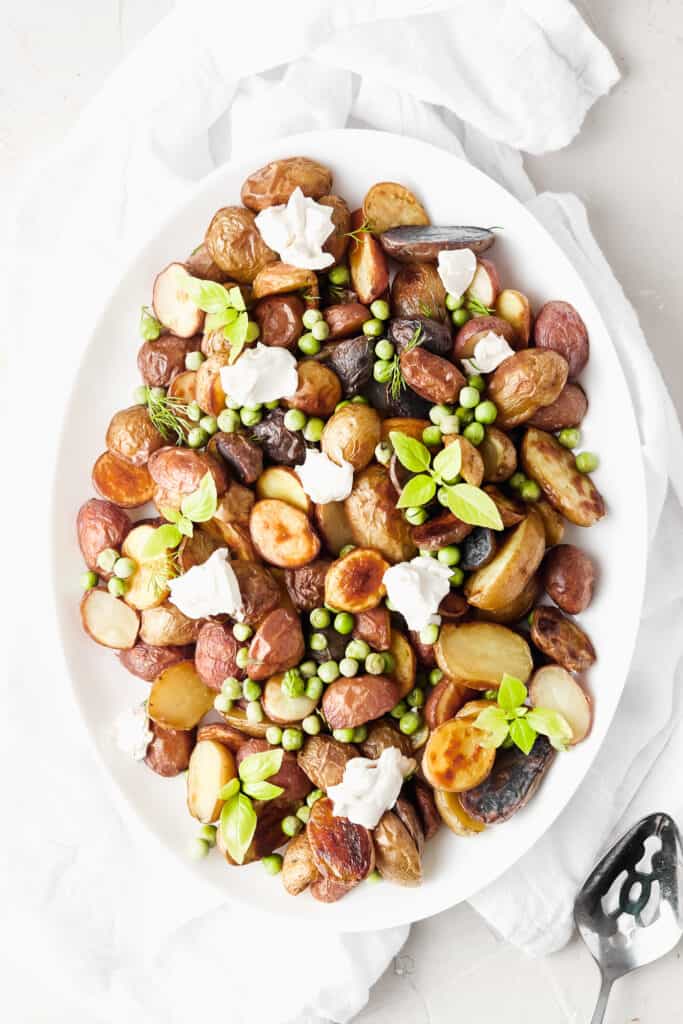 How To Make Crispy Potatoes 
The biggest thing I have learned in my years of personal cheffing is that small details make the biggest difference. When it comes to making crispy potatoes the key is flipping and rotating them throughout the cooking process. 
But first thing first, lets prep the potatoes! Always, always wash your produce really good, especially potatoes. Then, you want to cut the potatoes in half. Depending on the size of your mini potatoes you may want to cut them into fourths.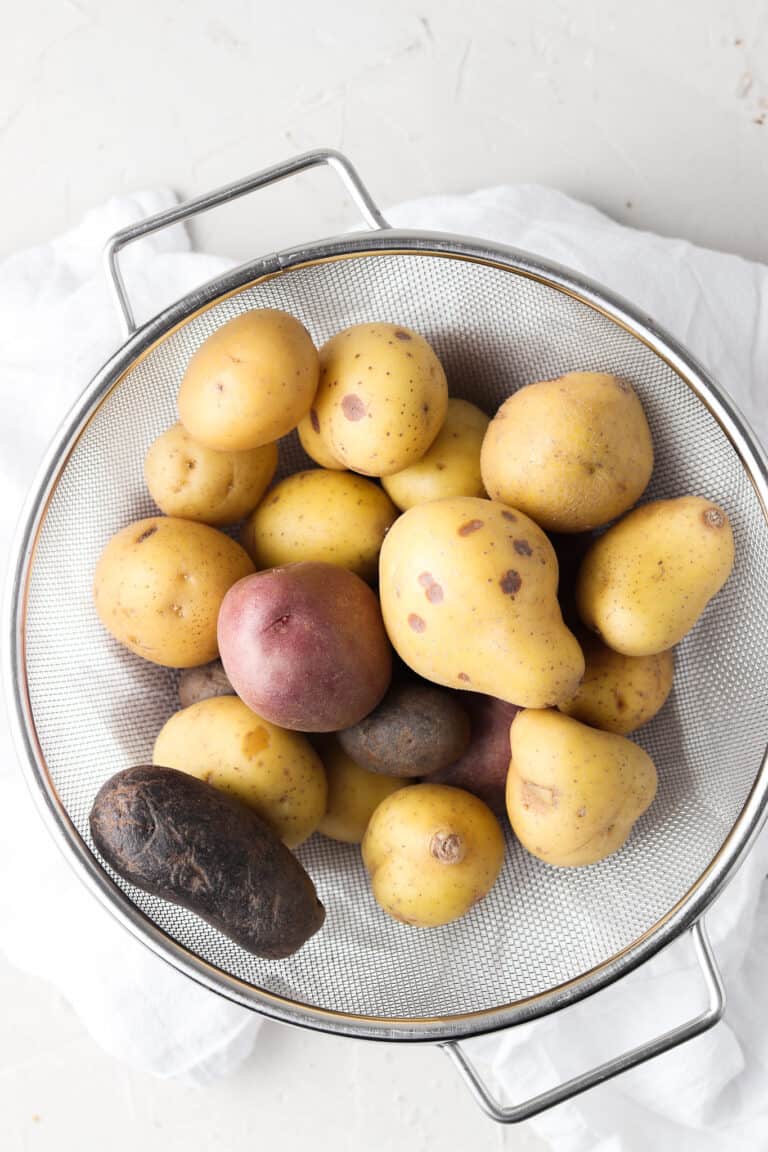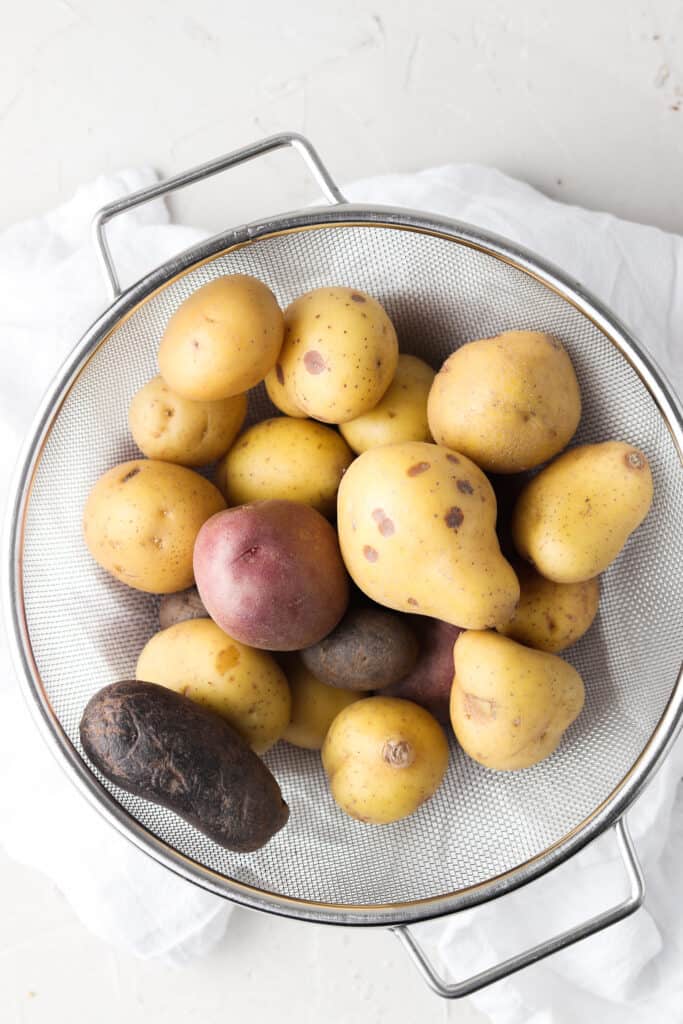 I like to use an olive oil spray to make these potatoes. Trader Joe's has a great one that is made with purely just olive oil, nothing else. I give the potatoes a quick spray, toss them in the sea salt, garlic and dill then I throw them in the oven.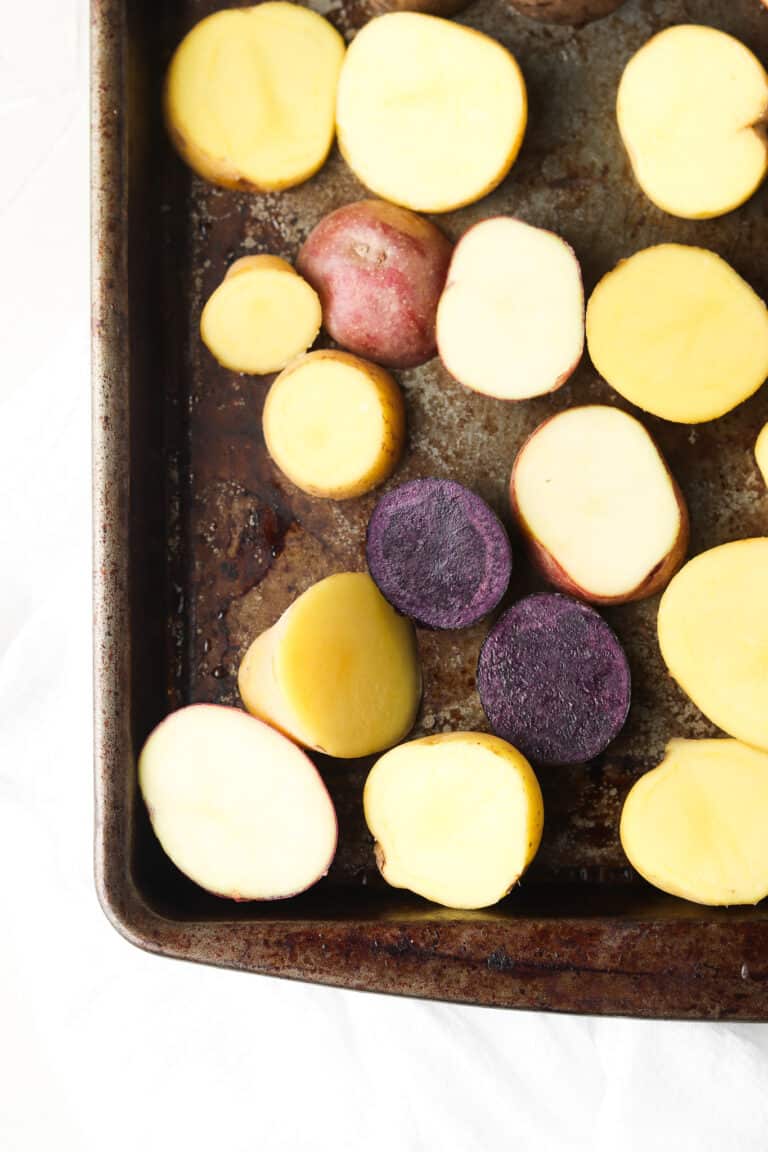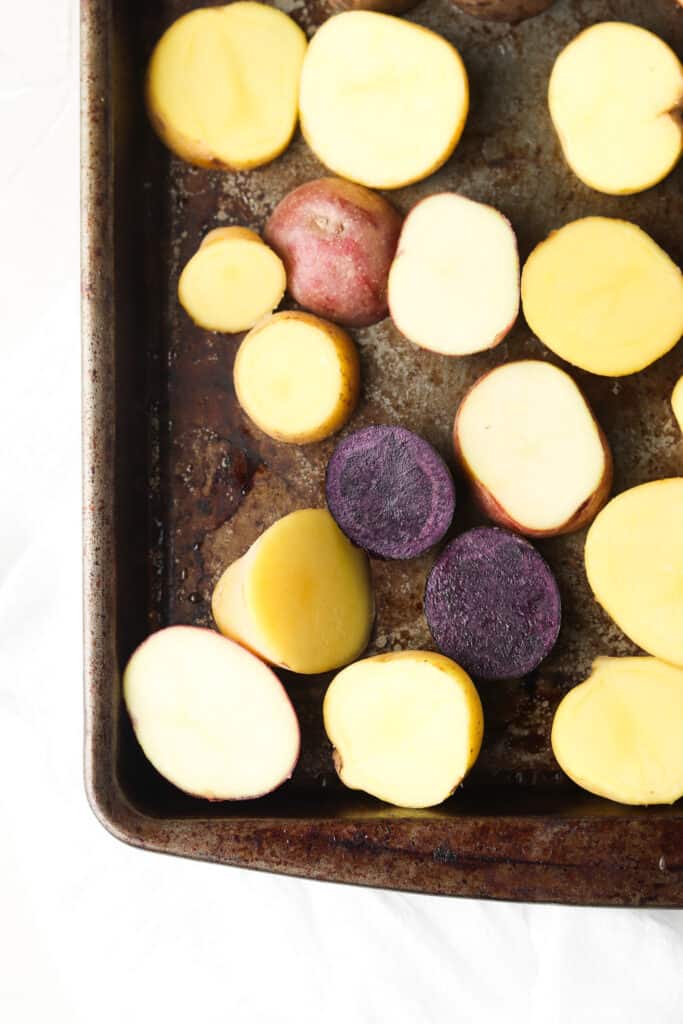 Evenly spread out the potatoes on a baking sheet. 
I like to cook my potatoes at a higher temperature (425) which allows them to get crispy rather than mushy. Halfway between the cook time I flip them which allows them to cook evenly on both sides. 
I wait until the potatoes are cooked to add the peas and ricotta. You do not need to cook the fresh peas! I like them just as they are. If you desire, you can boil them. As far as the vegan ricotta, you can buy the store bought Kite Hill brand from Whole Foods or Target or make your own. I really enjoy the Kite Hill brand so I typically buy it (plus it saves you a ton of time) but if you are feeling adventurous, you can make your own! I like this recipe.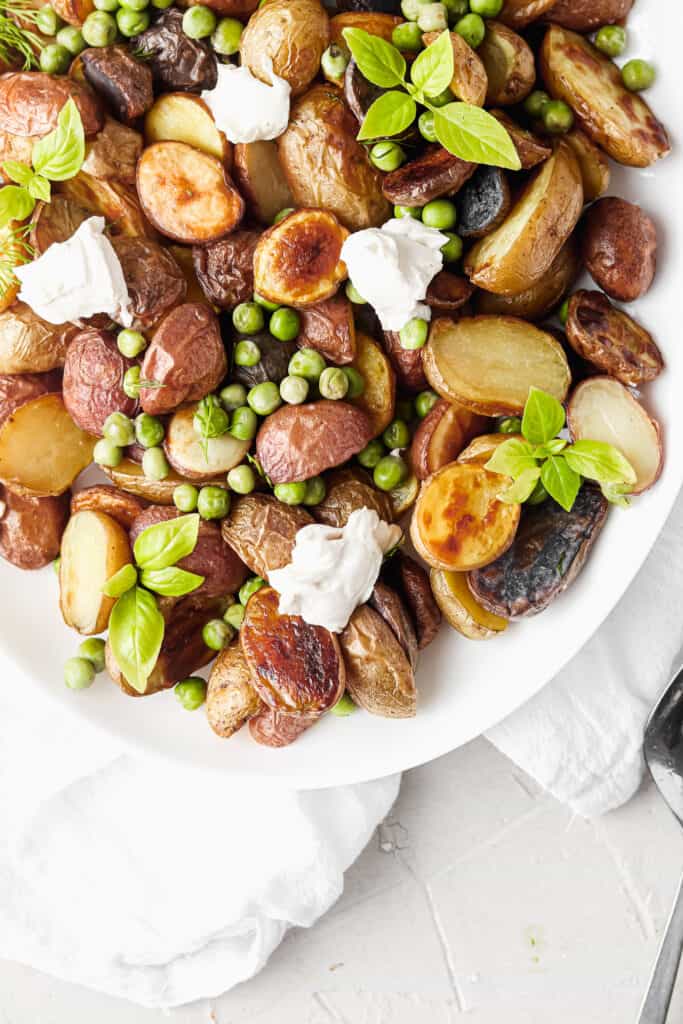 To Garnish
I like to garnish my crispy potatoes with fresh herbs like basil and dill. 
How To Store These Potatoes
I suggest storing the potatoes separate from the ricotta. When making these at home I wait until I am ready to serve the dish and then add the ricotta. 
Can I Use Frozen Peas?
Yes, however, you will definitely want to cook them before serving. You can boil them or check air fry them. Personally, air frying peas is my favorite. I will air fry them at 350 for 20 minutes with a little bit of olive oil and they come out super crispy!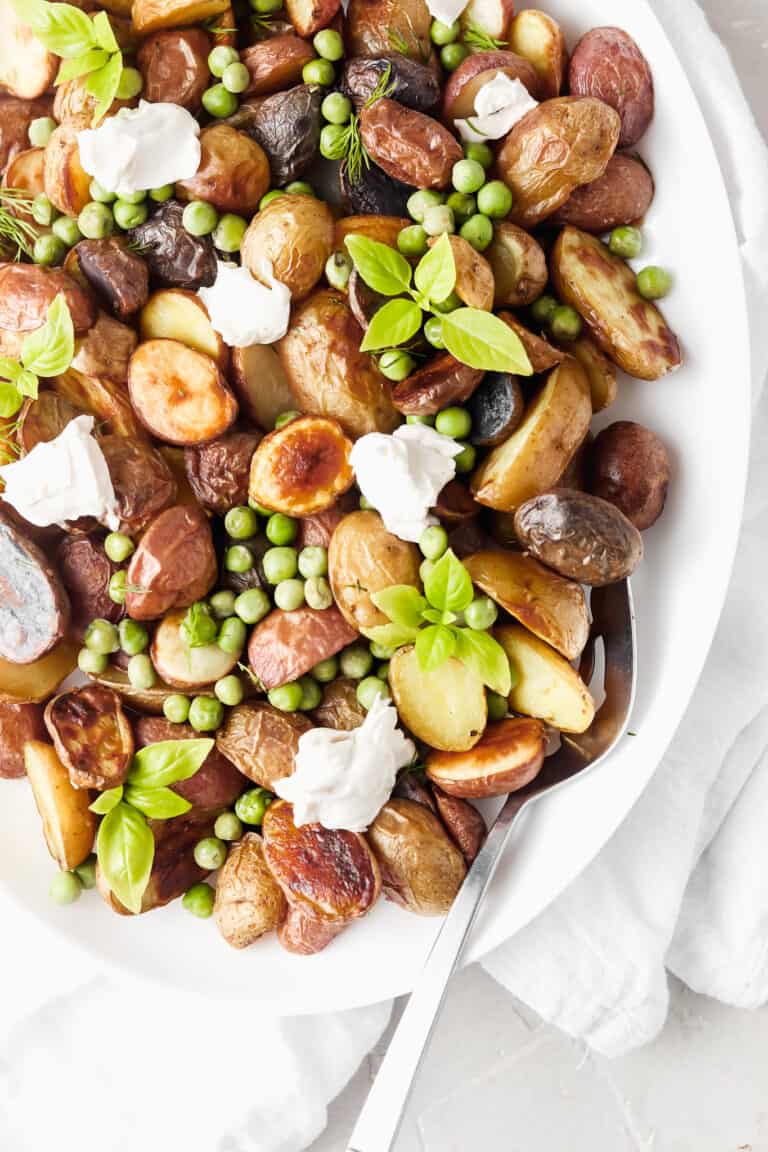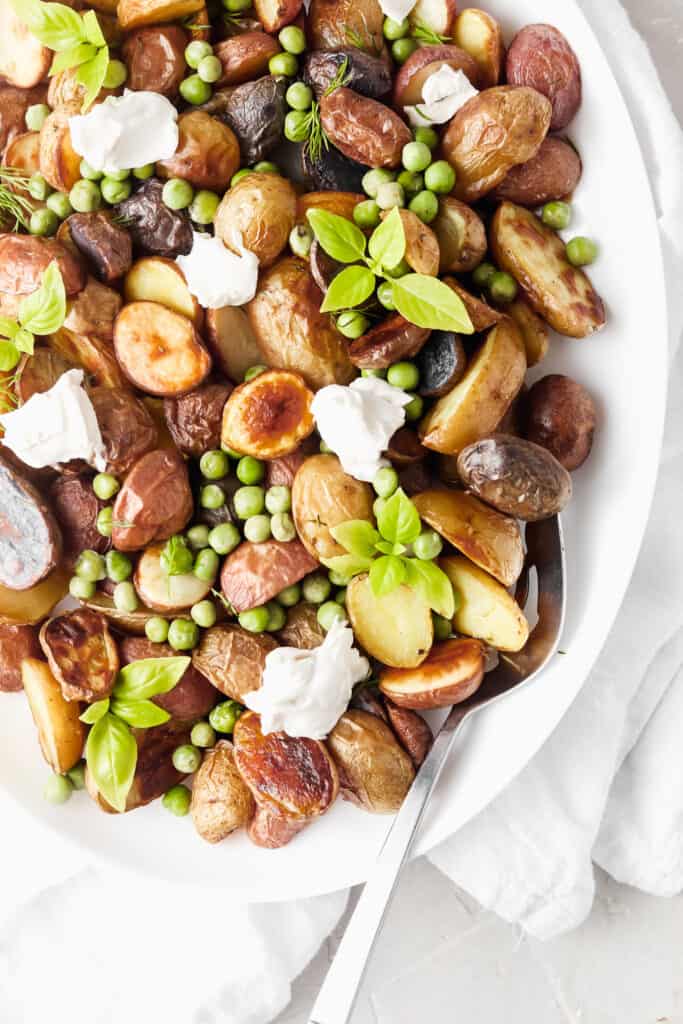 Keywords: paleo side dishes, whole30 side dish, vegan side dish, paleo thanksgiving dishes, whole30 thanksgiving, whole30 holiday, paleo holiday, vegan cheese, easy side dish, crispy potatoes
If you love this recipe, you will LOVE:
Bacon And Butternut Squash Hash
Best Kale Salad w/ Pomegranate and Carrots
Acorn Squash Grape Salad With Pumpkin Vinaigrette
Whole30 Creamy Mashed Potatoes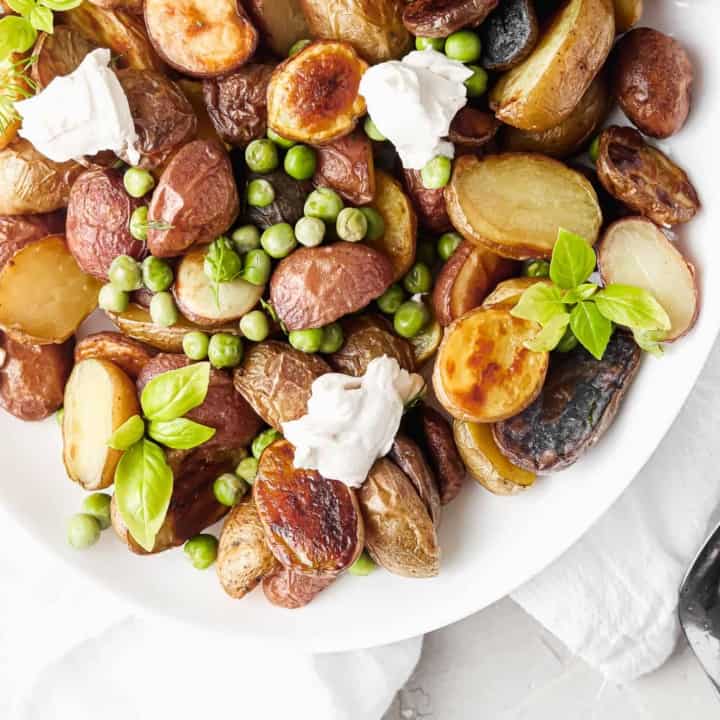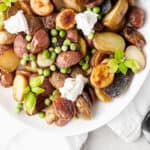 Crispy Whole30 Roasted Potatoes With Peas And Dairy Free Ricotta
205
kcal
Print Recipe
Pin Recipe
Equipment
cutting board

sharp knife

baking sheet
Ingredients
2

pounds

mini potatoes

I like the rainbow ones

1/2

cup

fresh peas

1/2

cup

vegan ritotta

you can use the recipe that is linked on the ricotta or you can buy the kite hill brand. If do do not know where you can buy it, you can go on their website and search for a location near you. I have always had luck at whole foods and target.

1/2

tsp

pink sea salt

2

tbsp

fresh dill

1

tsp

garlic powder

2

tbsp

extra virgin olive oil

fresh basil to garnish
Instructions
Wash the potatoes and chop them in half.

In a large mixing bowl, mix the dill, garlic powder, EVOO, and sea salt.

Cook in the oven for 25 minutes.

After 25 minutes, flip the potatoes and cook for an additional 25 minutes. The key to crispy potatoes is flipping them throughout cooking.

Once the potatoes are done, add the peas, potatoes, ricotta, and basil to a platter.

ENJOY! If you make this recipe I would love it if you shared the link to this recipe with a friend, left a comment below or tagged me on instagram with a picture @alliannaskitchen
Notes
You can store the potatoes and peas in the fridge for up to a week. I suggest keeping the ricotta separate from the potatoes and adding prior to serving. 
This delicious and crowd pleasing side dish is so versatile it can be used with any meal.
Calories:
205
kcal
|
Carbohydrates:
29
g
|
Protein:
6
g
|
Fat:
8
g
|
Saturated Fat:
2
g
|
Cholesterol:
10
mg
|
Sodium:
221
mg
|
Potassium:
694
mg
|
Fiber:
4
g
|
Sugar:
2
g
|
Vitamin A:
194
IU
|
Vitamin C:
35
mg
|
Calcium:
64
mg
|
Iron:
1
mg