I am now presenting my all time favorite mashed potato recipe! These mashed potatoes are creamy, salty, peppery, and are perfect for any occasion. With this whole30 side only taking 10 minutes to prep, this side dish has become a staple in my home and is definitely a crowd pleaser at the Thanksgiving table.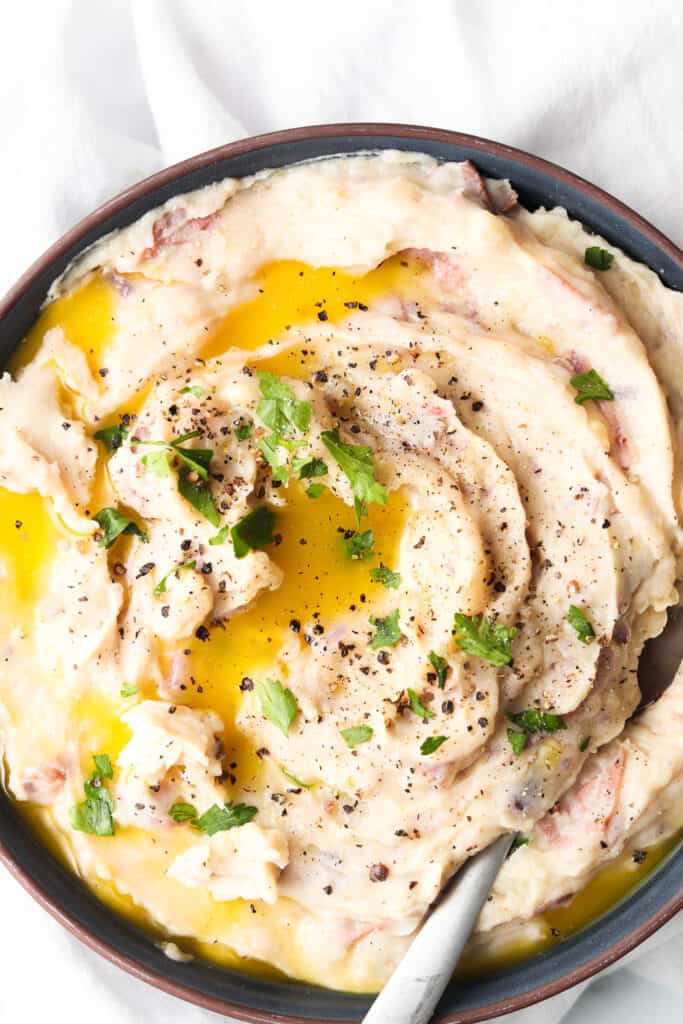 Whole30 Mashed Potato Ingredients
Mini rainbow potatoes-I love mini rainbow potatoes over regular mini potatoes for one simple reason, nutrient density! The more colors that are in your dish, the more nutrient diversity. You can find these mini potatoes at nearly every grocery store. I got this bag from Aldi.
Garlic- I truly believe mashed potatoes are not mashed potatoes without boat loads of garlic! 
Pink sea salt- Adds in some great flavor as well as minerals. 
Fresh ground pepper- Adds in some extra flavor. 
Ghee- Ghee gives these mashed potatoes a buttery taste. If you are vegan you can sub vegan butter. I cannot tolerate regular dairy but I can tolerate ghee because in ghee they remove all of the milk proteins; casein and lactose, so if you are lactose intolerant ghee make work for you.
Coconut cream-I like coconut cream because it is thicker than alternative dairy free milks, however you can use almond milk too.
Parsley-I love sprinkling fresh parsley on top of my mashed potatoes.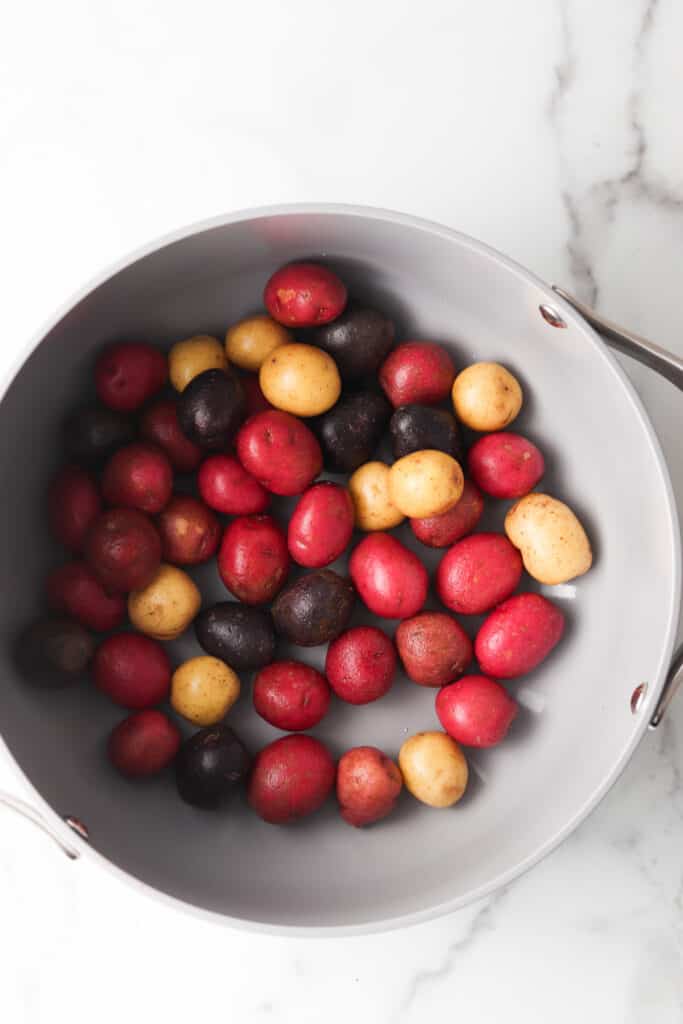 How To Make Whole30 Mashed Potatoes
Prepare your potatoes- wash your potatoes and cut them into fourths. Then add them to a large pot of water and boil for 20 minutes or until the potatoes can be easily cut into.
Then, drain the potatoes and add them into a large mixing bowl. Using a potato masher, mash the potatoes. You can also use a meat tenderizer for this if you do not have a potato masher. 
Now, add in all other mashed potato ingredients to the large mixing bowl and blend with a handheld mixer until a mashed potato like consistency forms. I like to leave the skin on. 
You can store these potatoes in the fridge in an airtight container for up to a week.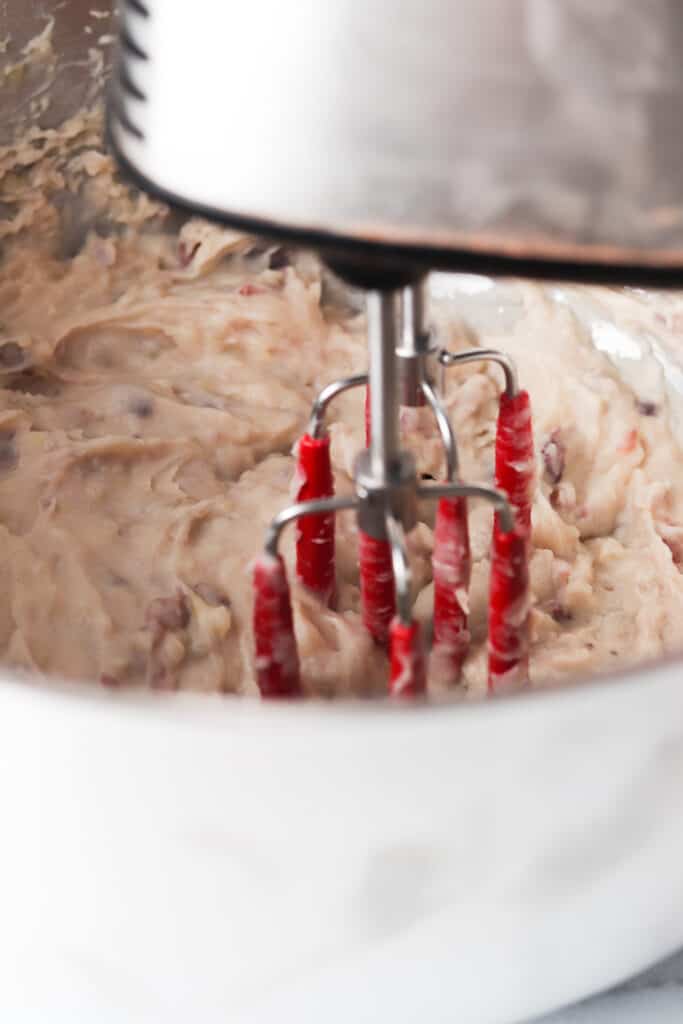 Rainbow Potato Substitutes:
You can sub the rainbow potatoes for any kind of yellow mini potatoes, like yukon potatoes.
For sweet potato mash you can sub 1-2 medium size sweet potatoes. Be sure to dice the sweet potato up into 1 inch pisces so they cook properly. 
Fun Touches:
Want to make loaded mashed potatoes? You can add crumbled bacon, with a little bit of Siete dairy free cheese on top. Yum! 
Jalapeños as a nice spicy touch. Be sure to dice them finely so they are not overwhelming to the palate. 
How To Reheat:
You can reheat on the stovetop in a nonstick pan or in the microwave for 30 seconds at a time.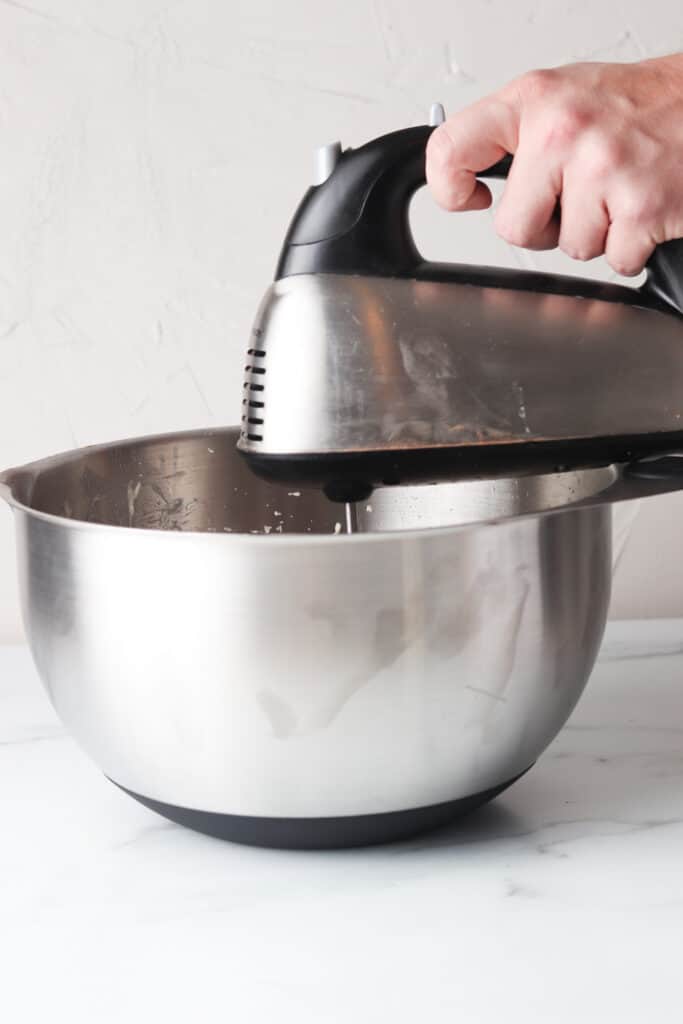 Keywords: whole30 side dish, whole30 recipe, whole30 thanksgiving, whole30 mashed potatoes, paleo mashed potatoes, paleo side dish, paleo thanksgiving, vegan mashed potatoes, vegan side dish, vegan thanksgiving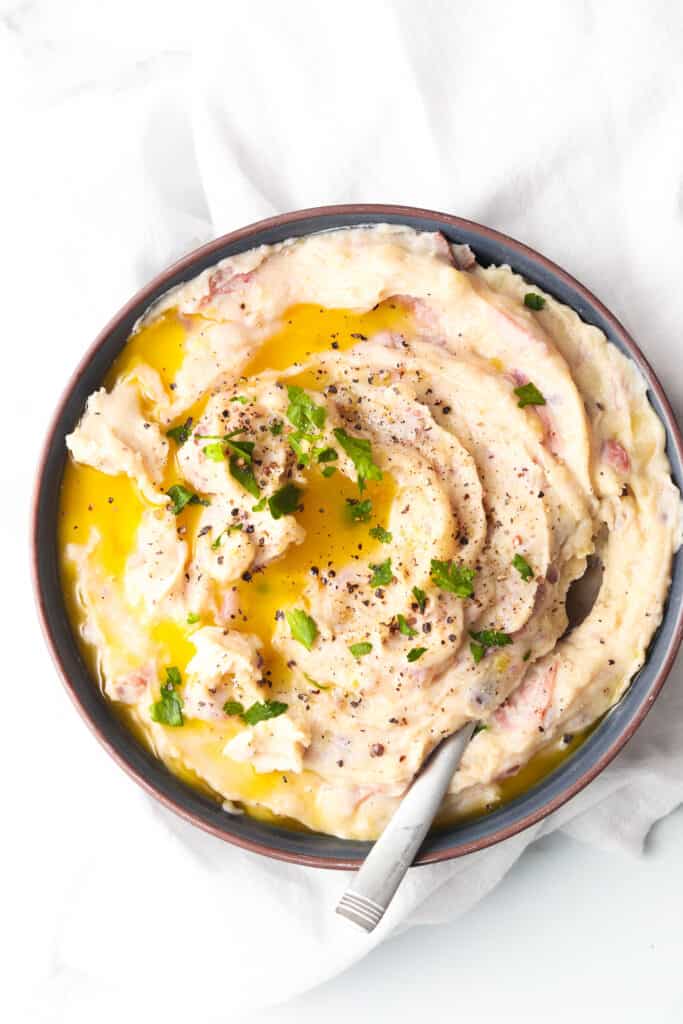 If you love this recipe, you will LOVE:
Bacon And Butternut Squash Hash
Acorn Squash Grape Salad With Pumpkin Vinaigrette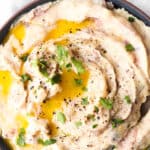 Paleo & Whole30 Mashed Potatoes
295
kcal
Print Recipe
Pin Recipe
Equipment
Hand mixer

Large mixing bowl

Large pot to boil the potatoes

Potato masher or meat tenderizer will work!
Ingredients
To garnish:
1/2

cup

fresh parsley

1

tsp

freshly cracked pepper
Instructions
Wash all potatoes and dice them into fourths.

Place the diced up potatoes in a large pot and bring to a boil. Boil for 20 minutes.

Once the potatoes are soft, drain the water in a colander and place the potatoes in a bowl.

Using your potato masher (a meat tenderizer will also work) mash up the potatoes. I like to leave the skin on. The skin contains a ton of nutrients!

Add in the melted ghee ( you can melt it in the microwave or over the stovetop), garlic, sea salt, pepper, and dairy free milk/ cream of your choice and blend with the handheld food processor until a mashed potato like consistency forms.

OPTIONAL: garnish with fresh herbs like parsley on top.

ENJOY! If you make this recipe I would love it if you shared the link to this recipe with a friend, left a comment below or tagged me on instagram with a picture @alliannaskitchen
Notes
You can store these potatoes in the fridge in an air tight container for up to a week. 
Creamy garlic-y mashed potatoes that can be paired with any meal.
Nutrition Facts
Paleo & Whole30 Mashed Potatoes
Amount Per Serving (4 g)
Calories 295
Calories from Fat 207
% Daily Value*
Fat 23g35%
Cholesterol 32mg11%
Sodium 32mg1%
Potassium 653mg19%
Carbohydrates 22g7%
Protein 4g8%
Vitamin A 421IU8%
Vitamin C 18mg22%
Calcium 27mg3%
Iron 2mg11%
* Percent Daily Values are based on a 2000 calorie diet.