These creamy, soft and delicious Gluten Free Mashed Potatoes are perfect for Thanksgiving! The creamy coconut cream combined with the ghee, fresh garlic and chives is to die for. This paleo mashed potato recipe can prepped within 30 minutes and is a great side dish for the whole family.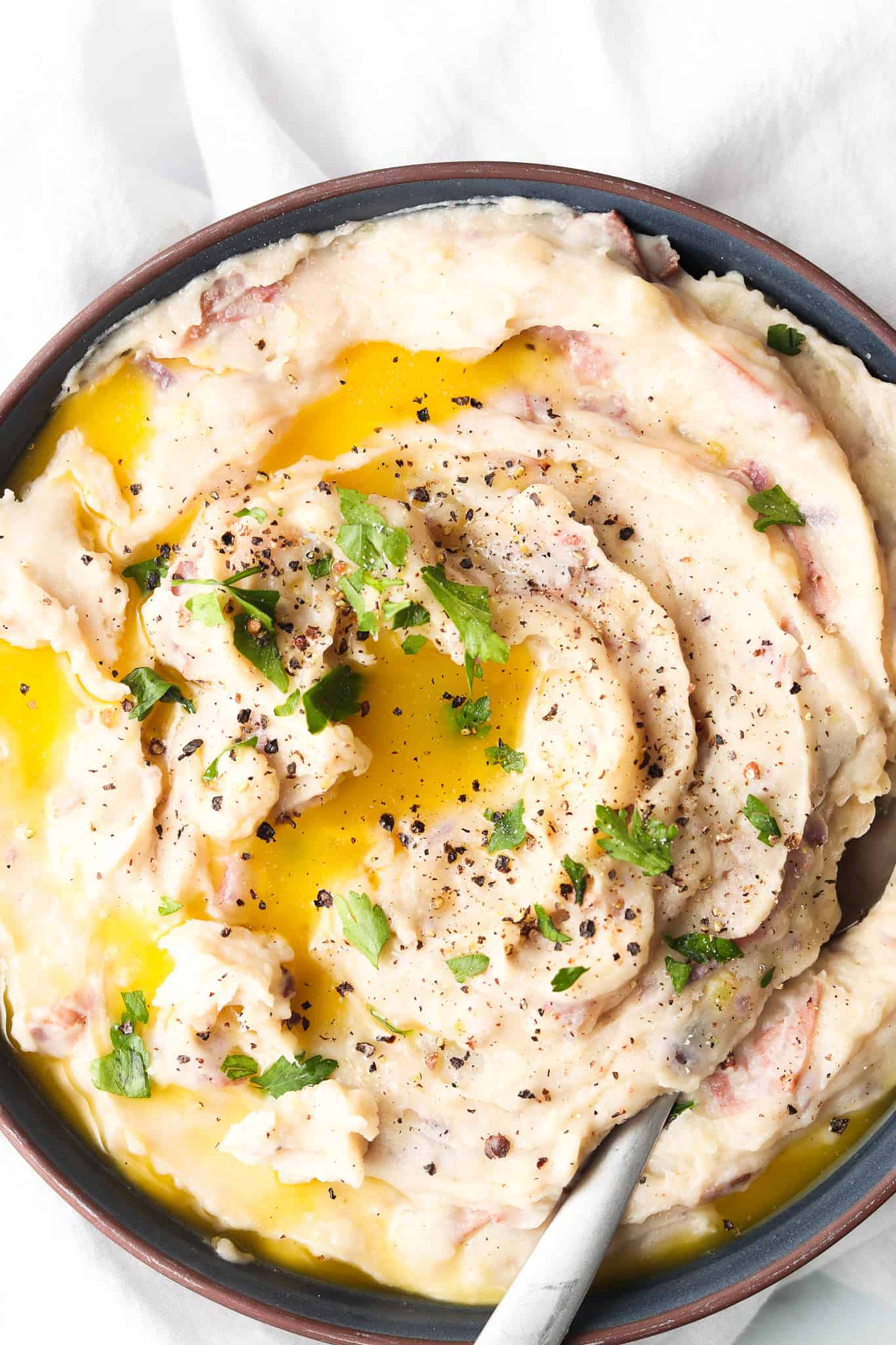 While mashed potatoes are a staple during the holiday season, they are a staple in our house all year round. This gluten free side dish goes so well with just about anything-casseroles, bbq, roasts and so much more! My personal favorite is to make this dish around Thanksgiving with my Whole30 Cranberry Sauce, Boneless Turkey Breast, Dairy Free Gravy, Gluten Free Pumpkin Cookies and Gluten Free Pumpkin Bread.
Jump to:
Why This Recipe Works
These mashed potatoes are full of flavor and oh so creamy!
While this recipe is naturally dairy free, no one even can tell by the taste! It is still so creamy and smooth despite not containing any milk.
This recipe is naturally paleo, whole30, gluten free, grain free, milk free, and Whole30 friendly. It can also be made vegan friendly if you use dairy free butter or substitute the ghee with oil.
These creamy mashed potatoes can be made in advance for Thanksgiving, all you would need to do is reheat!
This recipe takes less than 30 minutes to make.
Although mashed potatoes are a staple for Thanksgiving, they can be enjoyed all year round! I love pairing this recipe with my Keto Stuffed Cabbage.
If you would prefer for someone to make these mashed potatoes for you, check out my meal delivery service here in Pittsburgh. This recipe is a staple in our menu rotations.
Recipe Ingredients
Mini rainbow potatoes-I love mini rainbow potatoes over regular mini potatoes for one simple reason, nutrient density! The more colors that are in your dish, the more nutrient diversity. You can find these mini potatoes at nearly every grocery store. I got this bag from Aldi.
Garlic– I truly believe mashed potatoes are not mashed potatoes without boat loads of garlic!
Pink sea salt– Adds in some great flavor as well as minerals.
Fresh ground pepper– Adds in some extra flavor.
Ghee– Ghee gives these mashed potatoes a buttery taste. If you are vegan you can sub vegan butter. I cannot tolerate regular dairy but I can tolerate ghee because in ghee they remove all of the milk proteins; casein and lactose, so if you are lactose intolerant ghee make work for you. I have my own Homemade Ghee Recipe on my blog. It is super easy to make and you can save a lot of money by making your own!
Coconut cream-I like coconut cream because it is thicker than alternative dairy free milks, however you can use almond milk too.
Parsley-I love sprinkling fresh parsley on top of my mashed potatoes.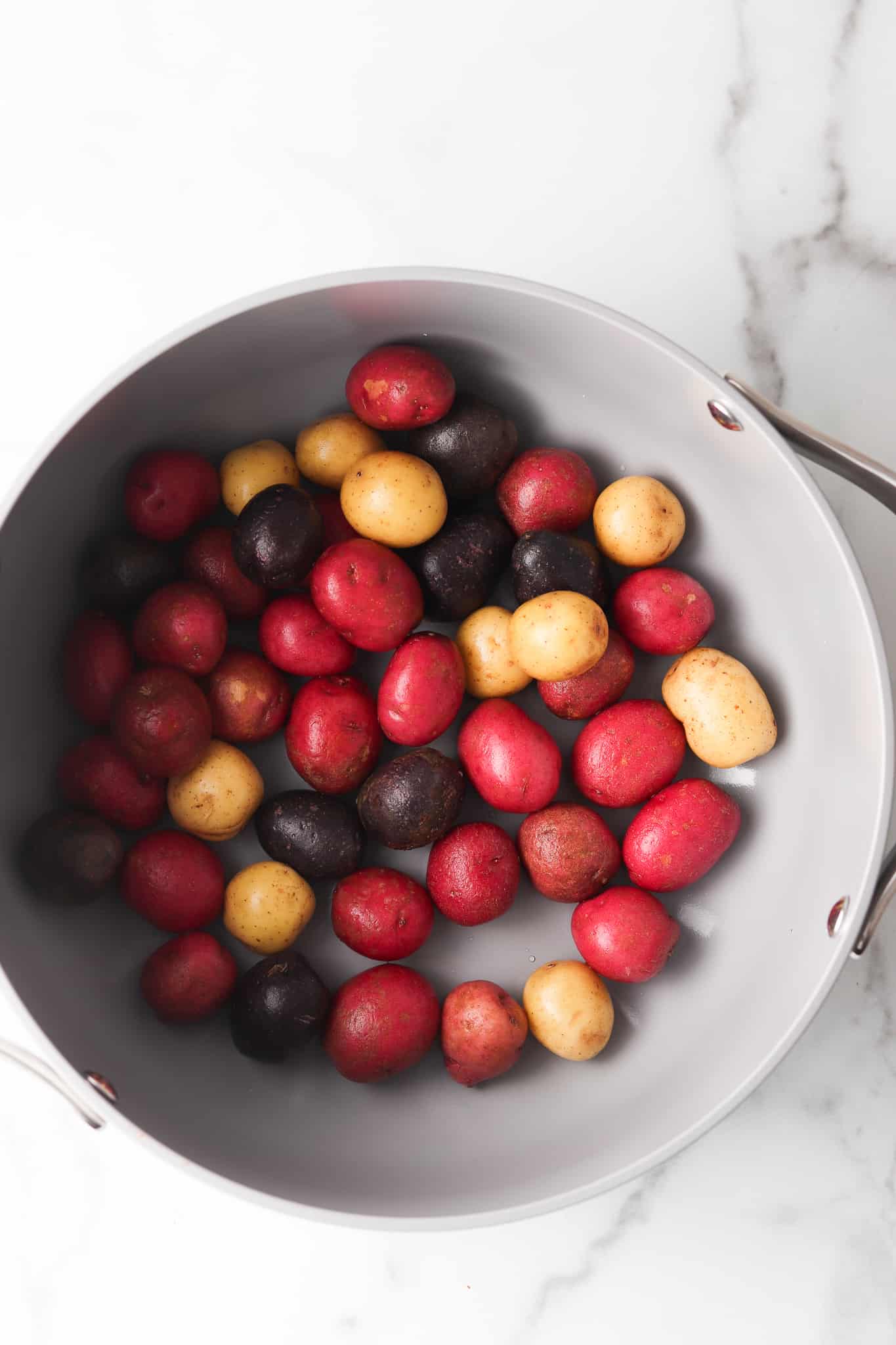 Recipe Substitutions
For the mini potatoes:

You can sub the rainbow potatoes for any kind of yellow mini potatoes, like yukon potatoes.
For sweet potato mash you can sub 1-2 medium size sweet potatoes. Be sure to dice the sweet potato up into 1 inch pisces so they cook properly.
How To Make
Prepare your potatoes: wash your potatoes and cut them into fourths. Then add them to a large pot of water and boil for 20 minutes or until the potatoes can be easily cut into.
Then, drain the potatoes and add them into a large mixing bowl. Using a potato masher, mash the potatoes. You can also use a meat tenderizer for this if you do not have a potato masher.
Now, add in all other mashed potato ingredients to the large mixing bowl and blend with a handheld mixer until a mashed potato like consistency forms. I like to leave the skin on.
You can store these potatoes in the fridge in an airtight container for up to a week.
For the ghee:

If you do not tolerate ghee, you can also use olive oil. If you substitute out the olive oil these mashed potatoes will be vegan friendly too.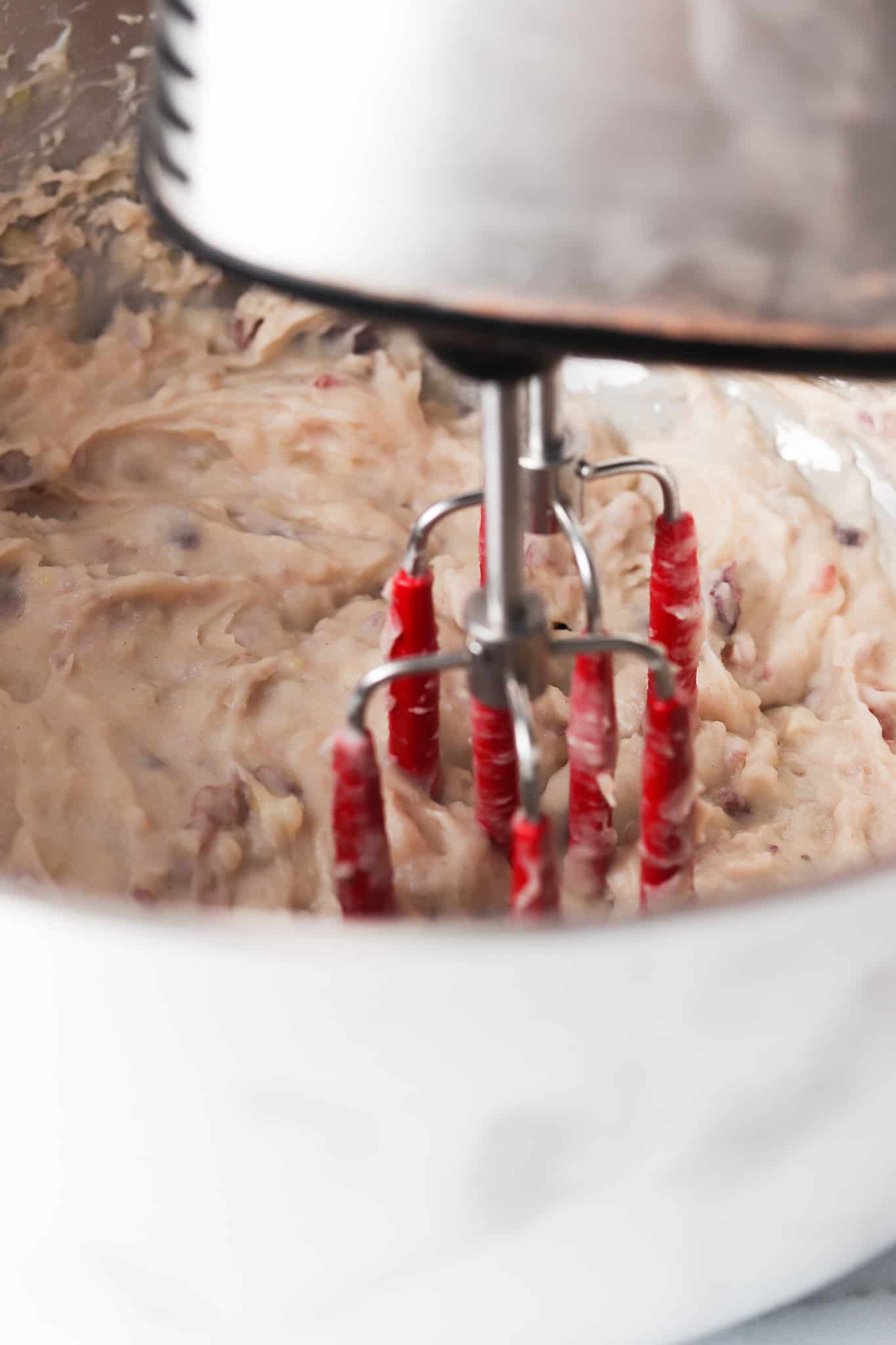 Alternative Cooking Methods
You can also roast potatoes for mashed potatoes! This is a great alternative if you are cooking in bulk. When we batch make this recipe for my meal prep kitchen we cook them in the oven vs. the stove top because it is so much quicker!

For the oven-dice up your potatoes into 1 inch pieces. Then lay on a sheet pan with oil and seasonings. Bake at 400 degrees F for 20-30 minutes or until the potatoes are tender. Once this is done, follow the remaining instructions.
Recipe FAQ's
You can leave the skin on the potatoes. The skin contains a lot of nutrients and has a lot of flavor so I like to leave it.
If you like your mashed potatoes thicker and chunkier, you will want to mix them less.
Storing And Reheating
You can store the potatoes in an air tight container. I prefer glass containers.
When reheating the potatoes you have two options:

Stovetop-Add a little bit of dairy free milk to prevent the potatoes from drying out.
Oven-Smooth out the potatoes into a smooth layer and bake at 350 degrees F until warm throughout.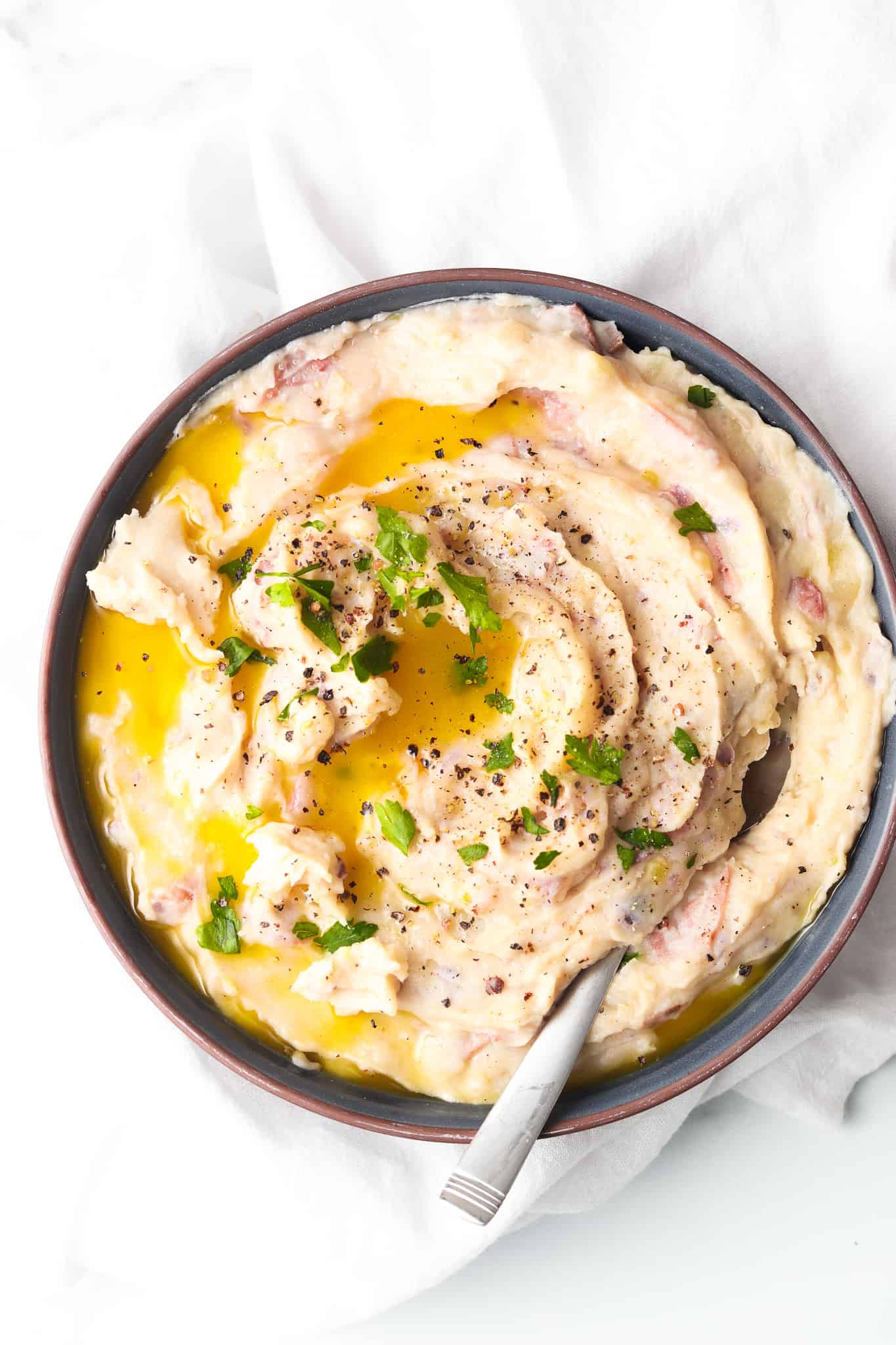 More Gluten Free Thanksgiving Recipes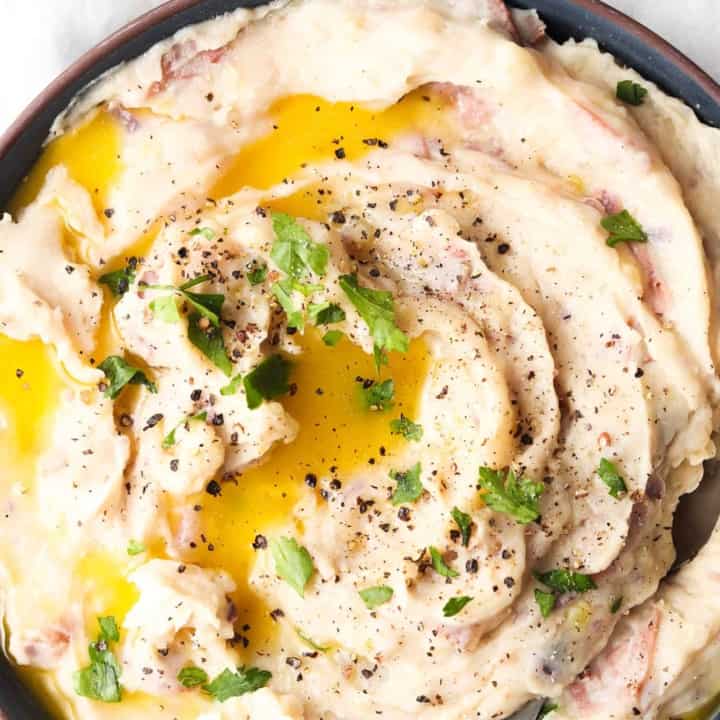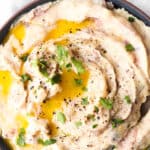 Gluten Free Mashed Potatoes
295
kcal
Print Recipe
Pin Recipe
Equipment
Hand mixer

Large mixing bowl

Large pot to boil the potatoes

Potato masher or meat tenderizer will work!
Ingredients
To garnish:
1/2

cup

fresh parsley

1

tsp

freshly cracked pepper
Instructions
Wash all potatoes and dice them into fourths. Place the diced up potatoes in a large pot and bring to a boil. Boil for 20 minutes. Once the potatoes are soft, drain the water in a colander and place the potatoes in a bowl. Using your potato masher (a meat tenderizer will also work) mash up the potatoes. I like to leave the skin on. The skin contains a ton of nutrients! Add in the melted ghee ( you can melt it in the microwave or over the stovetop), garlic, sea salt, pepper, and dairy free milk/ cream of your choice and blend with the handheld food processor until a mashed potato like consistency forms. OPTIONAL: garnish with fresh herbs like parsley on top.

If you enjoyed this recipe it would mean the world to me if you rated it and left a comment below. It helps others find it on google.
Notes
If you enjoyed this recipe it would mean the world to me if you rated it and left a comment below. It helps others find it on google.
Creamy garlic mashed potatoes that can be paired with any meal.
Serving:
1
serving
|
Calories:
295
kcal
|
Carbohydrates:
22
g
|
Protein:
4
g
|
Fat:
23
g
|
Saturated Fat:
17
g
|
Cholesterol:
32
mg
|
Sodium:
32
mg
|
Potassium:
653
mg
|
Fiber:
3
g
|
Sugar:
2
g
|
Vitamin A:
421
IU
|
Vitamin C:
18
mg
|
Calcium:
27
mg
|
Iron:
2
mg