This Pesto Chicken Salad recipe is creamy and oh so fresh. The fresh basil mixed with the spinach, pine nuts and fresh garlic is oh so delicious. This paleo chicken salad makes for the easiest on the go lunch. I could eat this any time of the day for either a snack or a meal. It is light but not lacking in flavor at all.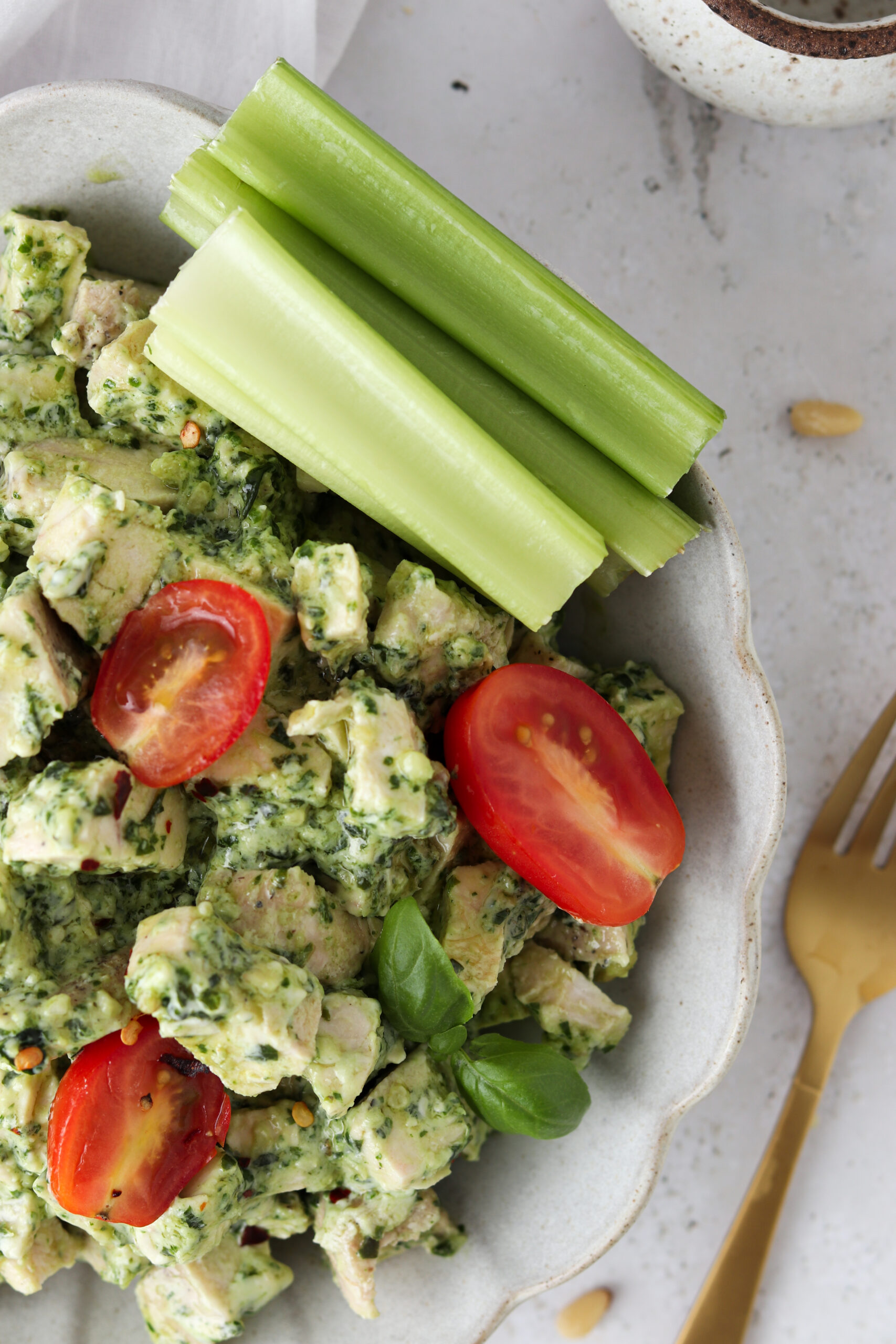 After getting raving reviews from my personal cheffing clients about this recipe, I figured it needed a spot on the blog! Chicken salad has been one of the most requested recipes lately. This recipe is super simple and perfect for those of you that like to meal prep too.
I love to have a big container of this chicken salad for in the refrigerator to enjoy all week! This is a great dish for on the go or to take to a kids practice! I have customers who request this just to be able to take it to their kids ball games! With how tasty this dish is, I could eat it anytime of the day!
Jump to:
Why You'll Love This Recipe
This recipe is so simple but is packed with flavor!
This dish is naturally paleo, gluten free, dairy free, whole30, keto, soy free, and refined sugar free.
Kids will love this dish as well!
I like to eat this with gluten free crackers and celery sticks or I will also have a small serving of this alongside a salad like my favorite kale salad.
I love anything pesto! I have two additional pesto recipes on my blog. I have my whole30 pesto and my aip pesto. Either would be great alternatives to the pesto recipe included in this post.
This dish is light, versatile, and full of flavor. You could serve this as an appetizer or as a meal. I love to prepare a large batch and to have it for the week ahead.
Ingredients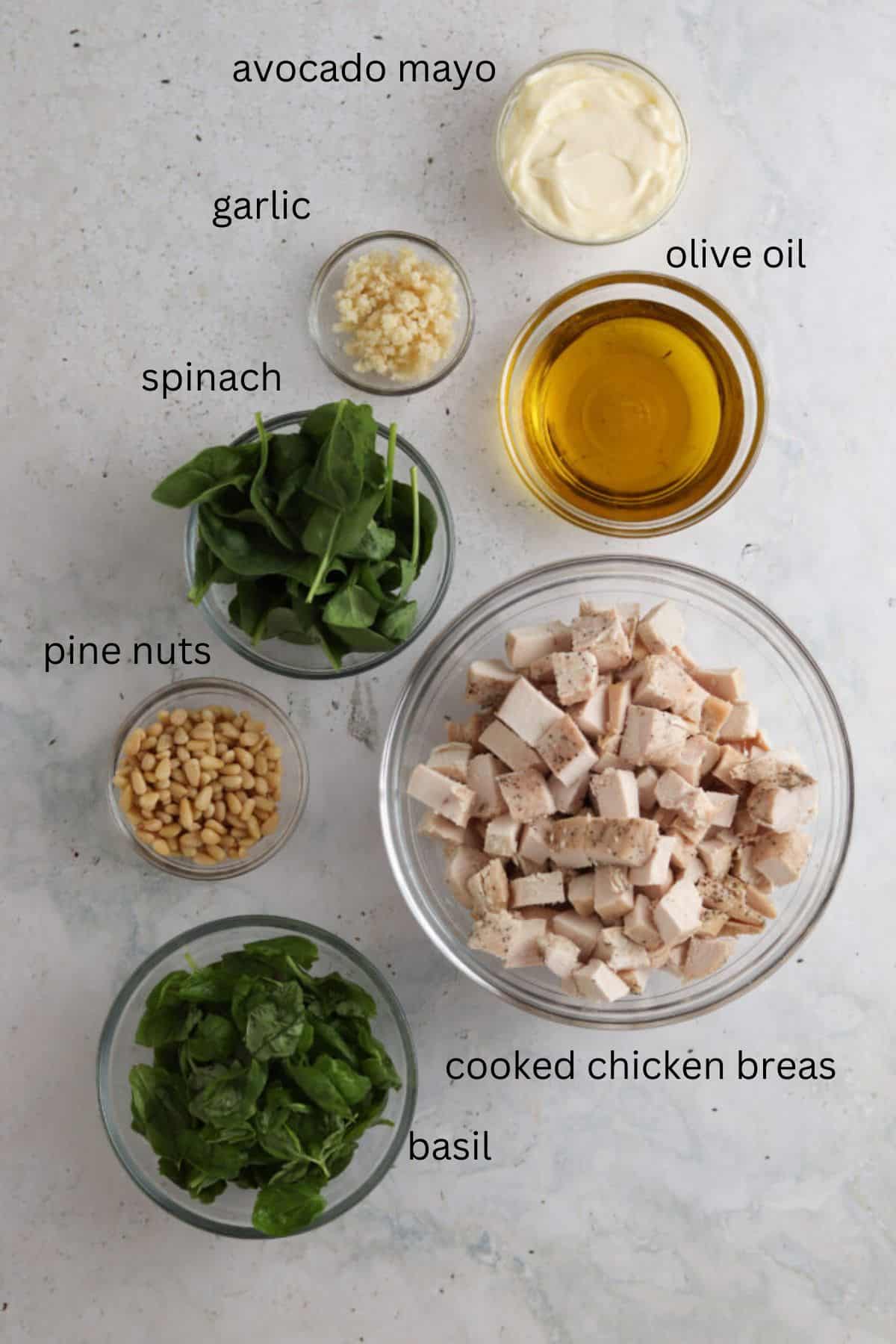 Cooked cubed chicken breast

–

I like my chicken salad chicken cubed rather than shredded but you can totally shred yours. I always use

Butcher Box

for all of my protein needs. They send me a box of the highest quality proteins every month. I keep it in the freezer and all I have to do is defrost the night before.

Avocado mayo-This is the paleo alternative to conventional mayo. It is made with either avocado oil or olive oil which is better for us than the canola oil that is used in regular mayo.

For the paleo pesto

Nutritional yeast-This is totally optional but this is what gives the pesto a cheesy like flavor. Nutritional yeast is widely used in paleo cooking to give dishes a cheesy flavor.
Garlic-This adds so much flavor to the pesto sauce.
Spinach-To get some extra greens in!
Pine nuts-To give the pesto that nutty flavor.
Olive oil-The best fat to add to the pesto sauce. Avocado oil would work too but it could affect the flavor.
Fresh basil-This is what makes the pesto! I like to make sure my herbs are organic if possible.
See the recipe card below for a full list of ingredients and measurements.
Substitutions and Variations
If you are not dairy free, you can substitute Parmesan cheese for nutritional yeast. The nutritional yeast gives all of the same flavors and consistency as the Parmesan cheese would.
If you do not have pine nuts, you can substitute walnuts or pecans in their place. You will just need to remember that this will adjust the consistency of the pesto and you may have to add additional liquid.
This recipe has not been tested with other substitutions or variations. If you replace or add any ingredients, please let us know how it turned out in the comments below!
Step by Step Instructions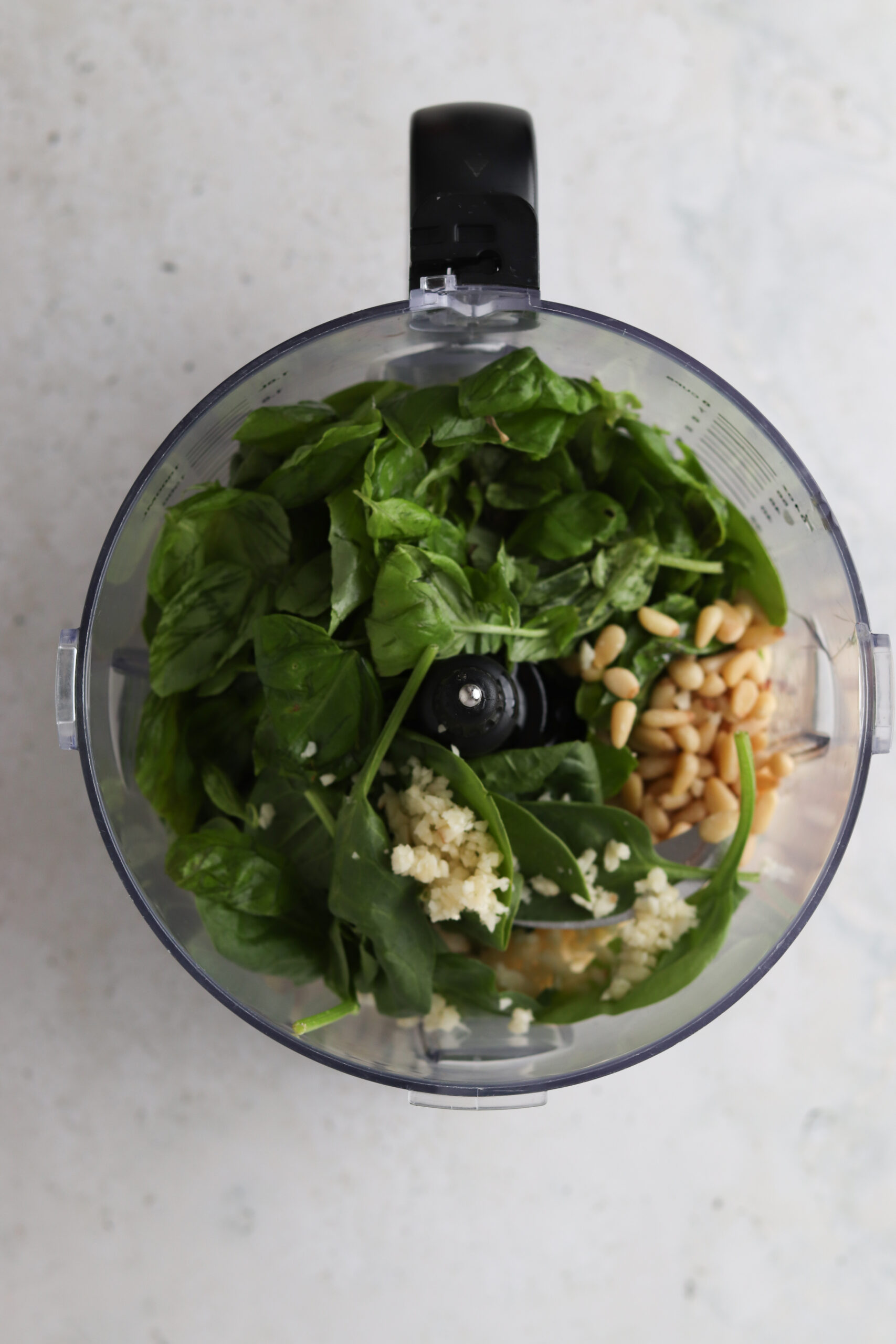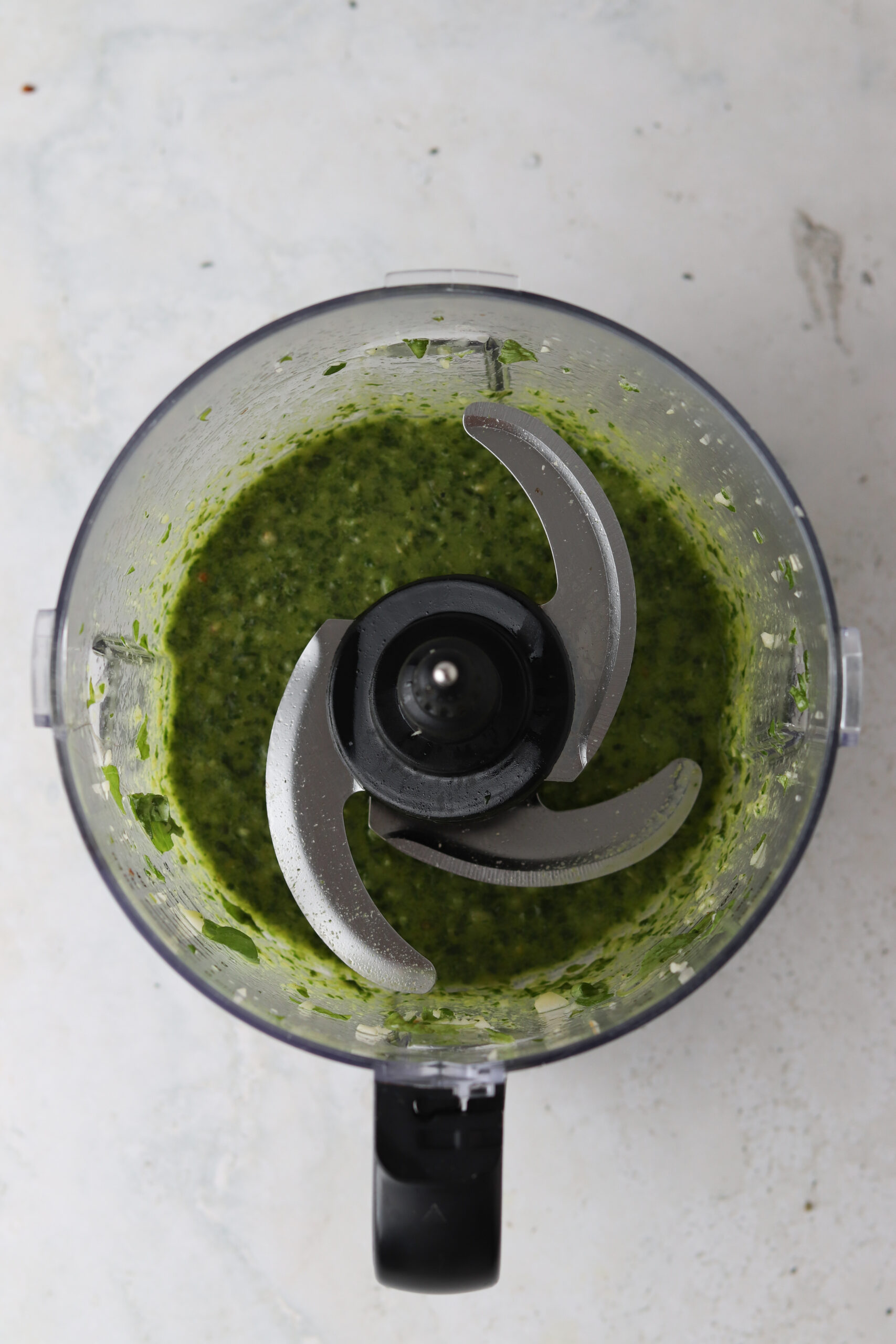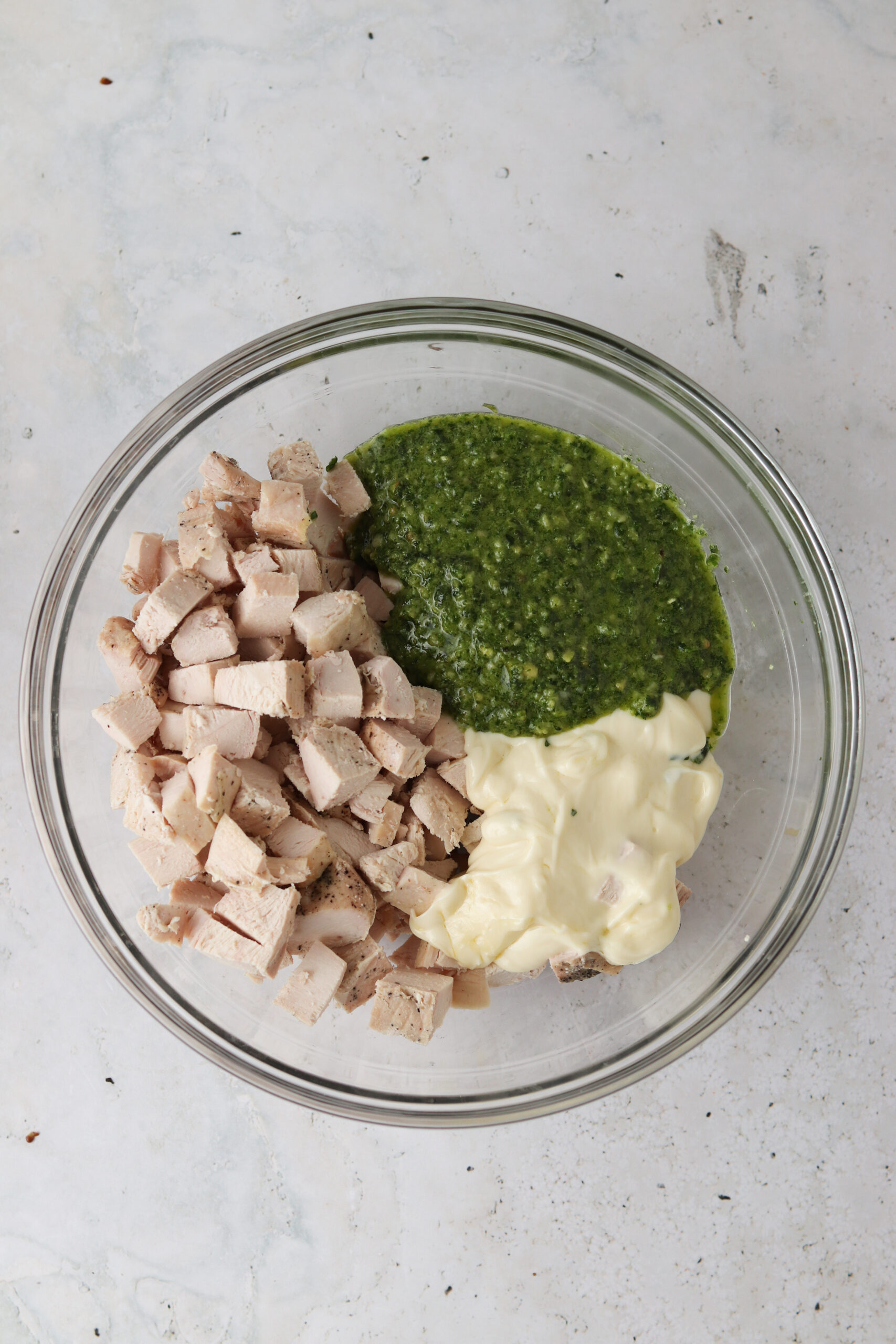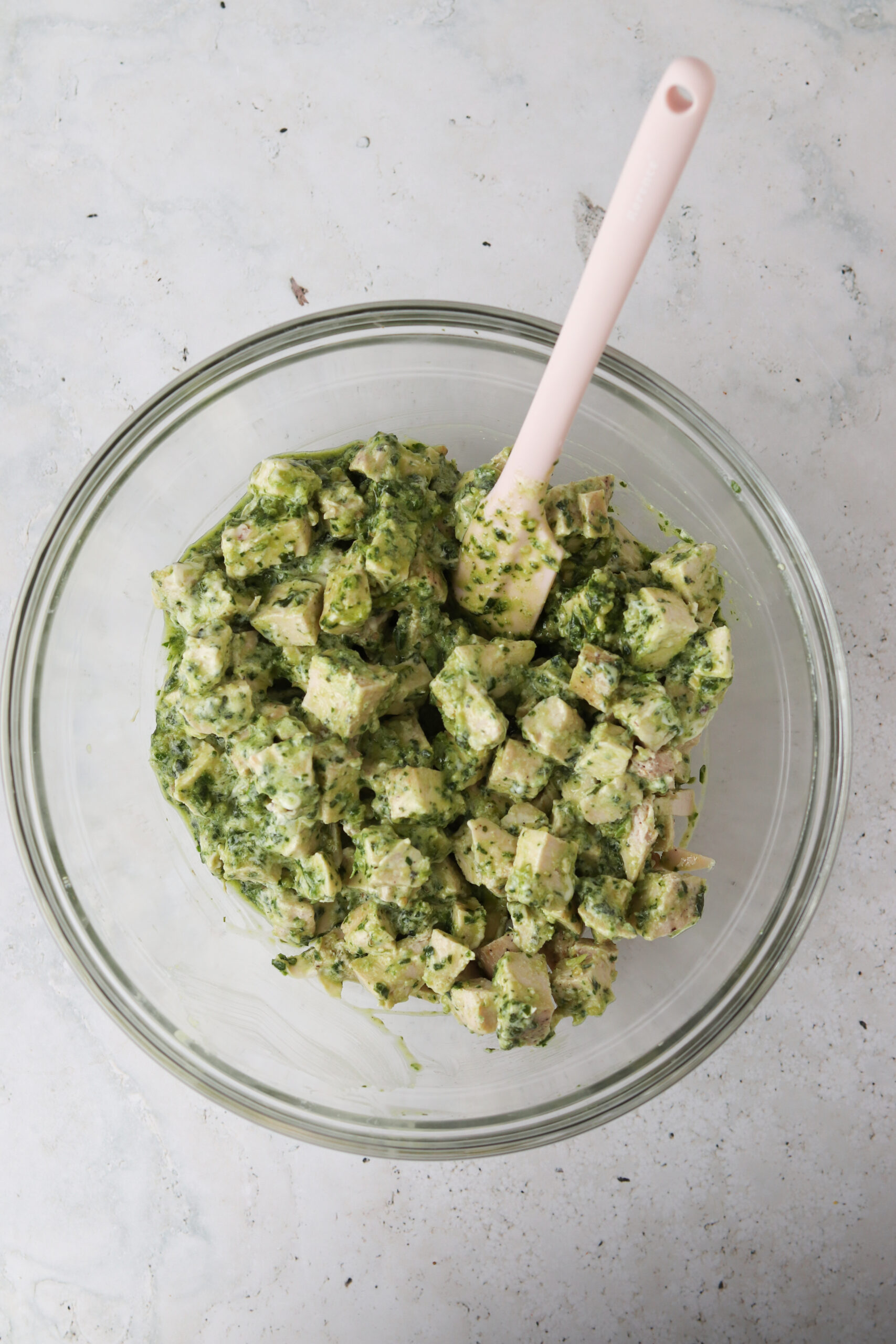 Equipment Needed
Food processor – I have had my food processor for years and it is still in great shape! I have bought this as a house warming gift for so many around me as well!
Expert Tips
Tip # 1: If you like your pesto to be smoother, you can add additional olive oil to help thin it out. This will impact the flavor though since it will lessen the potency of the basil.
Tip # 2: I like to season my chicken breast with just sea salt, black pepper, and garlic powder so that you can still taste the pesto. I bake mine in the oven at 350 degrees F until the internal temperature reaches 165 degrees F. I will bulk make chicken breast for the week in advance so that I always have a prepped protein available in the refrigerator whenever I want it.
Tip # 3: If you don't like too much mayo on your chicken salad, you could mix the mayo and pesto separately and slowly mix it into the chicken so you can ensure it is the right consistency for your liking.
Recipe FAQ
What goes well with pesto chicken salad?
I love to eat this over greens or with these paleo crackers or celery! This dish is so fresh and versatile it would pair well with all vegetables and sides.
Is this Whole30 friendly?
Yes, this Whole30 chicken salad is also keto and low carb friendly too.
How should I serve this dish?
You can serve this in a large serving dish or if this is an appetizer you could serve it in small 4 ounce cups as well! If you are preparing for the week ahead, you could make leftover containers with a serving of chicken salad and all of the crackers and vegetables packed into it so you can grab and go.
Can I use frozen spinach?
Yes! You just need to thaw completely and ensure to squeeze all of the extra liquid out of it before mixing. However, this will change the consistency of the pesto so I recommend using fresh spinach.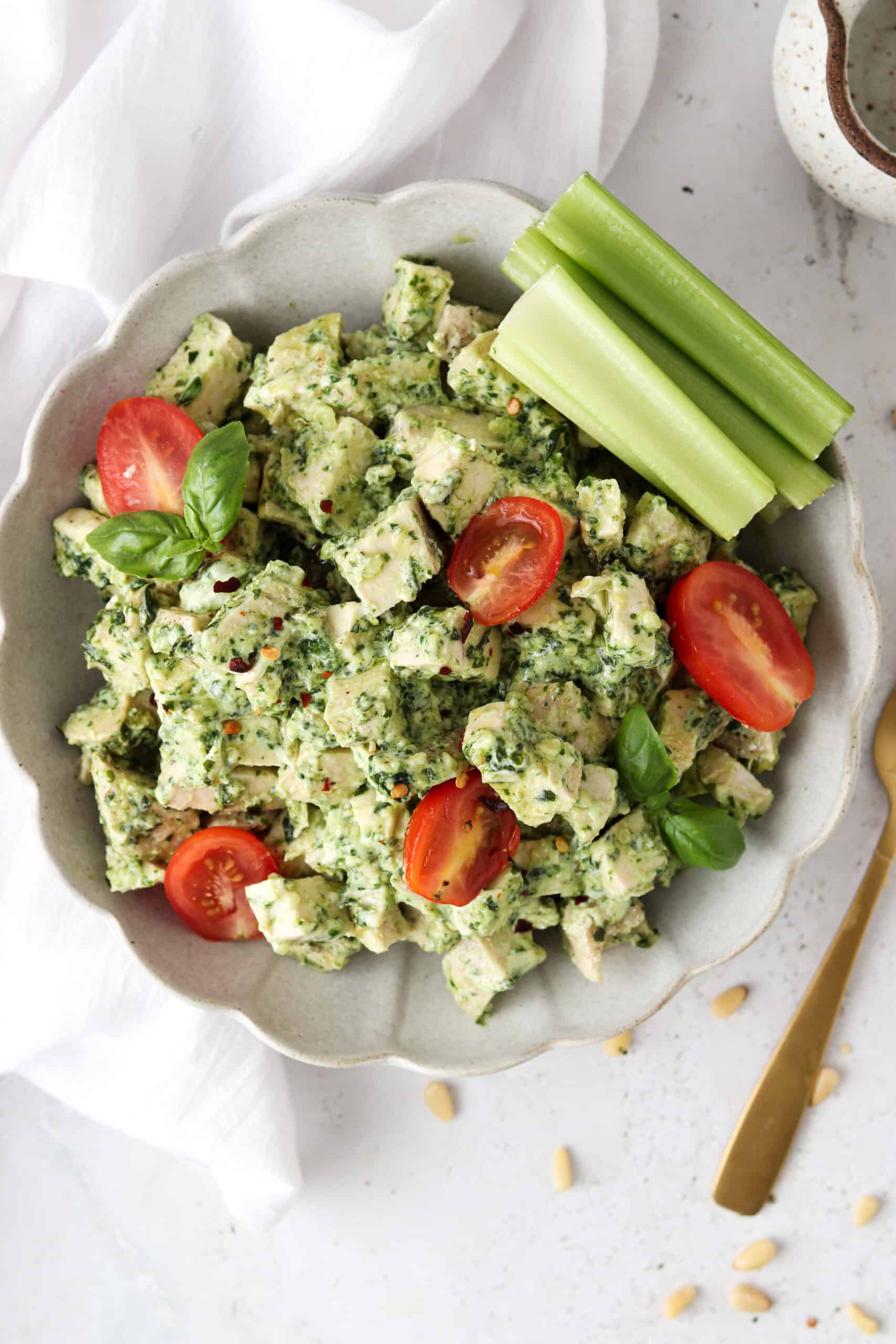 Storage Instructions
This recipe can be stored in an air tight container in the refrigerator for up to 5 days.
Other Healthy Chicken Recipes You Will Love
Are you interested in getting a list of my go to healthy alternatives?
download your FREE guide below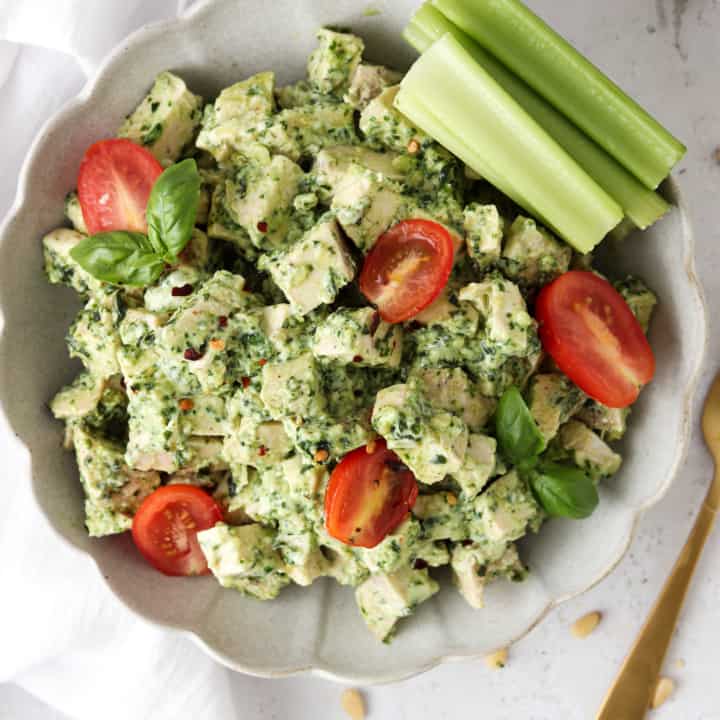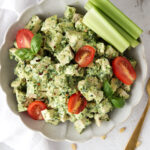 Pesto Chicken Salad
709
kcal
Print Recipe
Pin Recipe
Ingredients
2

pounds

cooked chicken breast

cubed or shredded

1/2

cup

avocado mayo

You can add more if you like your chicken salad to be creamier.

1/3

cup

pine nuts

6

cloves

garlic

1

tbsp

nutritional yeast

1/2

cup

extra virgin olive oil

1

cup

spinach

2

cups

basil
Instructions
Place all ingredients aside from the avocado mayo and chicken in the food processor and blend until smooth. Add the pesto, chicken, and avocado mayo to a bowl and mix until mixed throughout.
Notes
Storage: This recipe can be stored in an air tight container for up to 5 days in the refrigerator. Nutrition: The nutrition for this recipe is an estimate and the calorie count is not guaranteed.  It is based on 5 servings.  Servings: This recipe should yield 5 servings. 
Quick and easy chicken salad lunch or appetizer.
Serving:
1
serving
|
Calories:
709
kcal
|
Carbohydrates:
5
g
|
Protein:
59
g
|
Fat:
49
g
|
Saturated Fat:
7
g
|
Polyunsaturated Fat:
7
g
|
Monounsaturated Fat:
20
g
|
Cholesterol:
154
mg
|
Sodium:
269
mg
|
Potassium:
625
mg
|
Fiber:
1
g
|
Sugar:
1
g
|
Vitamin A:
1110
IU
|
Vitamin C:
5
mg
|
Calcium:
58
mg
|
Iron:
3
mg