These Halibut Fish Tacos are one of our weekly go to recipes. They are loaded with flavor, light, easy, and oh so delicious. You can make the halibut multiple ways in this recipe. We like to pair these tacos with our fresh mango salsa and crispy homemade tortillas. The fish is light and the pico de gallo gives it a a fresh crunch. Halibut is a lighter tasting fish so the sweetness from the mango and bite from the fresh onion make this a complete flavorful dish.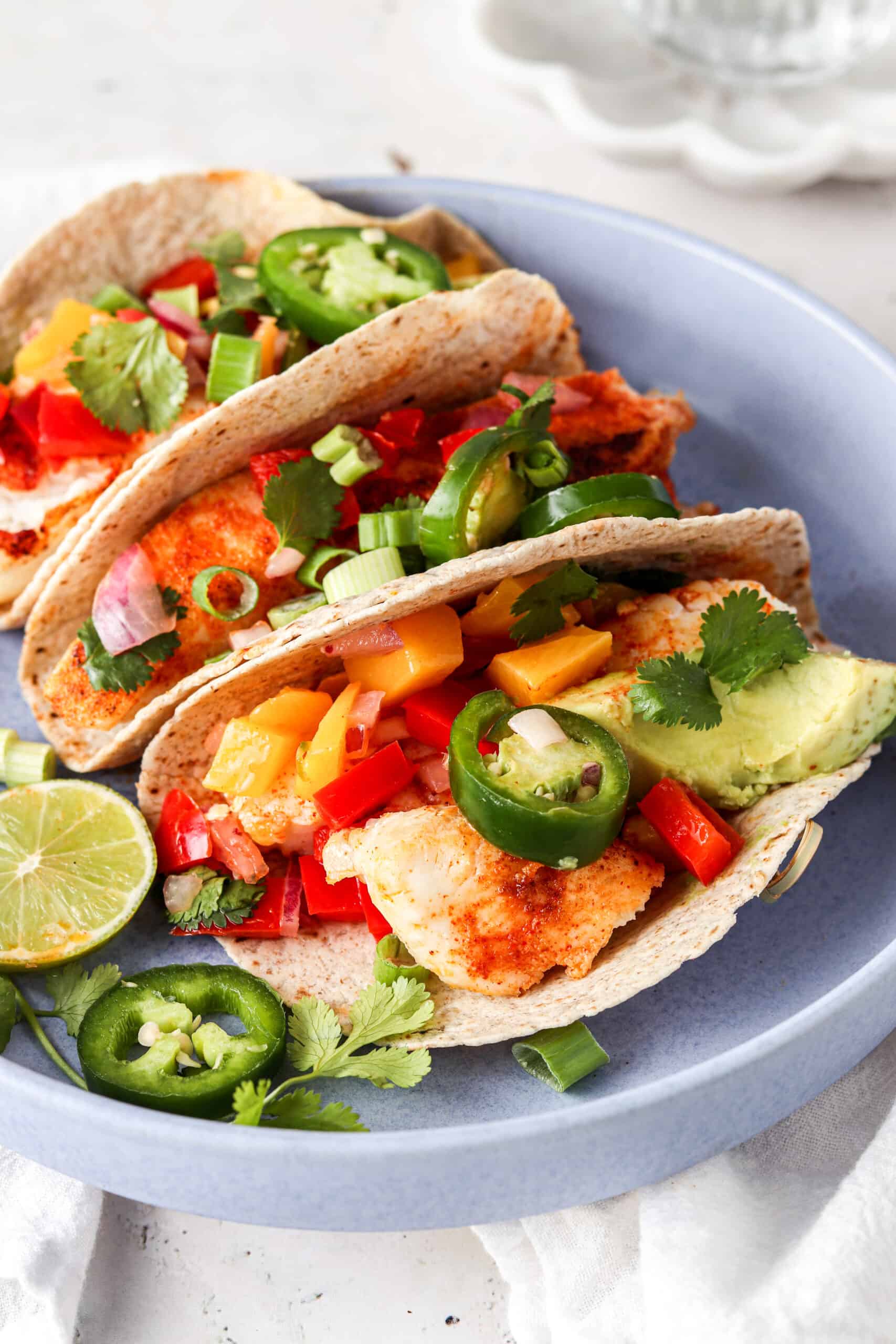 This dish screams summer to me. I love light dishes on a hot day so that I don't feel weighed down with carbs and heavy vegetables. You can grill the fish to give it even more flavor as well. I love to make these tacos with my homemade AIP Tortillas with Cassava Flour.
Jump to:
Why You Will Love This Recipe
This dish is so simple! This dish can be ready start to finish in 15 minutes including your prep time and will be packed full of flavor.
This dish is naturally gluten free, dairy free, soy free, and can be made paleo and whole30 friendly.
Kids will love this dish as well! The halibut is not an overpowering fish and the pico de gallo helps to add additional flavor.
This dish would also taste great with my pineapple pico de gallo in place of the mango pico de gallo.
You can cut down on even more prep time by preparing your pico de gallo earlier in the week and having it in your refrigerator so that you only have to cook your fish and get ready to enjoy.
This dish has a nice spice from the raw onion and jalapeños, but the fresh sweet mango helps to add a nice balance to the dish.
Ingredients: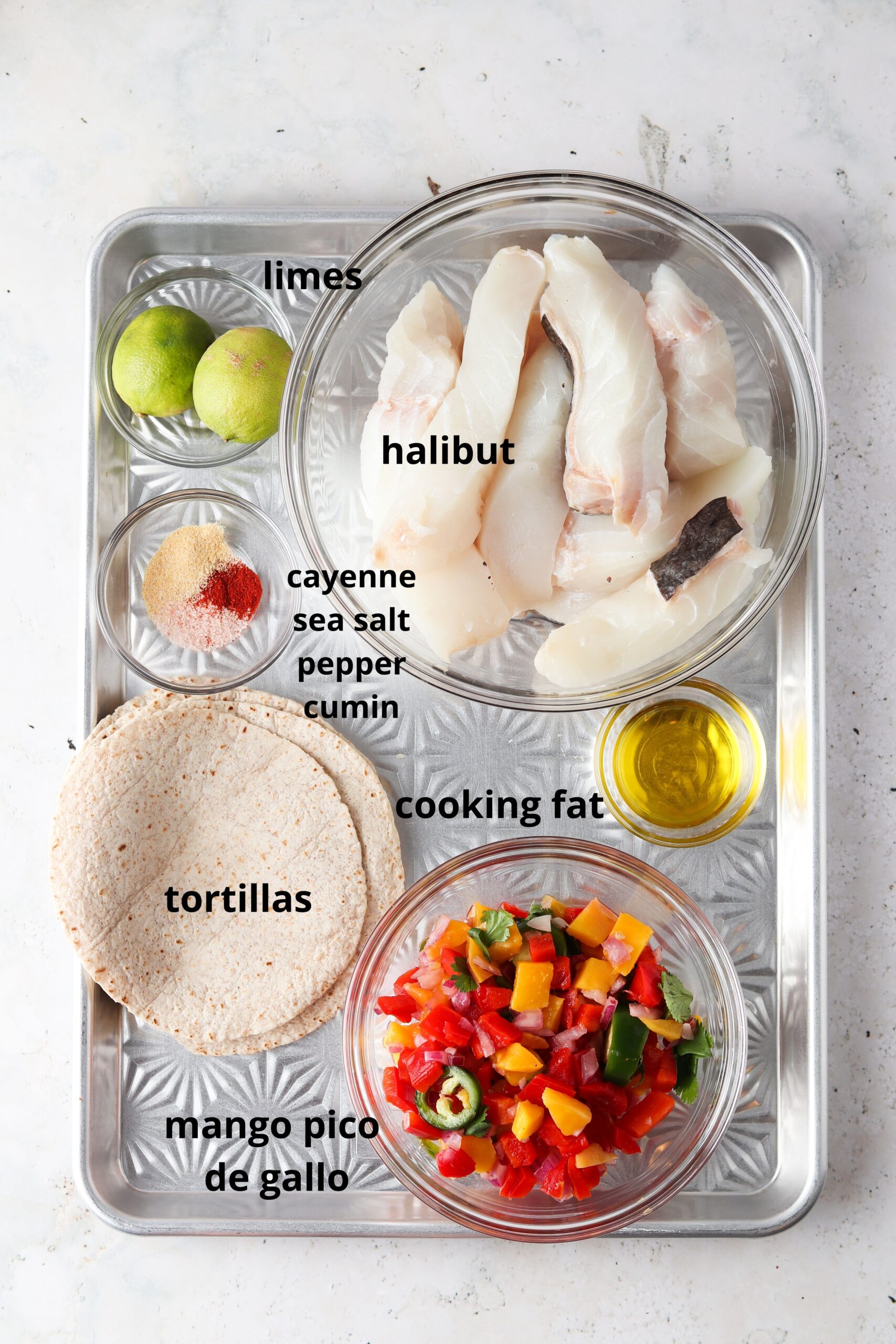 For the fish
Halibut-I like using halibut for my fish tacos because it is such a versatile fish and super durable. It is easy to cook with and you do not have to worry about it falling apart. 
Lime-Lime adds a nice tangy touch to drizzle on top. It is also a great garnish on your plate so that you can add an additional fresh squeeze of lime to your taco before eating.
Cayenne-Adds a nice zest without being overpowering!
Ghee-I like to pan sear in ghee over oil because it gives the fish a buttery taste. 
Cumin-Adds some nice flavor and is what helps to give the fish a taco flavor in combination with the cayenne.
Salt & pepper-To season. 
For the mango pico de gallo
The mango pico de gallo is what makes this recipe!
Fresh mango-Make sure it is ripe! When mangos are ripe they form a similar texture as avocados, they become a bit soft. 
Red pepper-red pepper is the perfect mix of sweetness between yellow and orange peppers but a bit spicy like green peppers. They go perfect in this pico, however if you do not have red at home, you can for sure substitute for something else!
Limes-Lime adds a nice citrus twist while keeping the fruits and vegetables from becoming dry.
Purple onion-Adds the most perfect crunch! I prefer purple over yellow because they are not as sweet.
Jalapeños– Add a touch of spice. If you do not like too much spice, make sure to take out the membranes and seeds of the pepper.
Fresh cilantro-I love fresh herbs and this fresh cilantro adds the most perfect touch. 
Sea salt-A little bit of salt with this sweet pico!
For the tortilla
Obviously you can buy store bought but I like making my own from cassava flour! Check out this recipe

HERE

. These tortillas are naturally paleo, AIP & Whole30 friendly. 
See the recipe card below for a full list of ingredients and measurements.
Substitutions and Variations
You can substitute the mango in the pico de gallo for another fresh fruit like pineapple.
If you prefer a different white fish other than halibut, such as tilapia, cod, or mahi mahi, you can substitute the white fish of your choice.
This recipe has not been tested with other substitutions or variations. If you replace or add any ingredients, let us know how it turned out in the comments below!
Step by Step Instructions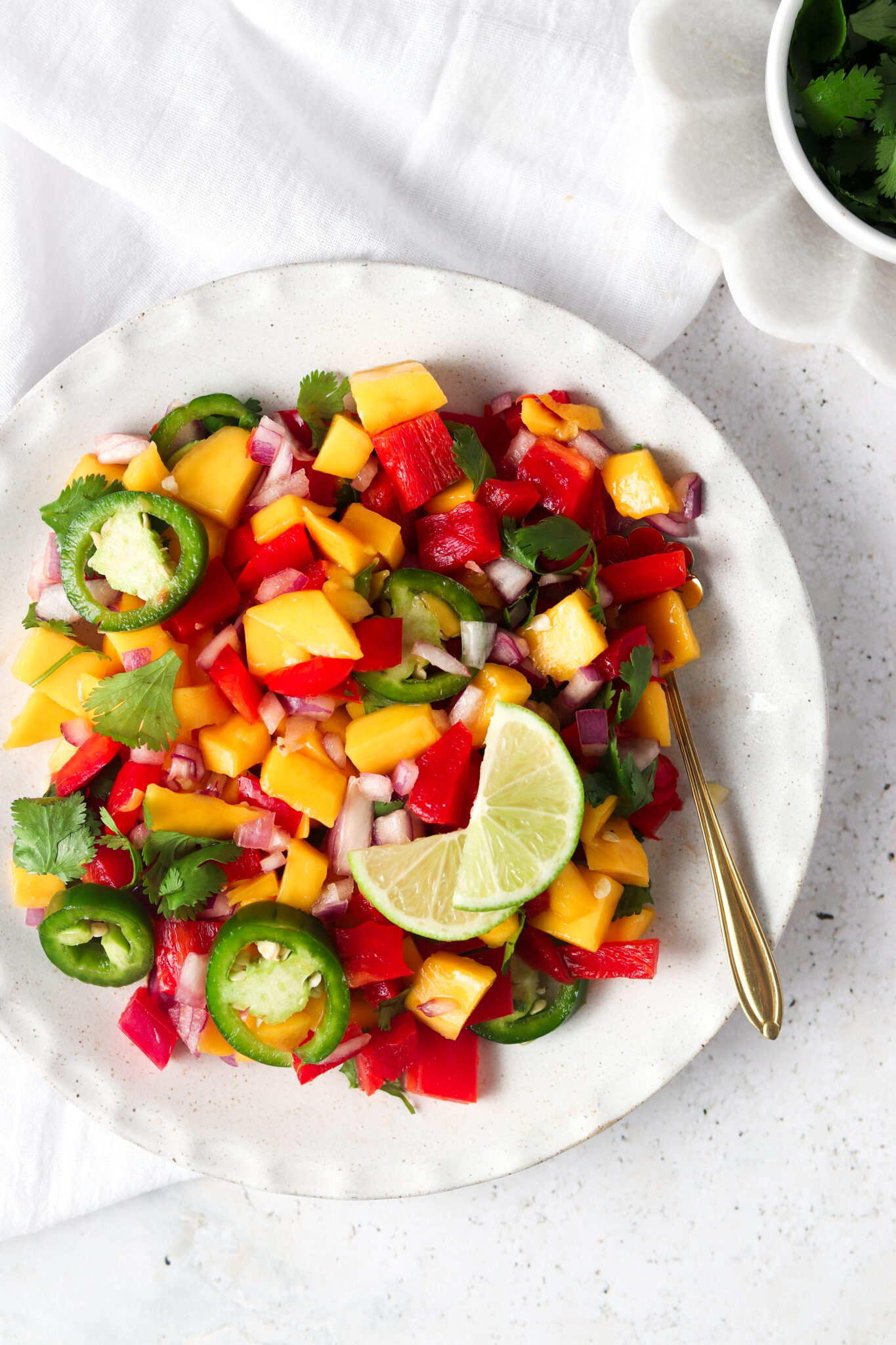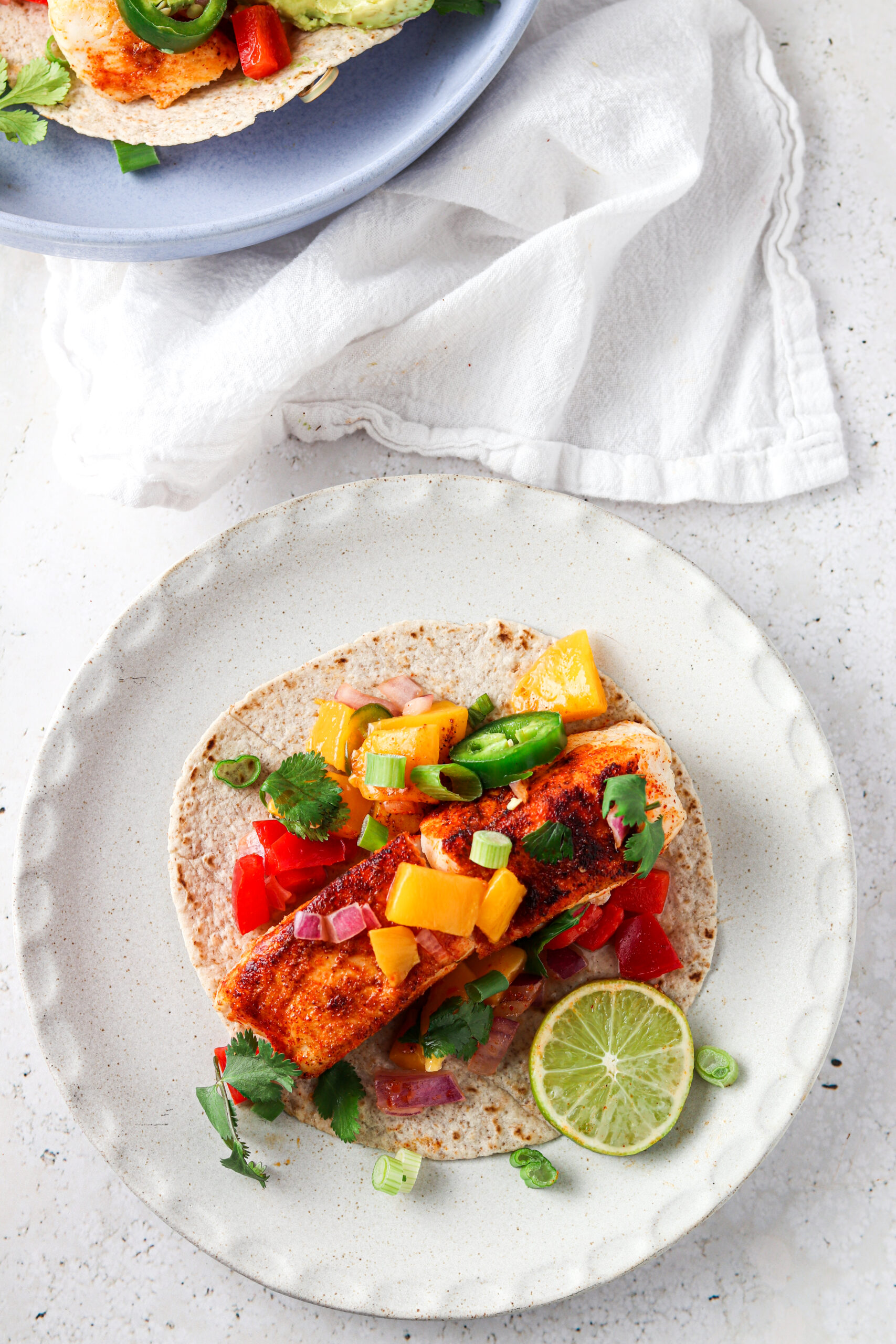 Equipment Needed
Expert Tips
Tip # 1: When purchasing fish for tacos, you will want to make sure that you are choosing boneless and skinless. You can use fish that still has the skin attached, you will just want to shredded the fish from the skin so that it is separated prior to assembling your taco.
Tip # 2: The seeds and membranes of the jalapeños is where the heat is housed. If you want to have less spicy pico de gallo, you will want to remove the seeds and membranes prior to chopping.
Tip # 3: Mangos have a large pit in the middle. You will want to cut around the pit and then either scoop the mango out of the skin or trim the skin off before cutting the mango.
Recipe FAQ's
What kind of fish is best to use for fish tacos?
I love using halibut. It is extremely versatile and goes great with just about any toppings. Not to mention it is a durable fish therefore it is very easy to cook with.
How many pounds of fish do you need for tacos?
I like to allow for a half pound of fish per person.
What should I serve with fish tacos?
The mango pico de gallo is what makes these tacos! You could also serve it with a creamy crunchy slaw, like this one. Halibut is versatile, so it goes great with just about anything.
How can I cook this dish?
You can either pan sear or grill the halibut for this dish!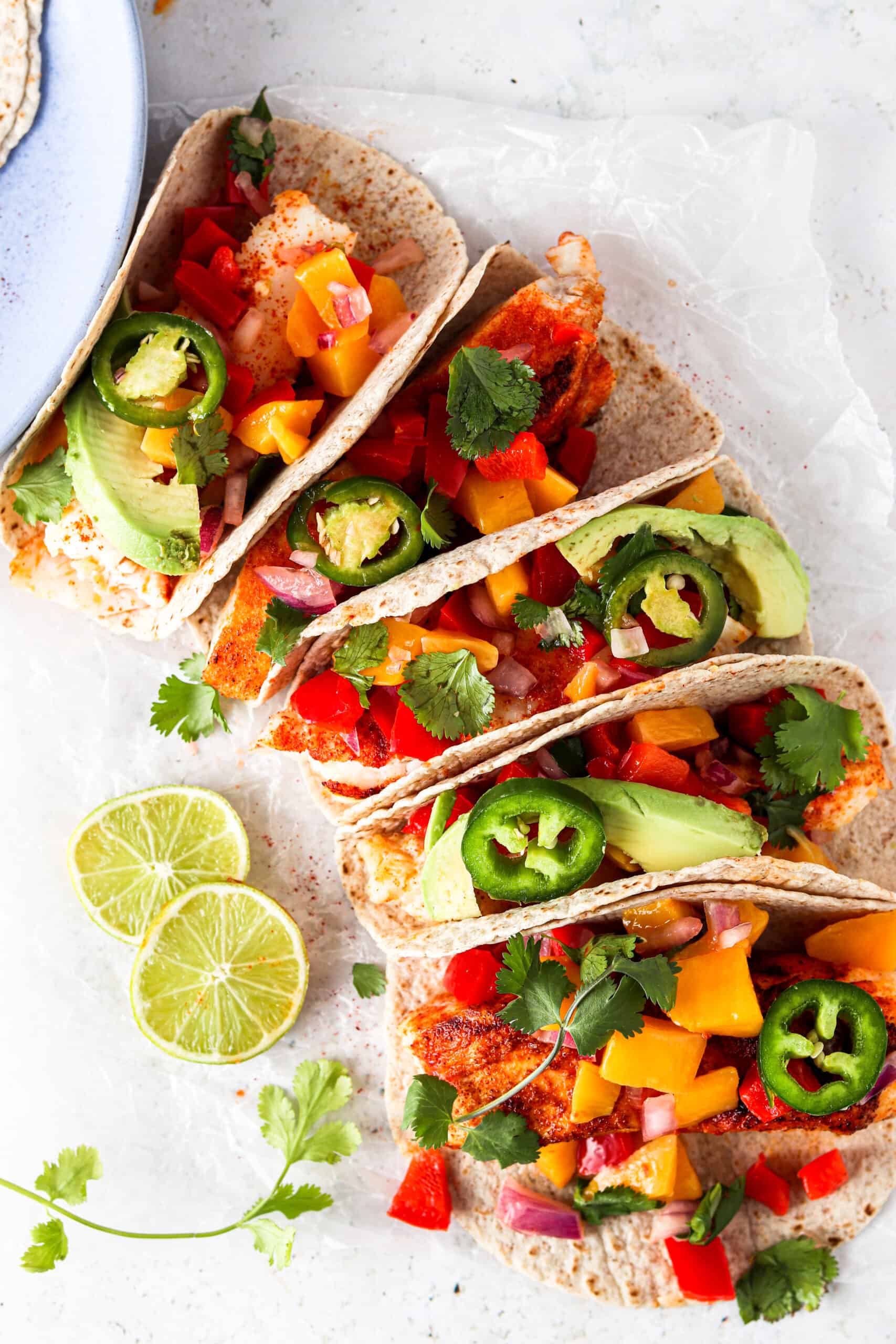 Storage Instructions
This recipe can be stored in the refrigerator in an air tight container for up to 5 days.
Other Fish Recipes You Will Love
Want a free guide to my go to healthy alternatives?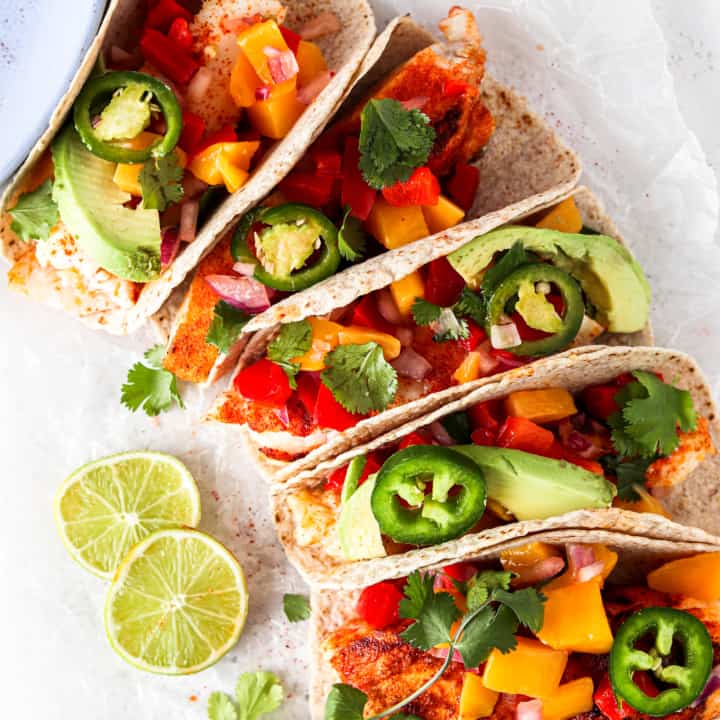 Halibut Fish Tacos
192
kcal
Print Recipe
Pin Recipe
Equipment
Either grill or non-stick pan
Ingredients
For the fish:
5

pieces

halibut

I like wild caught. Allow for 1/2 pound per person.

oil of choice

I like ghee

1/4

tsp

sea salt

1/2

tsp

black pepper
For the pico de gallo-
2

whole

mangos

ripe, peeled, and diced

1

red

pepper

diced, omit for AIP

1

purple onion

chopped

3

whole

limes

juiced

1

cup

fresh cilantro

1

whole

jalapeno

sliced, omit for AIP

1

pinch

sea salt
To serve:
limes

squeezed

avocado slices

10

tortillas

see notes above about my homemade grain free tortillas
Instructions
For the pico:
Chop up the mango, purple onion, red pepper, and jalapeno finely. Add to a bowl and juice the limes on top. Sprinkle the sea salt and add the fresh cilantro. Store in the fridge.
For the fish: PAN SEAR VERSION-
Pat dry the fish. Add the ghee to the pan and get the pan real hot. Coat the fish with salt and pepper. Add the fish to the pan and cook for 4 minutes, flip and cook for an additional 4 minutes. Remove the fish from the pan.
For the fish: GRILL VERSION
Melt the ghee, add the ghee and spices to a bowl and brush over the fish. Heat up the grill to 350. Add the fish directly on to the grill racks. Cook for 5 minutes, then flip and cook for an additional 5 minutes or until the fish reaches 145 degrees F. Remove from the grill.
To assemble:
Add the fish to the taco shell, with the pico. Squeeze lime on top.
Notes
Storage: This recipe can be stored in the refrigerator for up to 5 days in an air tight container. Nutrition: The nutrition for this recipe is an estimate and the calorie count is not guaranteed.  It is based on 5 servings.   Servings: This recipe should yield 5 servings. 
Easy and versatile halibut recipe.
Serving:
1
taco
|
Calories:
192
kcal
|
Carbohydrates:
33
g
|
Protein:
5
g
|
Fat:
4
g
|
Saturated Fat:
1
g
|
Cholesterol:
1
mg
|
Sodium:
422
mg
|
Potassium:
149
mg
|
Fiber:
2
g
|
Sugar:
4
g
|
Vitamin A:
225
IU
|
Vitamin C:
3
mg
|
Calcium:
72
mg
|
Iron:
2
mg