These blender Flourless Healthy Gluten Free Strawberry Muffins are super easy to make and only require 10 minutes of prep time! These muffins are soft, fluffy and full of flavor. We love having a fresh batch of muffins filled with summer fruits in our house at all times. These gluten free muffins are not only delicious, and super kid friendly too! We love having a fresh stash of muffins on hand at all times for to go snacks and breakfasts.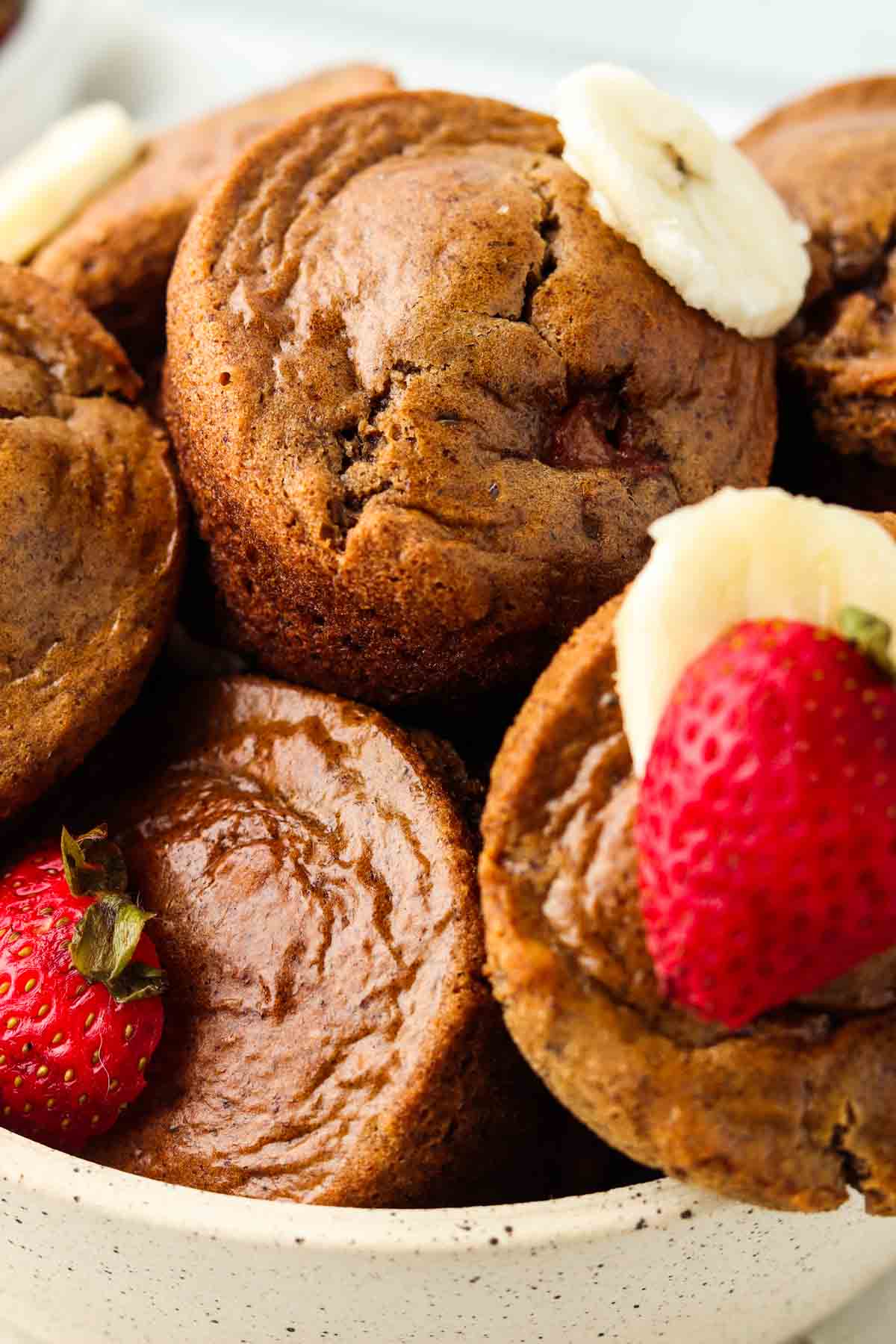 These would be a perfect snack to keep on hand for after school for the kids. You can pair these as a healthy desert option as well to end any of your meals as well. Pair these with additional fresh fruit or even drizzle nut butter for additional nutrients.
As a busy wife and business owner having a quick but healthy snack available is key. Add that all I have to do is dump all of the ingredients into a blender and go and I'm sold! If you like baking with fresh fruit, you should also check out my Vegan Peach Cobbler!
Jump to:
Why You Will Love This Recipe
First off, they only take 10 minutes to prep!

These muffins are naturally gluten free, dairy free, soy free, refined sugar free, flourless, grain free, and paleo and celiac friendly!

These muffins are super kid friendly too, kids love them!




You can freeze these muffins for up to a month in the freezer.

I love making these flourless muffins on the weekend, with this recipe you can have fresh muffins on the table within 30 minutes.

This recipe was inspired by my meal prep clients, they love seasonal muffins! You can check out my weekly

meal prep menu

if you are in the Pittsburgh area or you can even check out the other

gluten free muffin recipes

I have on my blog.

This recipe is easy to clean up with the only dishes being your measuring cups, measuring spoons, muffin pan, and the blender!
Ingredients
Almond butter-This is the base of the recipe and what allows these muffins to be smooth! Be sure to get a smooth almond butter.
Strawberries-Stems removed, washed, and diced!
Maple syrup-To sweeten the muffins, if you are looking for a lower carb option you can skip the sweetener.
Eggs-This binds the muffins together.
Apple cider vinegar-This helps the muffins rise with the baking soda.
Baking soda-Pushes the muffins to expand.
See recipe card below for a full list of ingredients and measurements.
Substitutions and Variations
You can substitute fresh strawberries with frozen strawberries but this will add additional moisture to the batter and change the consistency. I would recommend letting the frozen strawberries thaw completely prior to mixing so that you can better control the amount of additional moisture that would be going into the muffins.
If you prefer a different nut butter, you can swap that with the almond butter. You will just want to make sure the nut butter you choose is smooth so that the muffins consistency does not change.
If you do not like maple syrup, you could swap it out for a different sweetener such as coconut sugar or honey. You will just need to adjust the measurements to suit the sweetness of the muffins since one may be sweeter than another.
This recipe has not been tested with other substitutions or variations. If you replace or add any ingredients, please let us know how it turned out in the comments below!
Step by Step Instructions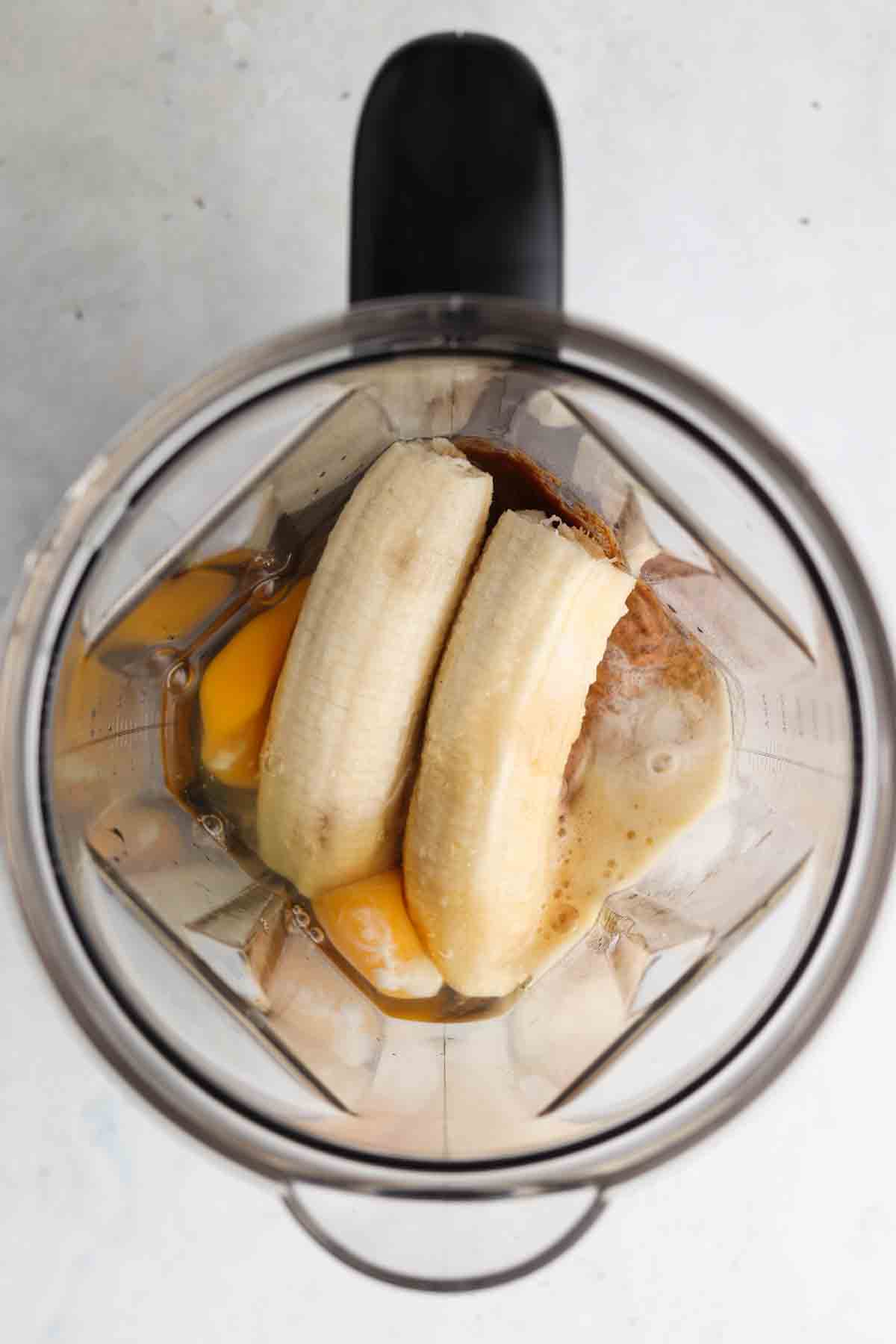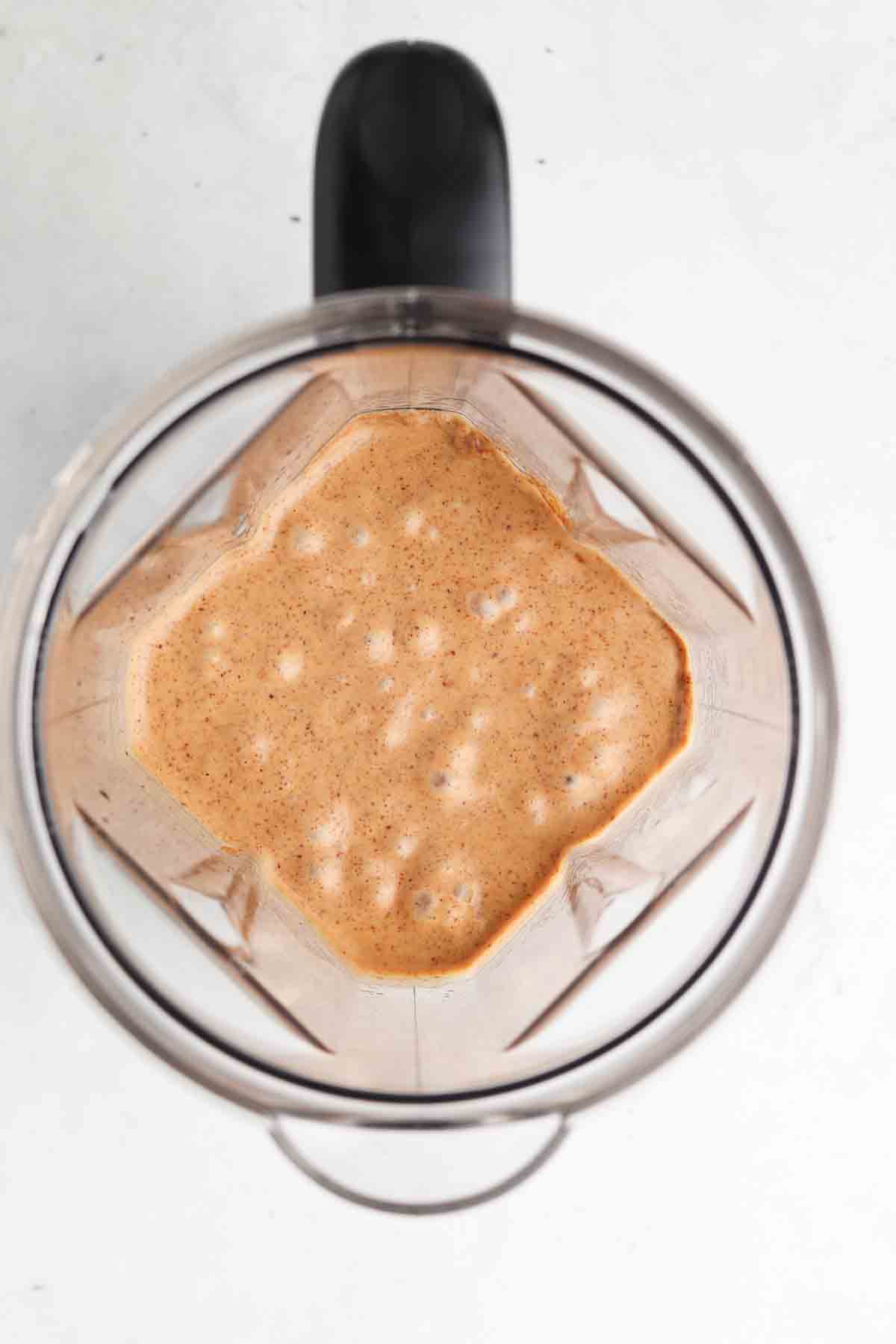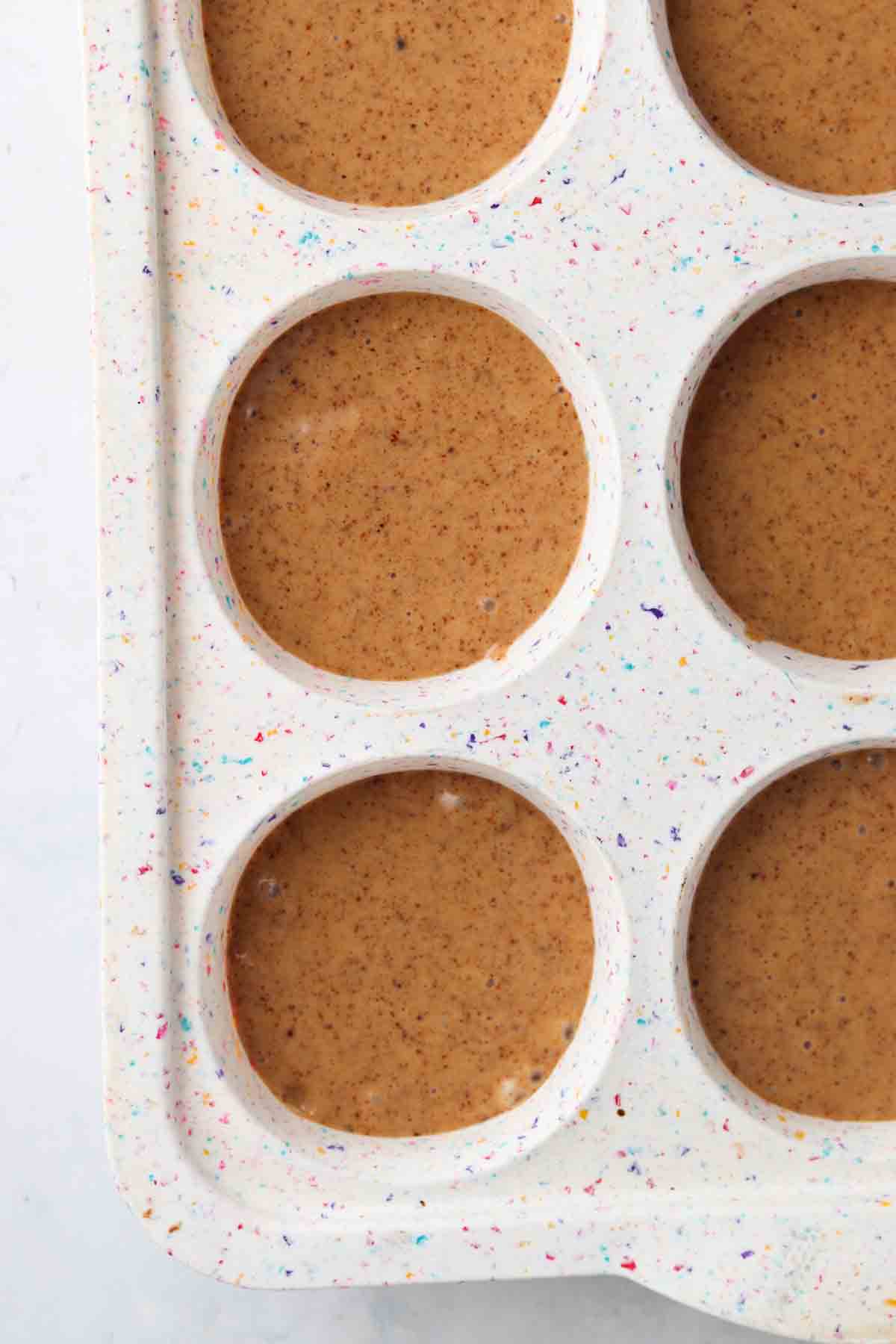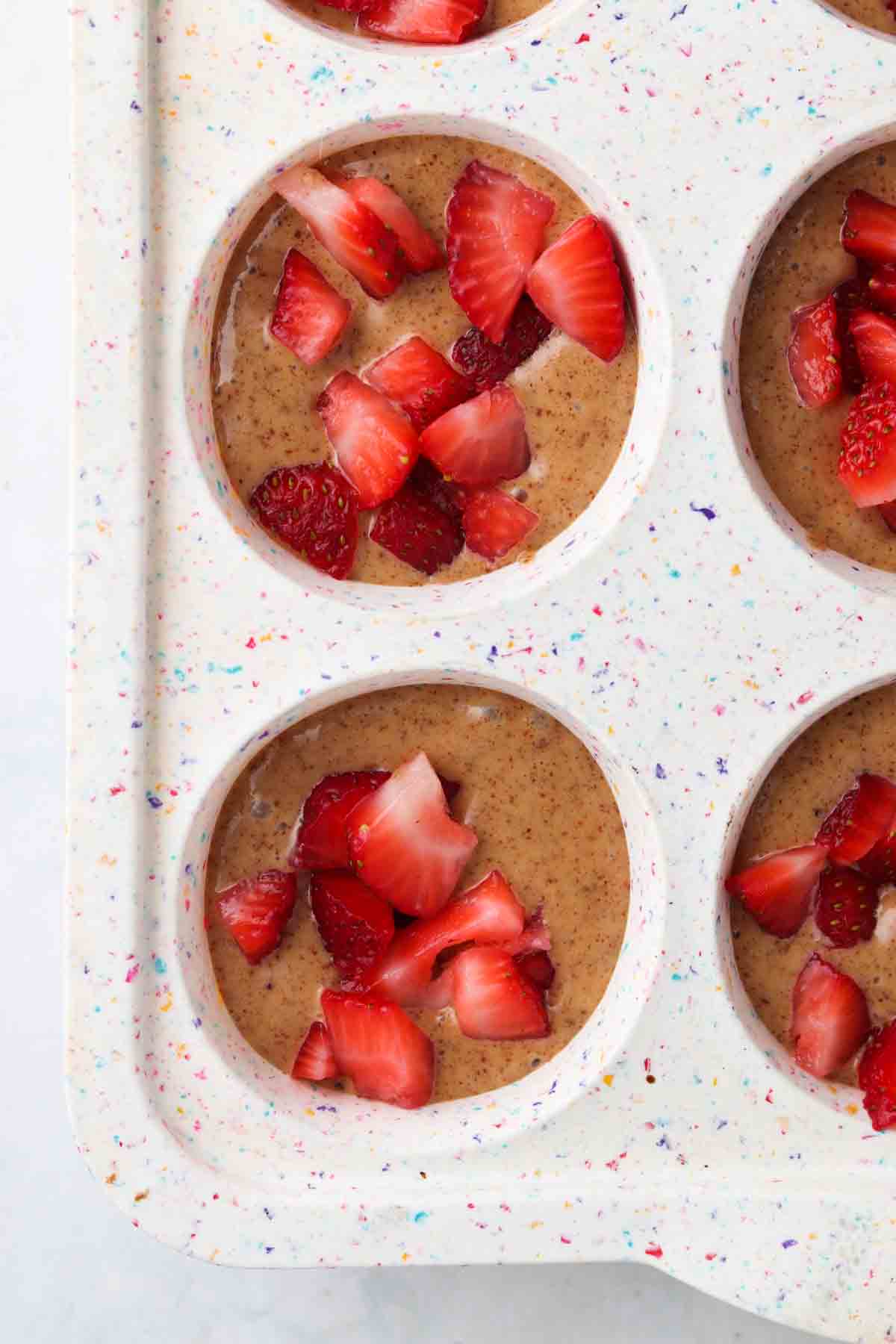 Equipment Needed
Blender: I absolutely love this blender! It gives you the most bang for your buck with all of the attachments that come with it. I have had mine for a few years now and I always highly recommend it to friends and family
Silicone cupcake pan: Can I just say GAME CHANGER?! Finding the silicone cupcake pans have changed baking for me. No more fussing with the paper liners and it also allows me to bulk make these muffins and freeze them without having to worry about the paper. It is an added bonus that it also allows for less waste by now having to throw out the paper liners.
Measuring cups and spoons: These are such a great deal! They are durable and give you many different sizes.
Expert Tips
Tip # 1: If you want a small bite size snack version, you can also purchase a mini muffin pan. The small bite sizes would be great for kids and make these muffins even easier to eat on the go!
Tip # 2: If you are able to, invest in the silicone muffin liners! They are so much easier to clean and the muffins literally just pop right out. They have both regular size silicone muffin liners as well as mini! You can find them in local stores now as well as online.
Tip # 3:

Be sure to allow your muffins to sit prior to moving to prevent them from falling apart.

If you won't have time for them to fully cool prior to moving, make sure to bake them in individual muffin cup liners so that you can transport them easier without as much risk of them breaking during transportation.
Tip # 4: Don't throw out your ripe bananas! If they are too ripe to eat, place them in a storage bag in your freezer and use them in your smoothies and baking recipes such as these muffins! You will just want to make sure to allow the bananas to thaw prior to mixing your muffin batter.
Recipe FAQs
Can I substitute peanut butter for almond butter?
Absolutely! However, peanut butter tastes a bit richer than almond butter so please note the taste will be a little different. You will also want to make sure that you use smooth nut butter. Another version such as chunky peanut butter will change the consistency of the muffins.
What kind of almond butter should I choose?
I suggest using a creamy and smooth almond butter (one without almond chunks). I love using the kirkland brand for this. They have the best almond butter made with just pure almonds – no fillers. I have found it is the best bang for your buck! The key with the almond butter is to make sure to read your ingredient list on the product to ensure there are no fillers or additives.
Can I use frozen strawberries?
Yes, however, I suggest allowing them to thaw out before baking with them as they will be holding on to some water. You will also want to make sure there are no fillers or additives to the frozen berries you purchase. To get rid of some of the liquid, you could allow the strawberries to thaw in a strainer that is sitting over a bowl so that the liquid drains into the bowl and away from the berries.
How will I know if they are done?
I like to stink a toothpick or knife into the muffins to check. If it comes our clean your muffins are ready! You will want to remember to allow the muffins to cool prior to removing from the pan so they do not break apart.
Can I freeze these muffins?
I don't recommend freezing the muffins because they will change the texture. If you want to though, I would recommend freezing in a single layer with a piece of parchment paper separating the layers of muffins to prevent sticking when you thaw them. You will also want to make sure that you bake the muffins in a silicone muffin pan so that the paper muffin liners don't effect the muffins when they thaw.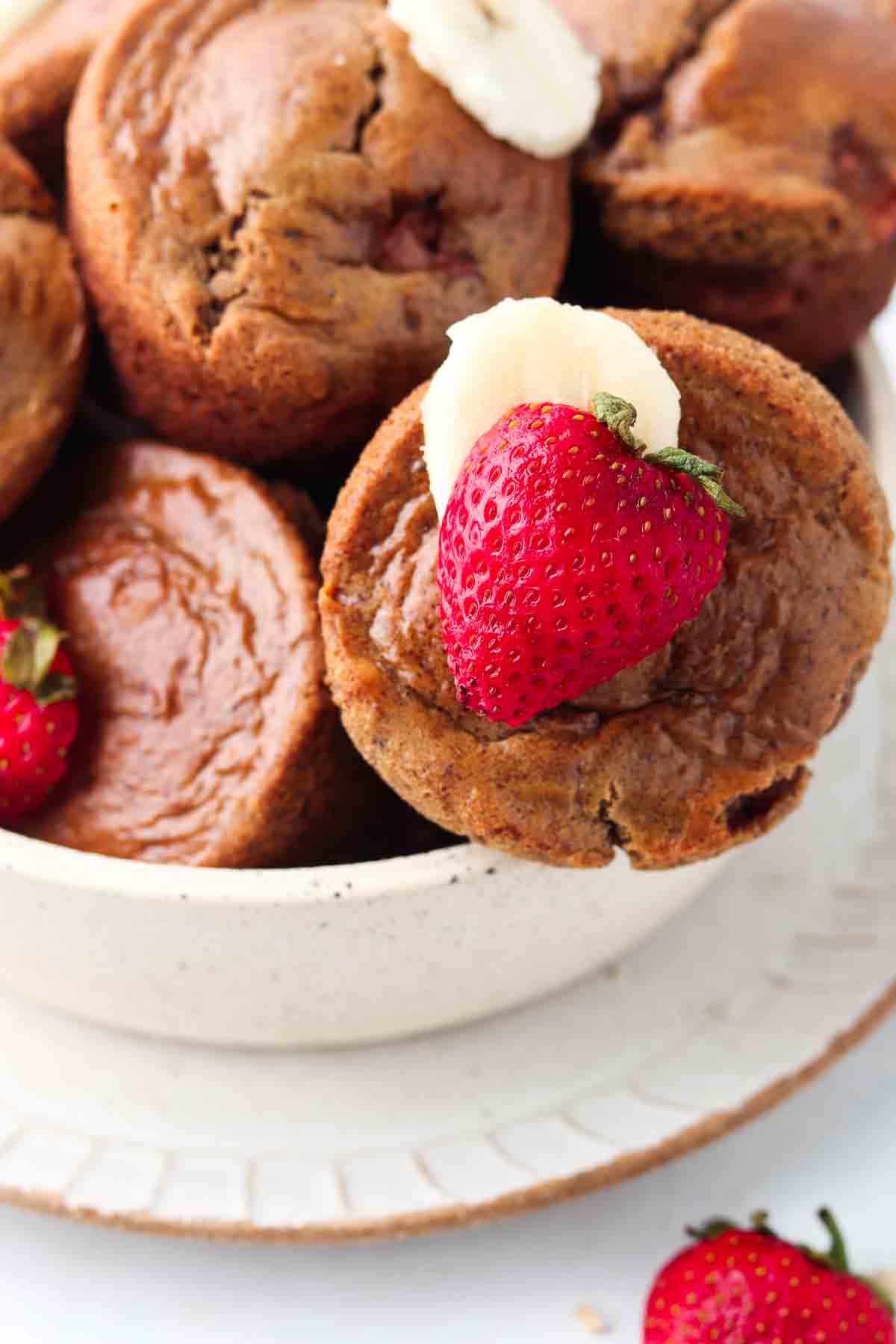 Storage Instructions
Refrigerator: This recipe can be stored in an air tight container in the refrigerator for up to 5 days!
Freezer: This recipe can be stored in the freezer in a single layer with a piece of parchment paper separating the layers of muffins for up to one month.
Other Gluten Free Recipes You Will Love
Are you interested in getting a list of my go to healthy alternatives?
download your FREE guide below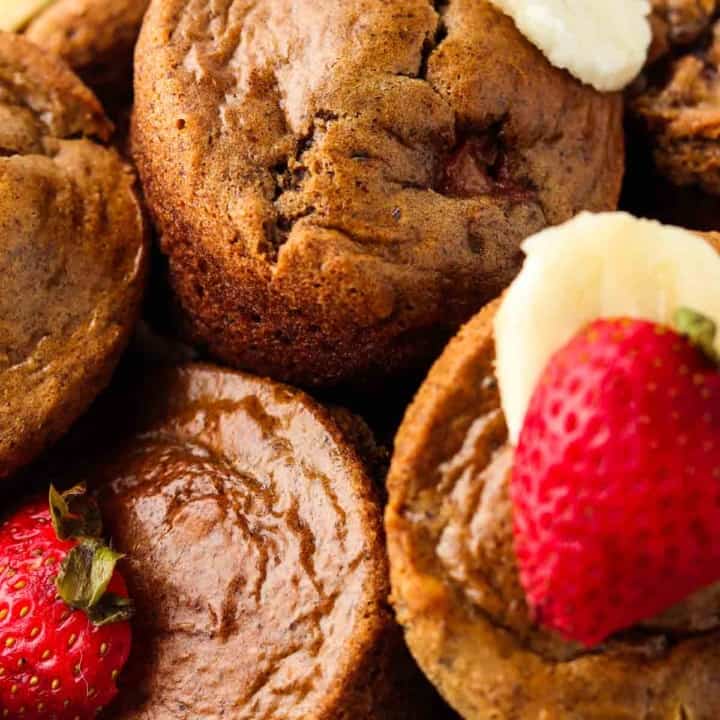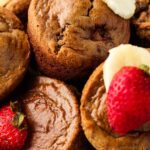 Gluten Free Strawberry Muffins
245
kcal
Print Recipe
Pin Recipe
Ingredients
1

cup

creamy almond butter

2

eggs

1/4

cup

maple syrup

1

cup

strawberries

washed, stems removed and diced

1

tsp

apple cider vinegar

1

tsp

baking soda

1

banana
Instructions
Preheat the oven to 375 degrees F. Place all ingredients in a blender except the strawberries and blend until smooth.

Once the batter is blended, either use a silicone muffin pan or a muffin pan and add muffin cups or spray it with oil to prevent sticking. Divide up the batter between 8 muffin cups and then drop in the chopped strawberries. Mix the batter with the strawberries with a spoon. Bake for 18 minutes or until you can stick a fork in the muffin and it comes out clear. Allow the muffins to sit before removing.
Notes
Storage: This recipe can be stored in an air tight container in the refrigerator for up to 5 days. 
Nutrition: The nutrition for this recipe is an estimate and the calorie count is not guaranteed.  It is based off of 8 servings. 
Servings: This recipe should yield 8 servings. 
These flourless gluten free strawberry muffins are super easy to make and so delicious!
Serving:
1
muffin
|
Calories:
245
kcal
|
Carbohydrates:
15
g
|
Protein:
8
g
|
Fat:
18
g
|
Saturated Fat:
2
g
|
Polyunsaturated Fat:
4
g
|
Monounsaturated Fat:
11
g
|
Trans Fat:
1
g
|
Cholesterol:
41
mg
|
Sodium:
156
mg
|
Potassium:
337
mg
|
Fiber:
4
g
|
Sugar:
8
g
|
Vitamin A:
71
IU
|
Vitamin C:
8
mg
|
Calcium:
125
mg
|
Iron:
1
mg