These warm paleo and gluten free chocolate chip muffins are exactly what you need on a cool fall day! The peanut butter mixed in with the almond flour gives these muffins a creamy taste, and topped off with chocolate chips you cannot go wrong. With these muffins only taking 5 minutes to prep and 25 minutes to bake, you can have yourself fresh warm chocolate chip muffins for breakfast or a snack in under 30 minutes!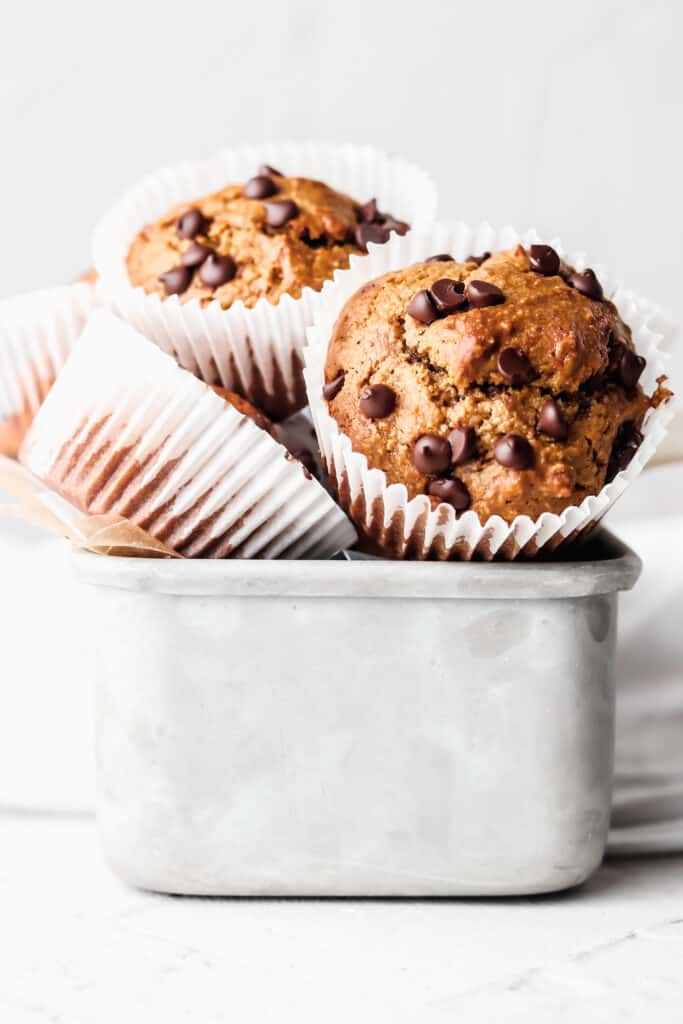 The Gluten Free Chocolate Chip Muffins:
Almond flour-the main ingredient in this recipe. The thing about gluten free baking and gluten free flours is that they are not interchangeable! The consistency of different flours varies by flours so if a recipe calls for almond flour, use almond flour!
Peanut butter- gives these muffins a nice little twist. I like to use the all natural kind, which typically does require refrigeration. Be sure to take the peanut butter out beforehand to allow it time to get to room temperature. This will allow it to be easier to mix up. You can sub the peanut butter for almond butter if you would like for a one to one ratio. 
Baking soda & baking powder- Baking soda allows the baked goods to rise, baking powder adds volume and texture to the muffins. Make sure both ingredients are still good! You should be replacing both ever few months.  Allison, from Always Eat Dessert came out with a really good article explaining the difference between the two and why it is important to not mix them interchangeably! 
Coconut sugar- Coconut sugar is my go to sweetener in baking! You can substitute it one to one for maple sugar but coconut is still my favorite for both its taste and appearance. 
Eggs- The adds add some protein to these muffins as well as bind all of the ingredients together. 
Coconut oil-The coconut oil makes these soft muffins, soft!
Vanilla extract- I like using vanilla extract to enhance the flavor!
Chocolate chips-My go to dairy free brand of chocolate chips is Enjoy Life, however any brand will work. If you are not dairy free you can sub in regular chocolate chips.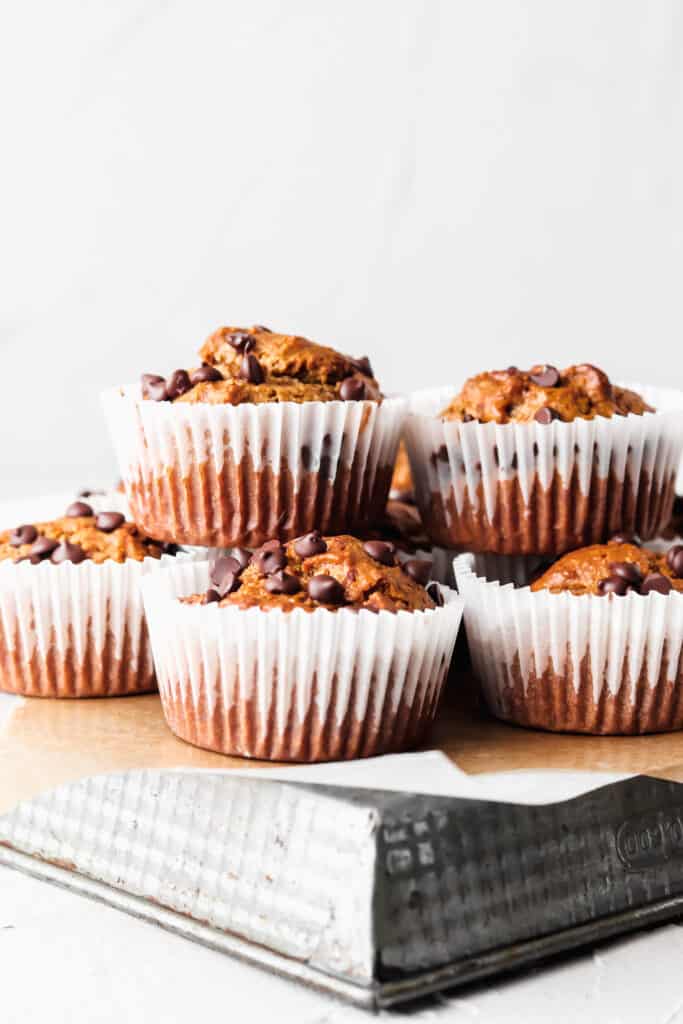 To Bake:
Baking- You can either use a regular muffin pan or silicone muffin pan. I like using both. The pretty muffin liners are nice if you are going for a cute look but if you do not care what they look like and are looking for ways to be more environmentally friendly use the silicone ones! The muffins do not stick and they are so easy to clean up. 
Chocolate chips- Add the chocolate chips last once you already pour the batter in the pan so that they do not sink!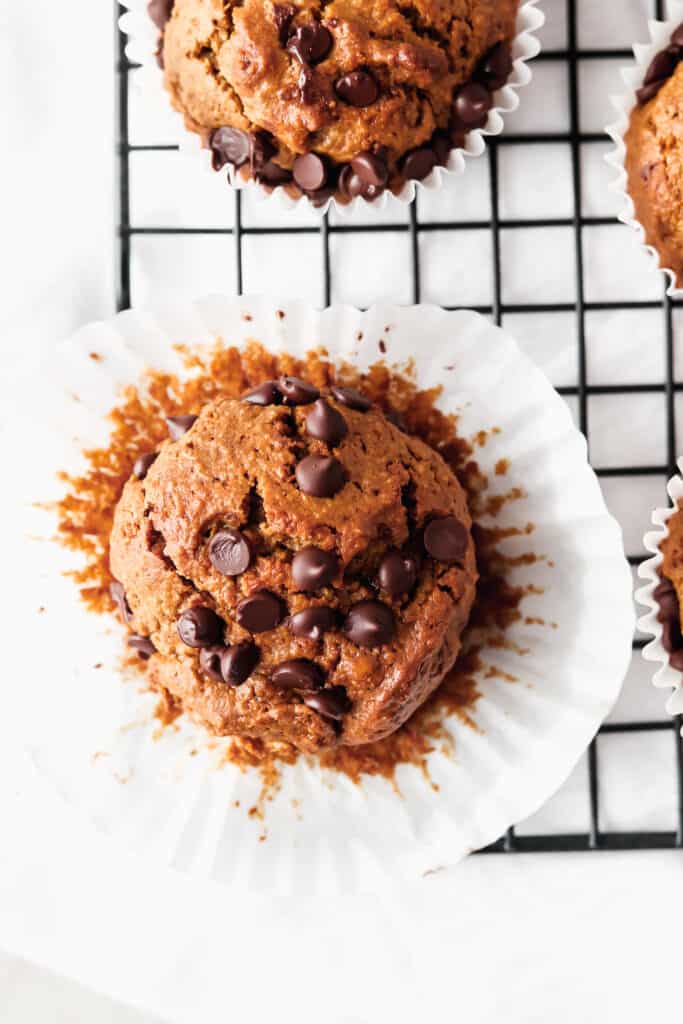 Keywords: Paleo muffins, paleo breakfast muffins, paleo chocolate muffins, gluten free muffins, gluten free chocolate chip muffins, almond flour recipe muffins, gluten free chocolate muffins, peanut butter chocolate chip muffins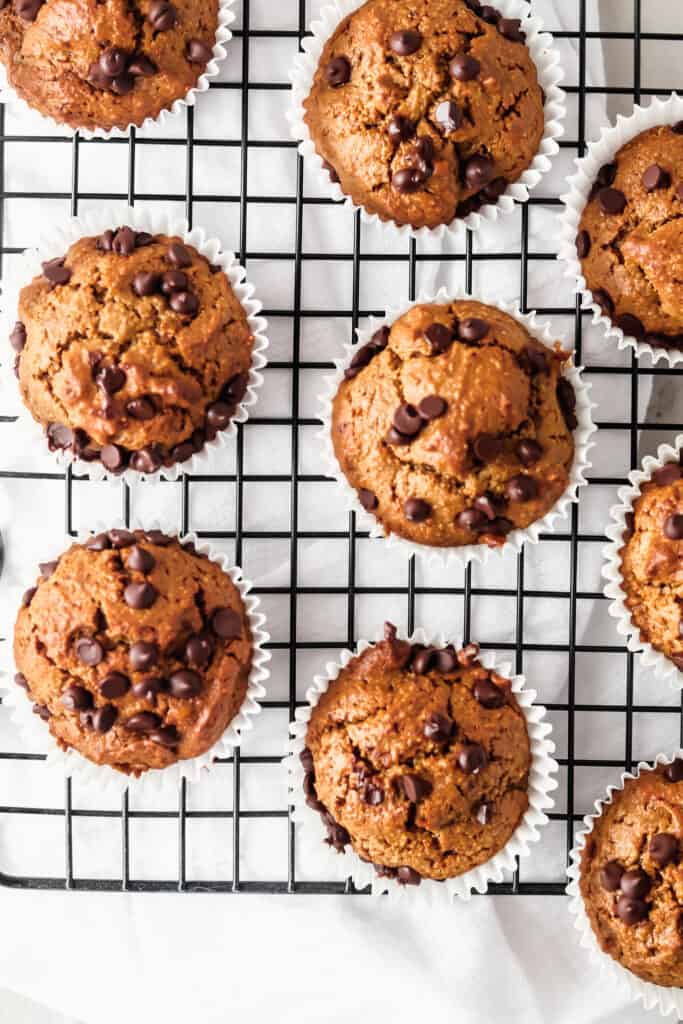 To Store:
Store these muffins in an air tight container your fridge for up to 5 days!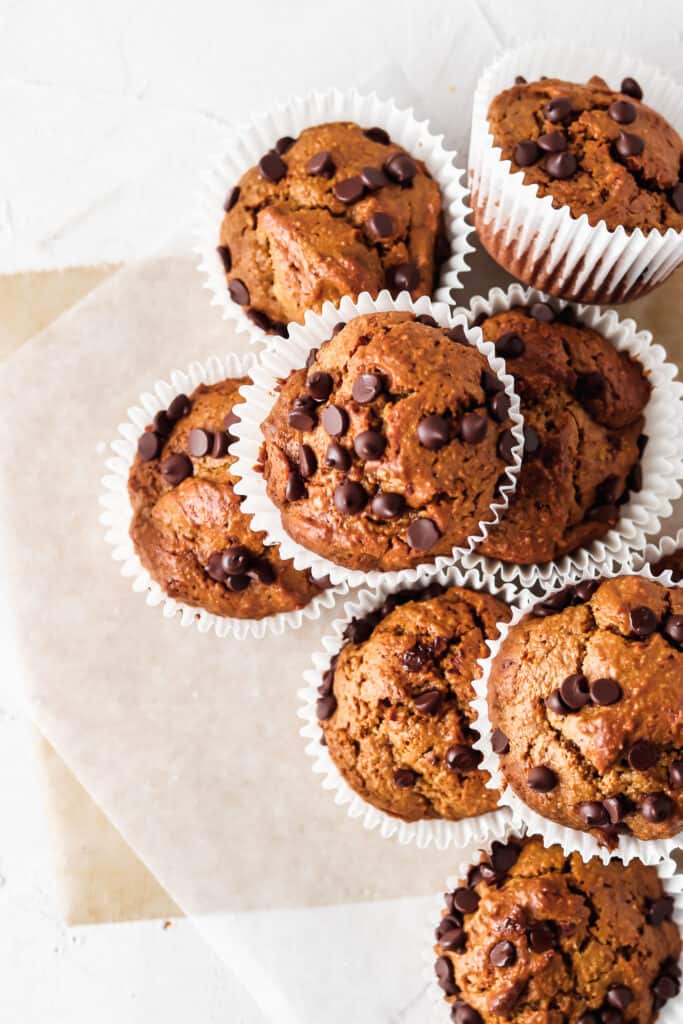 If you like this recipe, you will LOVE:
Gluten Free Donut With Chocolate Ganache
Protein loaded banana blueberry zucchini muffins 
Pumpkin Spice Oat Flour Muffinss
Gluten Free Chocolate Donuts With Pumpkin Maple Frosting
Do not forget to leave a star rating review below 🙂
PALEO & Gluten Free Chocolate Chip Muffins
Print Recipe
Equipment
muffin/cupcake pan

cupcake liners

mixing bowls

electric mixer

spatula
Ingredients
1

cup

almond flour

1/4

tsp

baking soda

1/2

tsp

baking powder

1/2

cup

coconut sugar

1/2

cup

all natural peanut butter

The peanut butter should be at room temperature to help the ingredients combine smoothly. You can sub almond butter.

1

tsp

vanilla extract

3

eggs

2

tbsp

coconut oil

1/4

cup

semi-sweet mini chocolate chips

use your favorite dairy free semi-sweet mini chocolate chips! I like to use the brand Enjoy Life. if you aren't dairy free, you can use whatever brand of mini chocolate chips you like.
Instructions
Preheat oven to 375 F and place liners in muffin pan.

in a large mixing bowl, add all ingredients and use an electric mixer to combine. Do not add the chocolate chips into the batter.

Spoon batter into liners until each liner is about 3/4 of the way full. Place in oven for 25 minutes.

Sprinkle each muffin with chocolate chips and place in the oven for 25 minutes.

ENJOY! If you make this recipe I would love it if you shared the link to this recipe with a friend, left a comment below or tagged me on instagram with a picture @alliannaskitchen
Keywords: Paleo muffins, paleo breakfast muffins, paleo chocolate muffins, gluten free muffins, gluten free chocolate chip muffins, almond flour recipe muffins, gluten free chocolate muffins, peanut butter chocolate chip muffins