These Gluten Free Strawberry Cupcakes are super easy and fun to make! They only require 15 minutes of hands-on time and are perfect for strawberry season. The moist and fluffy grain free cupcakes combined with the silky dairy free frosting is delightful.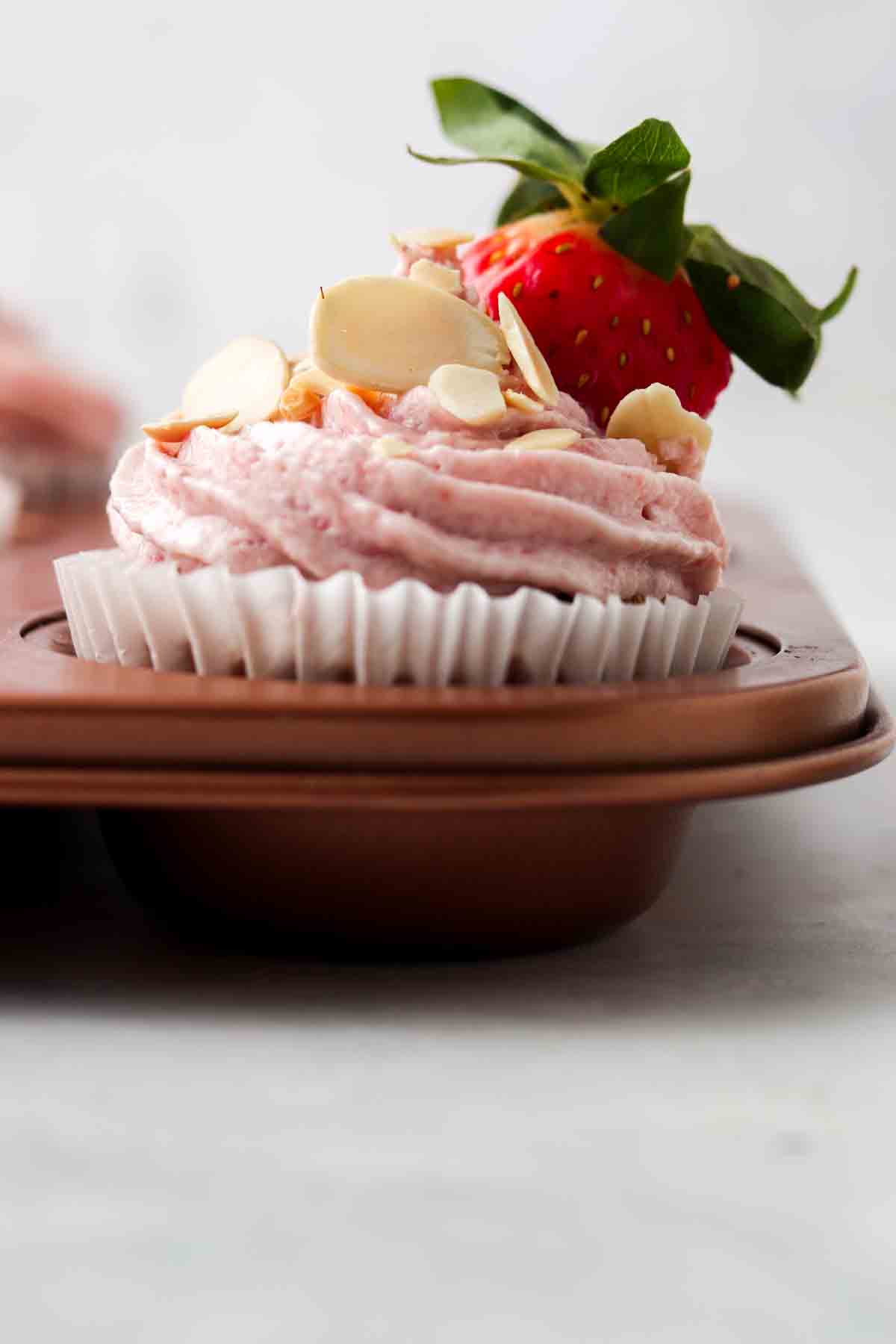 When I started working on my way of eating I didn't want to lose my favorite sweets in the process. These cupcakes fit the bill in making sure I can fill my sweet cravings without having to worry about any of the additives from the cupcakes I grew up eating. It allows me to enjoy the sweets without feeling sick afterwards.
Jump to:
Why You Will Love This Recipe
These cupcakes are super easy to make and require minimal hands on time.

This recipe is naturally grain free, gluten free, and dairy free.

It contains my favorite spring fruit, strawberries!

If you are a big strawberry dessert fan like me, you will also LOVE my

Gluten Free Strawberry Pretzel Cake.

The fluffy, soft and moist vanilla cupcake combined with the creamy, silky, fruity frosting is so darn good!

You can prepare these homemade cupcakes in advance which makes them a great option for parties and family gatherings.

The cupcake itself freezes super well which means you can make the cupcakes a week in advance and just prepare the frosting when you are ready to serve them!
Ingredients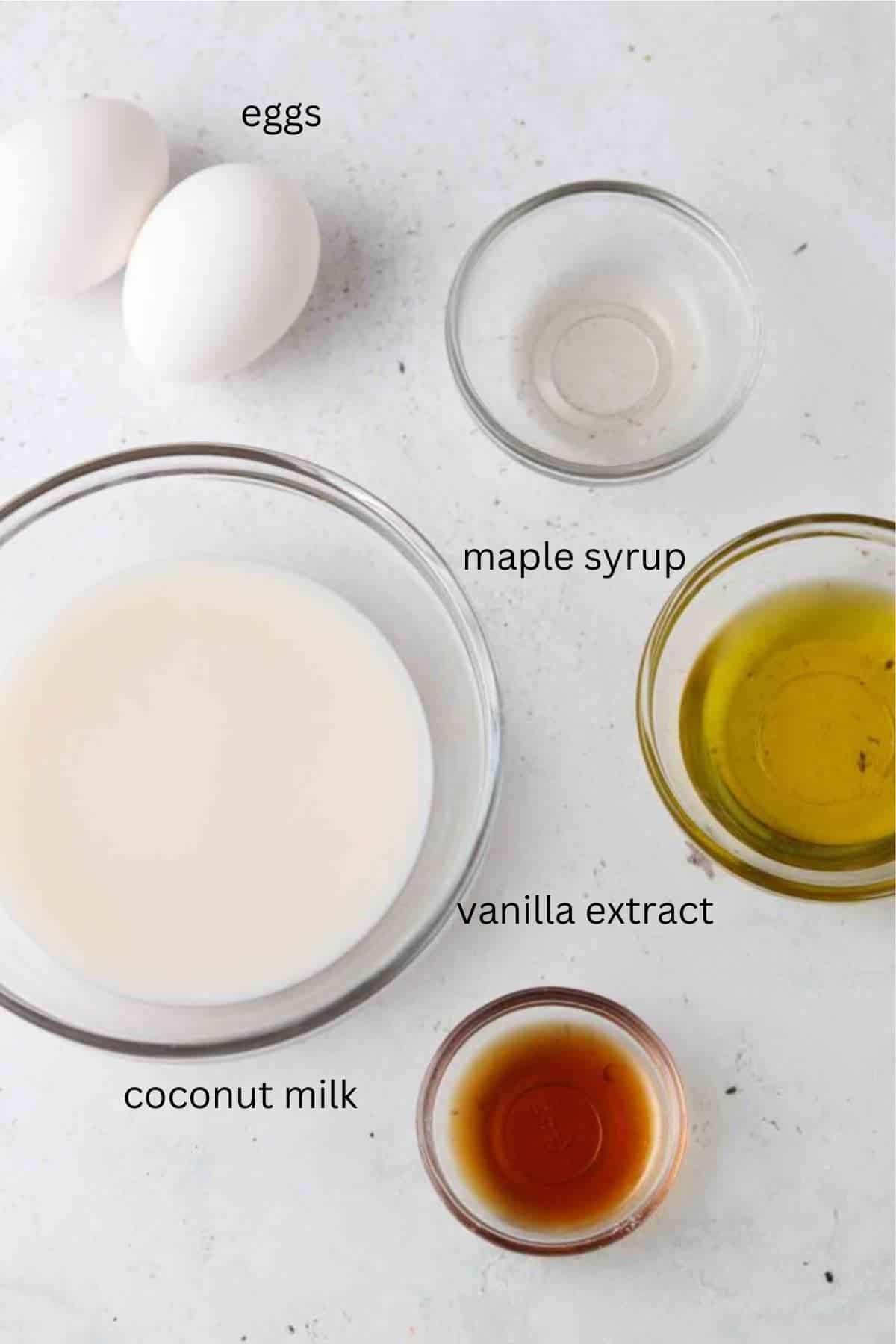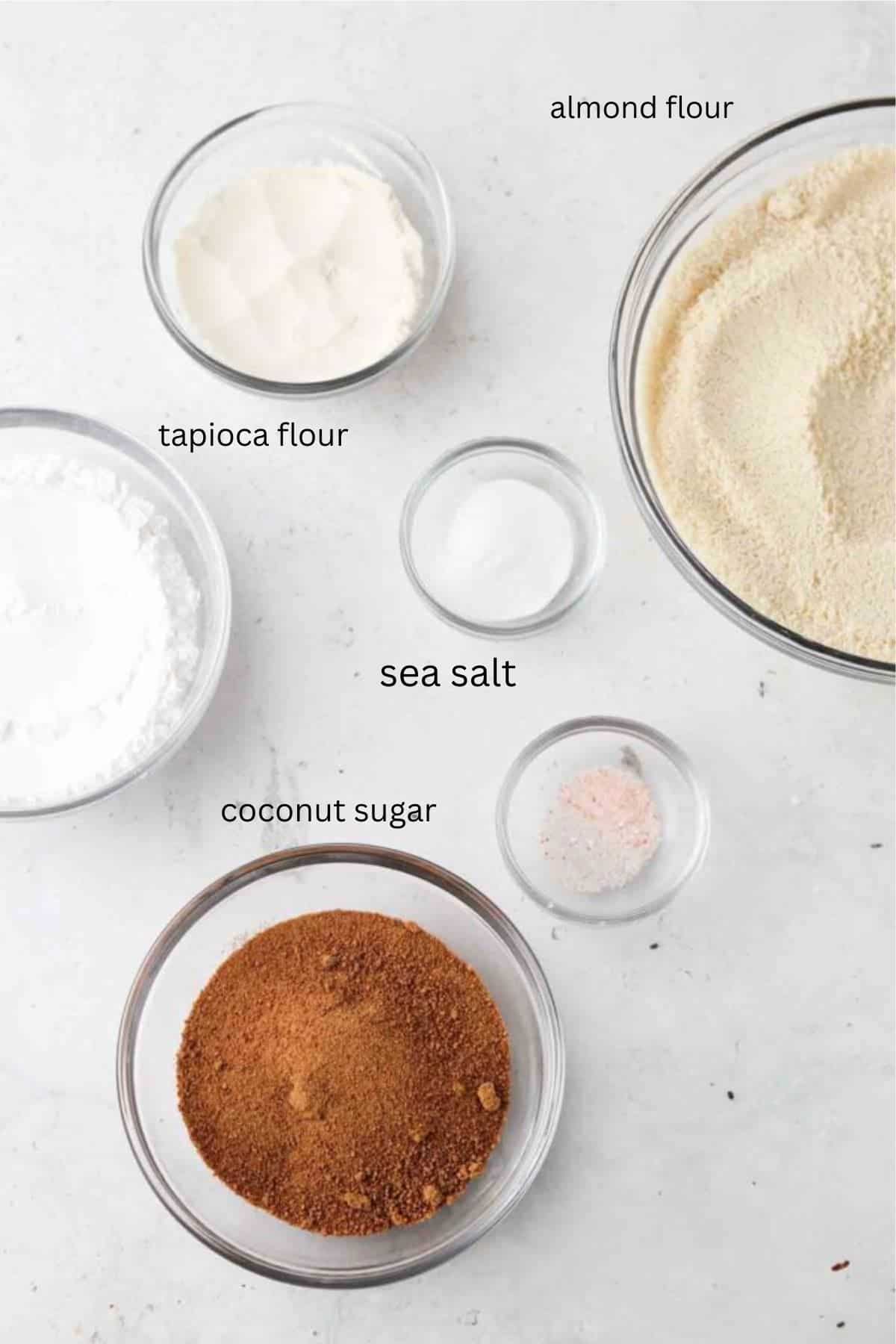 For the cupcake-
Eggs– This is the binder for this recipe and a must. Do not substitute with a flax egg as it will not work.
Coconut milk-To keep the cupcakes nice and moist. You can also use almond milk!
Vanilla extract-For flavor.
Maple syrup-To sweeten the cupcakes. You can also use honey but note it will not be as sweet.
Coconut sugar-My favorite healthier option to sweeten my treats. You can also use ground maple sugar here too.
Almond flour-The main flour base. I like to get almond flour from Costco. They have the best bang for your buck there!
Tapioca flour-This helps bind everything together with the eggs. You can use tapioca flour and arrowroot flour interchangeably in this recipe.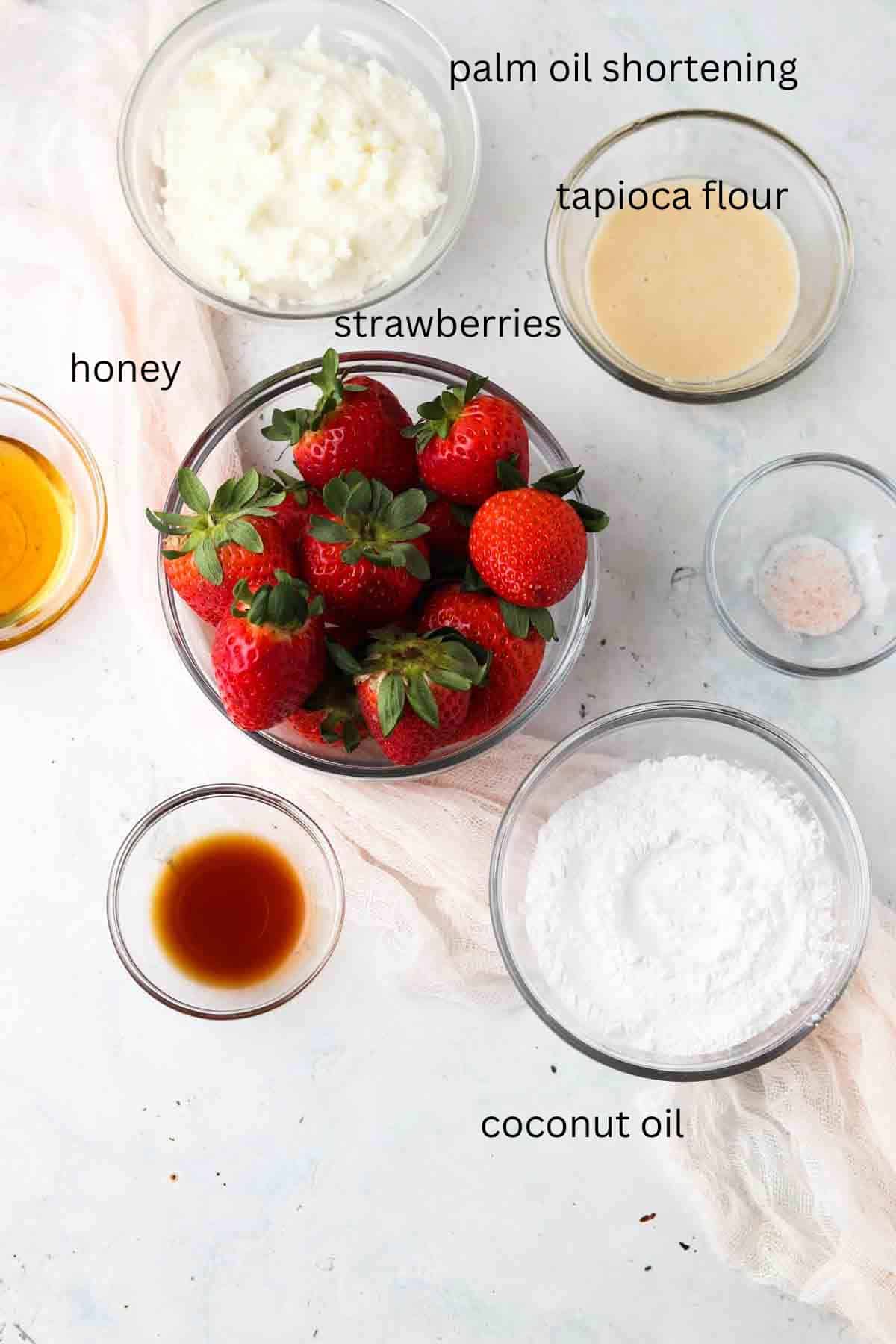 For the strawberry frosting-
Palm oil shortening-This is the base of the frosting. Palm oil shortening is palm oil without all of the fat. When you remove some of the fat, it makes this silky and smooth texture which is the key for frosting.
Coconut oil-To keep the frosting nice and silky.
Tapioca flour-This is to keep the frosting held together.
Honey or maple syrup-To sweeten the frosting. I like maple syrup!
Strawberries-To make these cupcakes strawberry flavored!
See the recipe card below for a full list of ingredients and measurements.
Substitutions and Variations
For extra strawberry flavor, you can mix fresh or freeze dried strawberries into the cupcake batter.
You can use any types of toppings for the cupcakes. I love to use fresh strawberries and almond slices for additional flavor and a cruch.
This recipe has not been tested with other substitutions or variations. If you replace or add any ingredients, please let us know how it turned out in the comments below!
Step by Step Instructions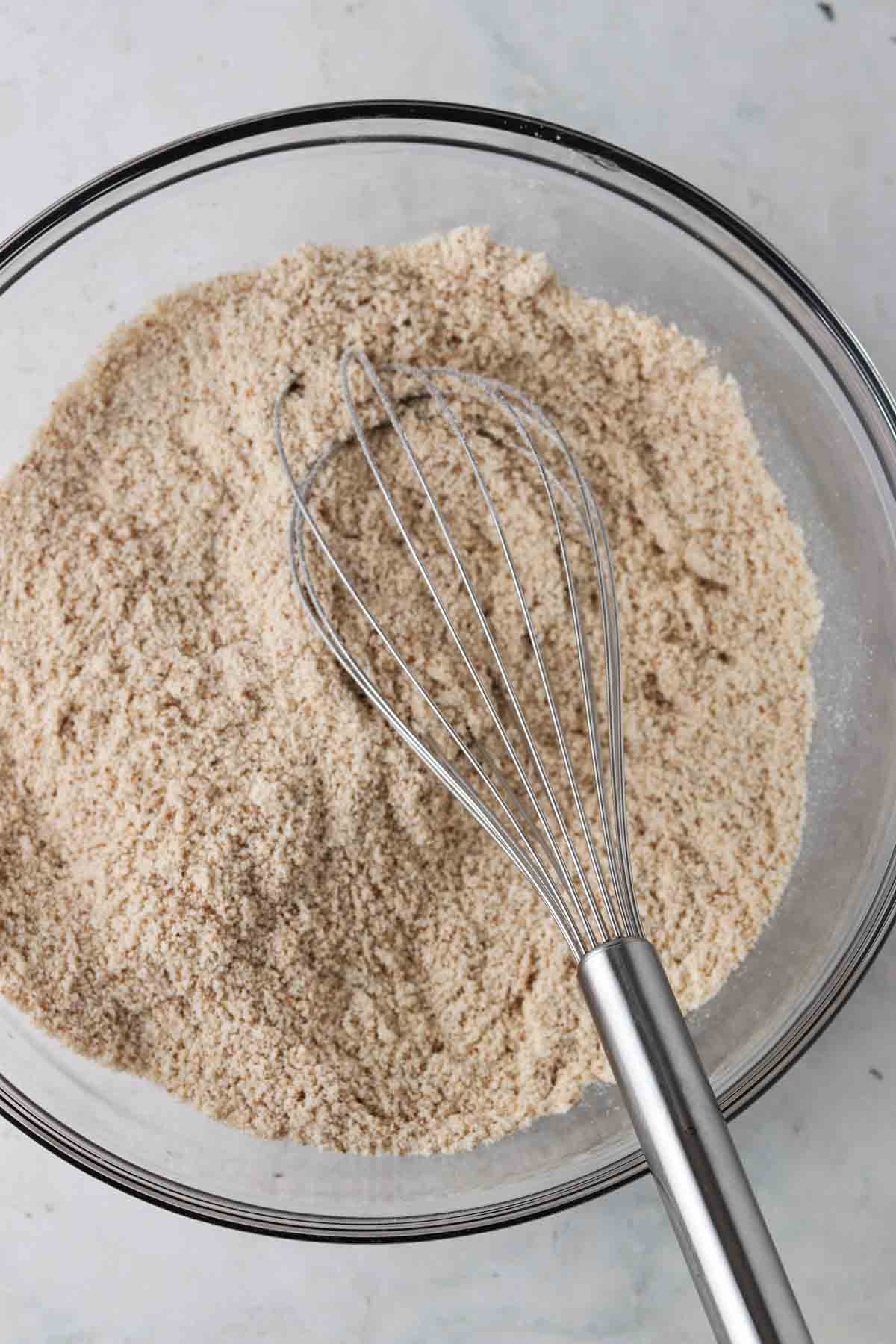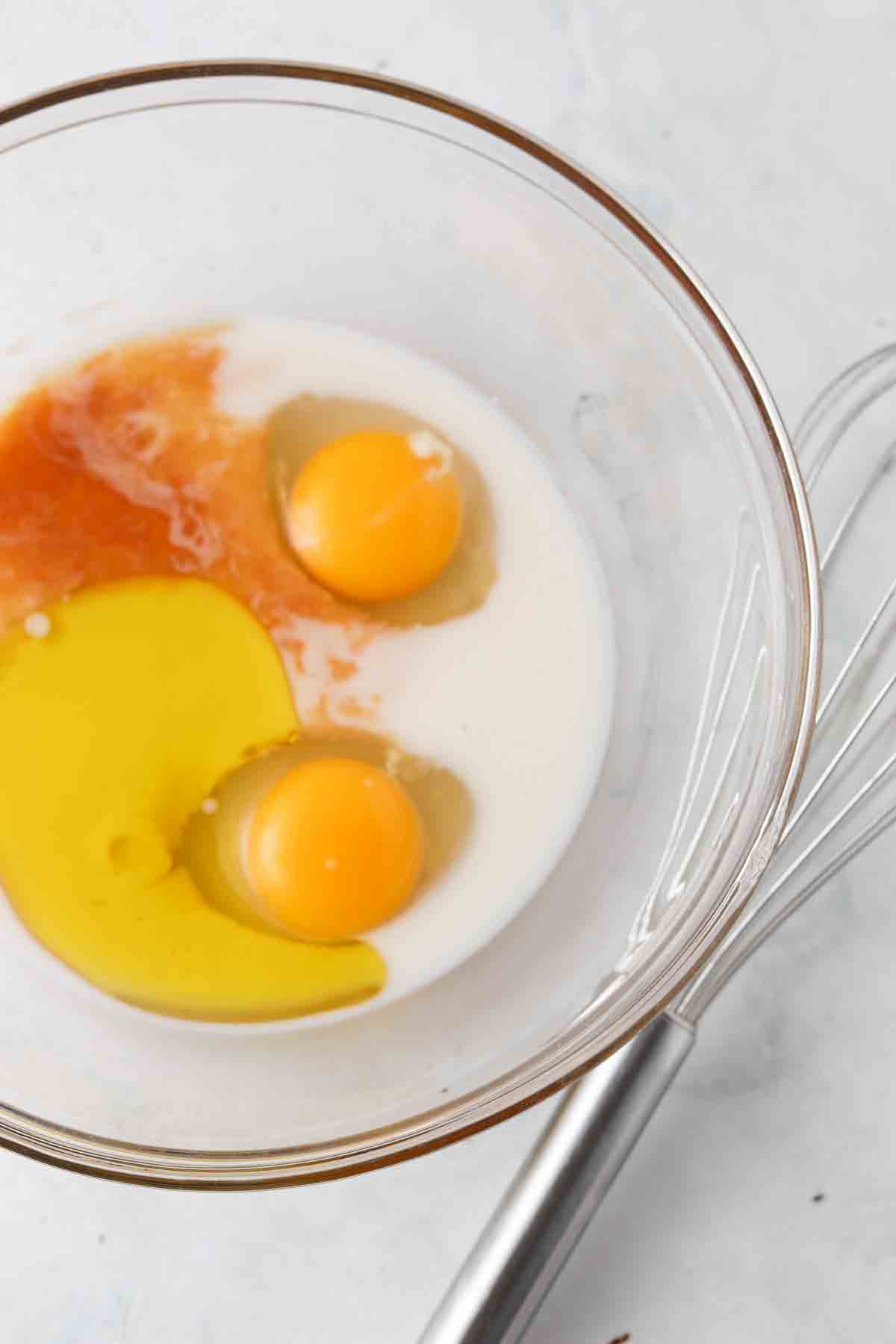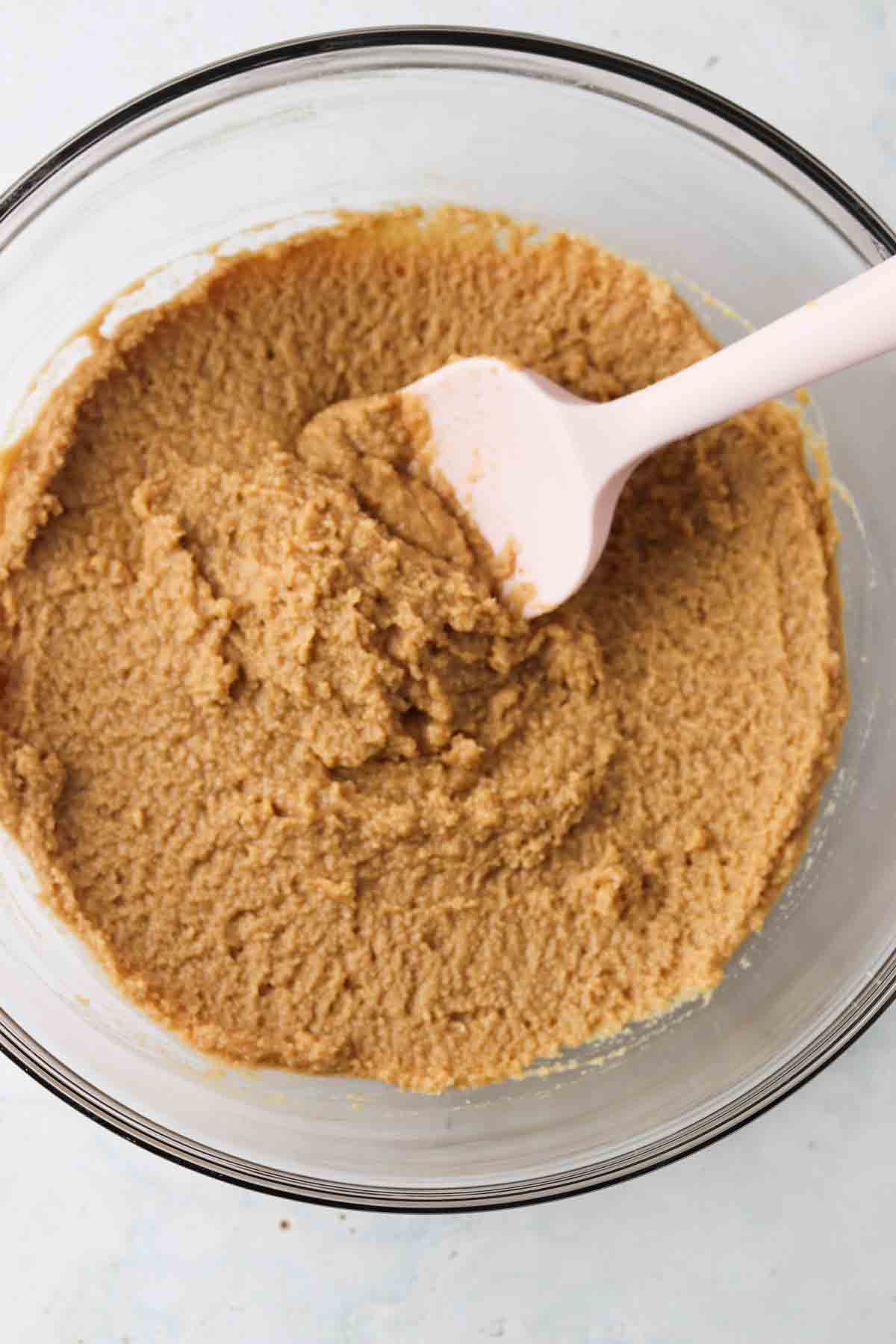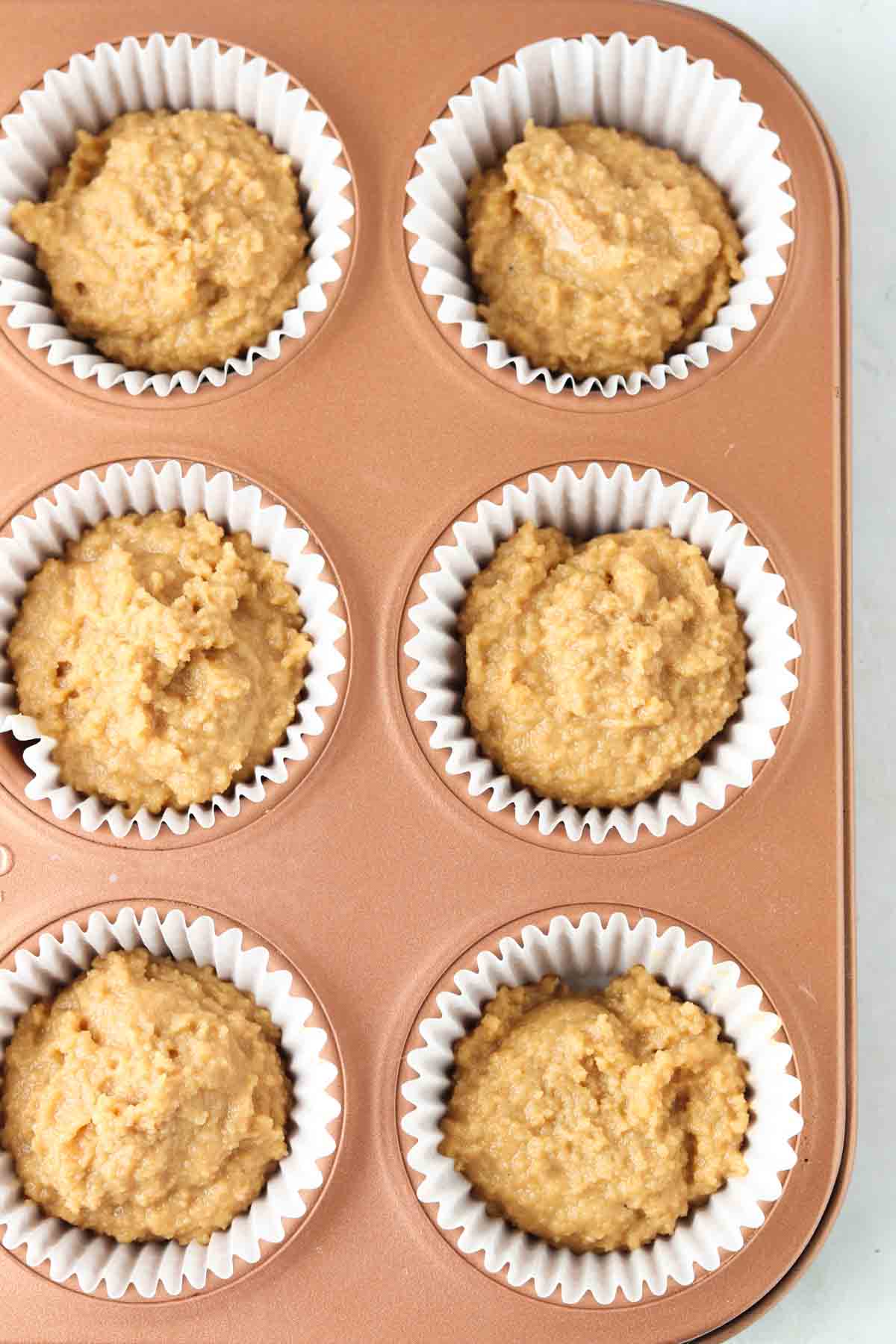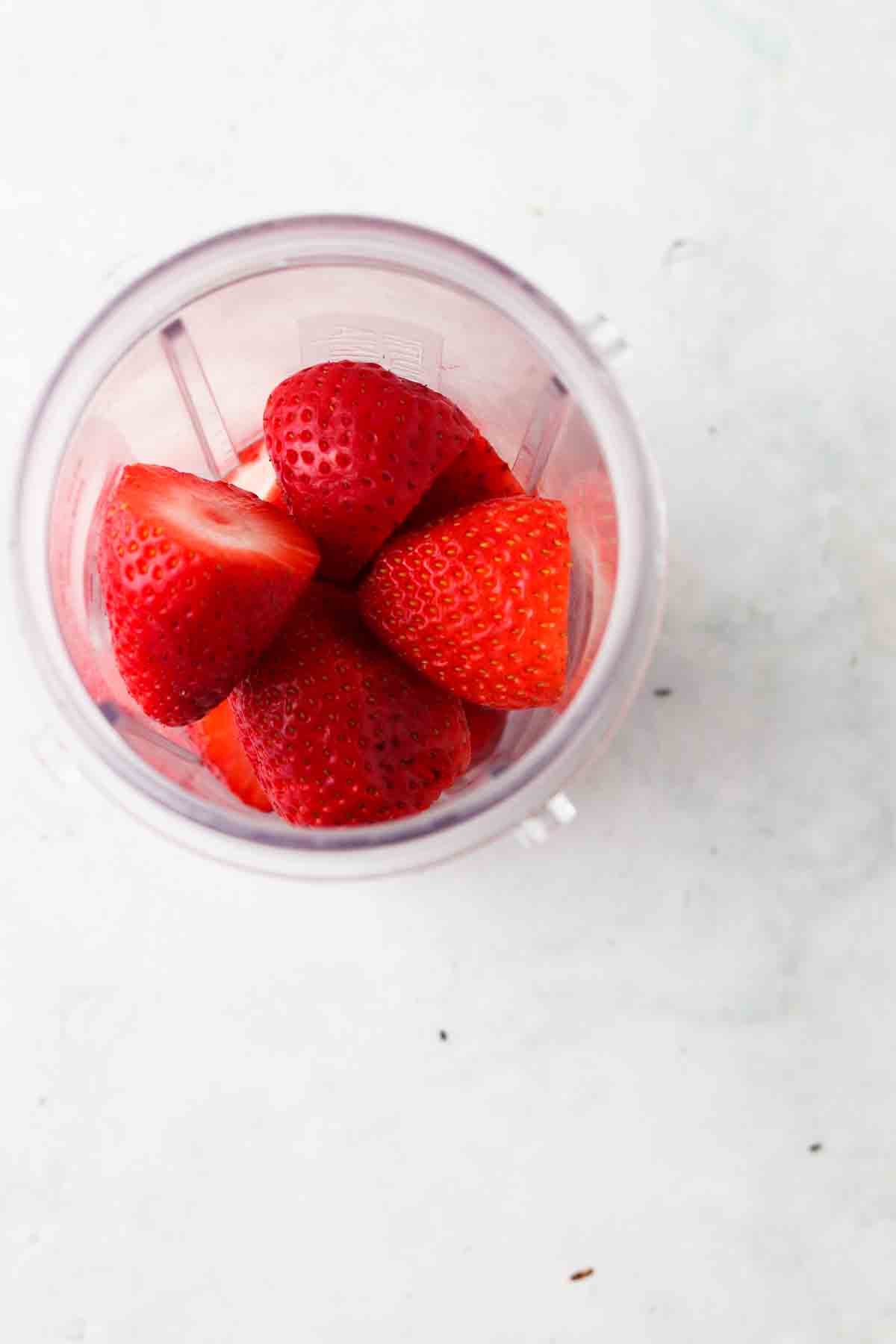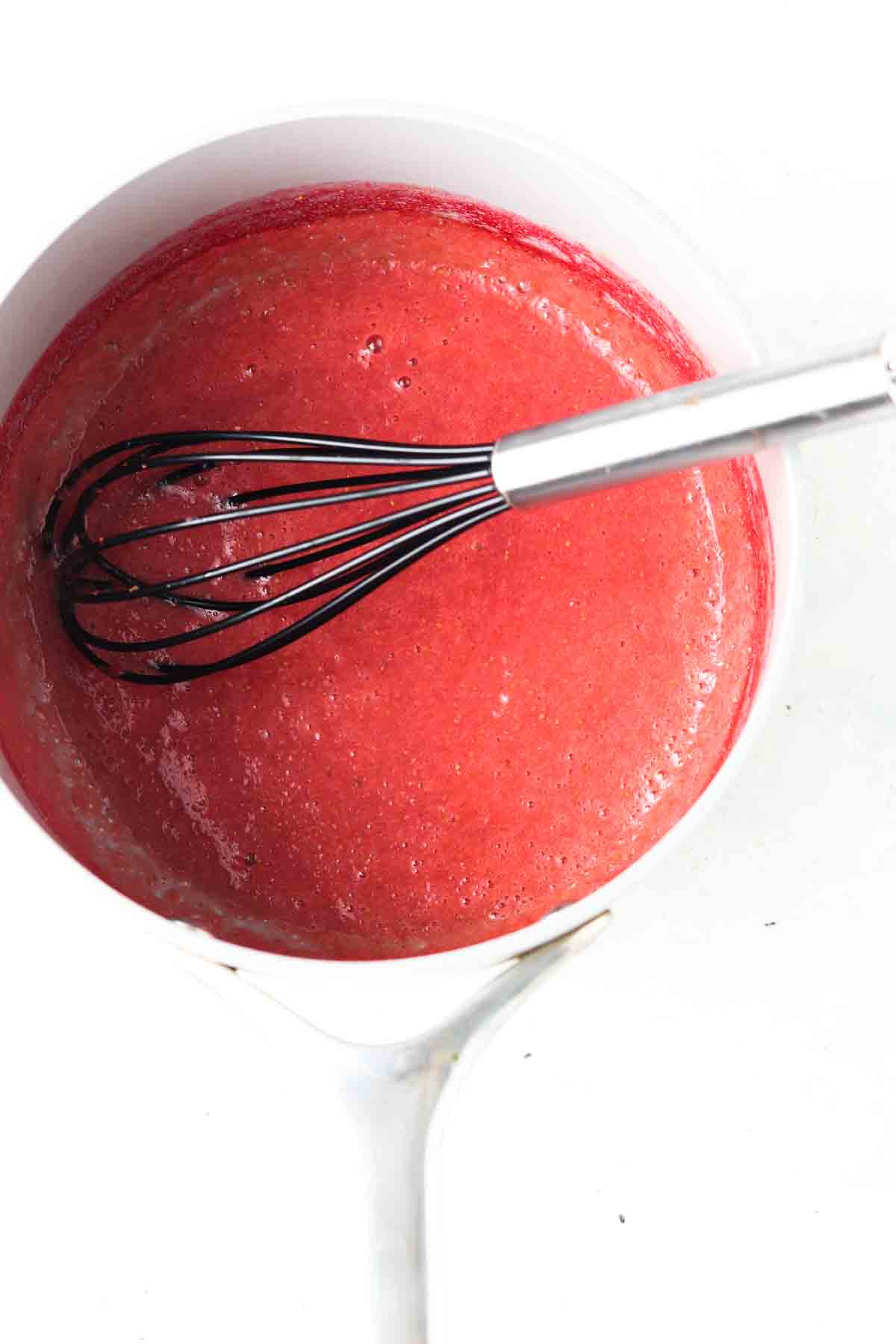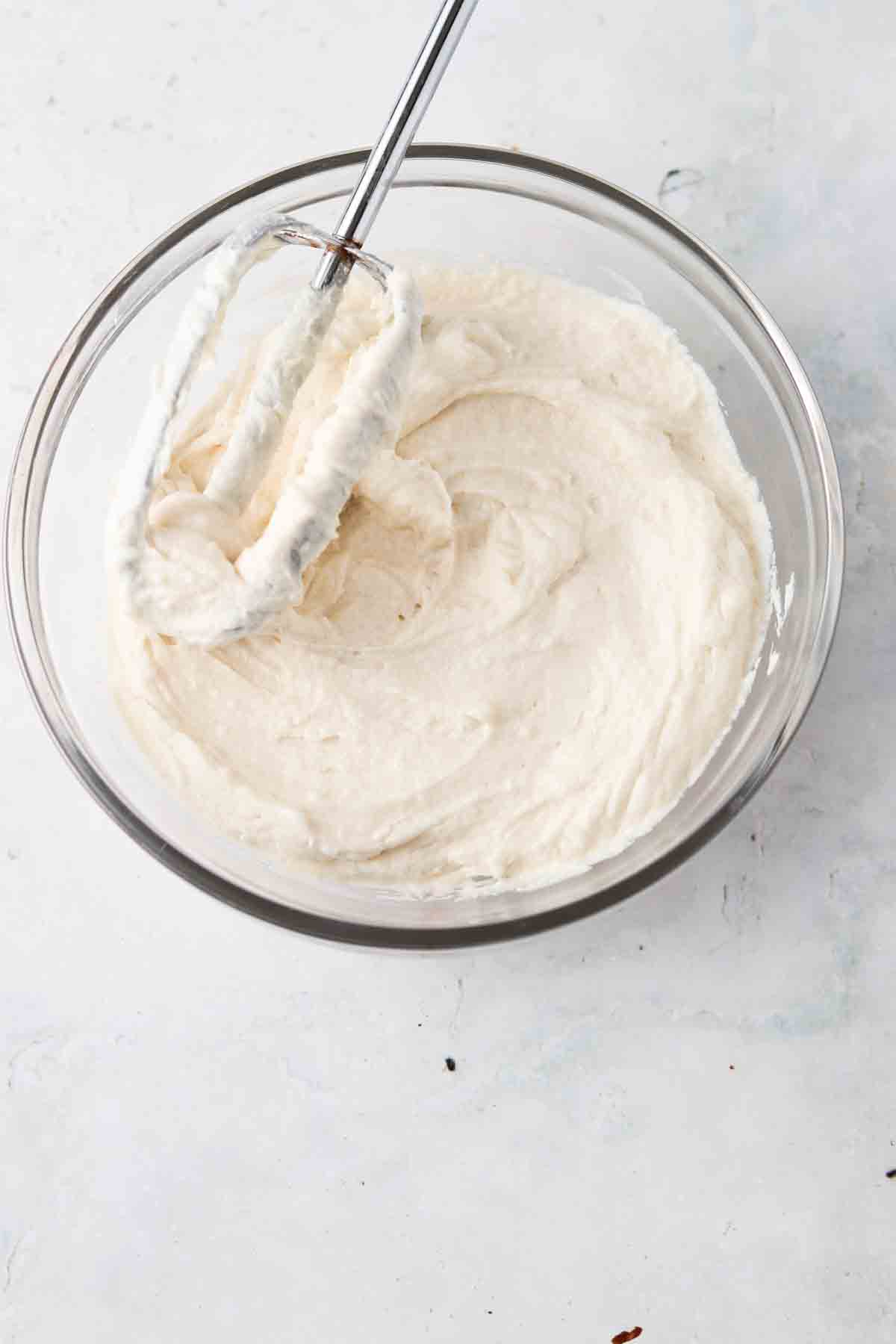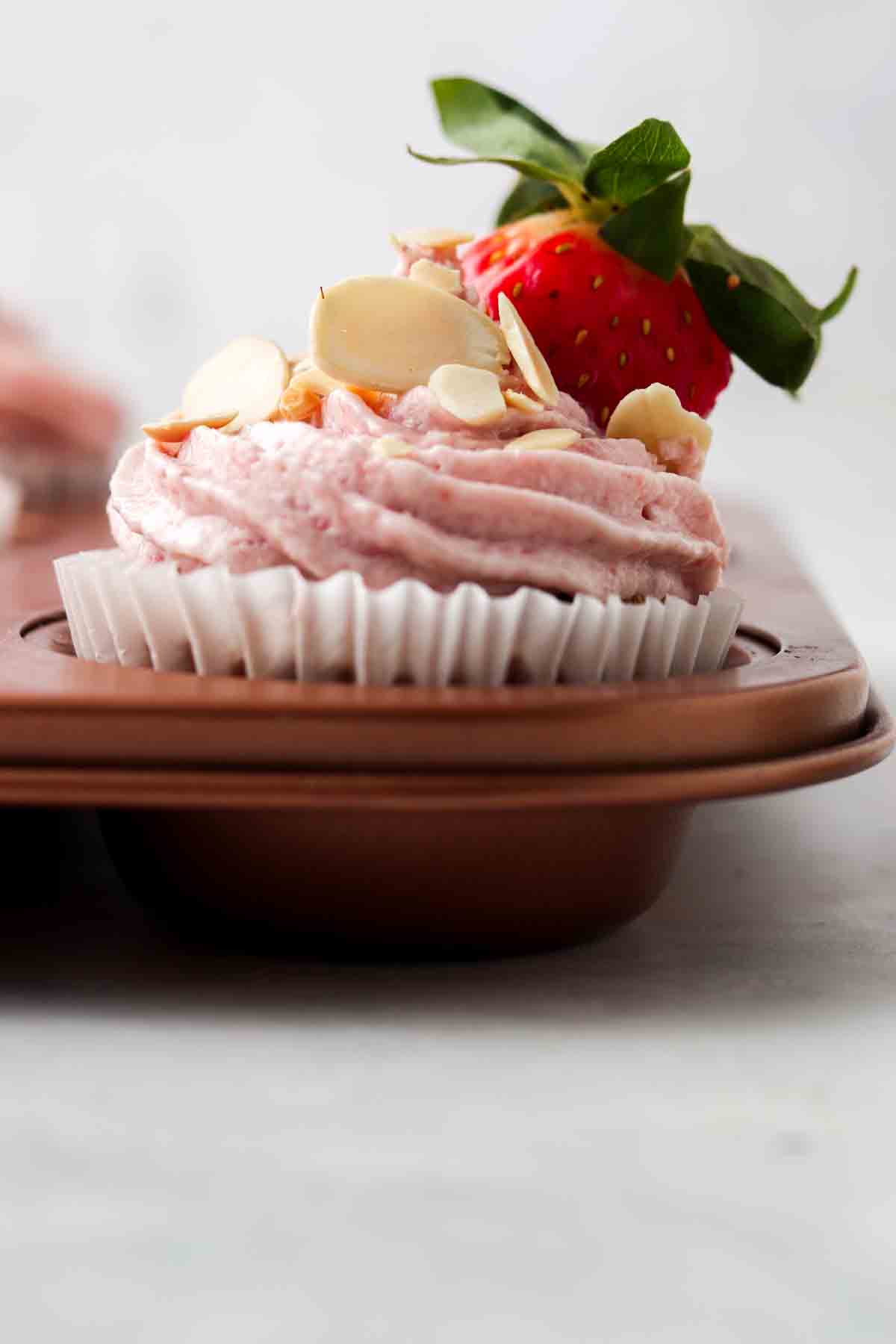 Equipment Needed
Expert Tips
Tip # 1: A great way to know if the cupcakes are cooked through is to use a toothpick and place in the center of the cupcakes. When the toothpick comes out clean the cupcakes are cooked through.
Tip # 2: If you are taking the cupcakes to a gathering, I like to place the frosting in a pipping bag with a star tip. This gives the icing a beautiful design on top of the cupcakes.
Tip # 3: I love to use silicone cupcake liners! It makes it easier clean up and also allows for the option of taking the cupcakes out of the liners easier before placing on a serving platter.
Recipe FAQ's
Why do I need to allow the frosting to set?
The strawberry puree adds some liquid to it and by placing it in the refrigerator it allows the frosting to set up making it easier to spread on the cupcakes.
Can I use freeze dried strawberries?
Yes! You sure use fresh, frozen, or freeze dried strawberries for this dish.
Can I freeze the cupcakes?
Yes! However, wait to frost them. If you are freezing your cupcakes, be sure to remove the liner as the liner will get funky in the freezer. The cupcakes will last for a month in the freezer. You can also use silicone muffin liners so they cupcakes pop right out. I love them! They clean up so much easier. 
What if my frosting still appears runny when I get it out of the refridgerator?
If your frosting appears to be too runny to frost the cupcakes, place the frosting back in the fridge to allow it to harden up. 
How full should I fill my cupcake liners?
Do not fill the cupcake liners up past ¾ of the cup to help prevent the cupcakes from overflowing.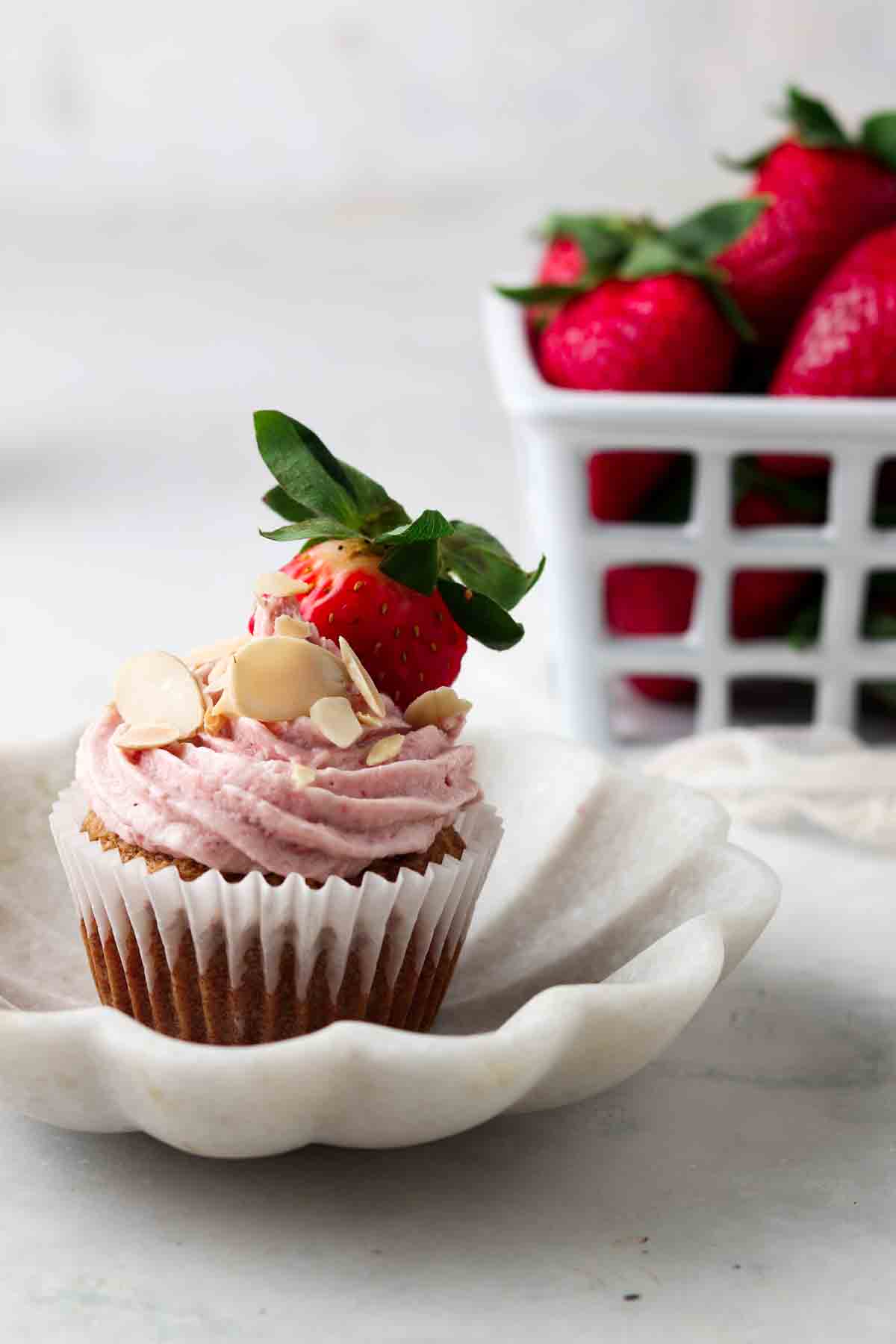 Storage Instructions
These cupcakes can be stored in an air tight container in the refrigerator for up to one week.
Other Strawberry Recipes You Will Love
Want a free guide of my go to healthy alternatives?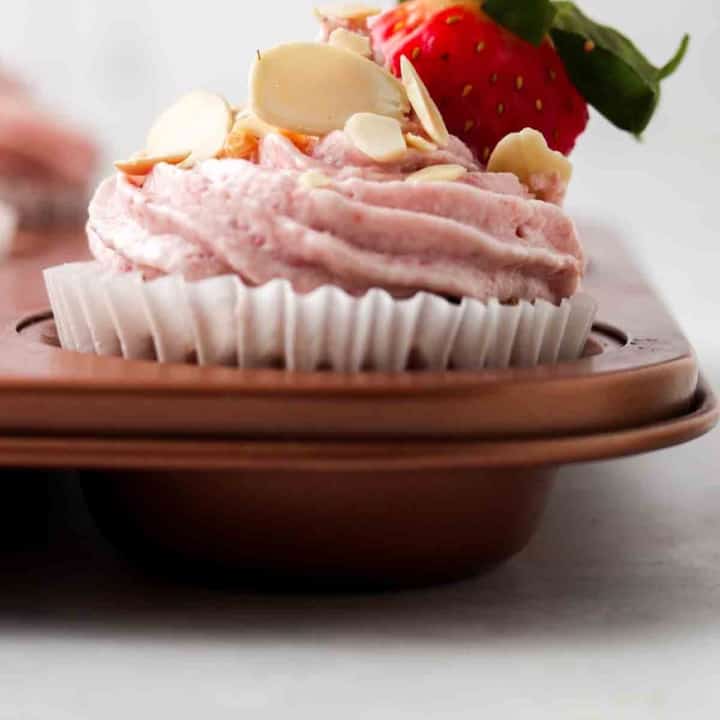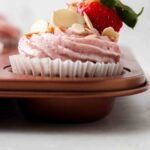 Gluten Free Strawberry Cupcakes
584
kcal
Print Recipe
Pin Recipe
Equipment
cupcake pan

cupcake liners

Hand mixer
Ingredients
For the strawberry frosting:
Instructions
For the cupcakes:
Preheat the oven to 350 degrees F. Mix the dry ingredients and then add in the wet ingredients. Whisk with a hand mixer until smooth. Add in muffin liners to the cupcake molds and bake for 15-20 minutes. Allow the cupcakes to cool before frosting.
For the frosting:
Place the strawberries in a food processor and blend until smooth. Then, add the strawberry pure to a saucepan and bring to a boil. Now, add all ingredients in a bowl and mix with a hand mixer until smooth. Set the frosting in the fridge until the cupcakes are cooled and ready to be frosted.
Notes
Storage: This recipe can be stored in an air tight container in the refrigerator for up to one week. Nutrition: The nutrition for this recipe is an estimate and the calorie count is not guaranteed.  It is based on 12 servings.  Servings: This recipe should yield 12 servings. 
Quick, easy and delicious paleo cupcakes!
Serving:
1
cupcake
|
Calories:
584
kcal
|
Carbohydrates:
26
g
|
Protein:
6
g
|
Fat:
53
g
|
Saturated Fat:
31
g
|
Polyunsaturated Fat:
2
g
|
Monounsaturated Fat:
9
g
|
Trans Fat:
1
g
|
Cholesterol:
55
mg
|
Sodium:
30
mg
|
Potassium:
81
mg
|
Fiber:
2
g
|
Sugar:
15
g
|
Vitamin A:
81
IU
|
Vitamin C:
7
mg
|
Calcium:
59
mg
|
Iron:
1
mg