This roasted Lemon Garlic Asparagus recipe is quick, easy, and delicious. It has the most perfect combination of garlic and lemon. This recipe goes great with just about anything! Asparagus doesn't just taste great; it's good for your body too! It is an excellent source of fiber, vitamin C, and folate, which can act as a brain booster.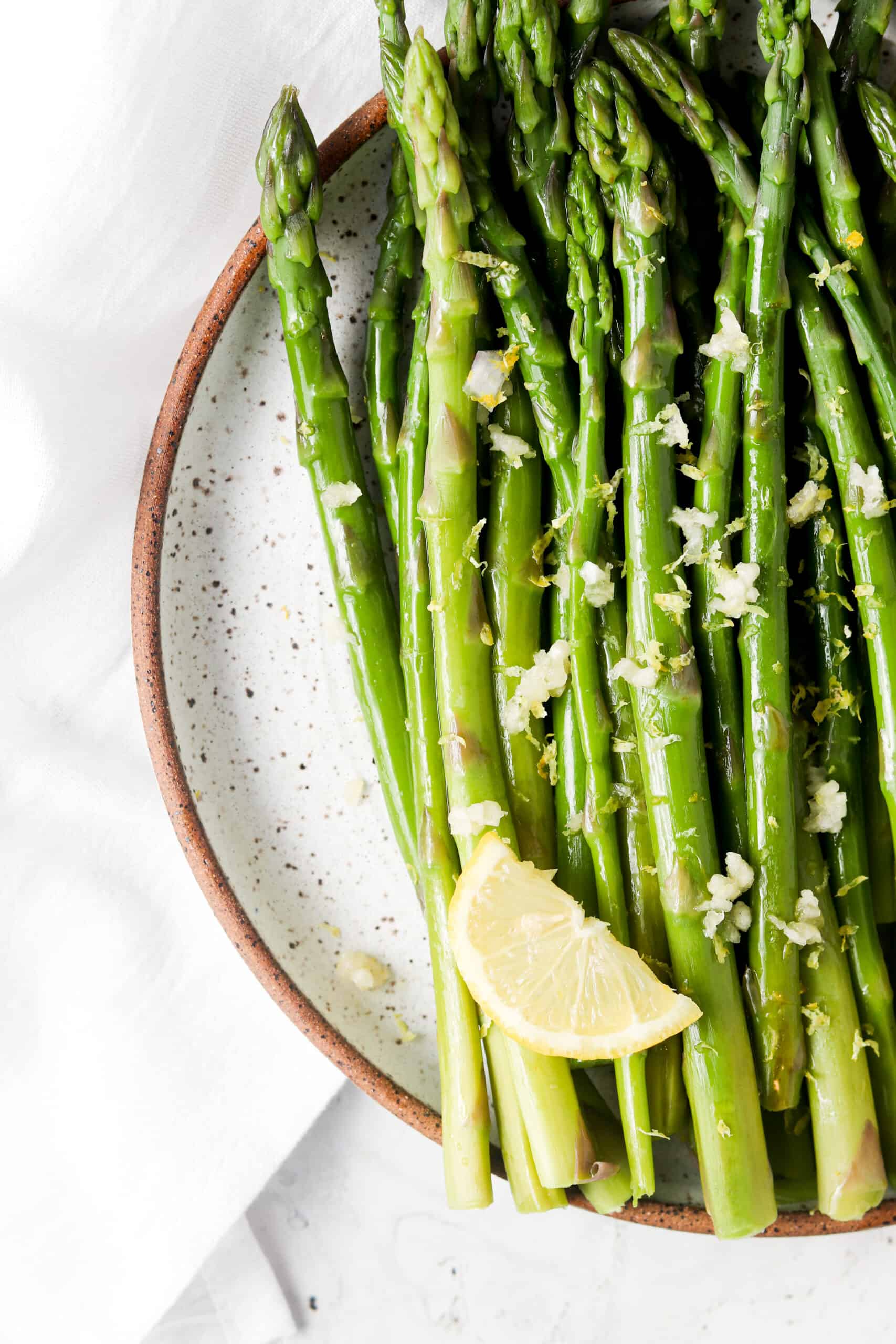 I love any recipe that I can just mix the ingredients together and bake! On a busy evening I will take any simplicity to my meals I can get. From dump and go oven meals to using air fryers, I enjoy finding sides such as these asparagus or my Air Fried Spaghetti Squash on those busy nights where I need to get the meal out quickly.
Jump to:
Why You Will Love This Recipe
This recipe is so simple! It takes just a few minutes to get it in the oven to bake.
Asparagus provides, vitamins, fiber, folate, and helps the body to get rid of excess salts.
The burst of lemon and garlic are the perfect combination to top off this recipe!
This vegetable goes with almost any main dish! My favorite pairing is with my favorite crispy chicken thighs.
This smooth and crunchy side dish can be baked, grilled, or even blanched.
Spring is the best time to buy asparagus, and it is usually in season until June, making it the perfect springtime side dish to take along to a potluck dinner.
Ingredients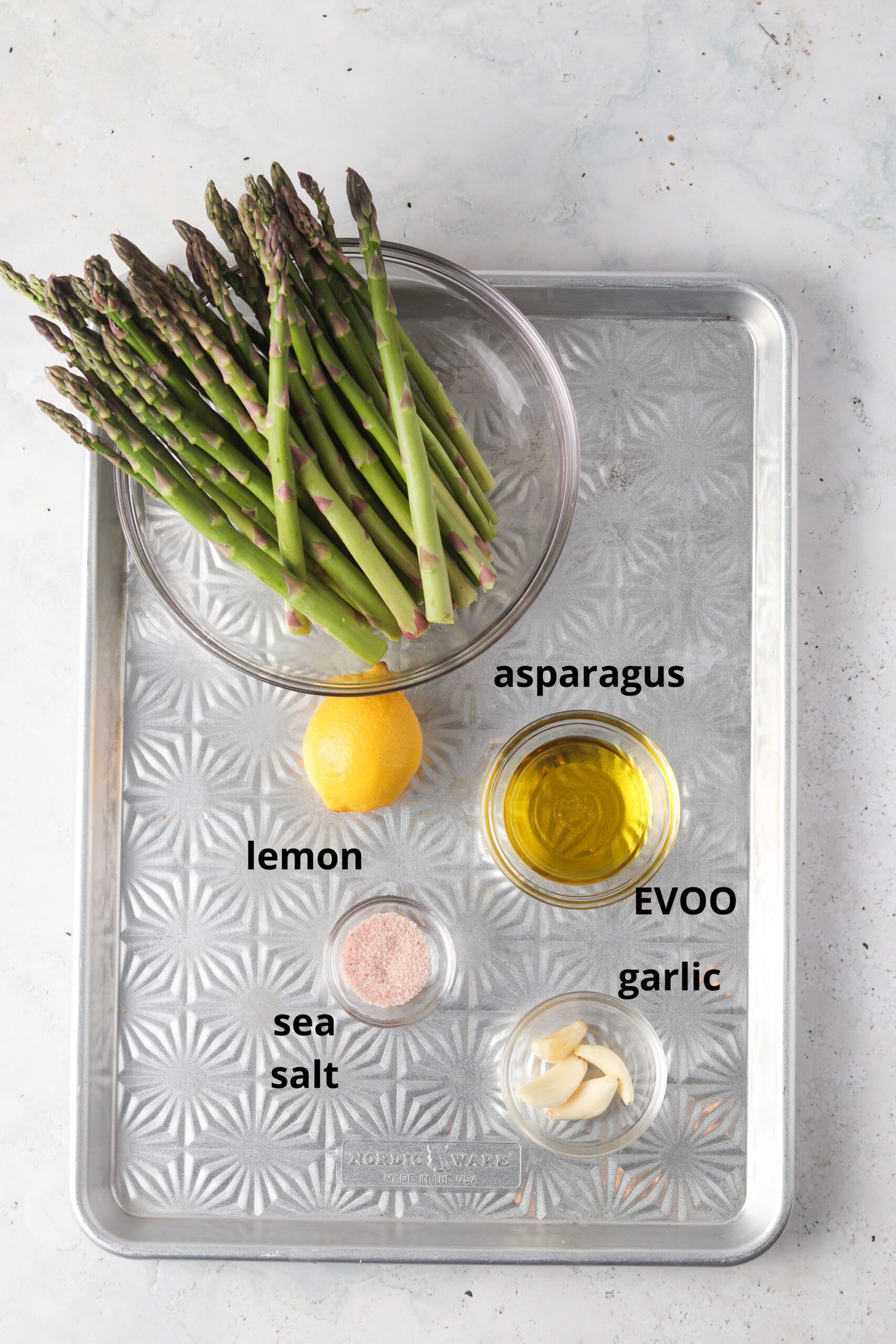 Asparagus– Look for asparagus with plump, firm stalks with a smooth texture so that you get the freshest product.
Lemon – adds a bright, citrusy flavor.
Garlic – adds a wonderful flavor to the asparagus.
See recipe card below for a full list of ingredients and measurements.
Substitutes and Variations
Lemons– You can substitute lemon juice for fresh lemons, but bottled lemon juice does lack the full citrus flavor that fresh lemons provide.
Asparagus – can be cooked on the grill instead of the oven. Just be sure to watch the cooking time as the asparagus does come in closer contact with the flame.
Sea Salt- Any time of salt can be used, although I prefer the taste and texture of pink sea salt.
This recipe has not been tested with other substitutions or variations. If you replace or add any ingredients, please let us know how it turned out in the comments below!
Step by Step Instructions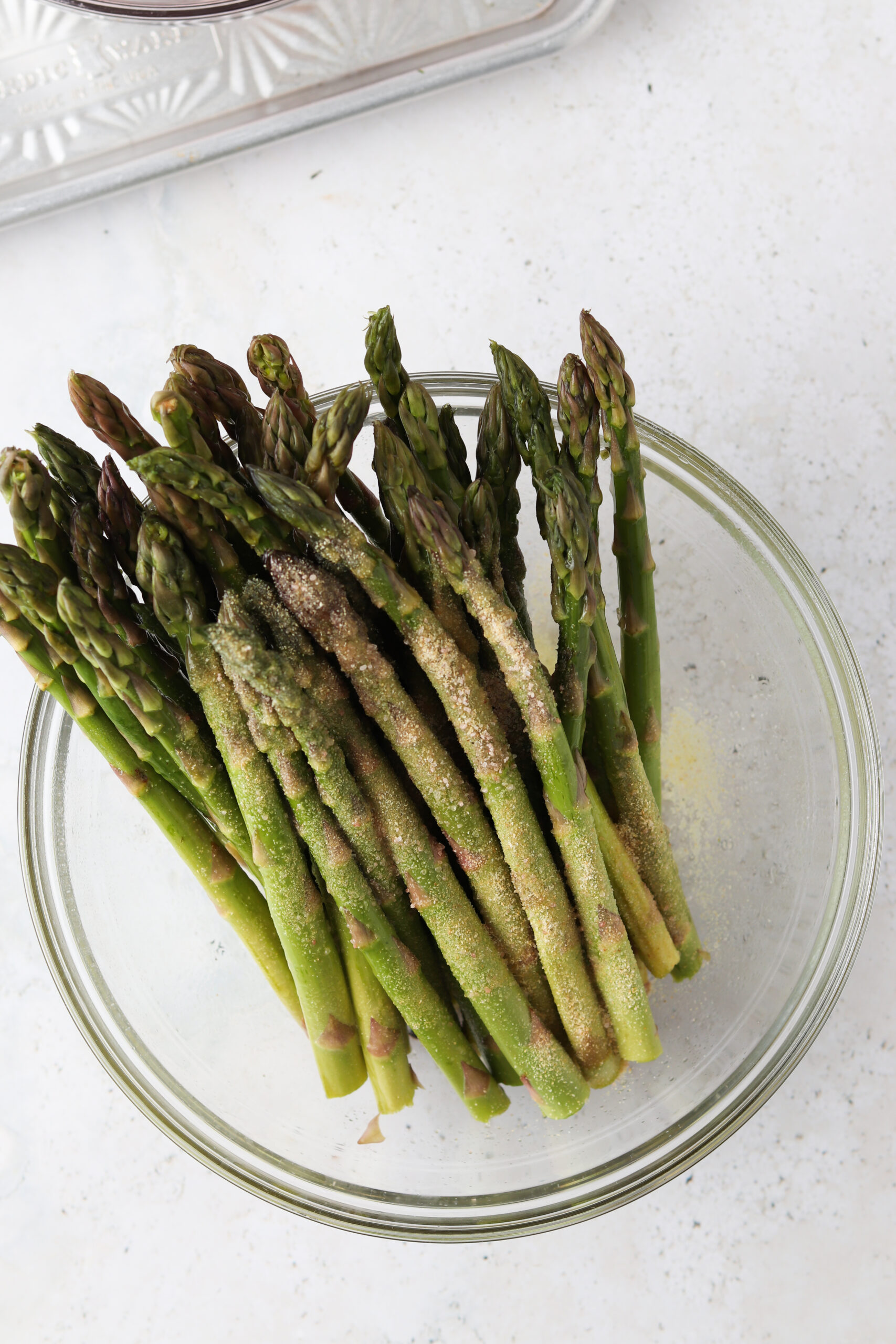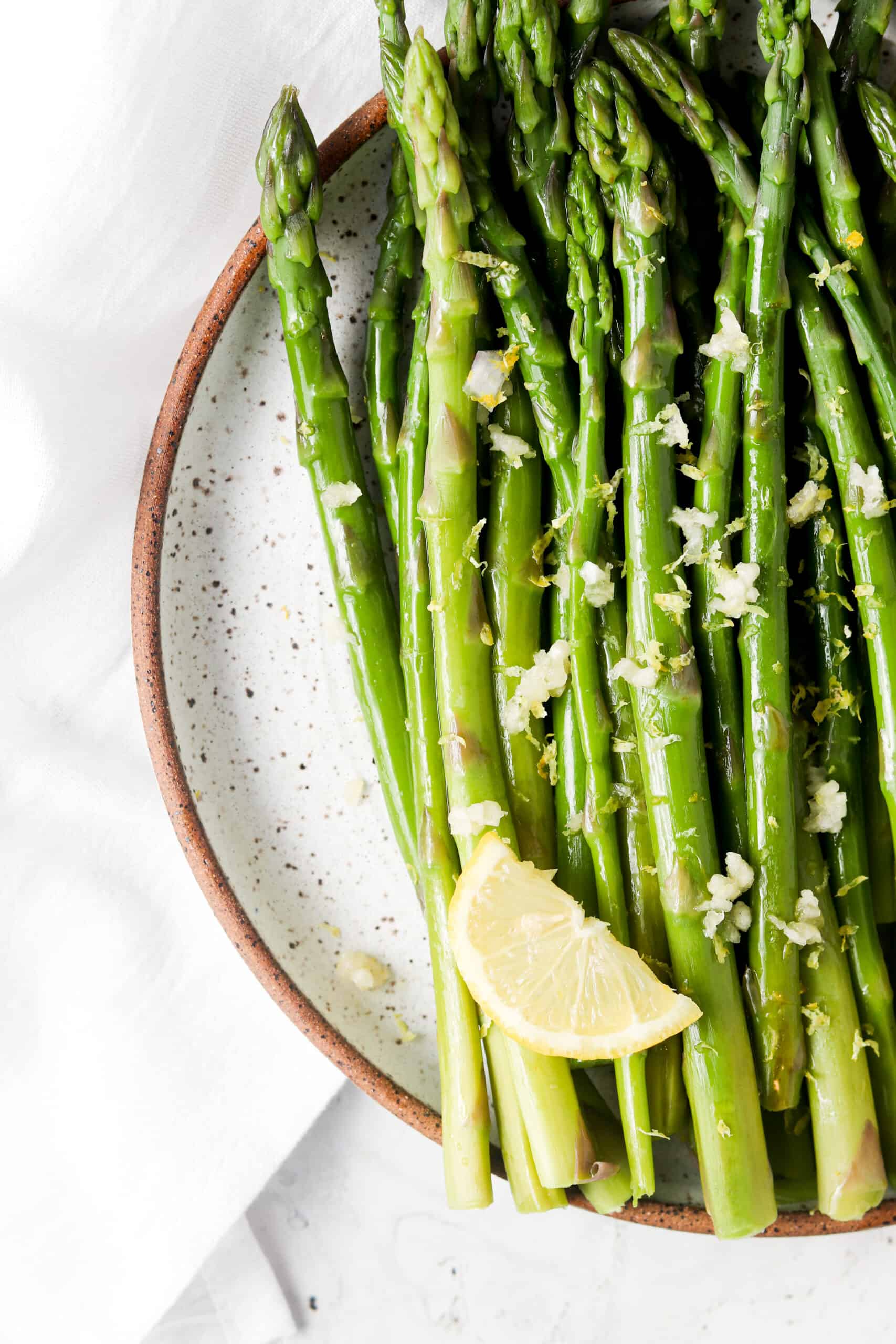 Equipment Needed
Expert Tips
Tip #1: To keep asparagus from getting soggy, be sure that you don't overcook it. Asparagus is meant to be a bit crunchy yet smooth.
Tip #2: You can grill your asparagus instead, but you'll only need to grill it for 5-10 minutes since it is so close to the flame. Be sure to flip it with tongs halfway through cooking.
Tip #3: Be sure to choose asparagus that is firm and has a smooth texture. The best time of the year to buy asparagus is during Spring.
Recipe FAQs
How do I know when the asparagus is done cooking?
The asparagus should be crisp, tender, and bright green.
Can I blanch asparagus?
Yes! Keep in mind that asparagus continues to cook even after you are done "cooking" it. Start off by bringing a large saucepan filled with water to a boil. Then, add the asparagus and cover for 1-2 minutes. Once the time is up, drain the water, and place the asparagus in an ice bath. This will prevent it from continuing to cook.
What can I make to go with this recipe?
This side dish can be paired with almost any main dish. I love this chicken piccatta dish!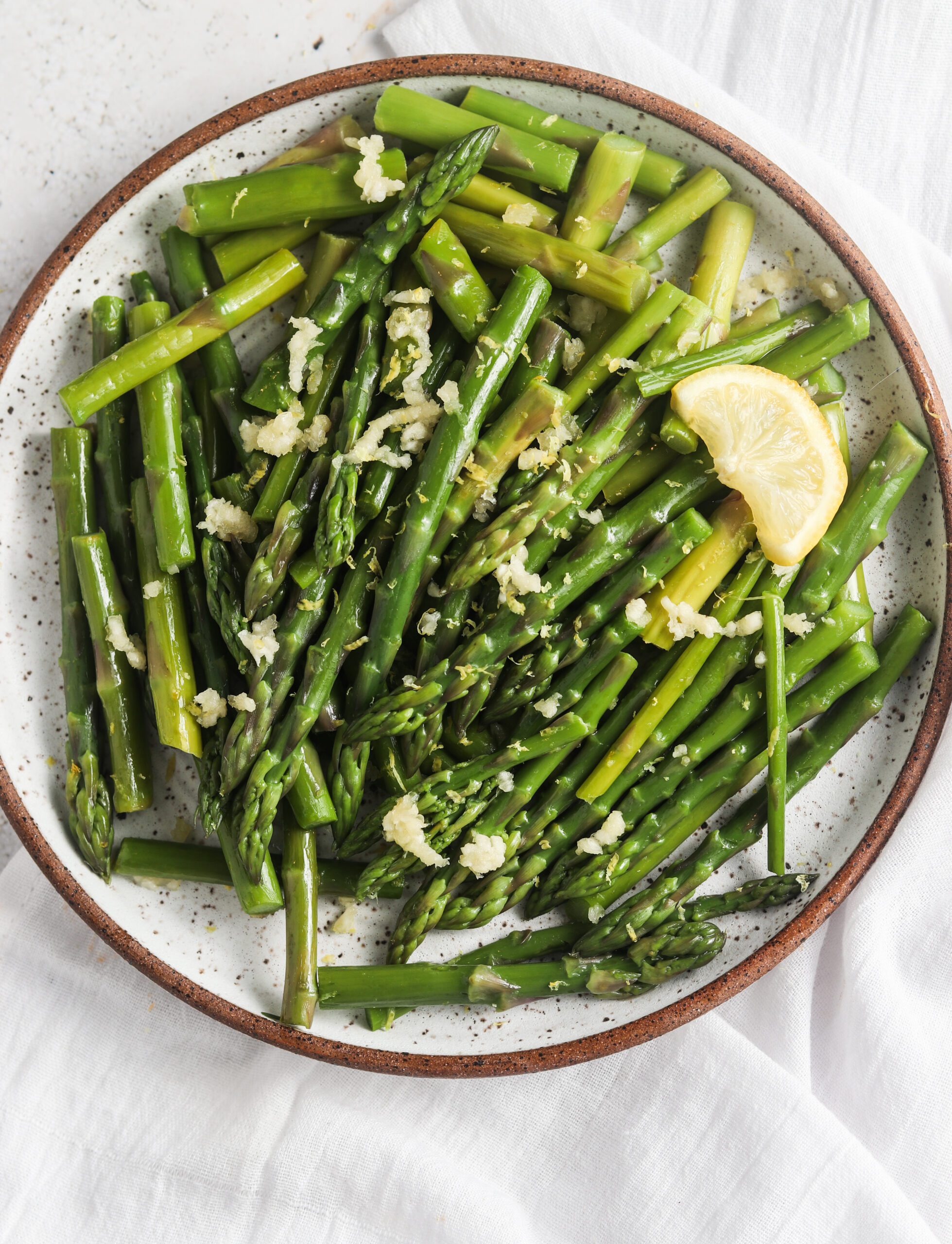 Storage Instructions
This recipe can last for up to 5 days in an airtight container.
More Recipes You Will Love
Did you try this recipe?
Leave a rating and a review below.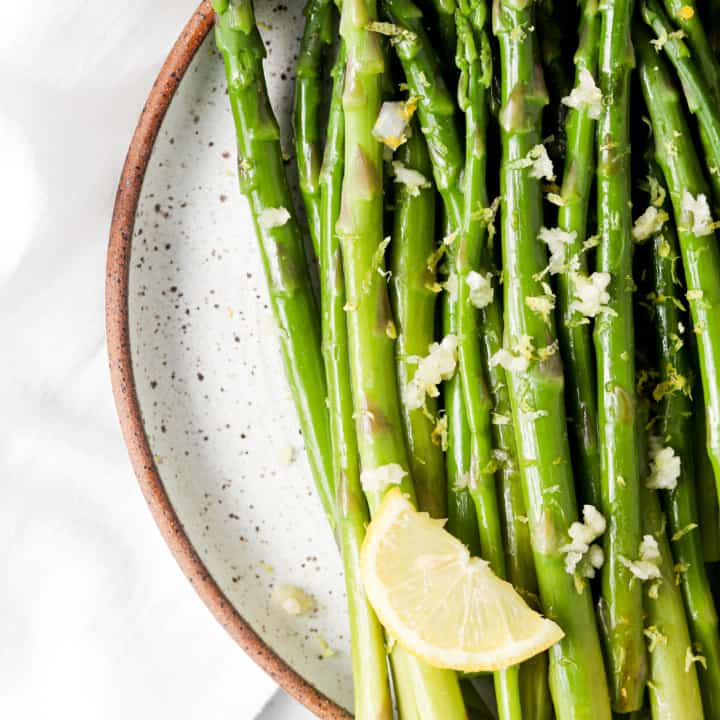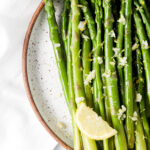 Lemon Garlic Asparagus
54
kcal
Print Recipe
Pin Recipe
Equipment
baking sheet or large pot
Ingredients
Instructions
Preheat your oven to 400. Cut off the bottoms (ugly end) of the asparagus, about 1 inch up. Add the asparagus and other ingredients to a bowl and mix the asparagus up allowing it to become evenly coated with the EVOO, garlic, lemon, sea salt, and pepper. Move the asparagus to a baking sheet and line up without over lapping on a baking sheet. Bake for 10 minutes. Flip the asparagus at the 5 minute mark with tongs, cook for remaining 5 minutes. See instructions above for blanching and grilling.
Notes
Storage: This recipe can be stored in an airtight glass container for up to 5 days. Nutrition: The nutrition for this recipe is an estimate, and the calorie count is not guaranteed.  It is based on 4 servings. Servings: This recipe should yield 4 servings.
Quick and easy side dish.
Serving:
1
bunch
|
Calories:
54
kcal
|
Carbohydrates:
4
g
|
Protein:
2
g
|
Fat:
4
g
|
Saturated Fat:
1
g
|
Sodium:
12
mg
|
Potassium:
228
mg
|
Fiber:
2
g
|
Sugar:
2
g
|
Vitamin A:
851
IU
|
Vitamin C:
6
mg
|
Calcium:
27
mg
|
Iron:
2
mg