This roasted lemon garlic asparagus recipe is quick, easy and delicious. It has the most perfect combination of garlic and lemon. This recipe goes great with just about anything!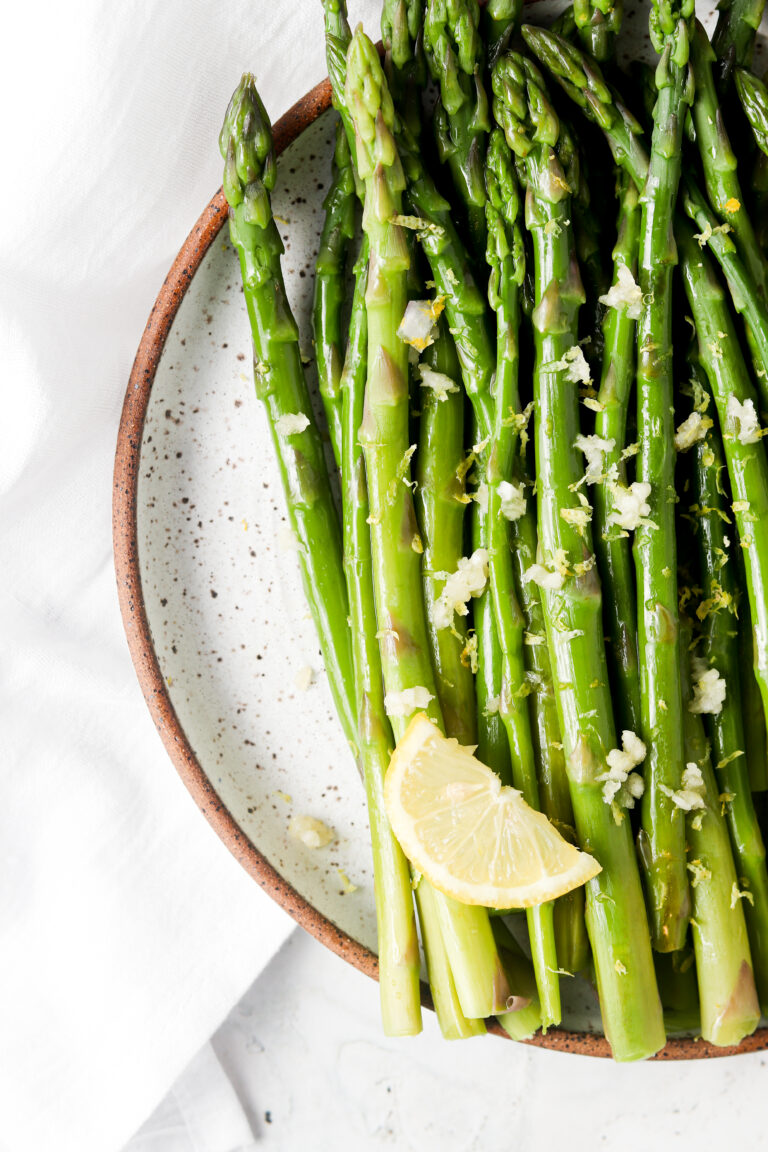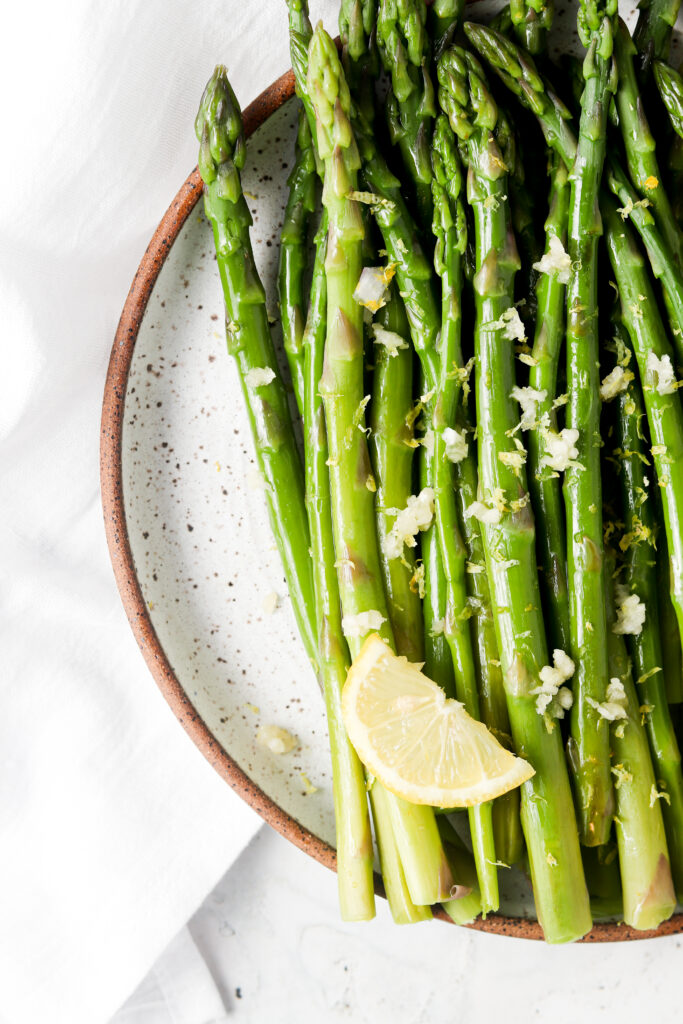 How do I cook asparagus?
This recipe is super simple! First, preheat the oven to 400 and cut off the wooden (ugly) side of the asparagus.
Next, place the asparagus and other ingredients in a large bowl and mix throughout.
Lastly, lay the asparagus down on a baking sheet in a single layer and bake for about 10 minutes.

Flip the asparagus at the 5 minute mark with tongs.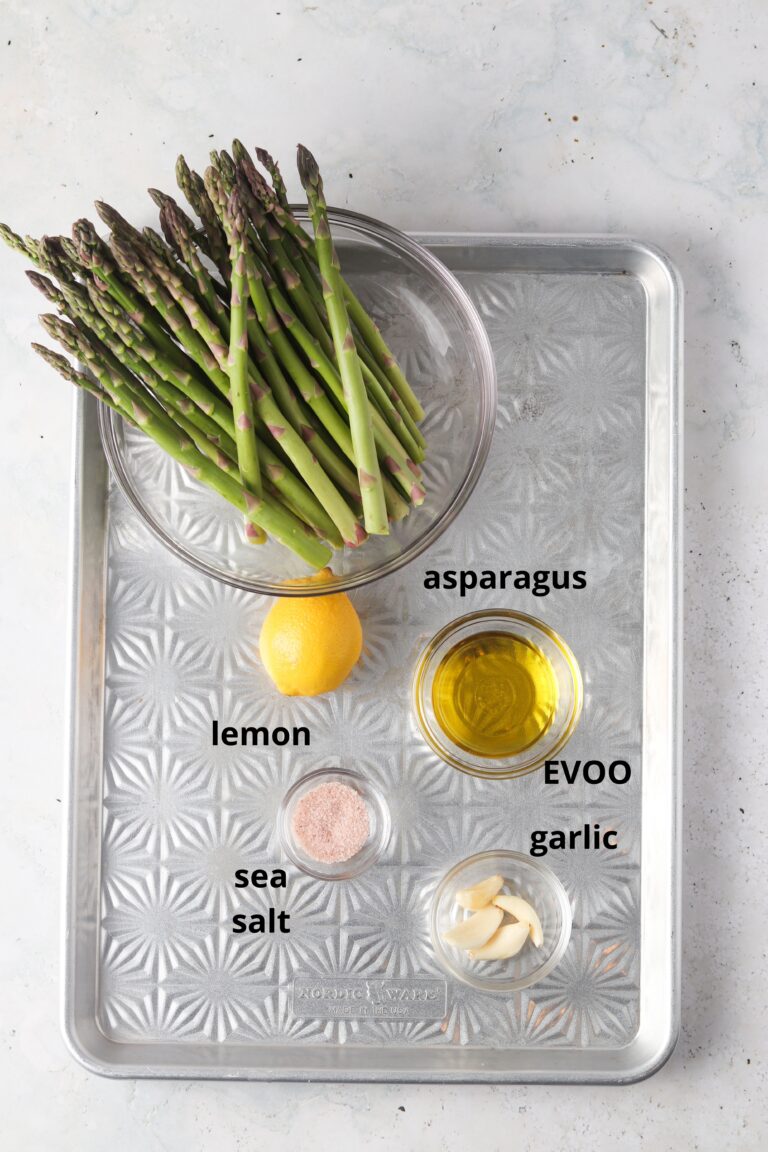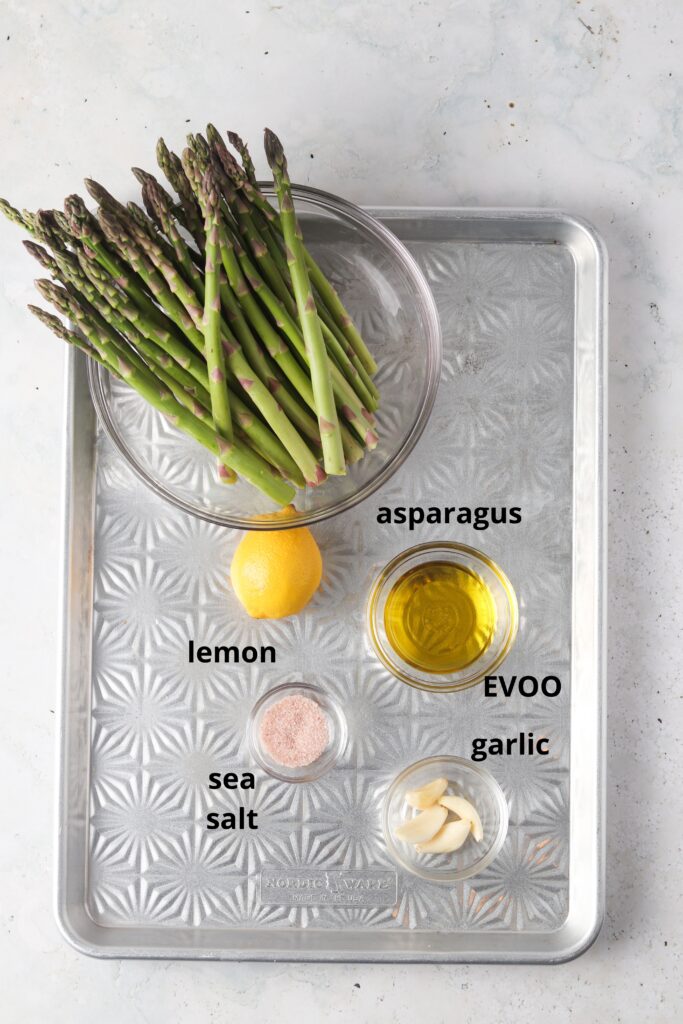 How do you keep asparagus from getting soggy?
If your asparagus is soggy, chances are it is over cooked. In this recipe, I cook it just for a few minutes! Asparagus is meant to be a bit crunchy yet smooth. This lemon garlic roasted asparagus recipe will continue to cook even when you take it out of the oven.
How do I know when it is done cooking? 
The asparagus should be crisp, tender and bright green.
Can I grill it?
For sure! Everything in this recipe would be just about the same except the cook time. If you are grilling it, you would only need to grill it for 5-10 minutes since the asparagus is coming in closer contact with the flame. Be sure to flip the asparagus with tongs halfway in between.
Can I blanch asparagus?
Yes, keep in mind that asparagus continues to cook even after you are done "cooking" it. Start off by bringing a large saucepan filled with water to a boil, then add the asparagus and cover for 1-2 minutes. Once the time is up, drain the water and then place the asparagus in an ice bath (a bucket full of ice.) This will prevent it from continuing to cook. Once it is cooled, then add the lemon, garlic and oil.
What should I make to go with this lemon asparagus recipe?

If you like this recipe, you will LOVE:
Hey-you've made it this far! If you make this recipe, I would love for you to give it a star ★ rating and review below. Make sure you are following me on Instagram, Pinterest, and Facebook too
SUBSCRIBE NOW
Join my online community for FREE and get a weekly newsletter from me.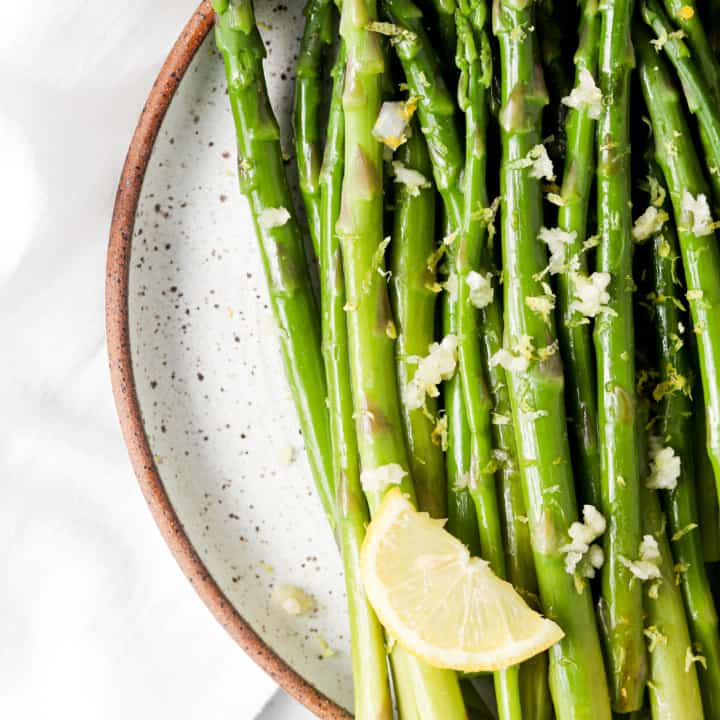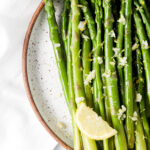 Lemon Garlic Asparagus
54
kcal
Print Recipe
Pin Recipe
Equipment
baking sheet or large pot
Ingredients
Instructions
Preheat your oven to 400. Cut off the bottoms (ugly end) of the asparagus, about 1 inch up. Add the asparagus and other ingredients to a bowl and mix the asparagus up allowing it to become evenly coated with the EVOO, garlic, lemon, sea salt, and pepper. Move the asparagus to a baking sheet and line up without over lapping on a baking sheet. Bake for 10 minutes. Flip the asparagus at the 5 minute mark with tongs, cook for remaining 5 minutes. See instructions above for blanching and grilling.
Notes
Quick and easy side dish.
Serving:
1
bunch
|
Calories:
54
kcal
|
Carbohydrates:
4
g
|
Protein:
2
g
|
Fat:
4
g
|
Saturated Fat:
1
g
|
Sodium:
12
mg
|
Potassium:
228
mg
|
Fiber:
2
g
|
Sugar:
2
g
|
Vitamin A:
851
IU
|
Vitamin C:
6
mg
|
Calcium:
27
mg
|
Iron:
2
mg