This creamy Whole30 Pesto is quite delicious. The fresh basil combined with the lemon and nutritional yeast gives this paleo pesto sauce a nice cheesy flavor without cheese. This pesto recipe only takes minutes to make! This is always a huge hit in my home when I make it! I love to make a batch and keep it in my refrigerator so that it is already in there for me to use with any meal.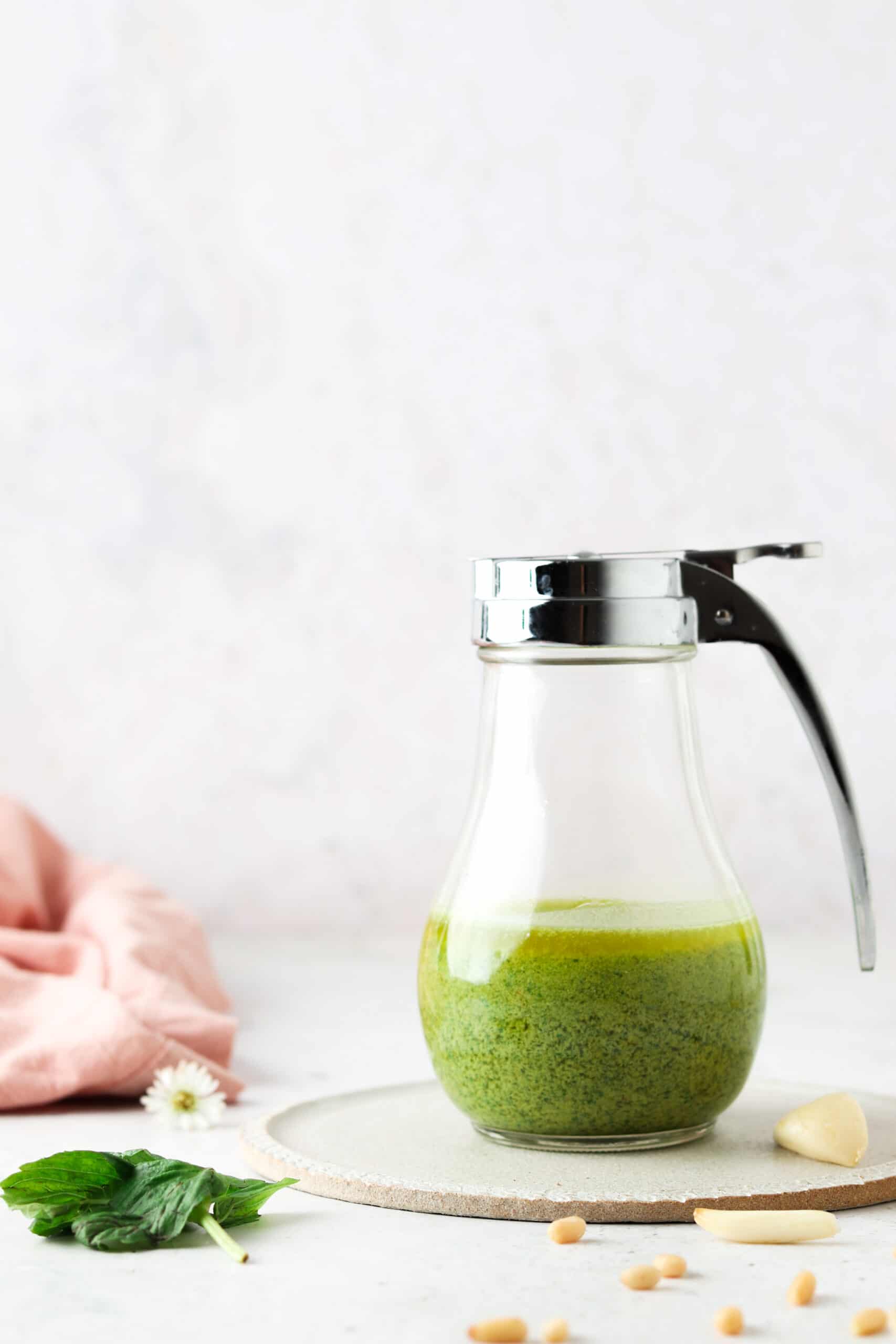 This recipe is so versatile and can be paired with multiple dishes. From seasoning proteins to using it as a spread on gluten free bread or rolls, you can't go wrong! The taste is so refreshing it will remind you of summer but is a sauce you can make year round.
I love to make a batch of it and use it on multiple dishes through out the week! I have used pesto on not just pasta, but in chicken salad and with salmon as well. The fresh flavors make it easy to pair with any protein and side. The pesto also doesn't taste heavy like a cream based sauce would.
Jump to:
Why You'll Love This Recipe
It is so simple! You just dump all of the ingredients into your blender, blend it up, and it's ready to eat.
Kids will love this recipe too!
This recipe is naturally Whole30, paleo, gluten free, dairy free, and soy free.
I love to make this recipe for my Whole30 Shrimp Pesto Pasta. It is truly a perfect pairing!
Even though it only has seven ingredients, it is packed with flavor!
Any recipe that calls for pesto you could use this recipe. Such as my Pesto Salmon, Gluten Free Pesto Meatballs, and my Pesto Chicken Salad.
Ingredients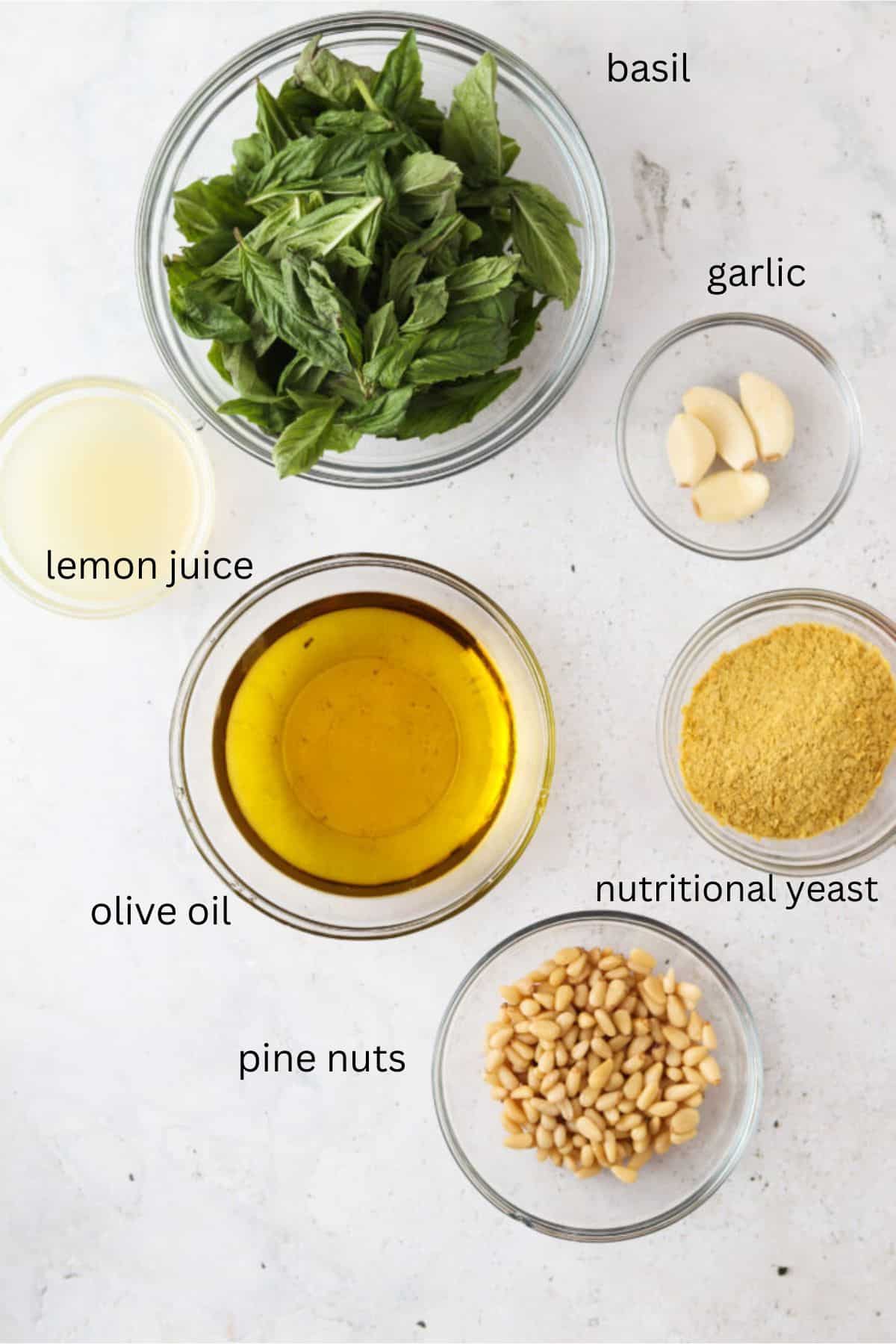 Pine nuts-This gives the pesto a nice and creamy texture. You can use walnuts but the pesto will not come out as creamy as it would if you use pine nuts.
Fresh basil-I love using my fresh basil from my garden! If you have leftover basil that you bought, trim the stems some and place into a mason jar with water and cover with a plastic bag in your refrigerator to keep it fresh longer.
Olive oil-My go to fat of choice.
Garlic-To add some flavor.
Lemon juice-This makes this whole30 pesto, do not skip this!
Nutritional yeast-Nutritional yeast is widely used in dairy free/ paleo cooking because it gives dishes a nice cheesy flavor.
See the recipe card below for a full list of ingredients and measurements.
Substitutions and Variations
If you are not dairy free, you can use parmesan cheese instead of nutritional yeast. The nutritional yeast makes it so you don't even realize the cheese isn't in there though.
If you can not find pine nuts, you can also substitute for another nut such as walnuts or pecans but it will change the consistency and flavor.
This recipe has not been tested with other substitutions or variations. If you replace or add any ingredients, please let us know how it turned out in the comments below!
Step by Step Instructions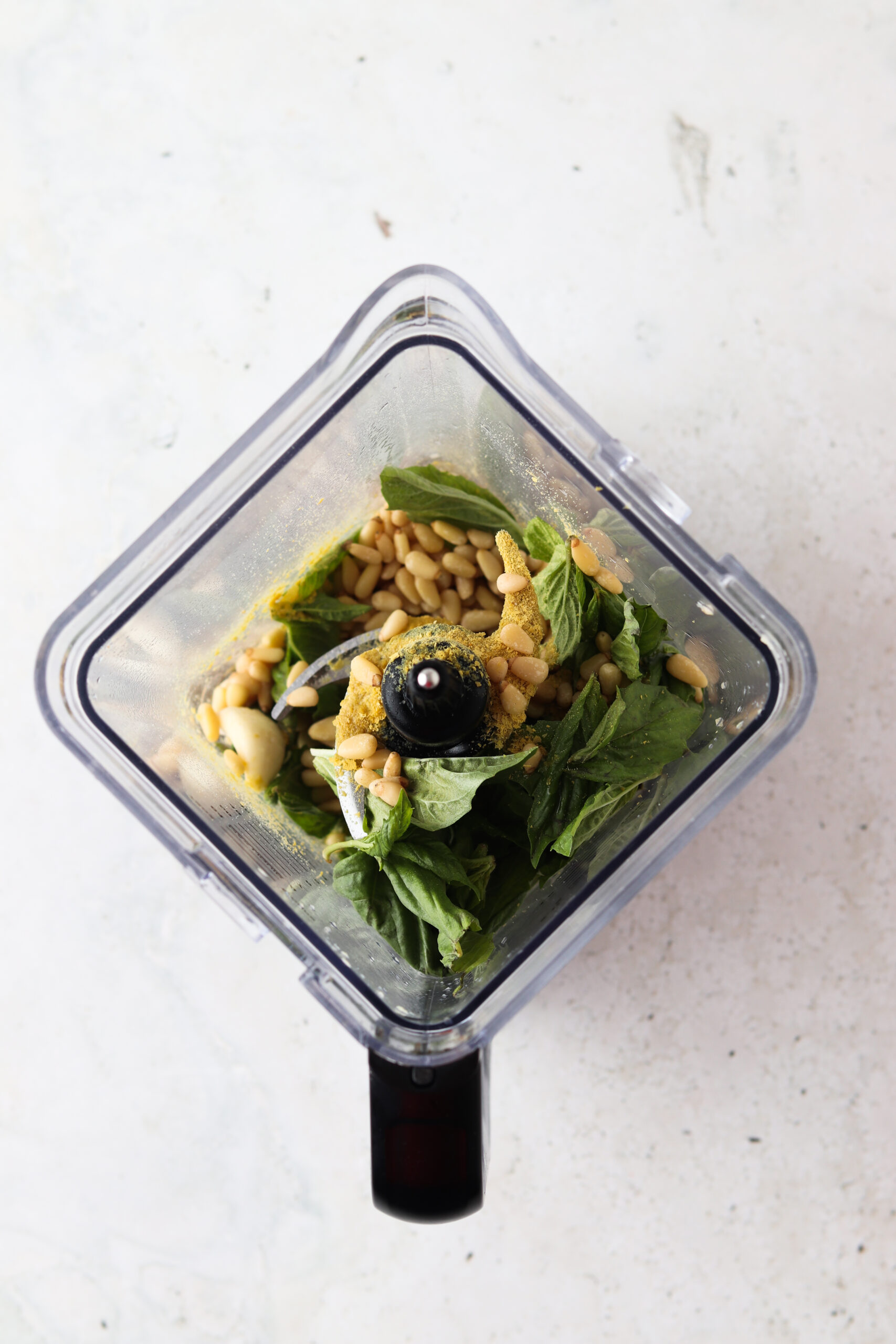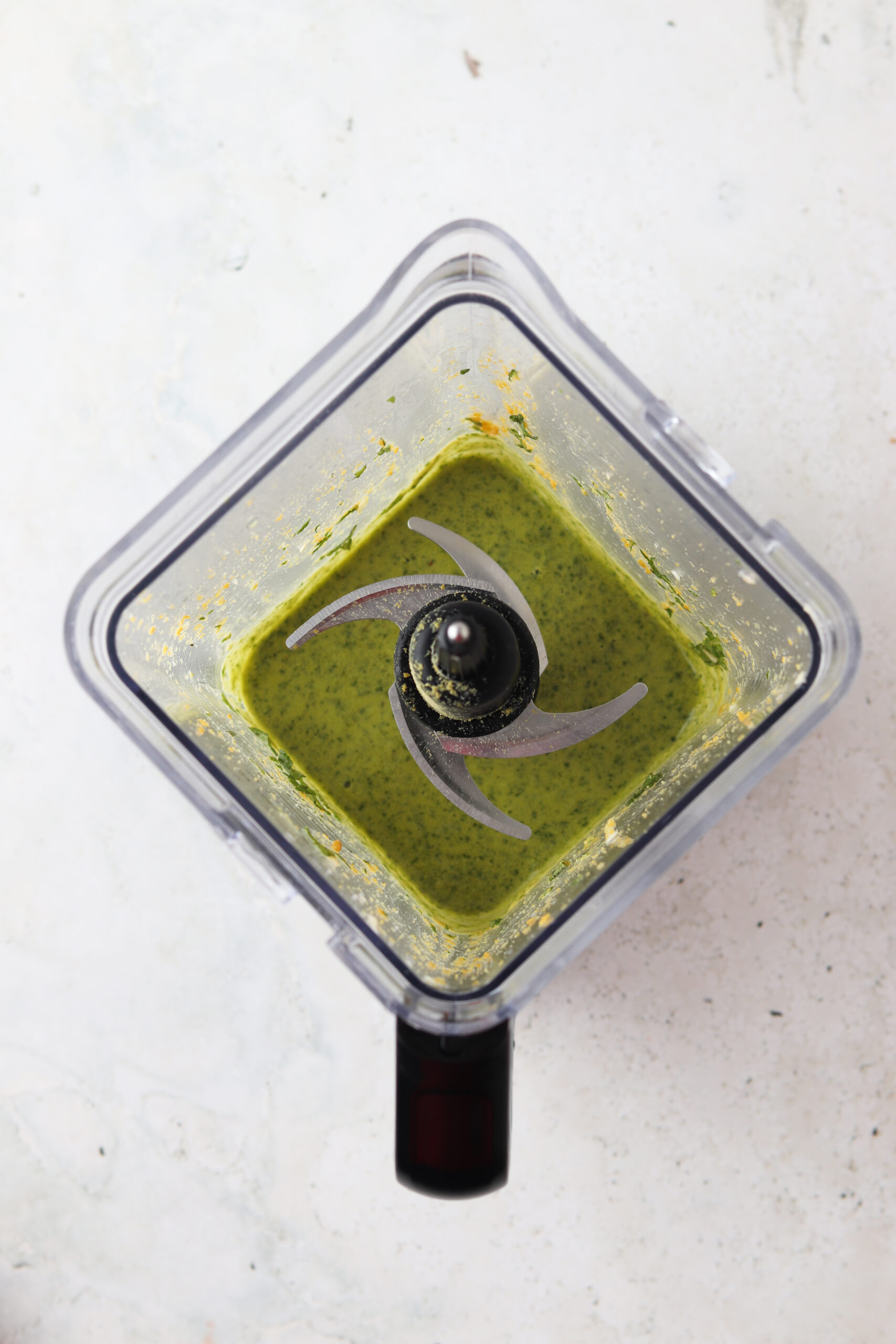 Equipment Needed
Blender – I love my blender. I have had it for years and it still works great. All of the additional attachments that come with it make it an even better value.
Expert Tips
Tip # 1: If you have left over fresh basil when you are done, trim the stems some and place stems into a jar with water in the refrigerator to keep the herbs fresh and green longer.
Tip # 2: If you are looking to buy pre-squeezed lemon juice, make sure that there are no additives on the ingredient labels. You will want to make sure they have not added any ingredients such as sugar or another artificial sweetener to it.
Tip # 3: Once your pesto is smooth, open your blender and scrape down the sides of the blender and mix a little more to make sure it is fully combined. When you first start to blend some of the ingredients will splash up higher on the sides of the blender and you don't want to miss having those flavors incorporated.
Tip # 4: If you want a more thin pesto, you can add additional olive oil or lemon juice to help thin it out. Adding more liquid and not more basil will change the flavor of the pesto though.
Recipe FAQ
What should I serve this with?
So many different things! I love fresh pesto on so many dishes from chicken salad, to my salads, steak, and even salmon.
What kind of food processor do you use?
I love my Ninja Food Processor! I have had it for years and it works super well. it is super simple to wash. I just rinse it and place it in the dishwasher.
How should I serve this dish?
You can either serve the pesto in a container on the side for you and your guests to serve themselves. Or you could also mix it into your dish ahead of time.
Can I make the sauce ahead of time and freeze it?
I don't recommending freezing pesto. When you thaw it, the consistency will change and will have additional liquid.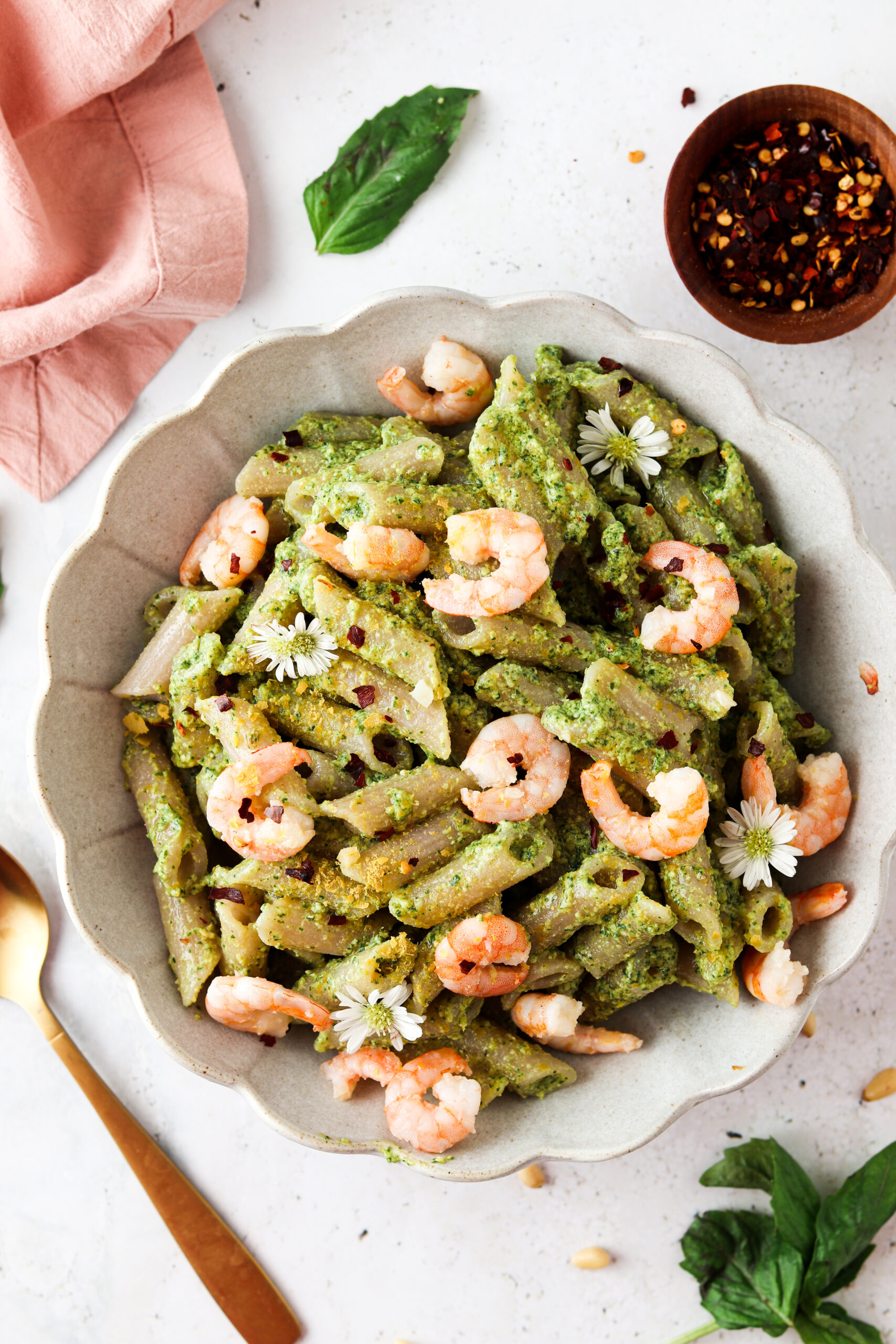 Storage Instructions
This recipe can be stored in the refrigerator for up to 5 days in an air tight container.
I love to keep mine in a mason jar and use it on recipes throughout the week!
Other Pesto Recipes You Will Love
Are you interested in getting a list of my go to healthy alternatives?
download your FREE guide below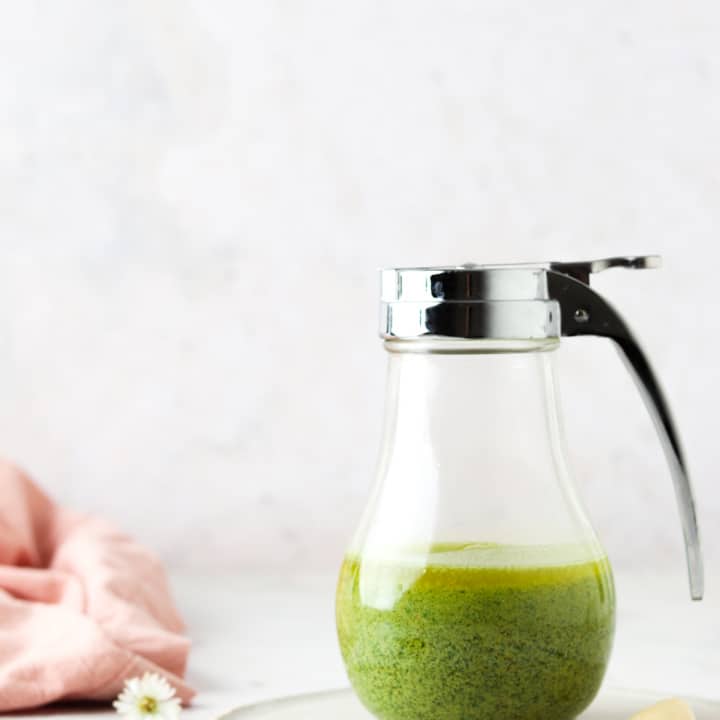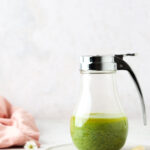 Whole30 Pesto
321
kcal
Print Recipe
Pin Recipe
Ingredients
Instructions
Place all ingredients in the food processor and blend.
Notes
Storage: This recipe can be stored in the refrigerator for up to 5 days in an air tight container. Nutrition: The nutrition for this recipe is an estimate and the calorie count is not guaranteed.  It is based on 4 servings.  Servings: This recipe should yield 4 servings. 
Creamy and delicious whole30 and paleo pesto recipe.
Serving:
1
serving
|
Calories:
321
kcal
|
Carbohydrates:
6
g
|
Protein:
3
g
|
Fat:
33
g
|
Saturated Fat:
4
g
|
Polyunsaturated Fat:
6
g
|
Monounsaturated Fat:
21
g
|
Sodium:
2
mg
|
Potassium:
190
mg
|
Fiber:
2
g
|
Sugar:
1
g
|
Vitamin A:
642
IU
|
Vitamin C:
17
mg
|
Calcium:
35
mg
|
Iron:
1
mg