This Healthier Simple Breakfast Burrito Sauce is both a must for all of your breakfast burritos but also eggs in general! This recipe only a couple of minutes to make and will elevate any breakfast to make it quite tasty on a busy morning. This creamy yet tangy sauce is full of flavor and only requires 4 simple ingredients that you will likely already have on hand. You can add this fun sauce to your breakfast table in less than 5 minutes!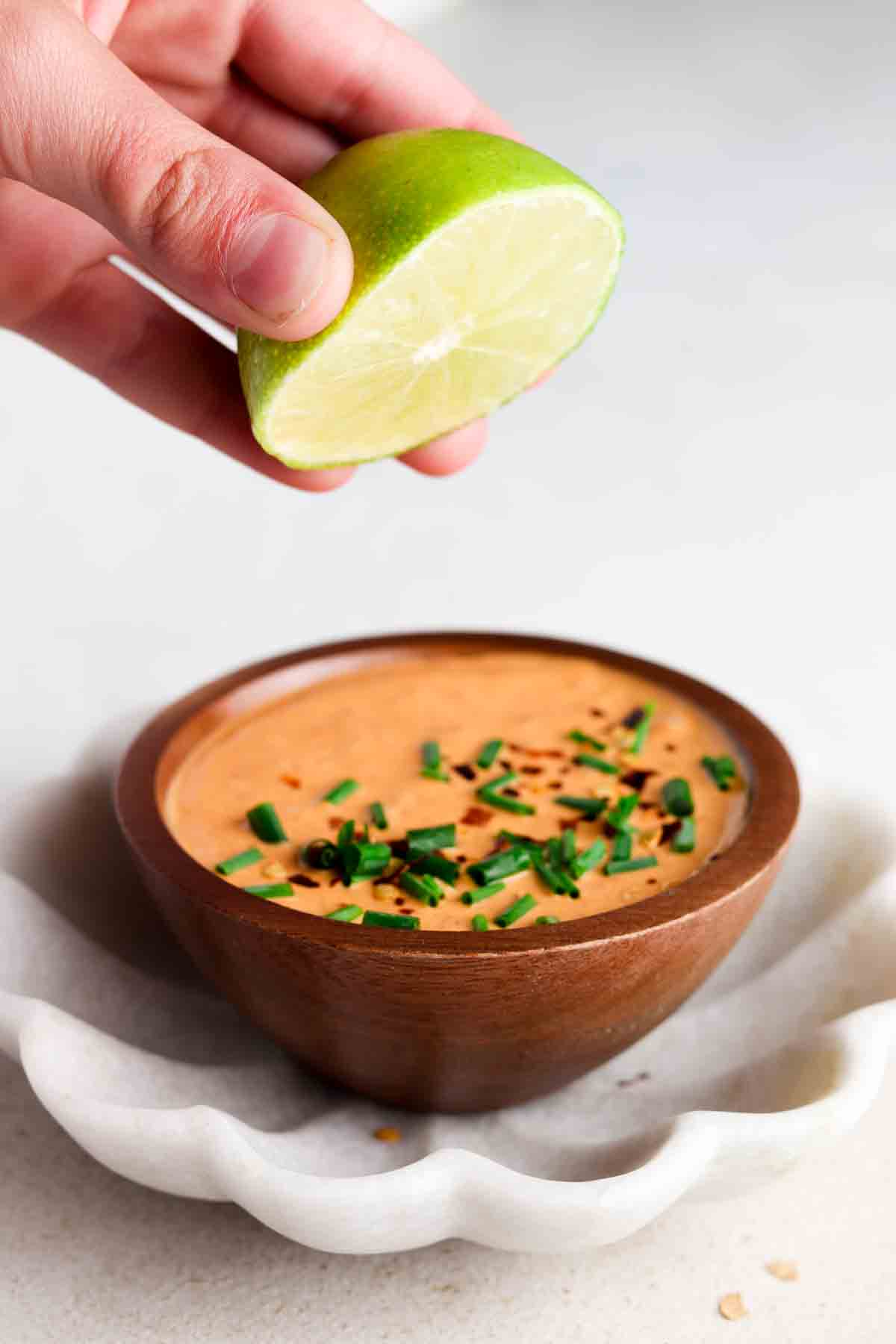 Breakfast is a big deal in my house. If you follow along on instagram, you know that I do not skip meals, especially breakfast! I love all savory breakfast foods like this Gluten Free Hashbrown Breakfast Casserole, Easy Instant Pot Bacon, Sausages in The Air Fryer, and of course my absolute favorite- Dairy Free Hollandaise Sauce.
This recipe was originally inspired by my husband, he loves breakfast burritos and sauces! I started making this recipe so he would have something to dip is eggs, burritos and sandwiches in. I almost feel bad calling it a recipe because it is so easy to make! This creamy breakfast burritio sauce is truly the best and it goes well with just about anything-not just eggs. This homemade Chipotle Sauce is a staple in my fridge during the week.
Jump to:
Why You Will Love This Recipe
I love making this recipe for brunch nearly every weekend. It pairs great with just about anything. I especially love it with my Spinach Mushroom Frittata.
This recipe tastes far better than any kind of store bought breakfast dipping sauce.
It literally takes less than 5 minutes to make.
My recipe is naturally dairy free, gluten free, soy free, grain free, refined sugar free, paleo and Whole30 friendly.
This recipe only requires one bowl and a food processor so you do not have to worry about dirtying a bunch of dishes.
This recipe can be used as both a sauce to dip all of your favorite breakfast dishes in as well as a salad dressing.
Ingredients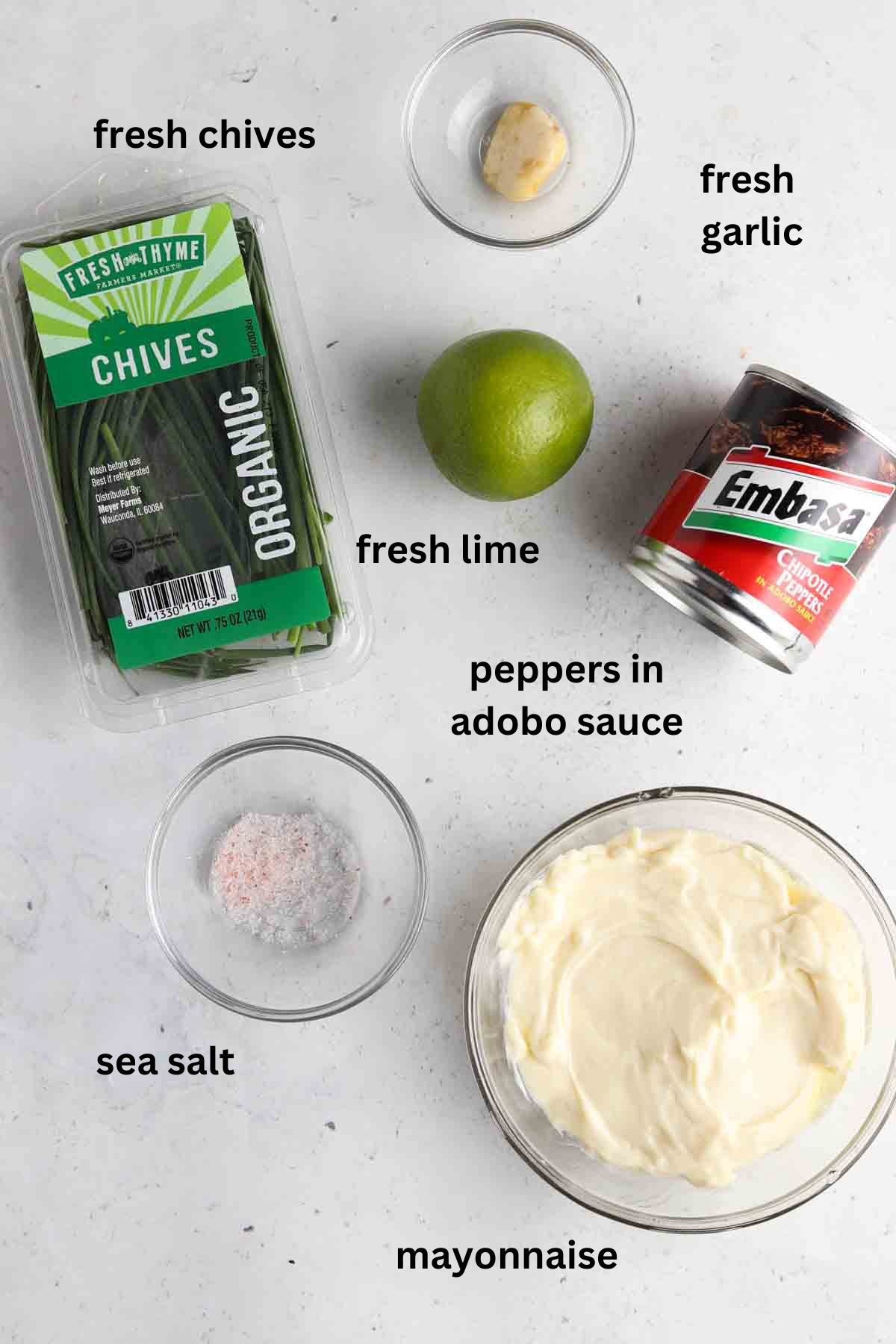 Avocado mayo-Avocado mayo is a healthier alternative to regular mayo. I love it because it is made with avocado oil vs. canola oil which be highly inflammatory to people with food sensitivities and stomach problems like myself. You can also use greek yogurt if you are looking for something with more protein instead of mayo.
Chipotle peppers in adobo sauce-This is what gives this sauce a nice kick!
Lime juice-This adds a little bit of acid which enhances the flavor of the peppers.
Salt & Pepper-To taste.
See the recipe card below for a full list of ingredients and measurements.
Substitutions & Variations
Avocado mayo-While this is my go to mayo alternative, you can also use vegan mayo or regular mayo. If you are going the vegan mayo route, I suggest using one made with chickpeas! If you are looking for a lower calorie option, you can also use sour cream.
Hot sauce-If you like medium heat, stick to just the adobo peppers, but if you like a kick, add a dash of hot sauce.
Green chilies-I like a little bit of spice, but not too much. My husband on the other hand loves spice! If we have green chilies on hand, I will add them to the sauce for an extra kick.
Black beans-If you are making these burritos fresh and not freezing them, you could also add in black beans for more fiber! I do not suggest freezing this recipe with black beans.
This recipe has not been tested with other substitutions or variations. If you remove or add any ingredients, please let us know how it turned out in the comments below!
Step By Step Instructions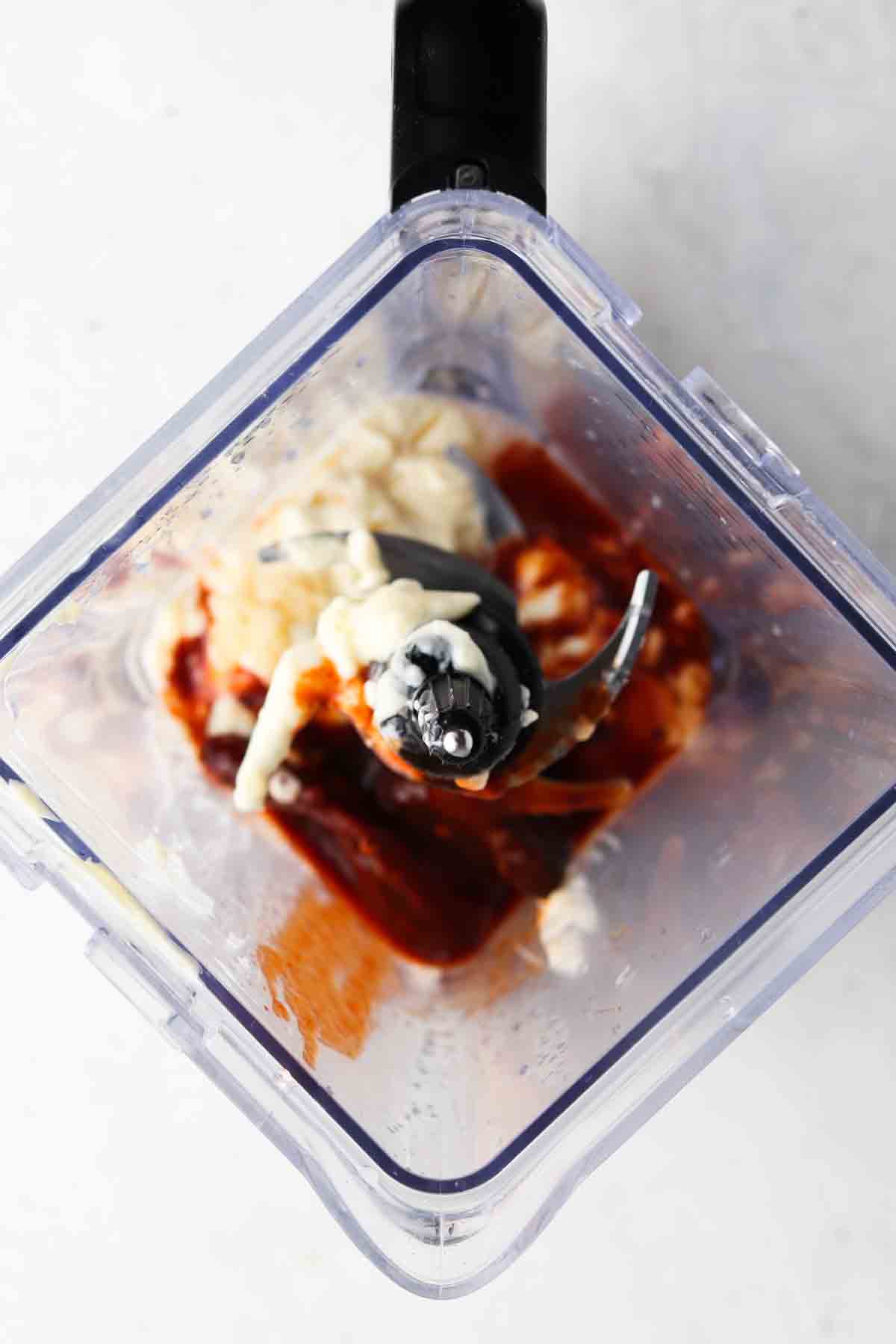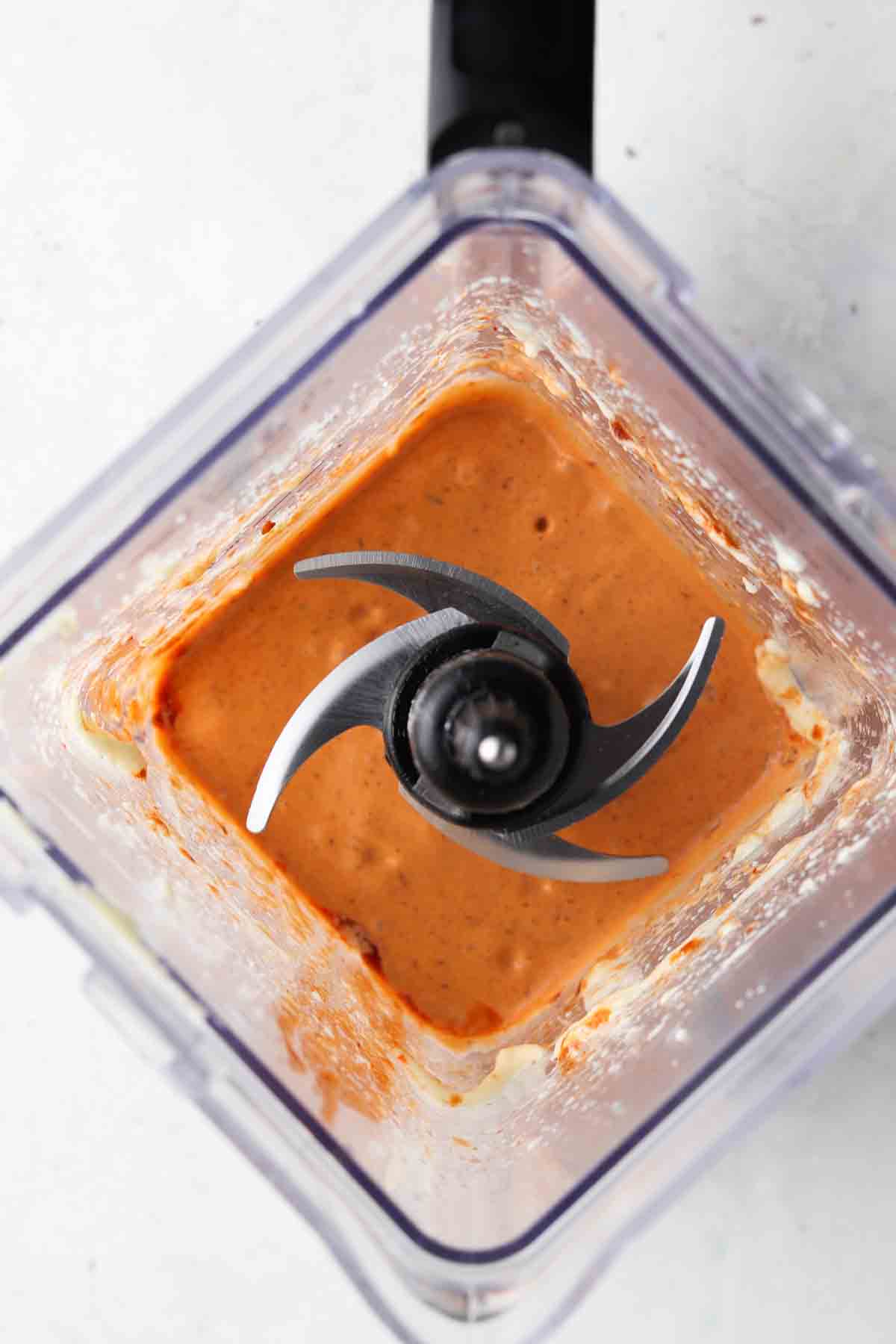 Expert Tips
Tip #1: If you are a garnish gal like me, chives go great with this sauce. Later this sauce onto your next breakfast burrito and garnish with fresh chives on top.
Tip #2: If you are sensitive to spice, start off with half of the amount of adobo peppers at first, then slowly add more in to get the spiciness to your linking. It is far easier to add more spice than to remove spice.
Recipe FAQs
What should I do with leftover chipotle peppers?
You can place the extra peppers in the food processor and process until if forms a paste. You can store the paste in an air tight container for up to a week in the fridge.
How can I thicken this sauce?
You can mix arrowroot (or corn starch if you eat corn) with some water in a small bowl. Slowly add it into a larger bowl with the sauce and mix together. This will bind everything. It is important not to over mix the sauce or it will be too runny.
How can I adjust the spice level?
If you are not a spice person, I suggest starting with a little bit of the adobo sauce and slowly adding more to your liking. You can also add green chilies if you like a little extra kick.
Can I use chipotle powder?
Yes you can. Although the fresh stuff is better! If you are using chipotle powder, substitute half a teaspoon of the dried seasoning instead of the fresh.
How can I make this recipe vegan?
You can use dairy free sour cream or egg free mayonnaise.
Do you have a go to breakfast burrito recipe to serve it with?
If you follow along on instagram, you have probably seen me batch make my husband breakfast burritos. I almost feel bad calling the recipe a full recipe because they are so easy to make. I typically whip up a batch once a month to make frozen burritos. It is super simple, I just sauté a bell pepper on medium-high heat to get them nicely charred in my cast-iron skillet, chop up some pork sausage, and make a batch of fluffy scrambled eggs. Then, I warm tortillas (you can use a flour tortilla, but since we are gluten free we normally use Siete) by placing them in the air fryer for 2 minutes. Warming the burritos allows them to fold more easily. Once they are warmed, I make the burritos, let them cool then roll them in parchment paper. Lastly, I add them to an air tight container before placing them in the fridge or freezer. You can also use a large freezer bag if you do not have an air tight container. Note, I do not suggest storing the burritos in aluminum foil or plastic wrap. This won't keep them as fresh.
How should I reheat?
This sauce should not be reheated because it has eggs in it. However, this sauce does taste best at room temperature. Be sure to take it out of the fridge 30 minutes or so prior to eating.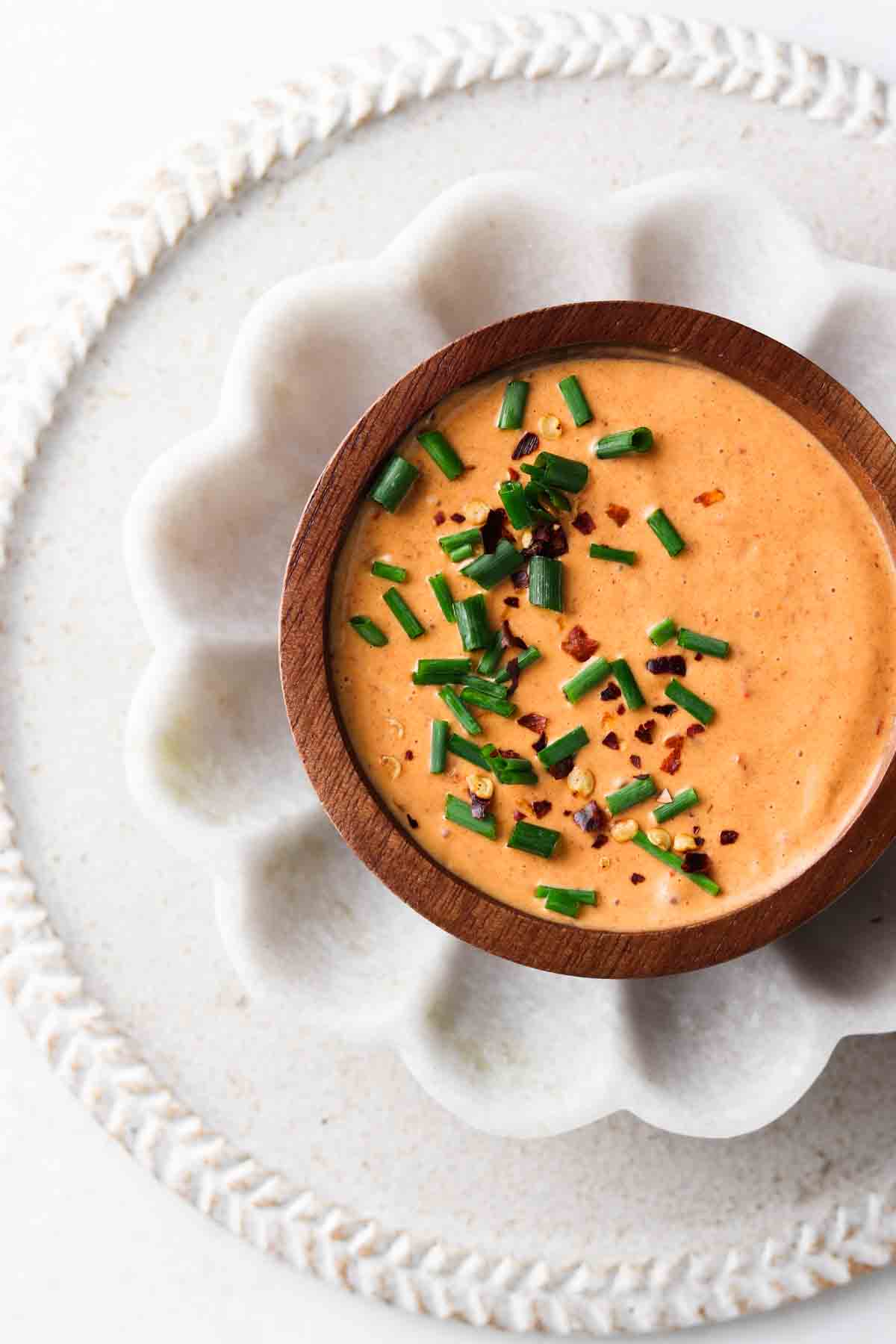 Storage Instructions
I do not suggest freezing this recipe unless you substitute the mayo for sour cream. Mayo never freezes well.
This recipe lasts for up to 10 days in the refrigerator. I suggest storing it in an air tight container.
Other Simple Sauce Recipes You Will Love
Are you interested in a guide of my go to healthy alternatives?
Download your FREE guide below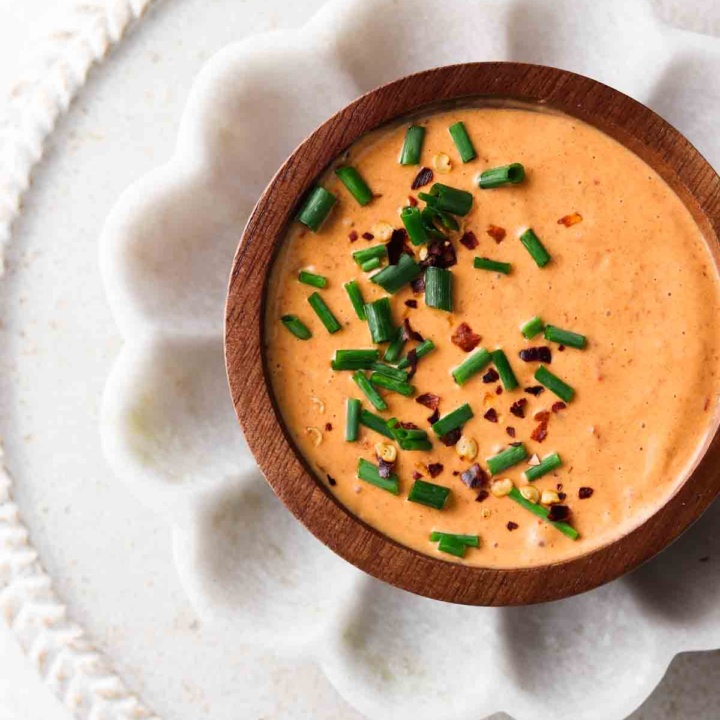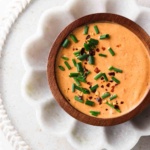 Breakfast Burrito Sauce
193
kcal
Print Recipe
Pin Recipe
Equipment
Food processor

mixing bowl

whisk
Ingredients
1

cup

avocado mayo

2

tbsp

chipotle peppers in adobo sauce

You can add more if you like more of a kick.

2

cloves

garlic

minced

1

whole

lime

juiced and zested
Instructions
Place in the food processor and blend for 20 seconds or until smooth.
Notes
Storage: Store in an air tight container for up to 1 week.
Nutrition: The nutritional information on this recipe card is just an estimate and cannot be guaranteed. 
Servings: This recipe yields approximately 8 servings. 
Equipment: A high speed food processor will help!
If you loved this recipe as much as I do, a star rating review would mean the world!
Easy and delicious recipe that elevates any meal!
Serving:
2
tbsp
|
Calories:
193
kcal
|
Carbohydrates:
5
g
|
Protein:
0.4
g
|
Fat:
18
g
|
Saturated Fat:
2
g
|
Polyunsaturated Fat:
0.1
g
|
Sodium:
163
mg
|
Potassium:
3
mg
|
Fiber:
1
g
|
Sugar:
2
g
|
Vitamin A:
0.1
IU
|
Vitamin C:
0.3
mg
|
Calcium:
1
mg
|
Iron:
0.01
mg