This crispy AIP paleo, keto, and whole30 compliant air fried chicken is exactly what you need for meal prep, These  AIP chicken tenders are super crispy, have minimal ingredients and only takes 5 minutes of hands on time. These crispy chicken tenders are the perfect addition to any meal. We love to add it to our favorite salads and veggie loaded bowls.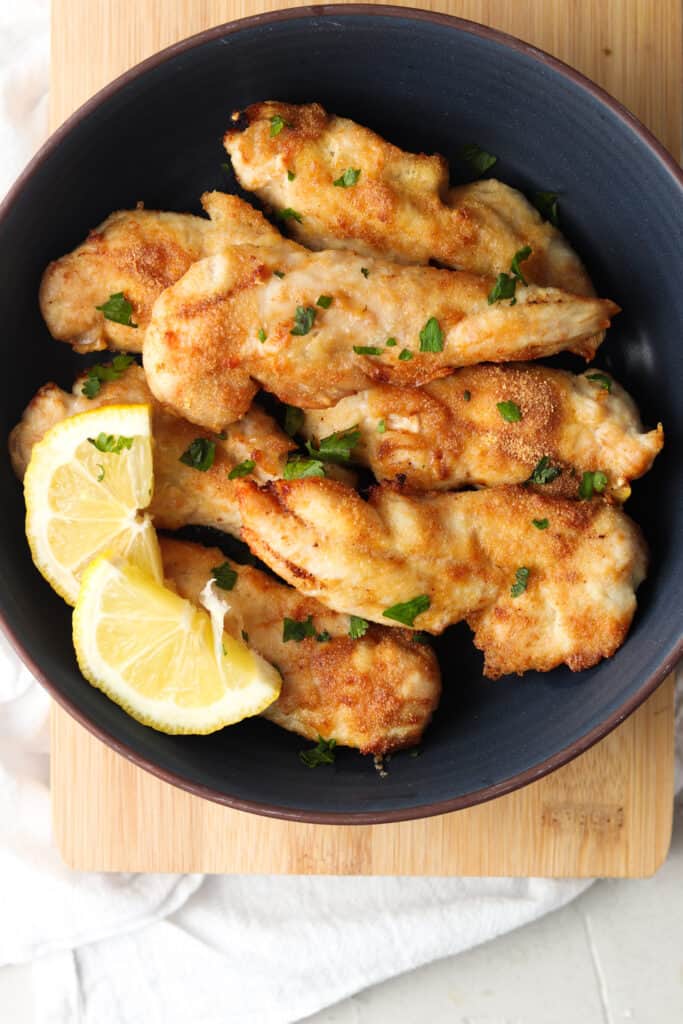 How To Make These Crispy AIP Chicken Tenders
If you have been following along on instagram for awhile you have seen by now that I am obsessed with my air fryer. I am so obsessed that I recently just bought a new one that is double in size so I can air fry more at once. The insert to prop up the chicken so it evenly fries on both sides is the key here. You want to make sure you add the insert. See the picture below.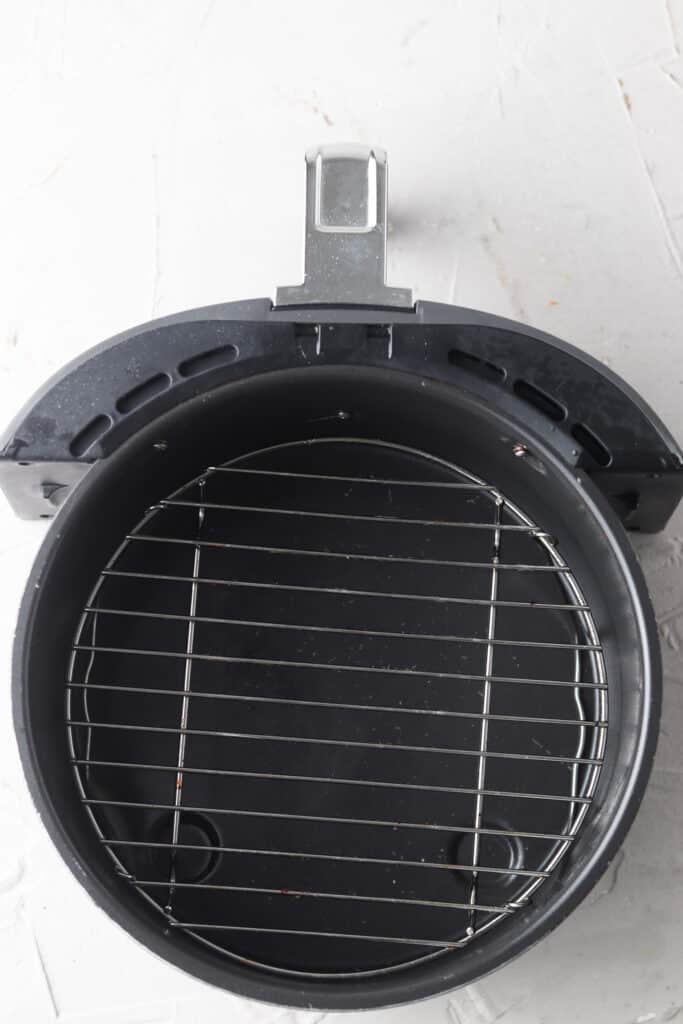 Next, you want to preheat the air fryer to 360 degrees F.
Now, you want to remove the chicken from the packaging, spread on a cutting board and spray with the olive oil or oil of choice. Then add your mix of seasonings to the side facing up. Once the air fryer is preheated you want to add the seasoned side face down to the air fryer and spray the other side and add the seasoning. Cook for 6 minutes.
Once the 6 minutes is up, you want to flip the chicken, spray another layer of oil, add another layer of spices and cook for an additional 6 minutes.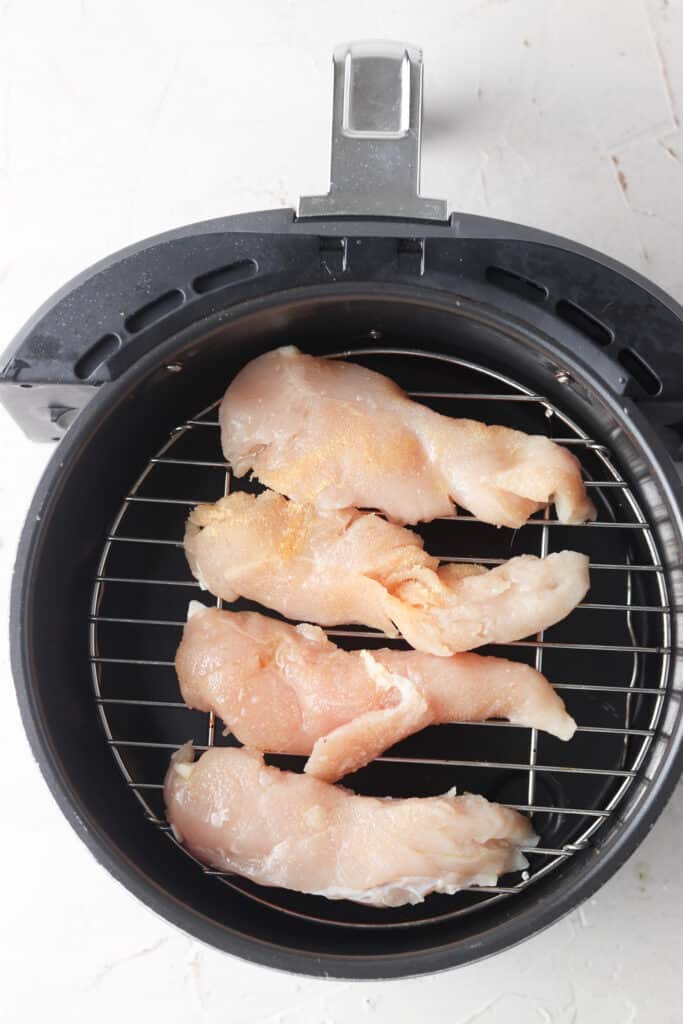 What Do I Need to Make AIP Chicken
First things first, I highly suggest using chicken tenderloins vs. chicken breasts. They are smaller and personally I feel like they cook better and if you are going to cut up the chicken anyways for a salad or bowl, you can't go wrong here! If you only have chicken breasts, that is okay just cut them in half so they are not as dense. If you do not want to cut them, you may need to adjust the cooking times. 
Olive oil- I love using Trader Joe's olive oil spray. I refer to it as the pam of paleo cooking. I use it nearly on everything!
I love to season my chicken breasts in garlic powder and sea salt. You can essentially use any spices but I highly recommend adding plenty of spices with flavor.
Keywords: aip recipes, aip chicken, aip diet recipes, aip chicken recipes, paleo chicken recipes, paleo air fryer recipes, aip diet recipes, aip recipe, crispy paleo chicken, whole30 chicken salad, paleo chicken salad, aip salad, aip chicken salad, whole30 salad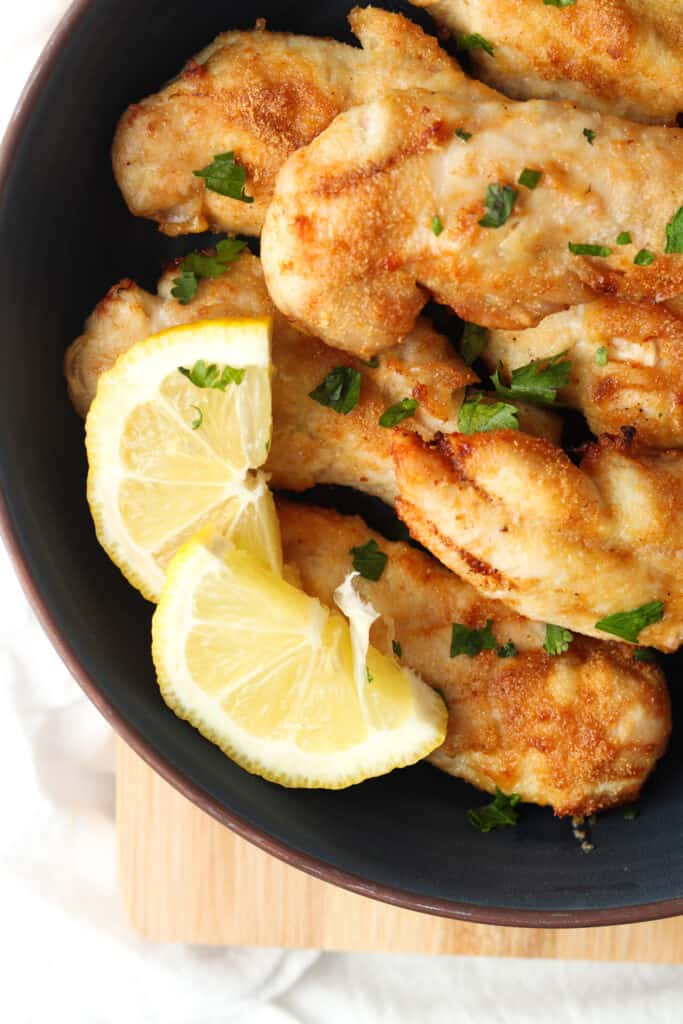 I love to pair this chicken recipe with:
Sweet Potato, Fig, Blackberry Fall Salad
Acorn Squash Grape Apple Salad With Pumpkin Vinaigrette
Whole30 Orange Cranberry Sauce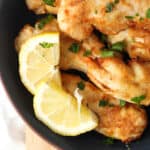 Paleo, Whole30, Keto, AIP Chicken Tenders
356
kcal
Print Recipe
Pin Recipe
Ingredients
1

pound

chicken tenderloins

I like the tenderloins because they cook more evenly. If you use breasts, make sure to add more cooking time,

1/4

cup

garlic powder

this seems like a lot, but trust me it will make your chicken come out tasting so fa

1/2

tsp

sea salt

oil spray of choice

I like Trader Joe's olive oil spray.
Instructions
Preheat your air fryer to 360 degrees F.

Add the pop up stainless steel grate to the air fryer so that the chicken can cook evenly. See the pictures above. If your air fryer has trays, do not worry about this step.

Take the chicken tenderloins out of the package and place on a cutting board or plate and pat dry.

Generously coat the side facing up with the olive oil spray or spray of choice.

Now, mix up the garlic and the sea salt in a bowl.

Take a spoon and generously coat the chicken in the seasoning mix (don't use it all, we will have to do this 3 times.)

Lay the seasoned chicken face down on the stainless steel grate in the air fryer.

Now, evenly coat the top of the chicken with the EVOO and mixed seasonings (leave some seasoning because you are going to have to do this again.)

Cook for 6 minutes. Once the 6 minutes is up, flip the chicken and spray the other side again with a tiny bit of goal and distribute the remaining seasoning. Cook for an additional 6 minutes.

I love to eat this chicken with salads or in my protein bowls! See the text above to see what I like to serve it with.

ENJOY! I would be so greatly appreciative if you left a review and star rating in the comments section below, took a picture of your yummy soup and tagged me on instagram @alliannaskitchen or shared the link to this recipe with a friend.
Notes
Keep in mind that some of the sodium and garlic powder will blow off in the air fryer, so the sodium values may not be accurate. 
These quick and easy chicken tenders will become your new go to chicken recipe..
Nutrition Facts
Paleo, Whole30, Keto, AIP Chicken Tenders
Amount Per Serving
Calories 356
Calories from Fat 54
% Daily Value*
Fat 6g9%
Cholesterol 145mg48%
Sodium 862mg37%
Potassium 1192mg34%
Carbohydrates 22g7%
Protein 40g80%
Vitamin A 68IU1%
Vitamin C 3mg4%
Calcium 35mg4%
Iron 3mg17%
* Percent Daily Values are based on a 2000 calorie diet.