These crispy garlic AIP chicken thighs are the perfect dinner that both you and your family will love to eat. The arrowroot powder acts as the breading and makes these chicken thighs oh so delicious. This recipe is naturally Whole30 and Paleo friendly. This crowd pleasing dish takes less than 10 minutes to prepare which makes it an easy to go for all of your weekly dinner needs.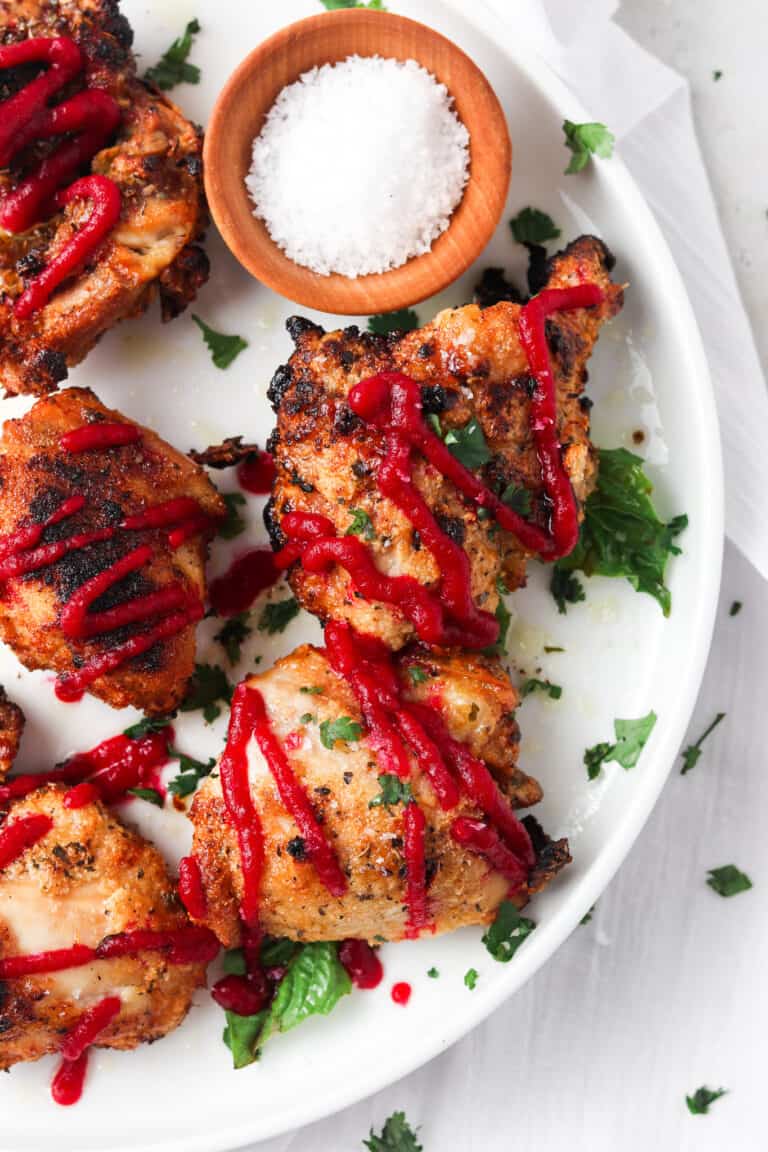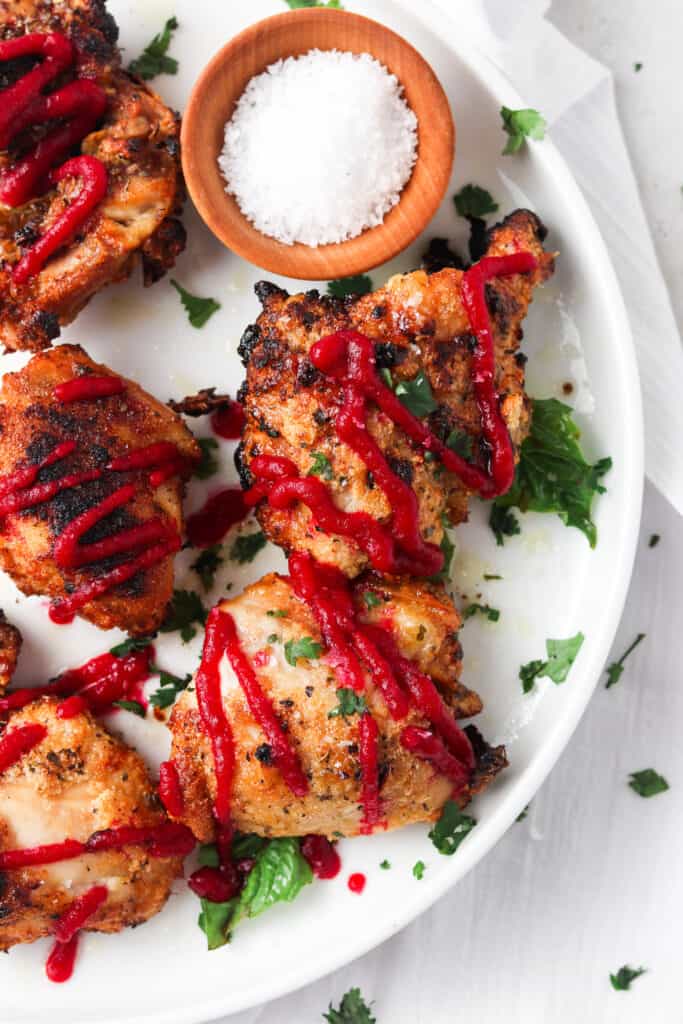 What Do I Need To Make Crispy Garlic AIP Chicken Thighs?
Chicken thighs-You can use chicken breasts, however I prefer thighs for this recipe for the simple reason that thighs have more flavor.

Arrowroot powder-Arrowroot powder is my go to cooking starch in AIP cooking. Arrowroot is very similar to corn starch in terms of what it does in recipes. I do not suggest subbing arrowroot with another flour.

Cooking spray-I love using Trader Joe's olive oil cooking spray. It comes in handy for so many of my recipes. You could use avocado oil in place of olive oil, however I tend to try to stay away from avocado oil for the pure reason that it can be hard to find a bottle that doesn't smell rancid. Spices & salt-Feel free to great creative here. If you are not doing AIP you can add in ½ tsp of paprika to give this chicken a nice kick. I personally love a lot of salt but if you are one that is really sensitive to salt, you can cut back. Again the arrowroot will take care of making this AIP chicken dish crispy, but the seasoning is what will give it flavor. 

Coconut milk-I use coconut milk in place of eggs. This will help the breading and spices to stick to the chicken. If you are not doing AIP you can sub this with almond milk or 1 whisked egg.
How Can I Make This AIP Chicken Recipe?
How Do I Cook This AIP Chicken Recipe?

In this blog post I have included 2 options. I always prefer using my

air fryer

because it makes my dish nice and crispy, but if you do not have an air fryer you can use the oven.

For both ways of cooking this recipe you will want to get a bowl and mix the arrowroot with the herbs. Then, add the coconut milk in a separate small bowl. Next, trim the chicken thighs from any access fat. Now it is time to dip the chicken thighs in the coconut milk, then dip them in the arrowroot mixture. You can set the dipped chicken on a plate.

For the oven-You will need a non-stick pan. I still spray the pan with a generous coat of oil to prevent the chicken from sticking and the breading coming off. Cook the chicken at 400 for 10 minutes. Once the 10 minutes is up, add the remaining breading/ spice mix to the top and give the chicken another spray of the oil. This will prevent the chicken from drying out. Now bake the chicken for another 10 minutes. 

For the air fryer- You will follow the same steps in preparing the chicken, however you will preheat the air fryer to 400. Then, you will add the rack insert in the air fryer, spray the rack with the cooking oil. Add the chicken thighs and then cook for 10 minutes. Flip the thighs, add the remaining arrowroot/ spice mix and cook for another 10 minutes.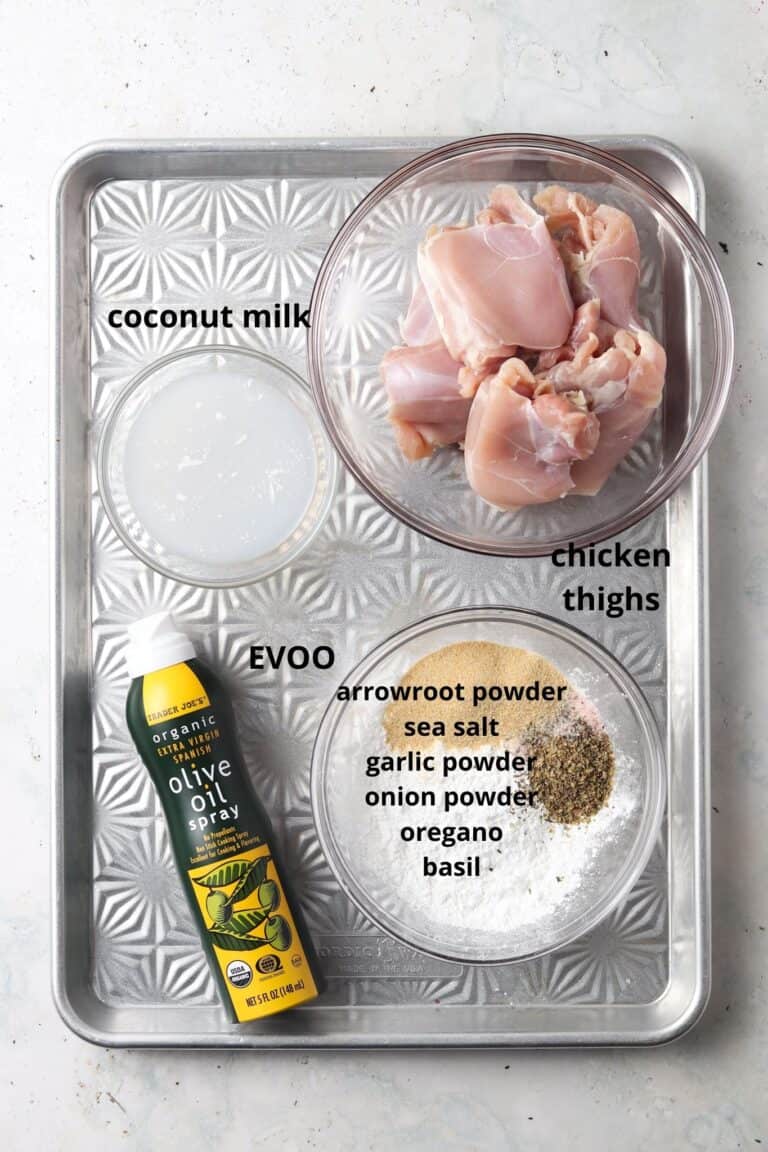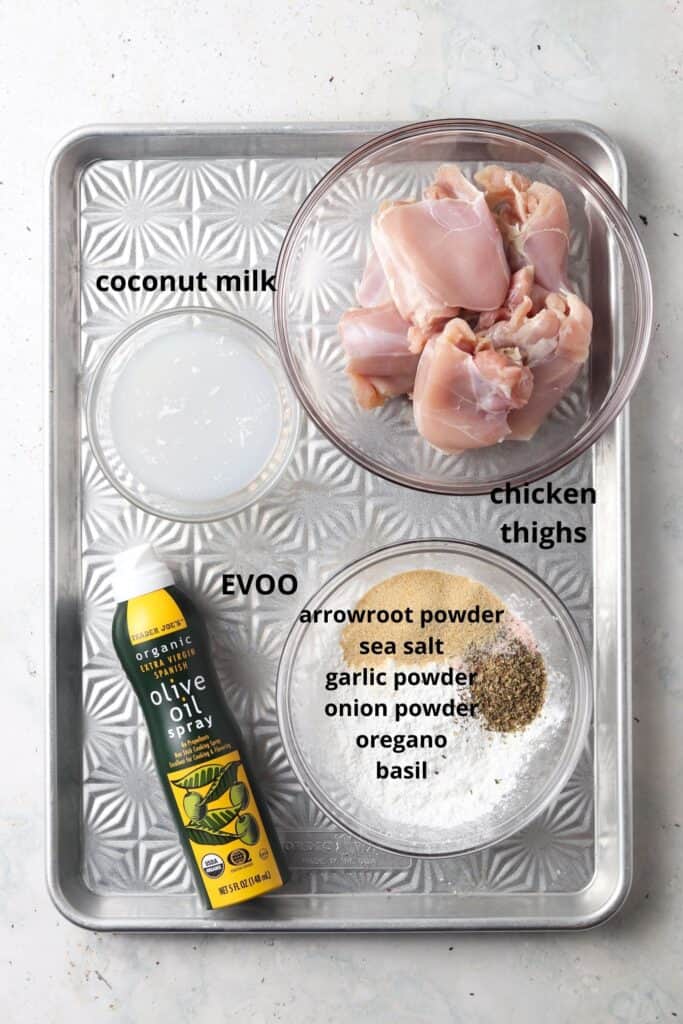 Can I Use Bone In Chicken Thighs?
Yes, however, you will more than likely have to cook the chicken longer. I have yet to test this recipe with the bone in.
How can I Reheat Crispy Garlic AIP Chicken Thighs?
I also prefer using the stovetop or toaster oven for reheating my recipes. The microwave will make your meat taste rubbery (gross!) I put it in the toaster oven for 3-5 minutes until it is warm all the way through.
What Can I Eat This AIP Chicken With?
My beet carrot pumpkin ketchup, which is coming soon!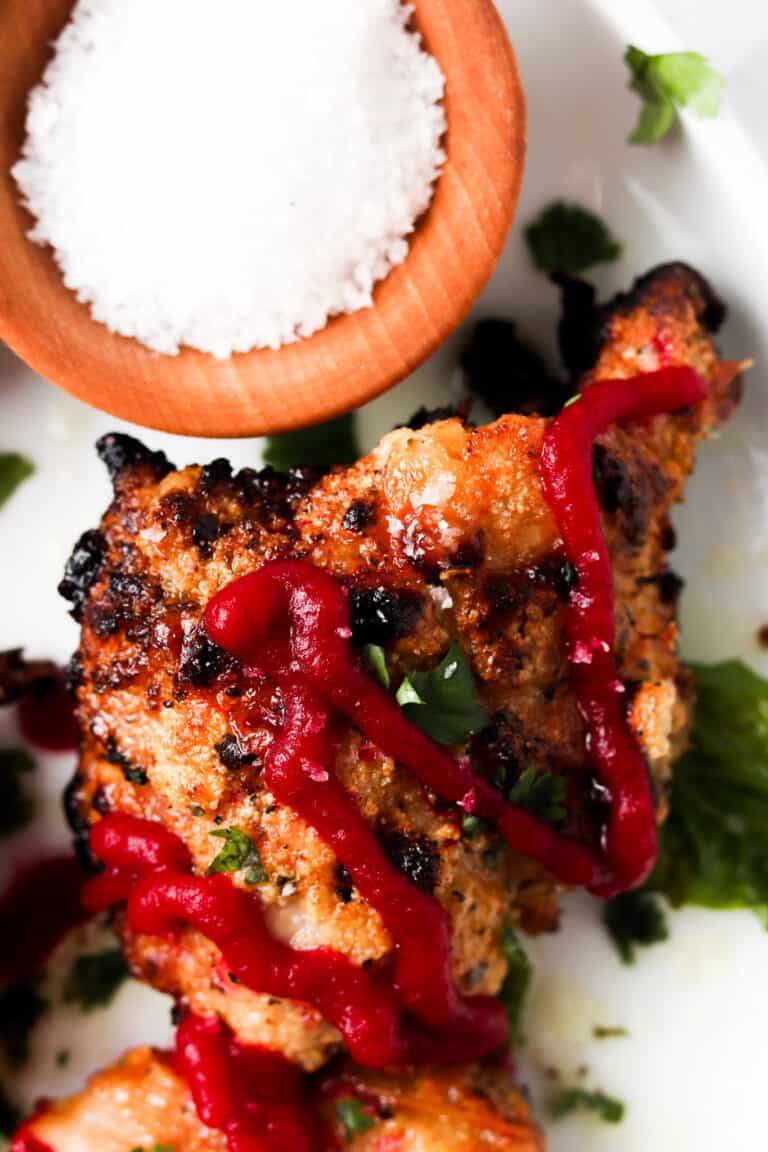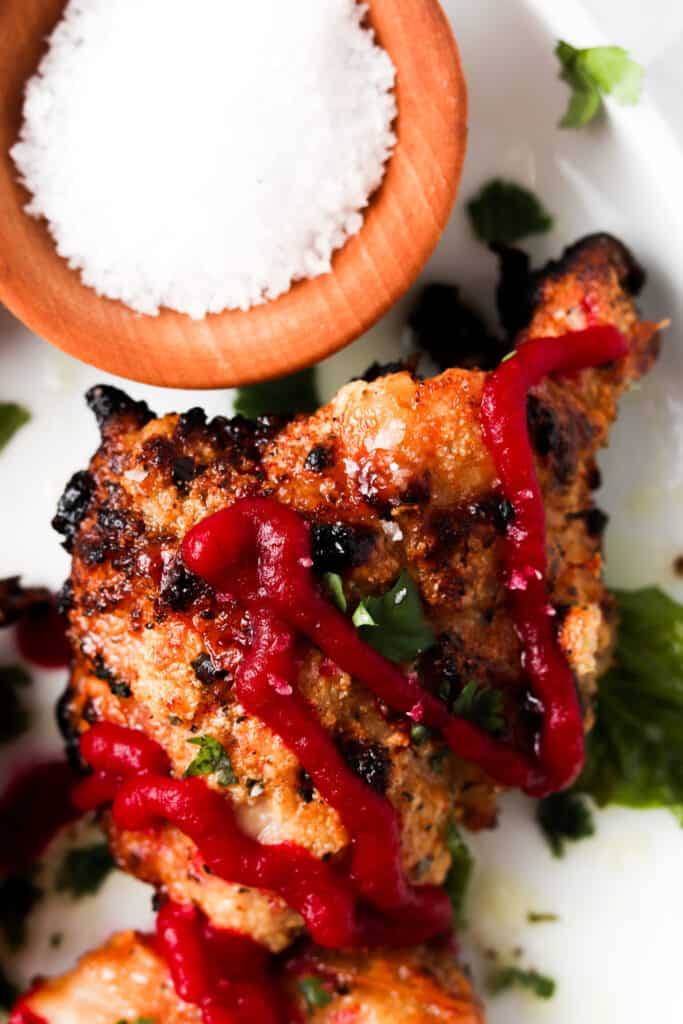 If you like this recipe, you will LOVE my other AIP recipes:
Hey-you've made it this far! If you make this recipe, I would love for you to give it a star ★ rating and review below. Make sure you are following me on Instagram, Pinterest, and Facebook too!
SUBSCRIBE NOW
Join my online community for FREE and get a weekly newsletter from me.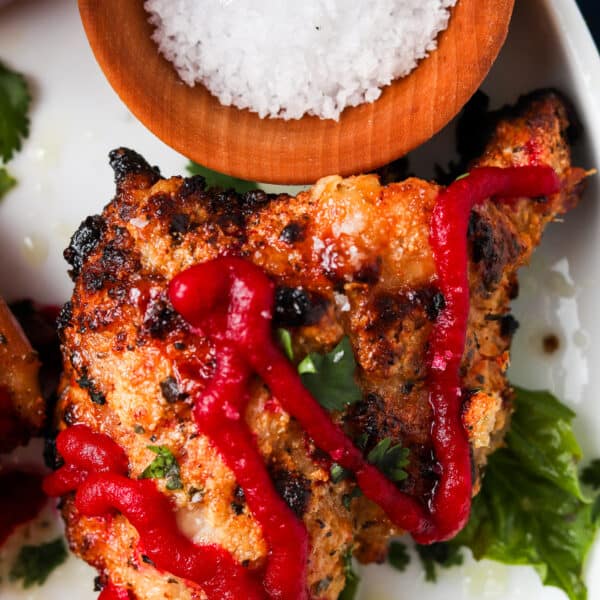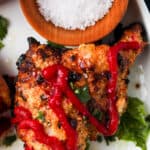 Crispy Air Fried AIP Chicken Thighs (Paleo, Whole30, Keto)
678
kcal
Print Recipe
Pin Recipe
Ingredients
1

pound

chicken thighs

boneless

1

cup

coconut milk

1/2

cup

arrowroot powder

or cassava flour

2

tbsp

garlic powder

1

tbsp

onion powder

1/2

tsp

dried oregano

1/2

tsp

dried basil

1/2

tsp

sea salt
Instructions
For The Air Frying Option:
Add the added rack into your air fryer (this allows the chicken to cook on both sides.) Spray the rack. Preheat the air fryer to 400.

Place the coconut milk in a small bowl. Then, place the arrowroot and spices in another bowl, and mix the mixture evenly with a fork. Trim any access fat off of the chicken thighs. Dip the chicken thighs in the coconut milk, then dip the thighs on both sides into the spice and arrowroot mixture. Let the chicken sit on a cutting board once it is coated for 5 minutes to allow the mixture to harden and re-dip the chicken in the cassava flour mixture. This will help the breading stick.

Place the chicken thighs in the air fryer for 10 minutes. After the 10 minutes is up, use your tongs and flip. Add the remaining arrowroot and herb mixture to the side and give the chicken a nice spray with your cooking oil of choice. This will prevent thee chicken from drying out. Bake for another 10 minutes.
For The Oven Option:
Preheat the oven to 400. On a nonstick baking sheet spray the pan, then lay down your chicken thighs, spray the top with a quick spray of oil. Bake for 10 minutes, then flip. Add the remaining arrowroot/ herb mix to the other side as well as give it a generous spray of olive oil to prevent the chicken from burning. Cook the chicken for an additional 10 minutes. You will know if the chicken is done cooking once it reaches 165 degrees with a meat thermometer or the center is no longer pink.
Notes
Modern healthy twist on traditional favorites that the whole family can eat.
Nutrition Facts
Crispy Air Fried AIP Chicken Thighs (Paleo, Whole30, Keto)
Amount Per Serving
Calories 678
Calories from Fat 522
% Daily Value*
Fat 58g89%
Cholesterol 222mg74%
Sodium 780mg34%
Potassium 863mg25%
Carbohydrates 42g14%
Protein 41g82%
Vitamin A 177IU4%
Vitamin C 2mg2%
Calcium 72mg7%
Iron 6mg33%
* Percent Daily Values are based on a 2000 calorie diet.