These AIP tortillas made from cassava flour are every gluten and dairy free eater's dream come true. These gluten free tortillas are moist and durable. They go great with just about anything, from tacos to chicken caesar wraps! With these tortillas lasting up to a week in the fridge, they are a great idea for all of your weekly meal prepping needs.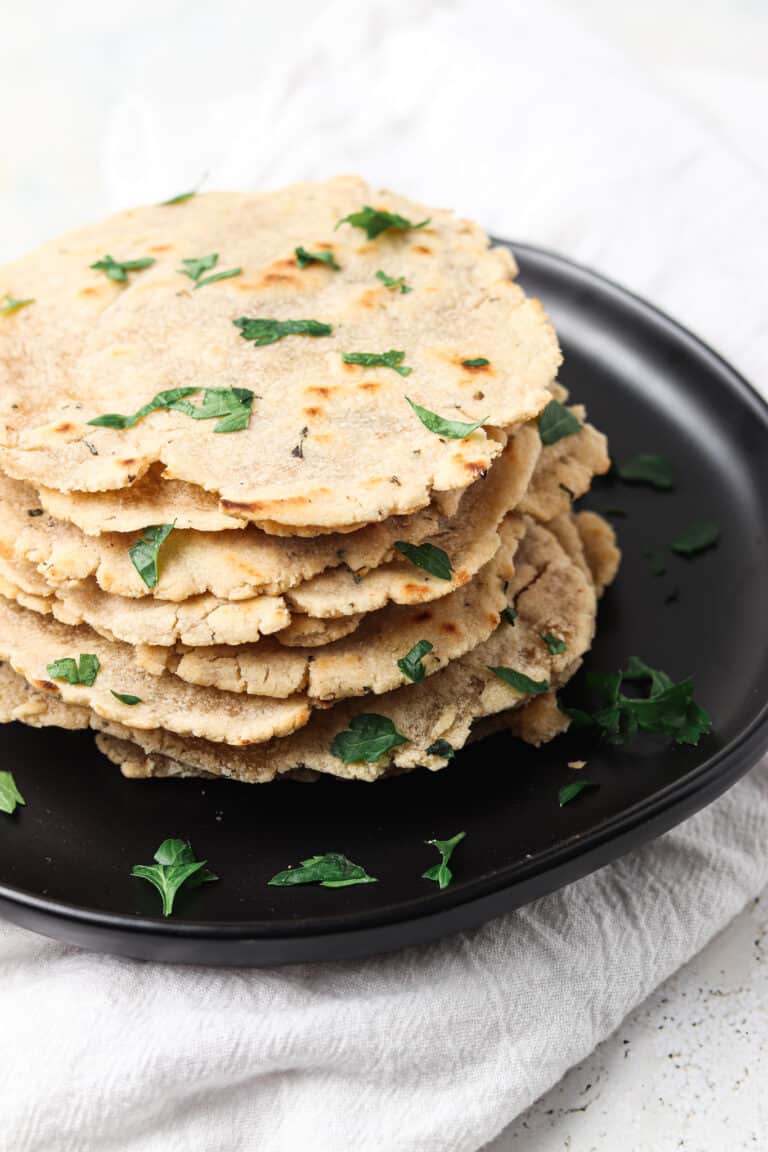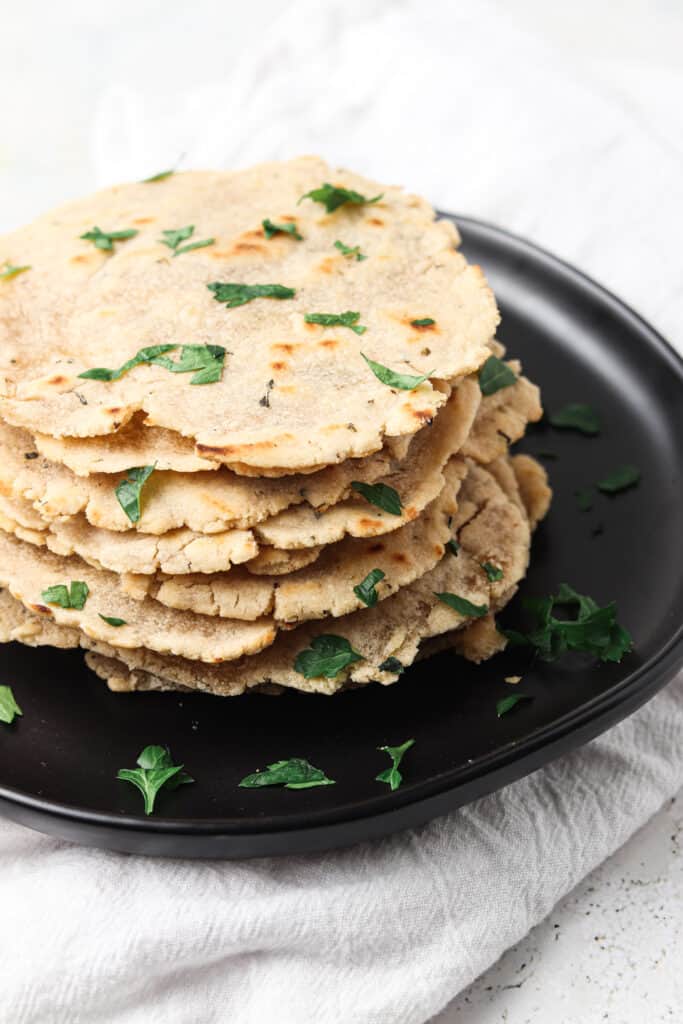 When I was first introduced to the paleo diet in college I tried making my own homemade tortillas by making cassava flour from scratch! Talk about a project. This was before there was so much information on the internet about paleo/ AIP substitutes. I had no idea you could buy cassava flour in the grocery store. 
What is Cassava Flour?
Cassava flour is made from the cassava plant. It is a root plant and when it is peeled, dried, and ground up a flour forms. 

There is a lot of fiber in cassava flour vs. other AIP flours which makes it a good candidate for making tortillas with!

Out of all of the gluten free flours, cassava is most similar to wheat flour. It easily sticks together when it is combined with water and oil due to the fiber. 

Lastly, cassava is high in carbs which means it is not low carb. 
Which brand of cassava flour should I use? 
NOT all brands are created equally. I

only use Otto's.

I have tried many other brands and the recipe has not worked out, therefore stick to this brand for this recipe. You can find it

here

.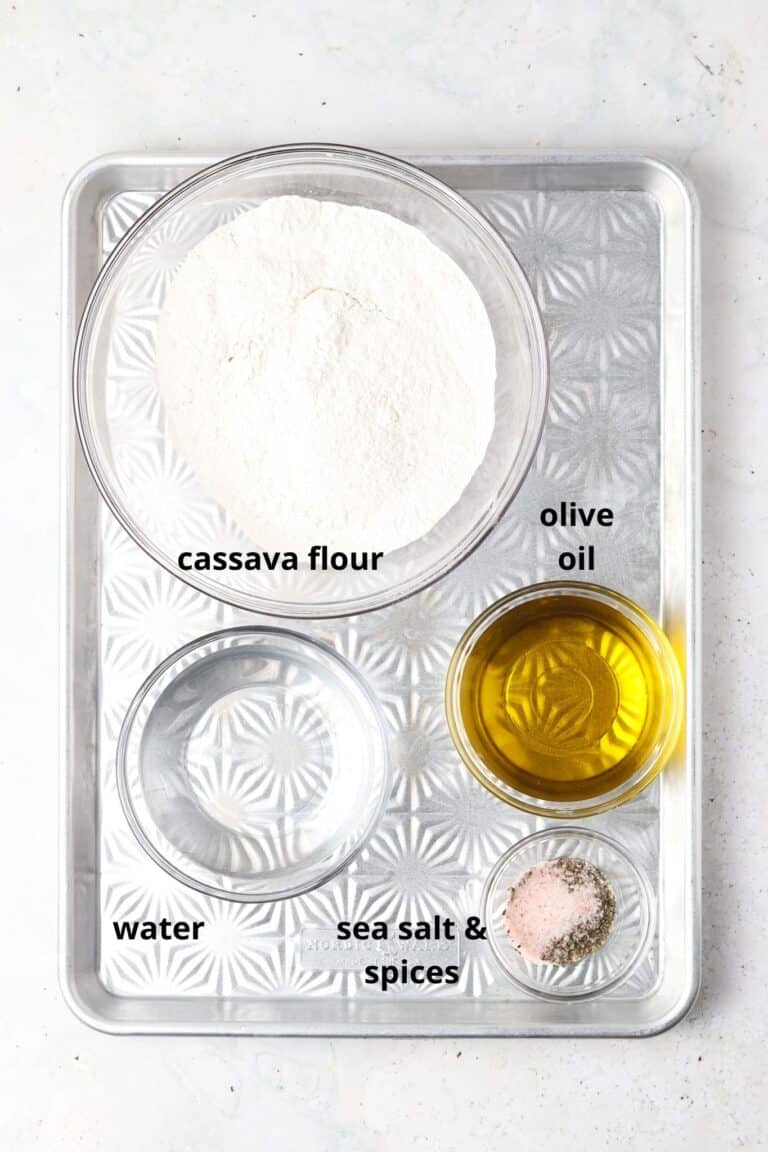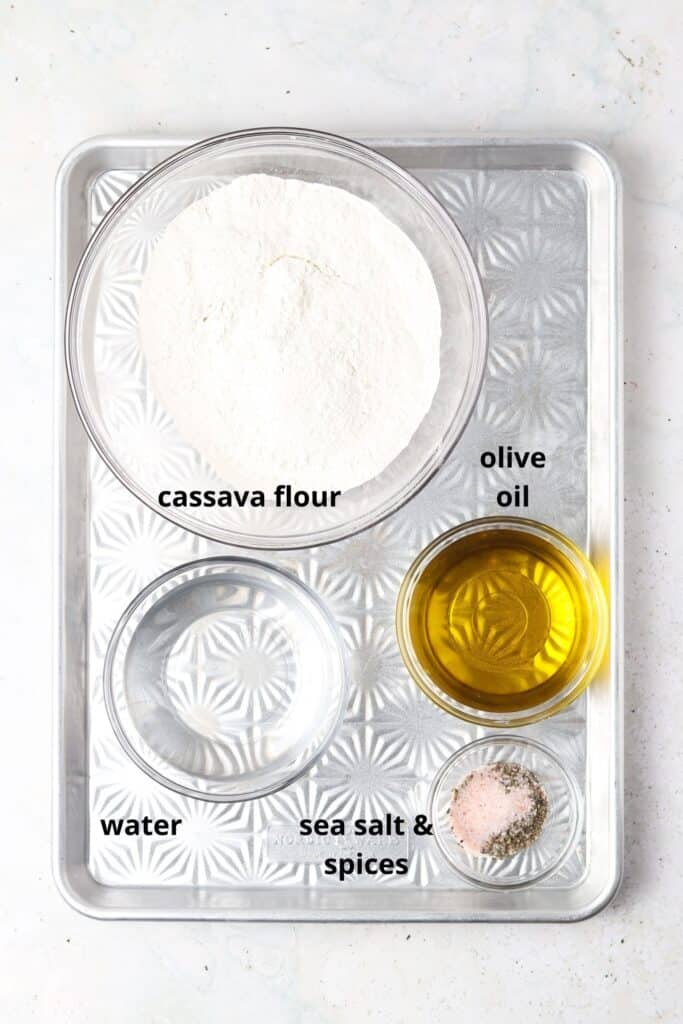 What Do I Need To Make AIP Tortillas?
Cassava-this acts as your flour in this recipe. This recipe has only been best with cassava, so use cassava flour and only cassava! I like

this brand

. I do not feel that all cassava flours are made equally so I would stick to the

Otto's brand.

Water & oil- The water and oil combined is what acts as the binding agent for these wraps. You can substitute the olive oil for avocado oil.

Sea salt, basil, and garlic powder-The combination of these spices give the tortillas flavor! Feel free to have fun here and add your own flavors/ spices.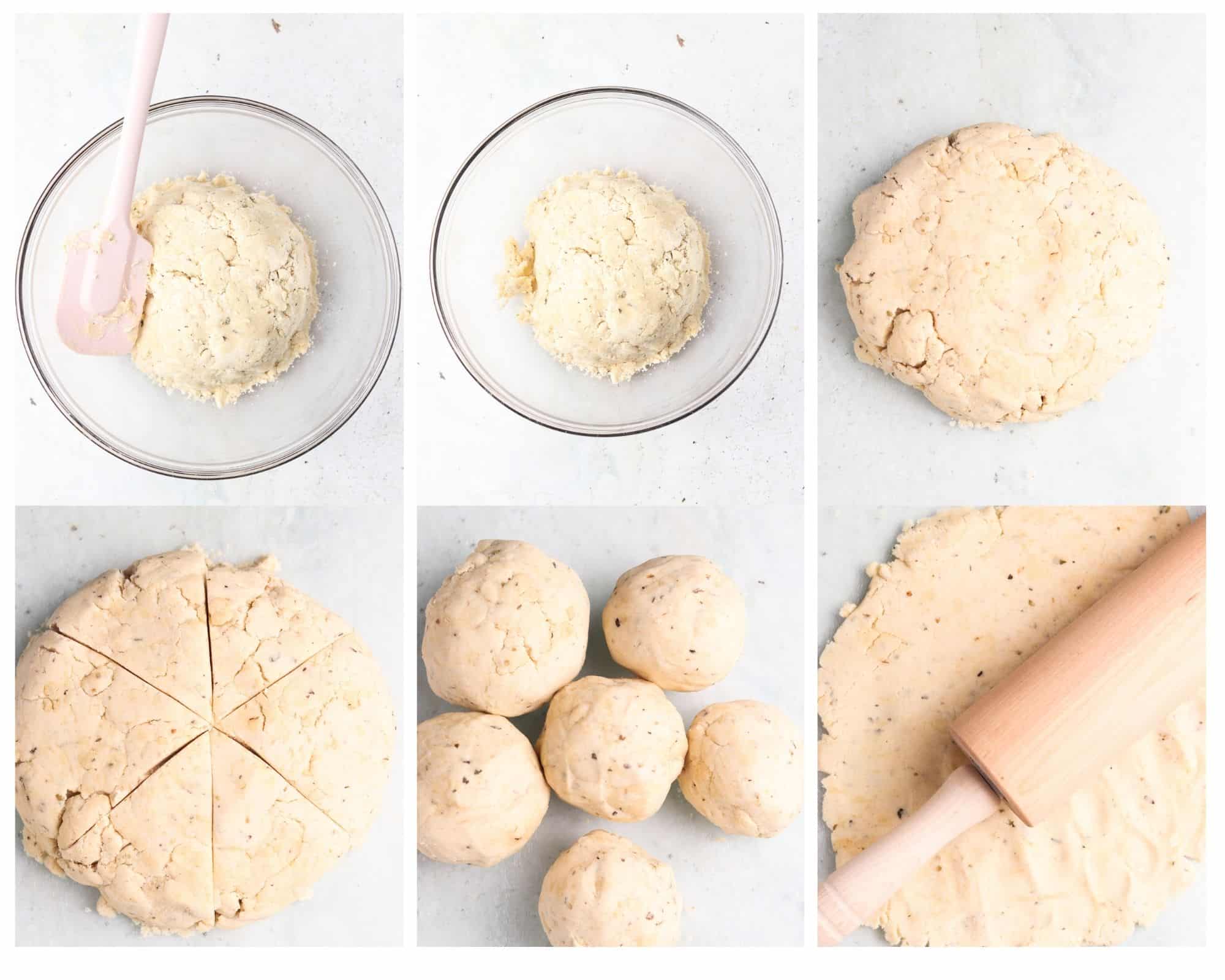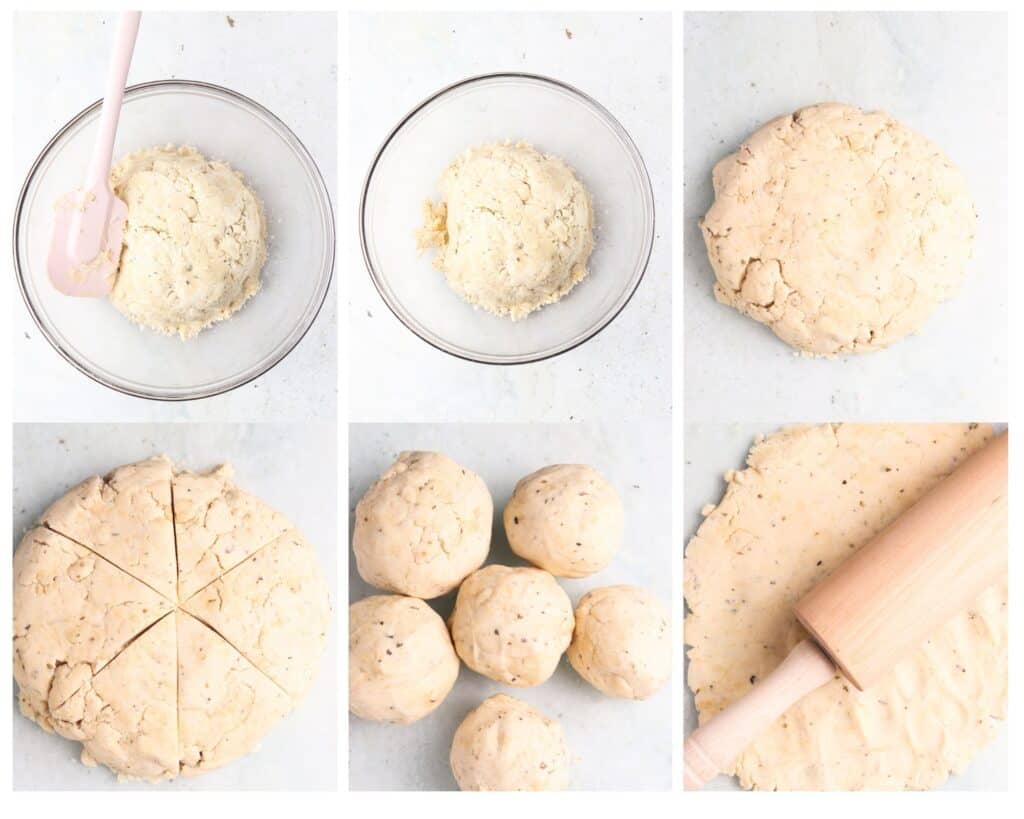 How To Make AIP Tortillas:
This recipe is simple, while it does require an hour of rest time, there is only 35 minutes of hands on time. 

First, add all ingredients to a bowl and mix together. Form the dough into a ball and then set it out on the counter for one hour.  

Once the dough has rested, form it into a disc like shape. Then you will want to cut the dough into 6th. Next, roll the sixths into small little balls. Once you do that you will want to cut each ball into two's, so now you should have 12 balls. 

Roll out each ball with a rolling pin.

While rolling, put a

non-stick skillet

on medium high heat on your stovetop. The pan needs to be hot.

Add a little bit of cooking spray to the pan. I love

Trader Joe's olive oil cooking spray brand.

 

Cook each tortilla for 2-3 minutes on each side until bubbles or brown spots form.

Do this with all 12 tortillas!

See troubleshooting steps below if needed.
What If My Dough Is too Crumbly?
You need to add more water. Add one tablespoon at a time until the dough is smooth enough for you to roll it out without it breaking.
How Long Do These Last?
I suggest storing the tortillas in an air tight container for up to a week in the fridge. See below about re-serving.
Can I Reheat?
These tortillas have a completely different texture cold and are best served warm. Be sure to reheat in the microwave for 20-30 seconds.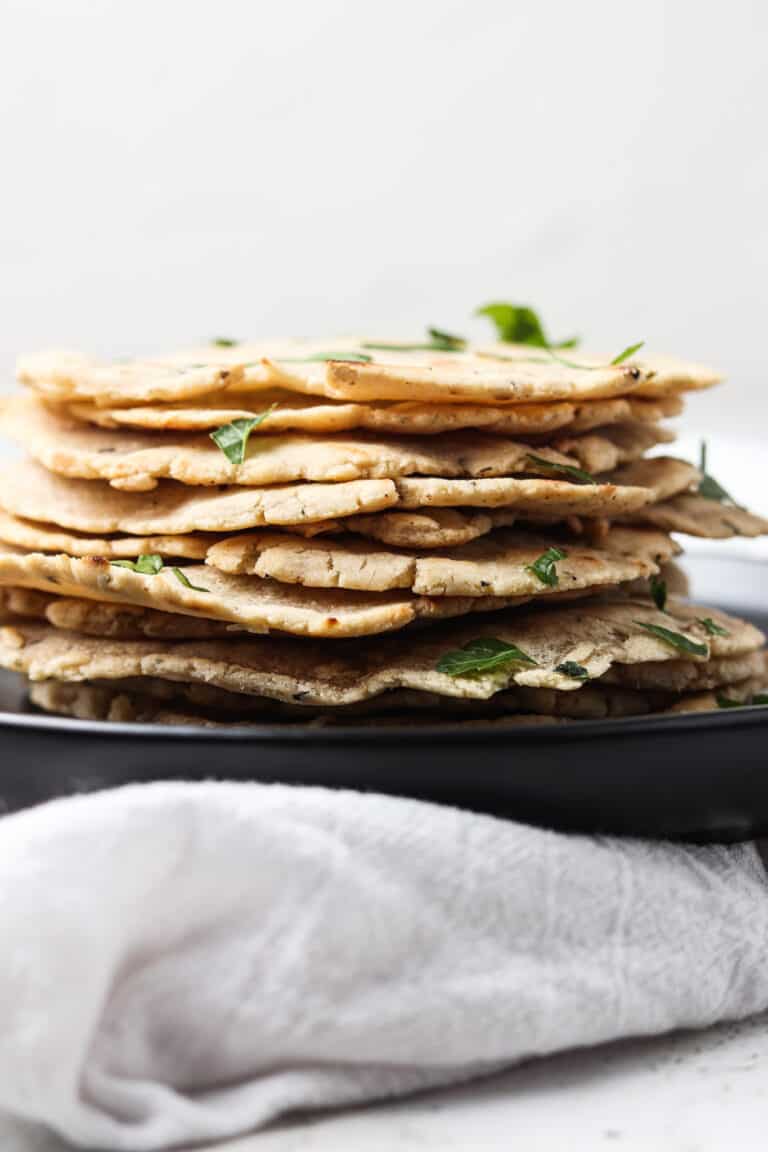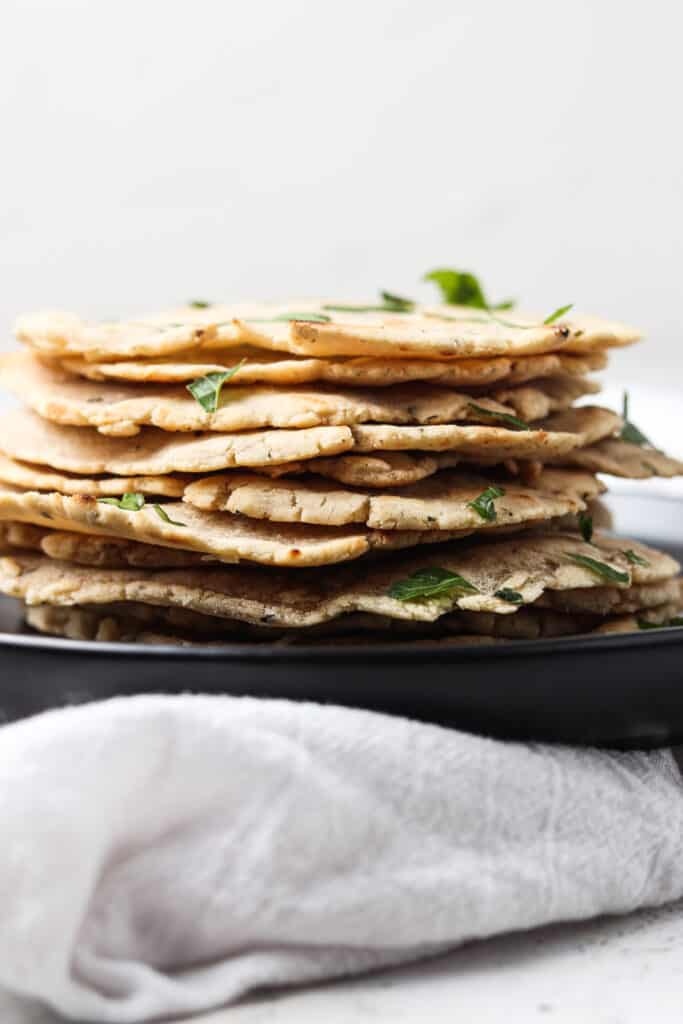 If you like this recipe, you will LOVE:
Hey-you've made it this far! If you make this recipe, I would love for you to give it a star ★ rating and review below. Make sure you are following me on Instagram, Pinterest, and Facebook too!
SUBSCRIBE NOW
Join my online community for FREE and get a weekly newsletter from me.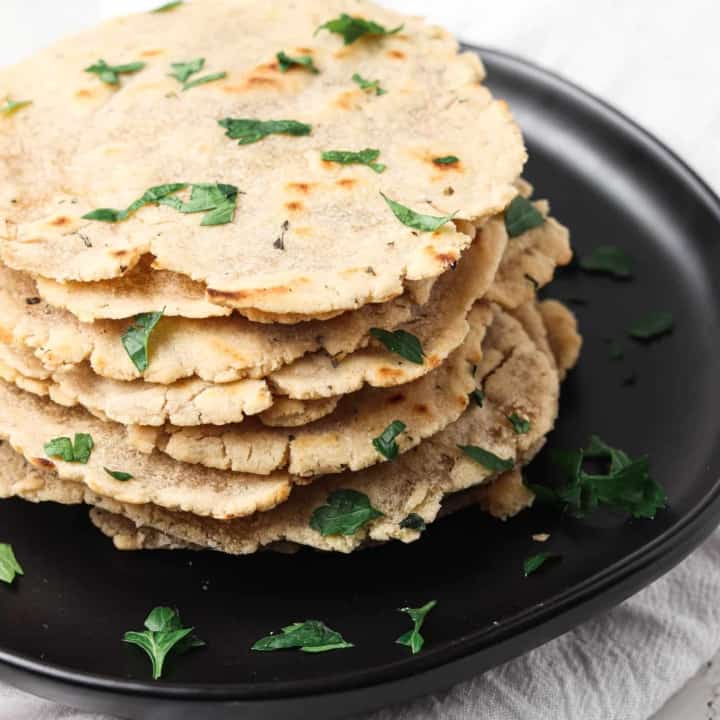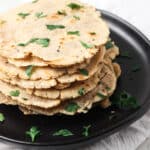 AIP Tortillas (Whole30, Paleo)
190
kcal
Print Recipe
Pin Recipe
Equipment
Rolling Pin

knife

cutting board

mixing bowl

measuring cups

measuring spoons

non-stick pan
Ingredients
2

cups

cassava flour

I only use Otto's

1 1/3

cup

water

3/4

cup

olive oil

2

tsp

sea salt

1

tsp

dried oregano

1

tsp

dried parsley

1

tsp

garlic powder

Cooking oil spray

I like Trader Joe's Olive oil.
Instructions
Place all ingredients in a bowl and mix. Roll the dough into a ball and let it sit for one hour at room temperature.

Next, form the dough in a disc shape. Now, cup the dough into 6th (see picture.) Roll the dough into 6 small balls, then cut that dough in half so you should have 12 small balls. (If the dough is falling apart/ has a lot of crumbs, add a tablespoon of water, until the dough sticks together)

Flatten the balls out with the rolling pin. The tortillas should be about 1/6 of a inch thick. It is okay if the balls are not all the same shape. While you do this to all of the remaining dough balls, heat up a medium size non-stick pan. The pay needs to be hot before you add the tortillas.Spray the pan with your cooking oil spray.

Cook each tortilla for 2-3 minutes on each side or until it begins to bubble and brown spots form. Do this with the remaining tortillas.
Notes
Hey-you've made it this far! If you make this recipe, I would love for you to give it a star ★ rating and review below. Make sure you are following me on Instagram, Pinterest, and Facebook too!
You can use these tortillas for all things: wraps and tacos!
You can store the tortillas in the fridge for up to a week, see notes above about reheating. These tortillas do not have the same texture when cold. 
Easy quick gluten free tortilla alternative.
Serving:
1
tortilla
|
Calories:
190
kcal
|
Carbohydrates:
17
g
|
Protein:
1
g
|
Fat:
14
g
|
Saturated Fat:
2
g
|
Sodium:
390
mg
|
Potassium:
7
mg
|
Fiber:
1
g
|
Sugar:
1
g
|
Vitamin C:
1
mg
|
Calcium:
30
mg
|
Iron:
1
mg