These Cranberry BBQ Meatballs are sweet and savory. They are the perfect post thanksgiving appetizer and snack. You can make them with any leftover cranberry sauce or also prep them with your traditional paleo thanksgiving meal. These meatballs can be made two ways, one with frozen meatballs or with meatballs from scratch both with simple ingredients. Both sets of instructions are included. With these meatballs only taking 5 minutes to prep, it is a no brainer to add them to your holiday menu.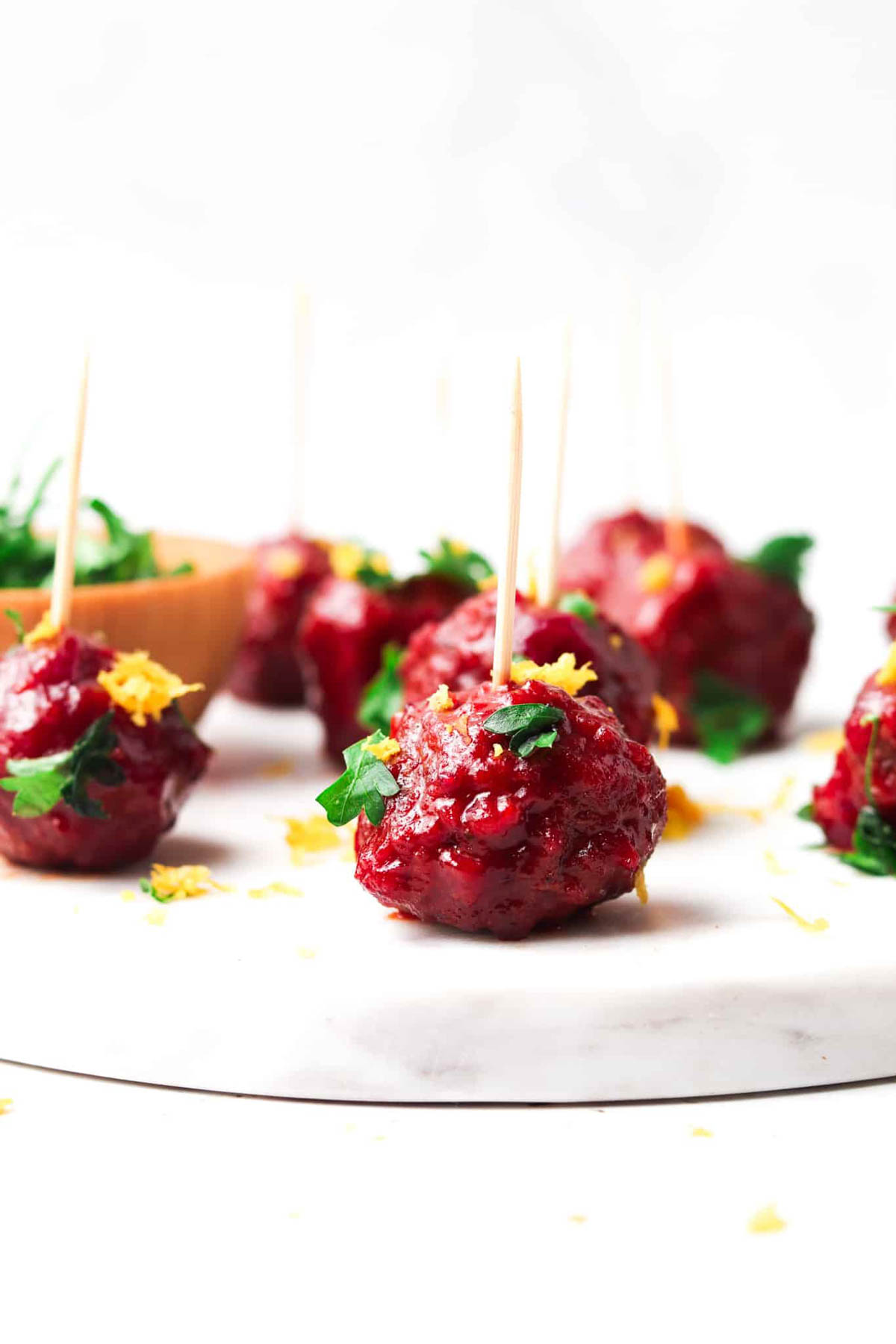 These meatballs are a great way to get into the spirit of the holidays with all the flavors but without all the work and mess! This would be great to take to holiday parties. If you love the cranberry orange combination like I do, you will love the other cranberry recipes on my blog like my Gluten Free Orange Cake with Cranberries and Whole30 Cranberry Sauce.
I love to create recipes that are inspired by the time of year. I have developed numerous fall recipes that are delicious and easy. I recommend any of my recipes but some of my favorite fall dishes are: aip turkey breast, instant pot turkey soup, gluten free ravioli, apple ginger pulled pork, and maple brussel sprouts.
Jump to:
Why You Will Love This Recipe
This recipe is simple to make with short cut options to make it even simpler. They are versatile as well with different options of fresh or homemade meatballs or instead of a slow cooker you could just cook on your stovetop!
This is a great recipe to help use up some of your Thanksgiving dinner.
Kids will love this recipe.
These meatballs are naturally paleo, dairy free, gluten free, soy free, refined sugar free, whole 30 friendly, nut free, and grain free.
This recipe has only four ingredients!
This is a perfect crockpot meal to use during the busy holiday season!
You can prepare this recipe in advance so that all you have to do is dump it into the crockpot and turn it on.
I love making this recipe with my Whole30 Cranberry Sauce.
Ingredients: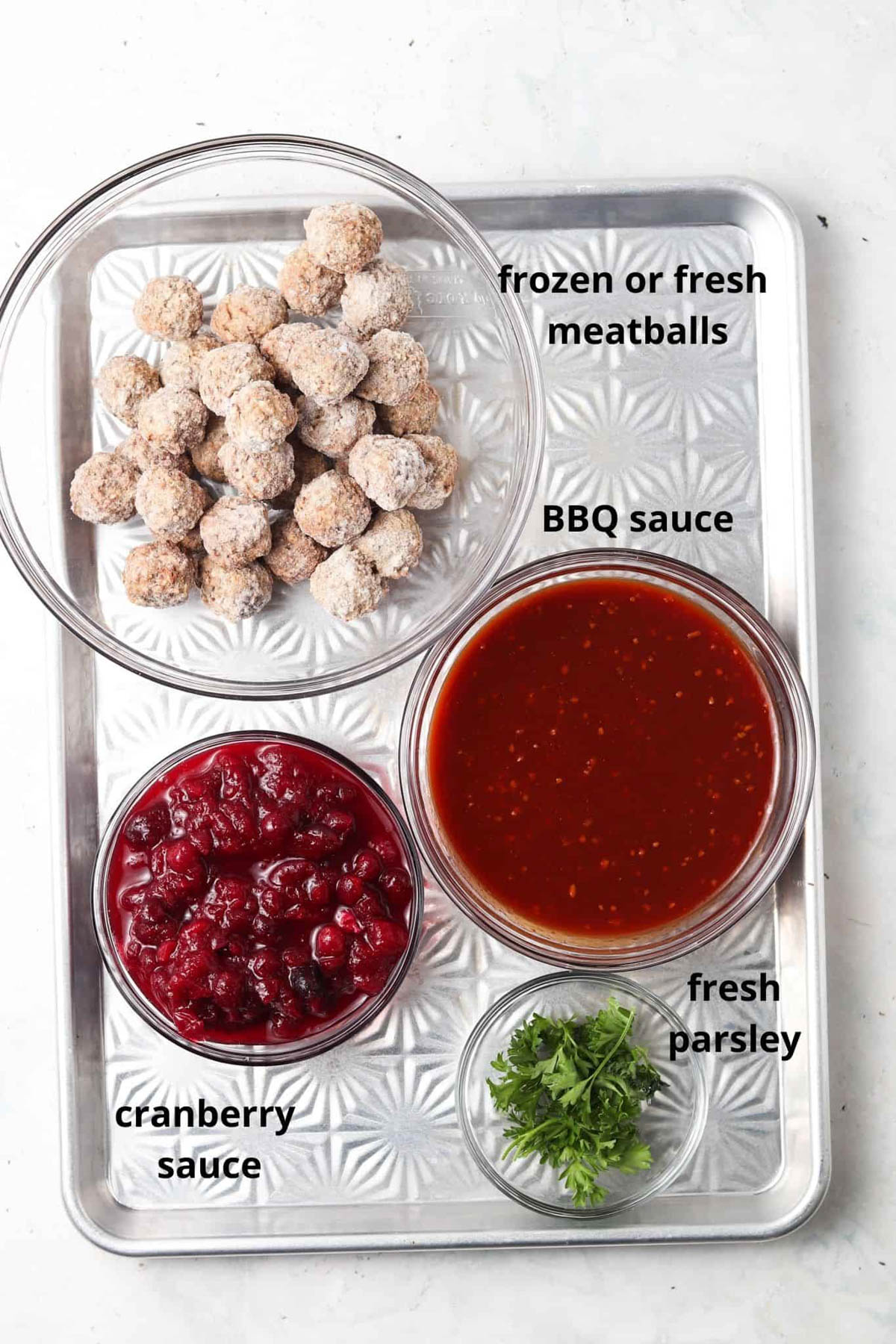 This recipe has two options. The first option is to use frozen store bought meatballs to help save on time. The second option is to make meatballs from scratch. I will be including both ingredient options below.
For The Frozen Meatball Recipe
Frozen meatballs-Whole Foods has a lot of goods brands that are naturally dairy and gluten free. However, the one brand I did end up buying had soy in it, which normally is not ideal but I used these for a neighborhood get together so the soy was ok.
Cranberry sauce-I used the cranberry sauce from my leftover thanksgiving meal that is made with fresh cranberries. You can find the

recipe here

. You can also buy the store bought canned version kind. Just make sure it does not have any added sugar, especially if you are doing the whole30.

BBQ sauce-I love this

brand

. It is naturally paleo and whole30 friendly.
For The Scratch Made Meatball Recipe
Ground pork-I prefer pork over ground beef because the texture is better.
Almond flour-This acts as your binding agent. Not all gluten free flours are created equally, do not substitute.
Egg yolk-I use the egg yolk vs. the whole egg because the meatballs become too soft and will not hold up in the crock pot if there is too much liquid, so stick with the yolk only!
Garlic, onion, pepper, and parsley-These ingredients are what gives this recipe the Italian meatball taste! You can substitute for your favorite Italian spices, these are just mine.
See the recipe card below for a full list ingredients and measurements.
Substitutions and Variations
You can make this recipe using different cranberry sauce recipes and BBQ sauces to create different flavor combinations.
You can also add different herbs and citrus to change and enhance the flavors.
If you do not eat pork, you can substitute for ground turkey in your scratch made meatballs.
This recipe has not been tested with any other substitutions or variations. If you try something else out please let me know how it turns out in the comments below!
Step By Step Instructions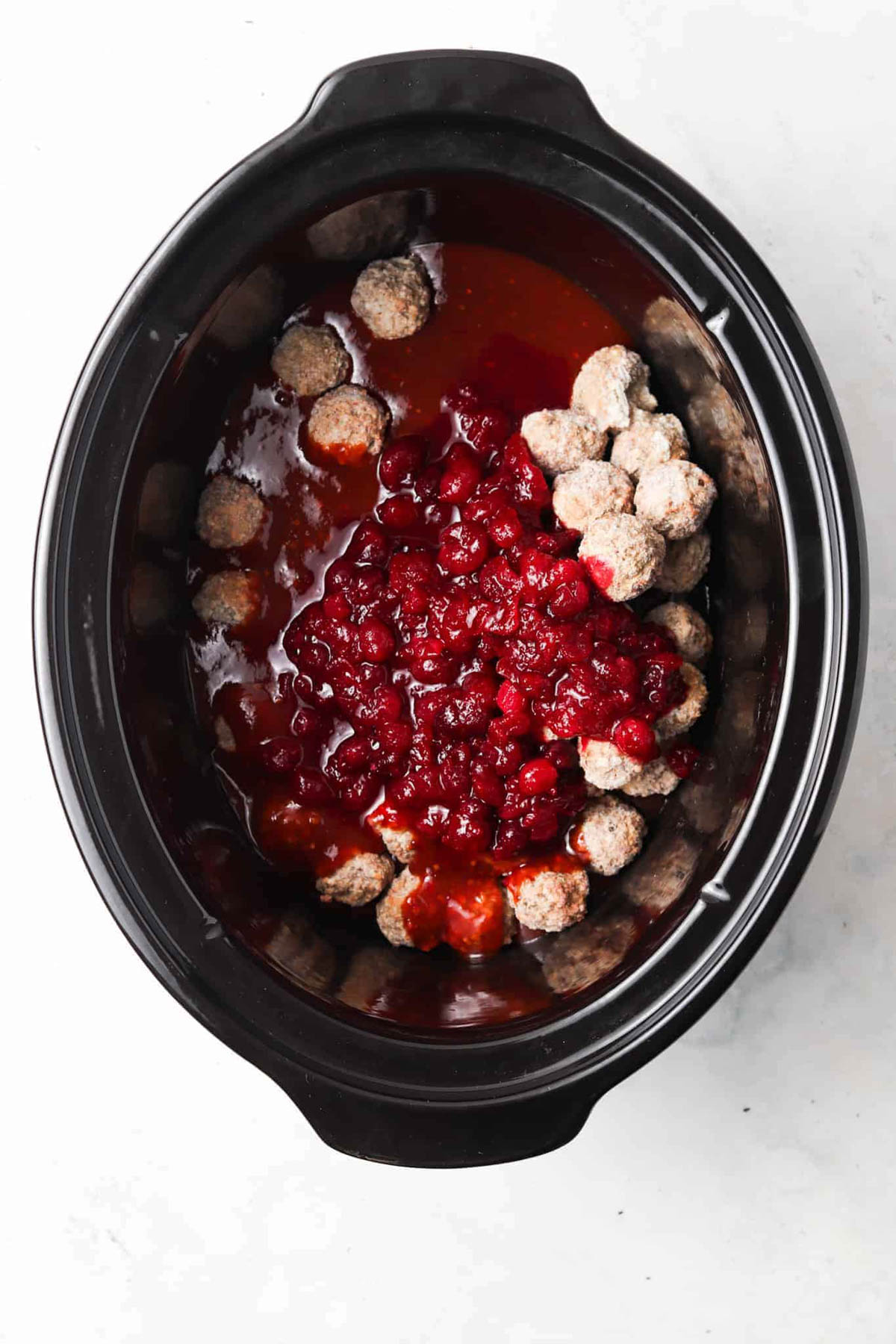 Photo 1: First, put all ingredients into crockpot for 3 hours on low. Then, garnish with parsley and orange zest.
Meatballs From Scratch
First, mix all meatball ingredients in a large mixing bowl.
Next, form 30 little small balls from the meat mixture and place on a baking sheet lined with parchment paper.
Now, cook the meatballs at 400 degrees for 15 minutes.
Keep in mind they do not need to be cooked all of the way through because they are going to cook a little more in the crockpot.
Lastly, add the sauces and meatballs to the crockpot and cook for 3 hours on low.
Expert Tips
Tip #1: Be sure to make sure to mix the meatballs before serving to ensure that the cranberry and BBQ sauces are mixed together in a cohesive sauce.
Tip #2: Making the meatballs from scratch allows you control of the ingredients and measurements of seasonings in the meat.
Tip #3: The best way to know if the meatballs are cooked through is if a meat thermometer shows that the internal temperature reads 160 degrees F.
Recipe FAQs
How can I reheat these meatballs?
You can reheat them on the stovetop with all of the juices for 5 minutes OR you can reheat them in the crockpot on the warm setting for 30 minutes.
How can I serve these meatballs?
You can serve these as an appetizer with toothpicks in the meatballs on a platter or you serve them all in a large serving bowl! Both are a Thanksgiving crowd pleaser.
Is there additional prep I can do in advance?
If you are making the meatballs from scratch, you can make the recipe in bulk in advance and freeze them. This way anytime you want scratch made meatballs you can grab the amount you need from the freezer!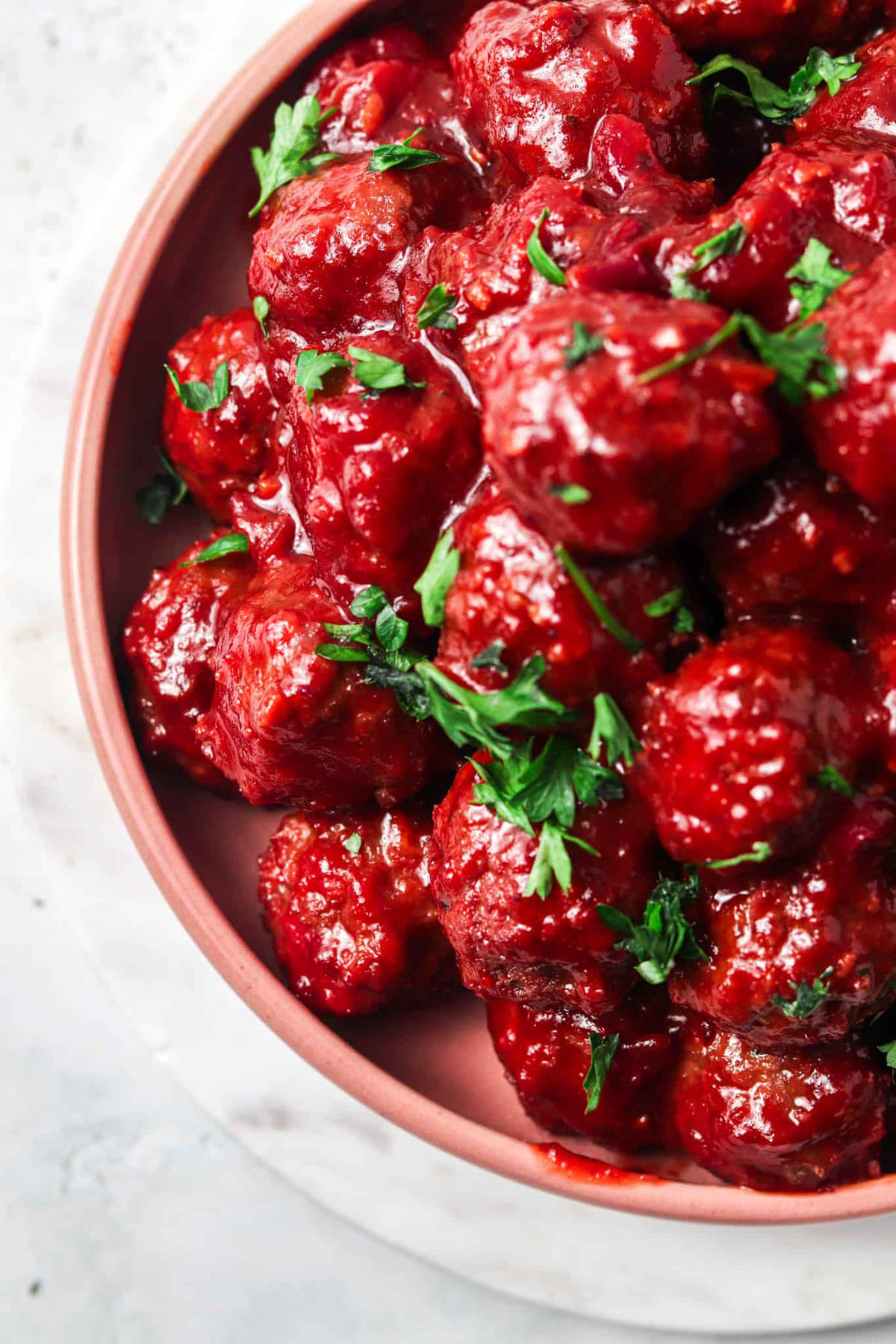 Storage Instructions
This recipe can last up to 5 days in the refrigerator in an airtight container.
If you want to save prep time, you could pre-make the meatballs from scratch and place in the freezer for up to 3 months.
Other Gluten Free Meatball Recipes You Will Love
Are you interested in a list of my go to healthy alternatives?
Download your FREE guide below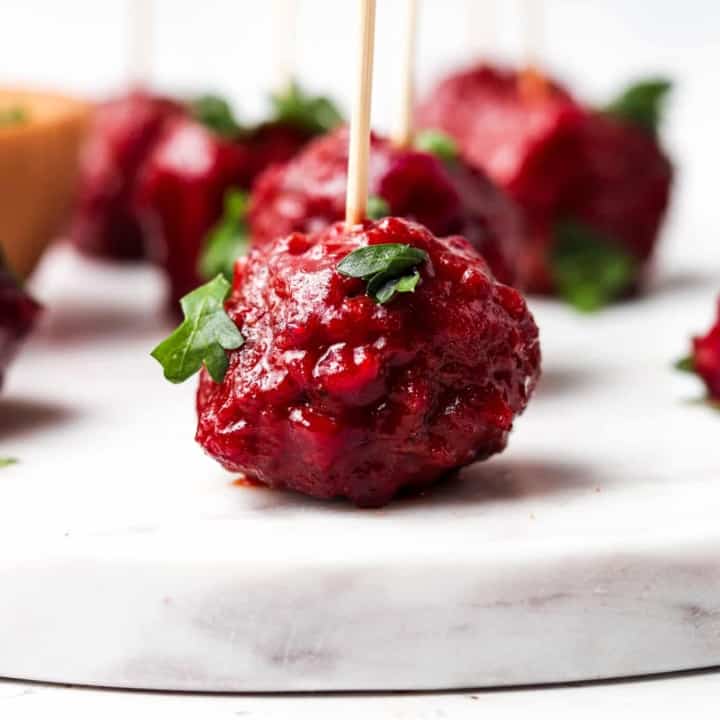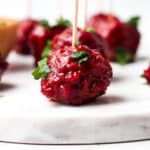 Paleo Cranberry BBQ Meatballs
35
kcal
Print Recipe
Pin Recipe
Ingredients
For the meatballs:
2

cups

cranberry sauce

If you are on the Whole30, be sure the sauce had no added sweeteners. This recipe is intended to be used for post thanksgiving leftover cranberry sauce OR canned, however, I do have a scratch cranberry sauce you can make. Click on the link for my cranberry recipe or see the text above.

3

cups

bbq sauce

I like the noble made classic BBQ brand. It is naturally whole30 compliant.

30

frozen

meatballs

This recipe is intended to be quick! If you would prefer to make your own meatballs, see the recipe below.
To garnish:
1/4

cup

fresh parsley

orange zest
Instructions
For the pre made frozen meatballs:
Place all ingredients in a crockpot on low for 3 hours.
For the fresh meatball version:
Mix all ingredients in a bowl.

Roll the meatballs into 30 little balls.

Bake for 15 minutes (remember they do not have to be cooked through because they will be going in the crockpot.)

Place the BBQ sauce and cranberry sauce in the crockpot on low for 3 hours.
To garnish:
Garnish with orange zest or fresh parsley.
Notes
Storage: This recipe can be stored in an airtight glass container for 5 days in the refrigerator. Nutrition: The nutrition for this recipe is an estimate and the calorie count is not guaranteed.  It is based on six servings.  Servings: This recipe should yield approximately 6 servings.
The perfect combination between sweet, spicy, and tart. These crowd pleasing meatballs are perfect for all of your holiday and hosting needs.
Serving:
5
meatballs
|
Calories:
35
kcal
|
Carbohydrates:
10
g
|
Protein:
1
g
|
Fat:
1
g
|
Saturated Fat:
1
g
|
Cholesterol:
1
mg
|
Sodium:
100
mg
|
Potassium:
20
mg
|
Fiber:
1
g
|
Sugar:
5
g
|
Vitamin A:
114
IU
|
Vitamin C:
1
mg
|
Calcium:
11
mg
|
Iron:
1
mg