This whole30 and paleo instant pot soup is everything you need for a cold fall day. It is creamy with a splash of spice yet light on your stomach. The best part about this recipe aside from the taste of course is that it requires less than 5 minutes of hands on time!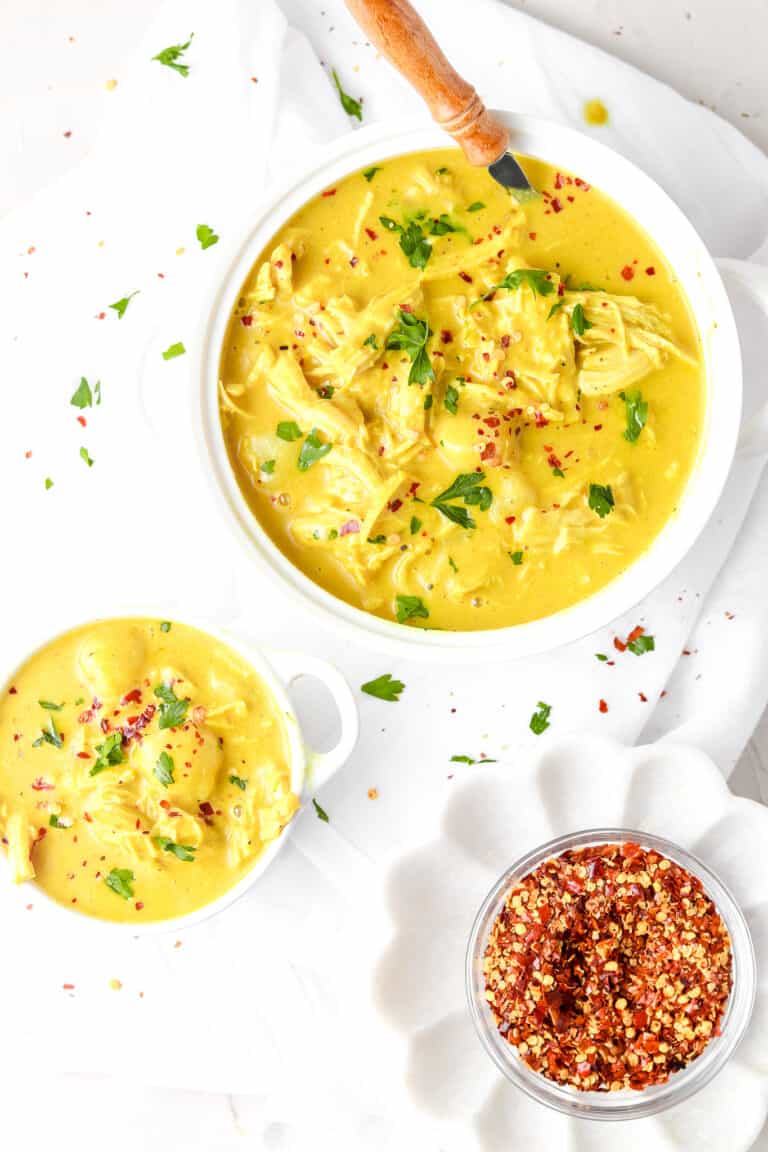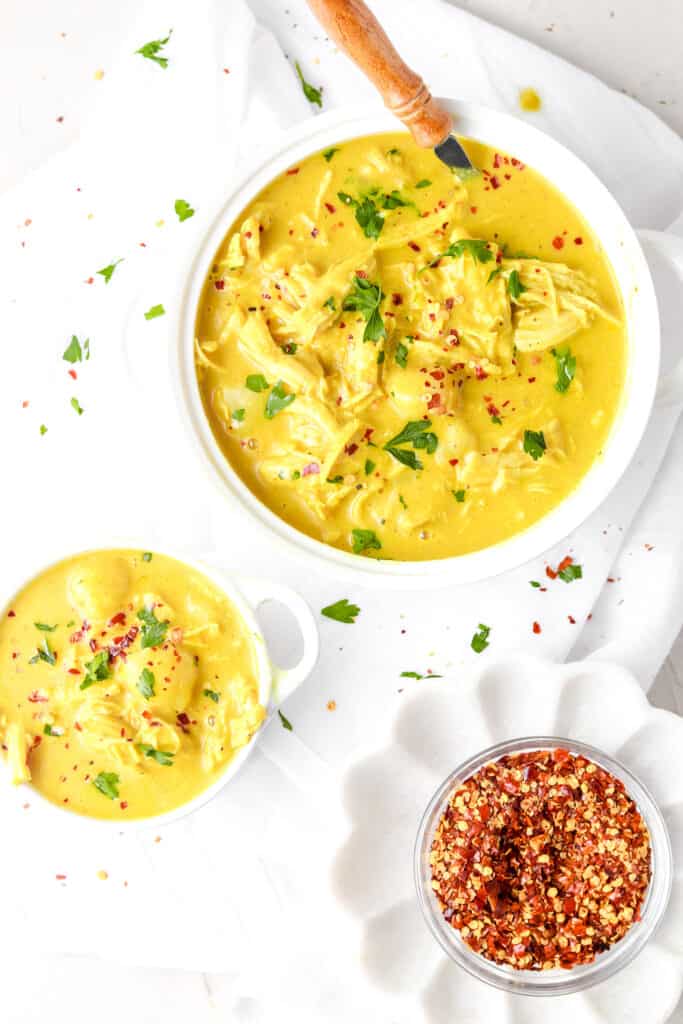 The Ingredients For the Paleo Instant Pot Soup: 
Trader Joe's Cauliflower Gnocchi- In my opinion this is the best invention of all times! It is gnocchi made from cauliflower that does in fact taste like regular gnocchi. It does not need to be defrosted and can be put in the instant pot frozen. 
Coconut cream- It is important that you get coconut cream vs. coconut milk. Coconut cream is thicker. As much as I love all things Trader Joe's I do NOT recommend using Trader Joe's Coconut cream. It has a coconut-y taste. My favorite brand is Thai Kitchen from Whole Foods. Depending on where you are and what grocery stores are available you may have you experiment with different coconut cream brands. Personally, I do not mind the flavor of Trader Joe's brand, but I know it is too much for a lot of people. 
Curry- I like using red curry powder for this recipe but you can essentially use any kind. 
Garlic and onion powder- This will give the soup an added kick to it and more flavor. If you like a lot of garlic, you can add ½ tsp extra. 
Sea salt- A pinch of salt goes a long way, You can choose to salt your soup after it is cooked if you would prefer. 
Chicken breasts- I like to use defrosted but you can also use frozen. If you chose to use frozen be sure to set the settings on the instant pot to 10-12 minutes. 
Red pepper flakes- I love a good added kick and love to garnish with red pepper flakes and fresh herbs on top.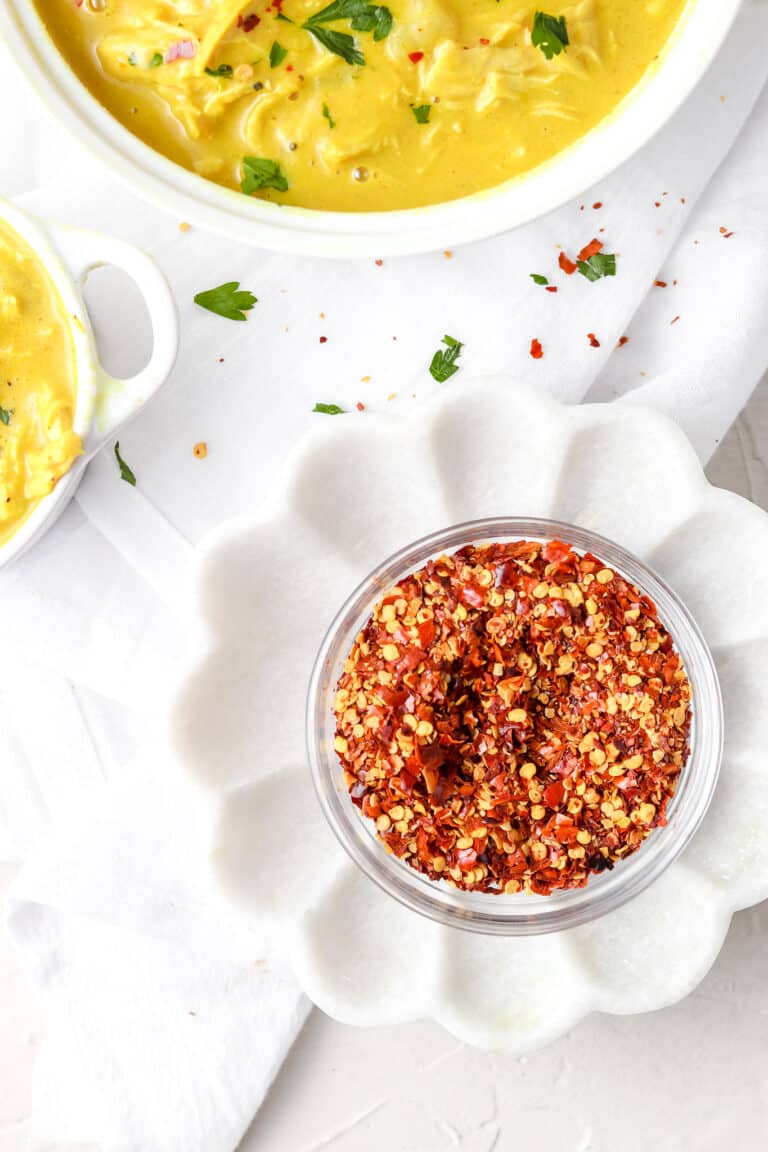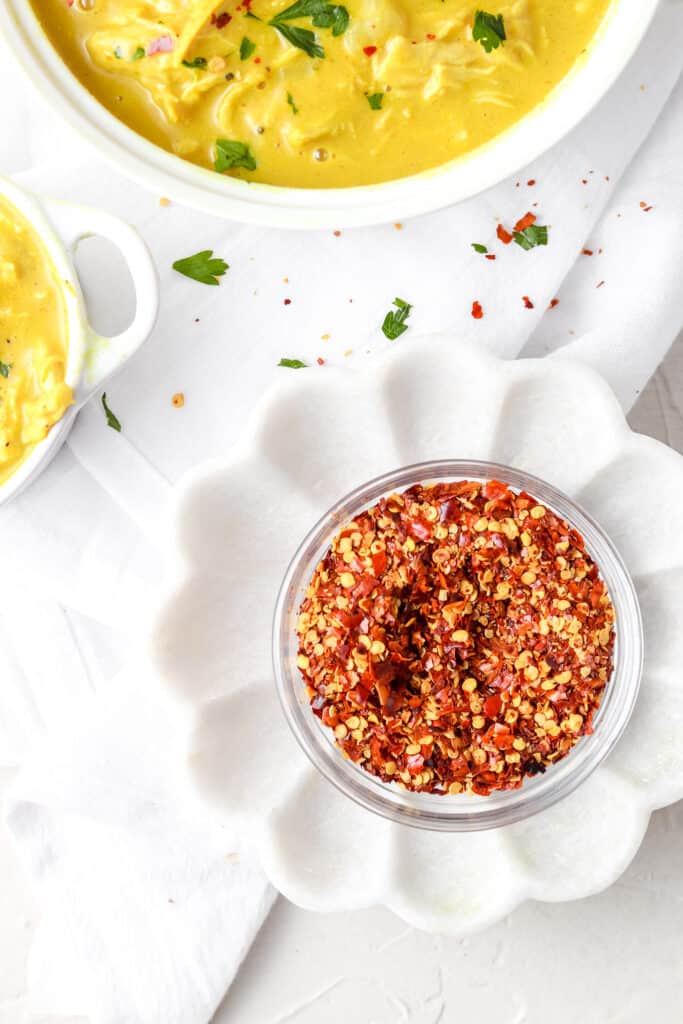 How To Use An Instant Pot:
First off, getting an instant pot was one of the best kitchen investments I have made. If you think crockpots are nice, instant pots are crock pots on steroids. You still get the slow cook tender texture but it is literally done within minutes. Once you get used to adjusting the settings you are good to go. This is the instant pot I have. There are a few things I want to go over first:
The valve on top- this is what allows the pressure to build up. It MUST be completely closed for the food to cook properly. When the food is done cooking you can either allow the pot to naturally depressurize or you can open the valve to expedite the process. If you do open the valve yourself, be sure to have oven mitts on your hands and your face is AWAY from the valve. It gets hot!
Cook time- regardless of how much chicken you have the cook time will be the same. It will just take longer to build up pressure in the tank. However, if you are cooking frozen chicken you want to change the cook time to 10-12 minutes. Note* cook time is different than the actual time it is in the instant pot. It takes additional time to pressurize the pot, which is not included in the cook time. 
Setting the instant pot- Be sure the settings are on HIGH and you can adjust the cook time by the arrows. 8 minutes does the trick for me. You can choose to use a meat thermometer to ensure the chicken is cooked throughout. It should register 165 degrees.
Keywords: whole30 instant pot recipes, paleo instant pot, paleo soup recipes. Paleo gnocchi, whole30 soup, paleo instant pot, creamy paleo soup, creamy whole30 soup, paleo comfort food, whole30 comfort food, low carb soup, cauliflower gnocchi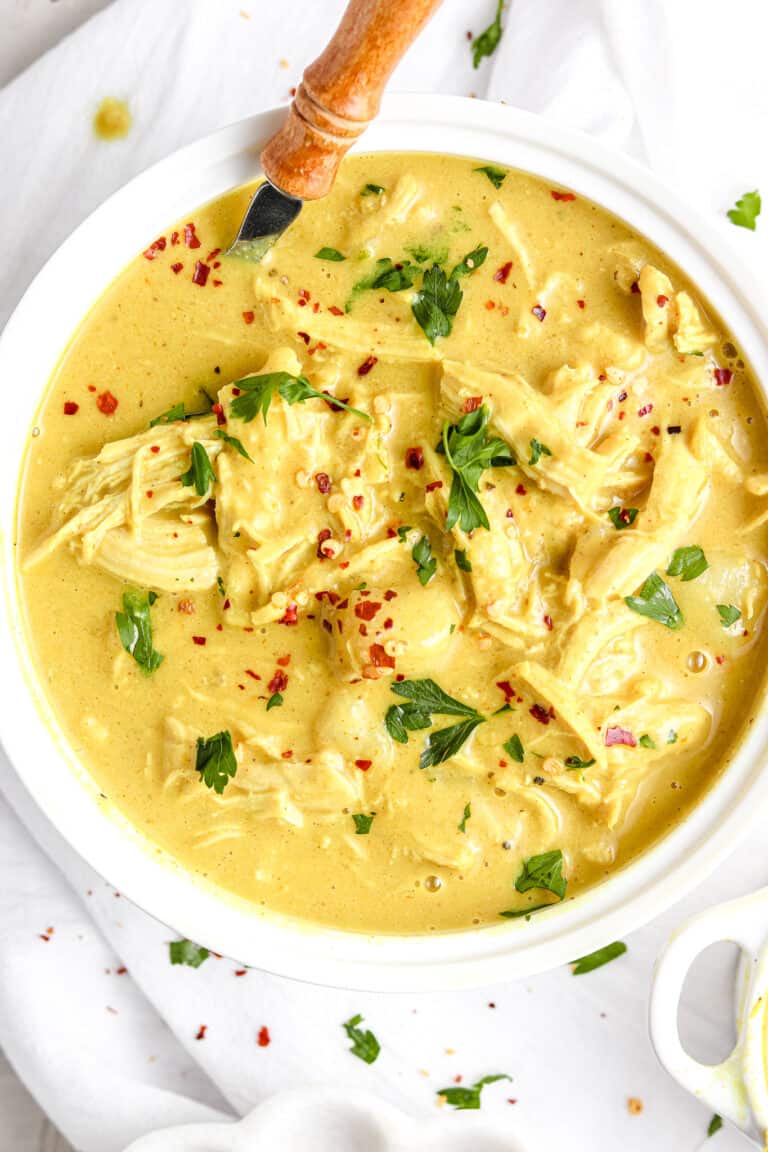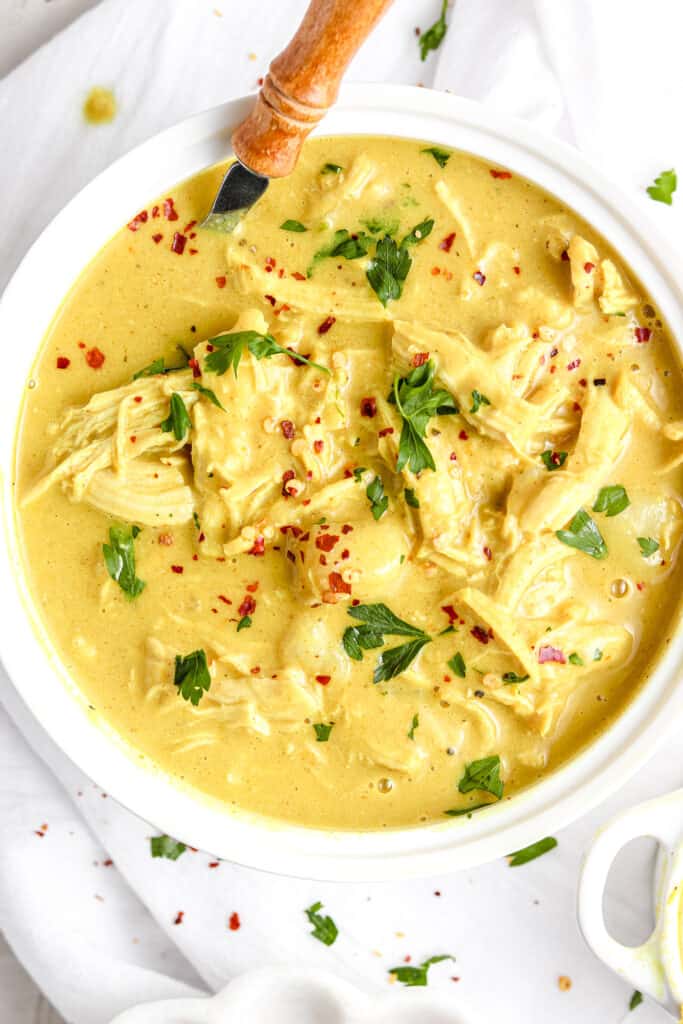 If you enjoyed this recipe you will LOVE:
5 Ingredient Buffalo Chicken Dip
Cucumber Apple Salsa Over Fish
Thai Creamy Coconut Chicken Soup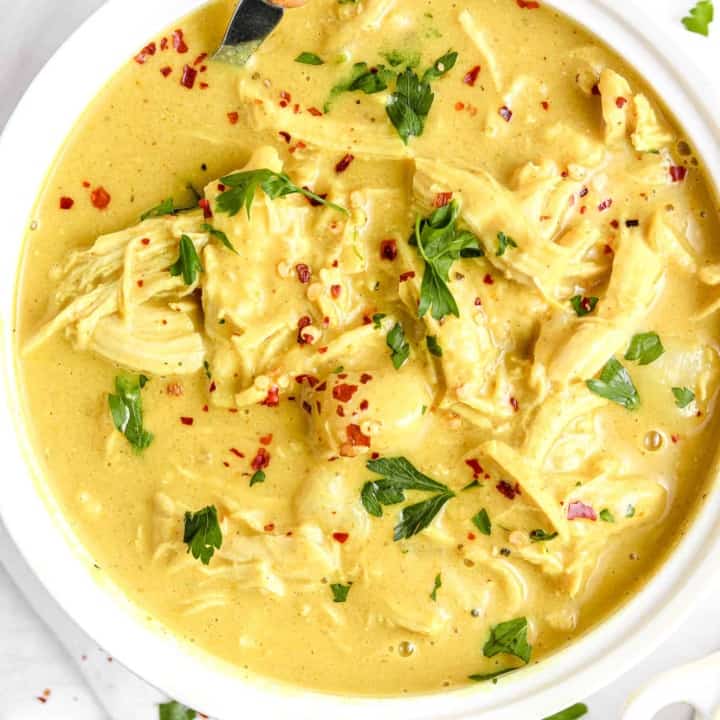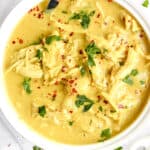 Creamy Curry Chicken Gnocchi Instant Pot Soup
Print Recipe
Pin Recipe
Equipment
Instant Pot

mixing bowl

forks
Ingredients
For the soup:
1

bag

Trader Joes Frozen Gnocchi

You can use 2 cups of mushrooms if you do not have a trader joe's near you

2

cans

Coconut cream

Make sure you get coconut cream and not milk, this is important!

2

tsp

curry

1

tsp

garlic powder

1

pinch

salt

1

pound

chicken breast

1

tsp

onion powder
To garnish:
1

tsp

red pepper falkes

1

tbsp

fresh parsley
Instructions
Place all ingredients into instant pot bowl insert in the instant pot.

Make sire the lit and vent is set to sealed.

Click pressure cook high for 8 minutes. (Note, the cook time stays the same regardless if you double or triple this recipe, it till just take longer for the instant pot to come to pressure. If you are using frozen chicken adjust the settings to 10-12 minutes. **See further explanation in the text above

Allow the instant pot to release naturally then turn the valve to venting (note, this will get REALLY HOT, do not put your face over the vent and use a pot holder to open)

If desired, check the temperature of the chicken. It should read 165 degrees F. If it does not you can either shut the lid and let it rest for 5-10 minutes OR place it back in the instant pot on high for 1-3 minutes.

Shred the chicken breast.

ENJOY! If you make this recipe I would love it if you shared the link to this recipe with a friend, left a comment below or tagged me on instagram with a picture @alliannaskitchen
Notes
You can store in the fridge in an air tight container for up to 5 days. 
A smooth and savory comfort food classic - chicken, cauliflower gnocchi, and a creamy coconut curry sauce combine to create the perfect bite.