The fresh cilantro combined with the red pepper flakes and lime is what makes this cilantro lime chicken wing sauce POP! Grilling the wings makes them extra crispy and who doesn't like a little bit of char? This recipe is easy peasy with literally taking 5 minutes to prep! These chicken wings are keto, paleo, and WHOLE 30 compliant.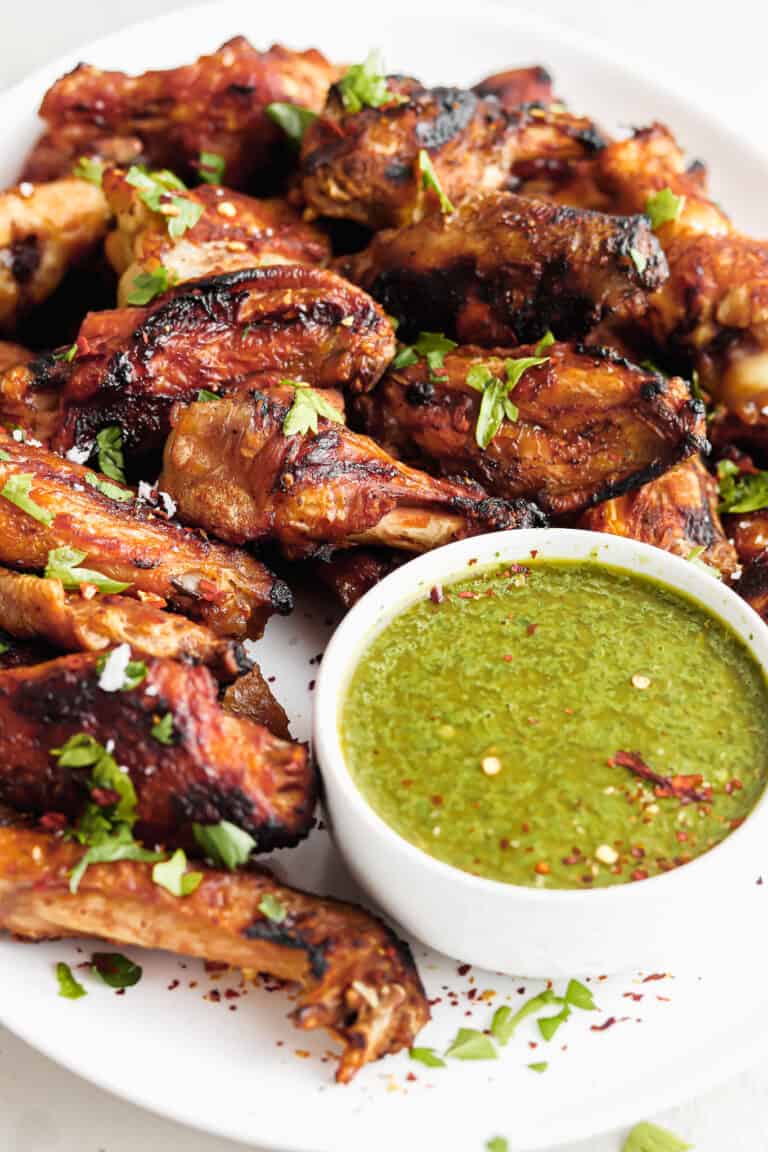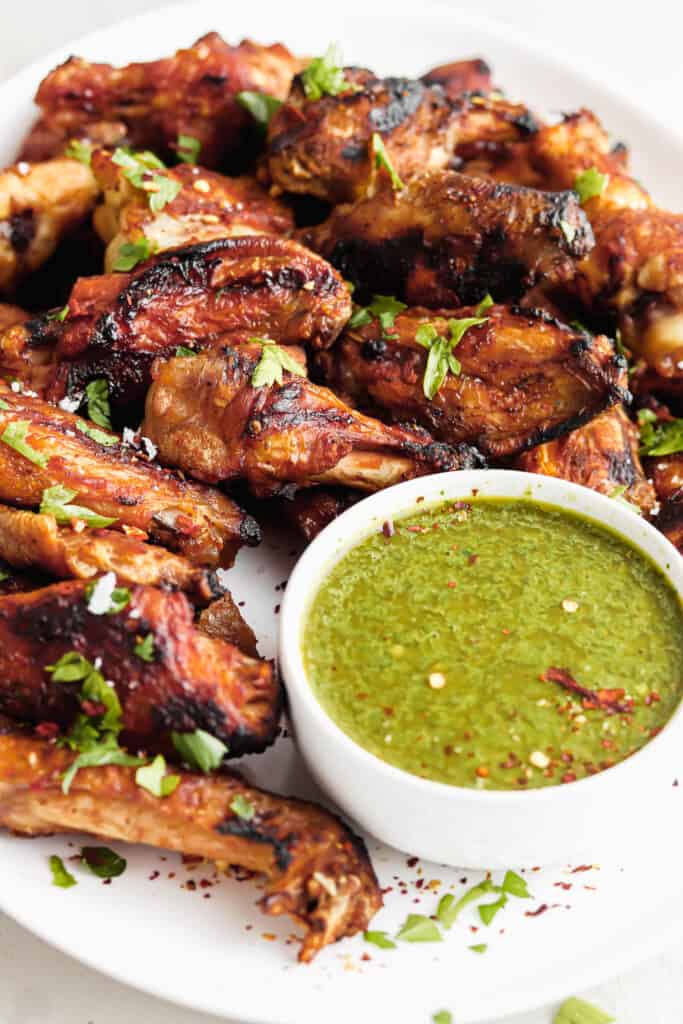 The sauce:
Cilantro- You either love or hate cilantro. A portion of the population has a gene that registers cilantro to have a "soapy" taste, but there's another portion of the population who LOVES cilantro and I think it is safe to say that is most of us! Fresh cilantro in combination with citrus makes any dish POP!
Red pepper flakes-The red pepper flakes add the perfect kick.
Lime juice-The lime juice nicely compliments the fresh cilantro.
EVOO-The EVOO makes for the most perfect healthy fat base.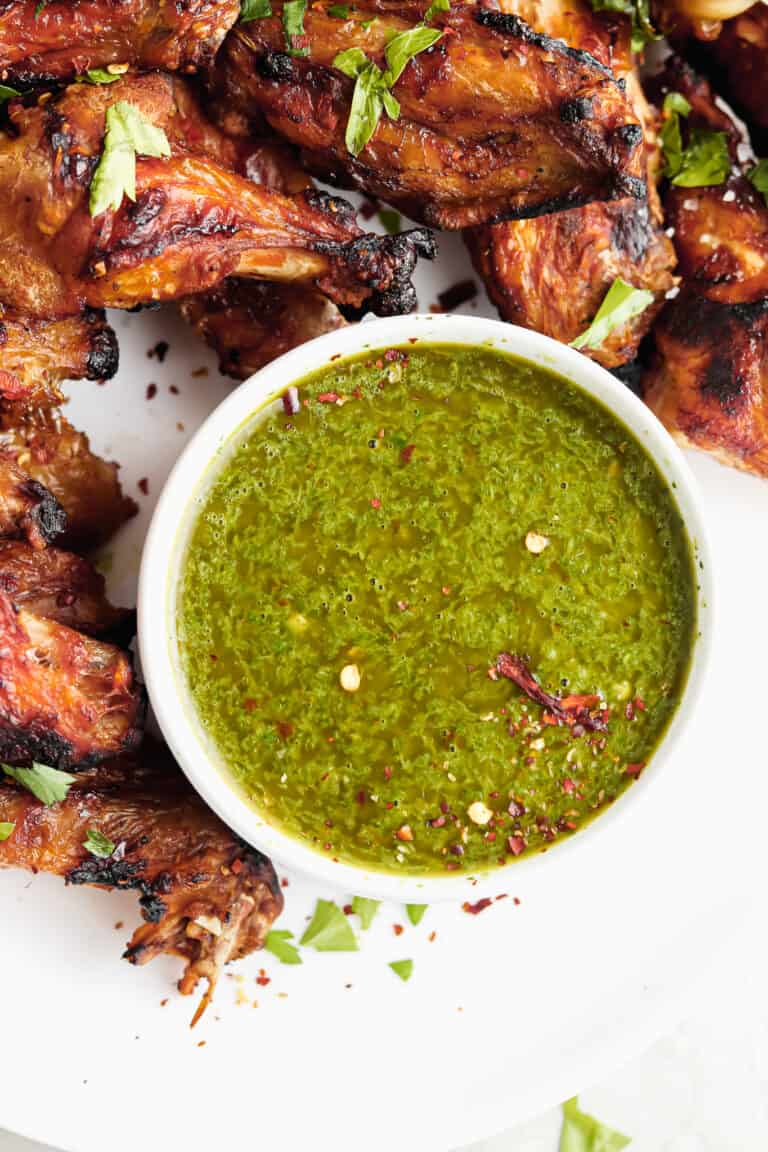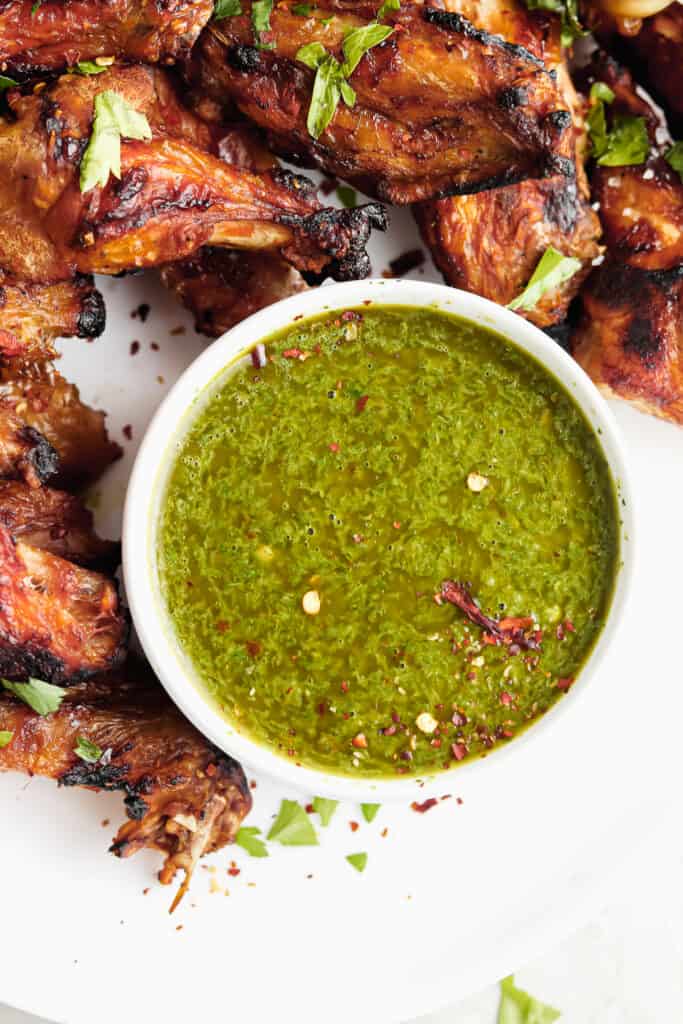 Grilling the wings:
When it comes to grilling do NOT miss this specific step. You want to apply the sauce AFTER you cook the wings. Cooking the wings with the sauce will make the wings mushy and we do not want that! The cooking time will depend on how crispy and how charred you like your wings. The more char, the longer you want to cook them. It is important to rotate them halfway to be sure they cook thoroughly. If you want to use frozen chicken wings, that is totally fine: just be sure to take out the wings with plenty of time in advance. If I use frozen wings, I like to defrost them in a bag on a plate in the fridge the night before.
Air Frying Alternative:
You can air fry these wings in lieu of cooking them on the grill. You can follow the steps in my
Crispy Air Fried Everything Bagel Chicken Wings recipe.
To serve:
I like to serve these wings with extra lime and red pepper flakes!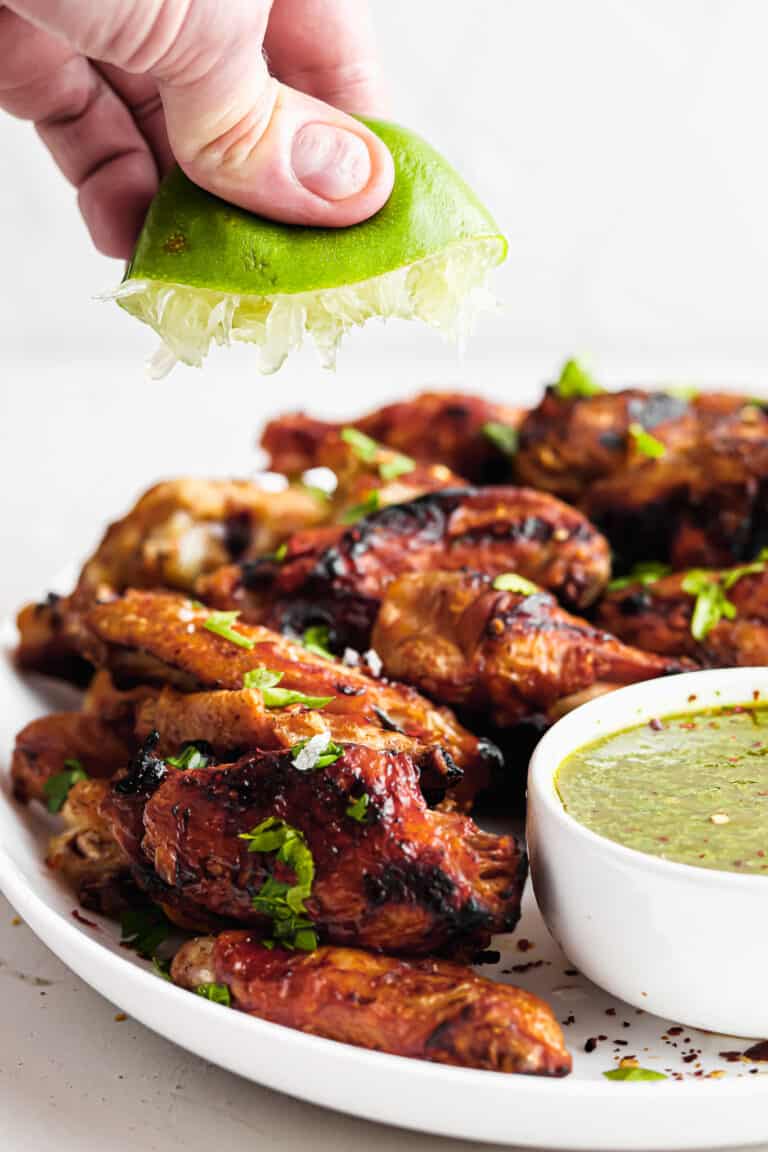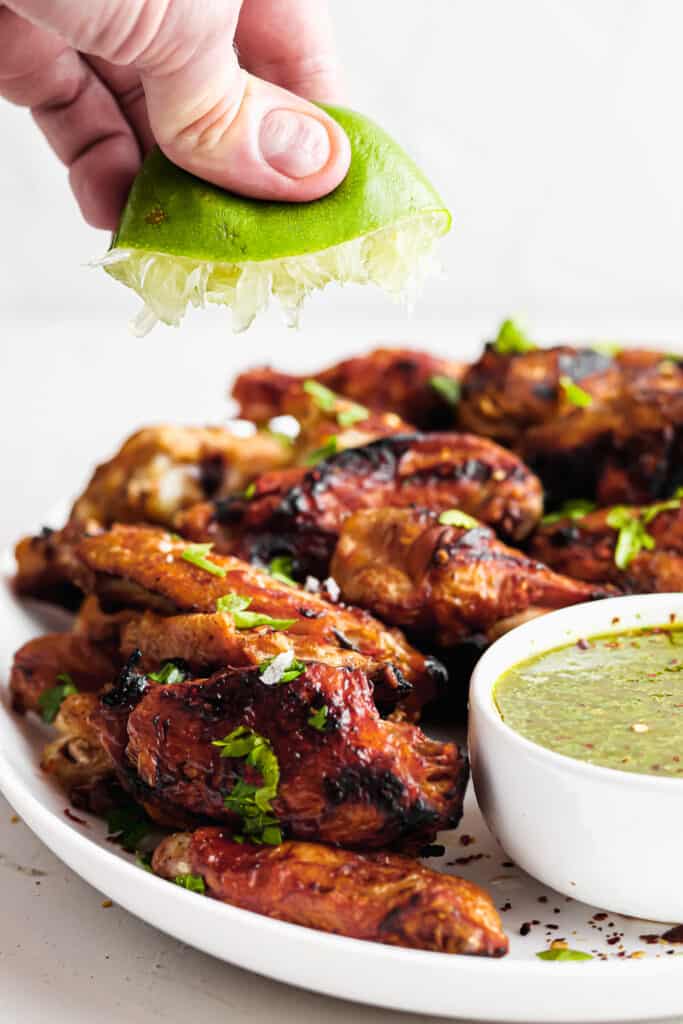 Keywords: Keto chicken wings, keto wings, paleo chicken wings, whole 30 chicken wings, cilantro lime wings
You can check out my favorite grilling tools here!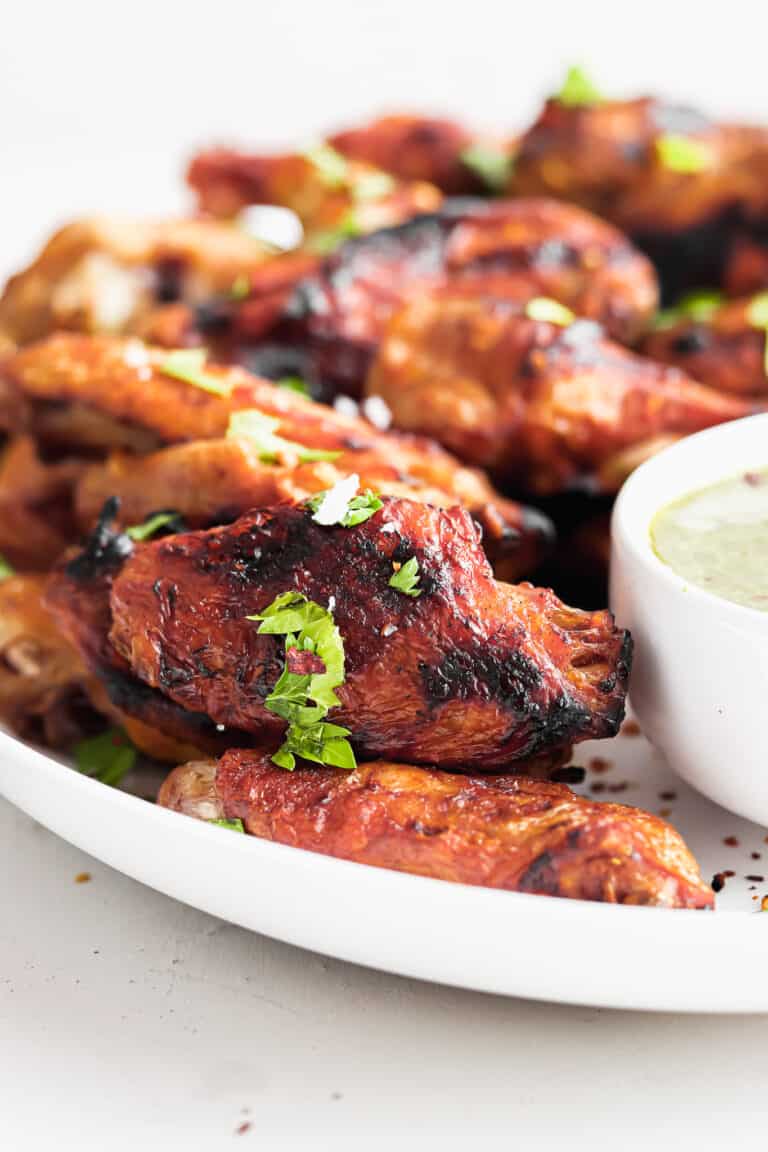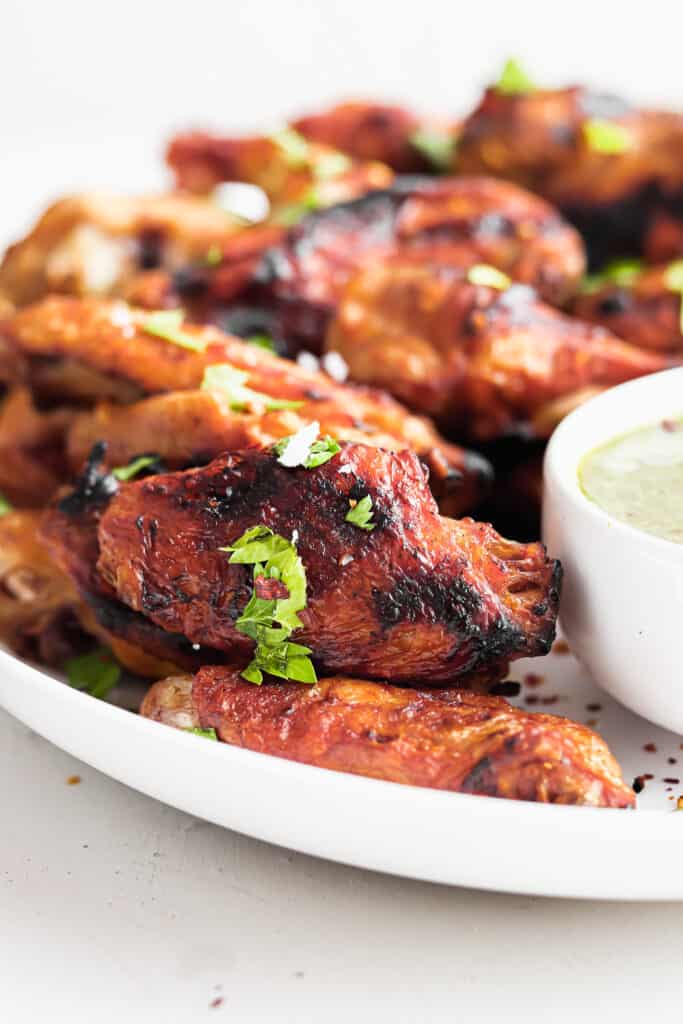 If you like this recipe, you will LOVE:
Crispy Air Fried Everything Bagel Chicken Wings
Chicken Meatballs With Curry Sauce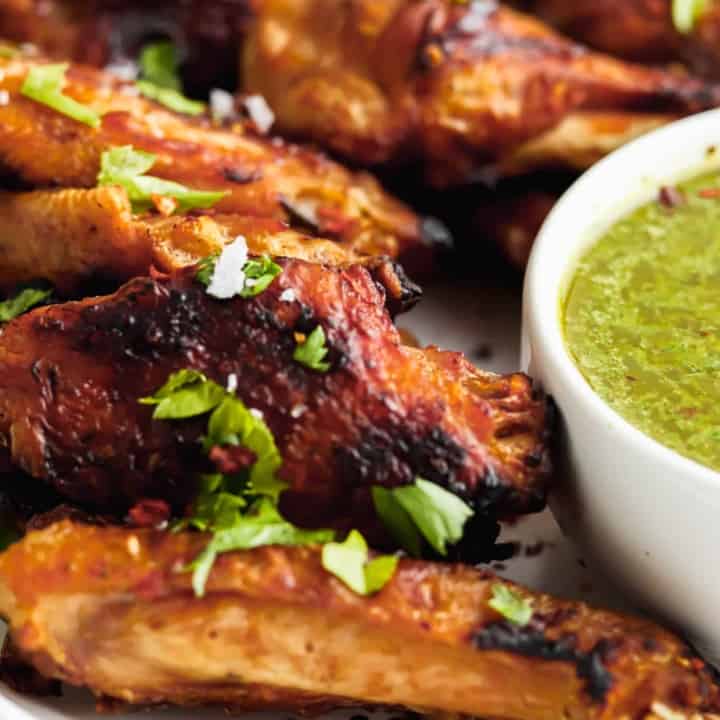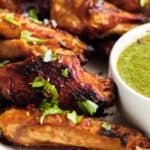 Cilantro Lime Chicken Wings
Print Recipe
Pin Recipe
Ingredients
3

pounds

chicken wings

Frozen is okay, be sure to defrost in time. See notes above.

1

whole bunch

fresh cilantro

3/4

cup

extra virgin olive oil

1/4

tsp

pink sea salt

`1

tbsp

red pepper flakes

3

whole

limes, juiced
Garnishes:
1

whole

lime

1

pinch

red pepper flakes
Instructions
For the sauce:
Wash the cilantro and place all ingredients (including the cilantro stems) in a food processor and blend until smooth. This should take between 60-90 seconds.
For the wings:
If you are air frying these wings, check out the text in the blog post above for instructions.

Preheat the grill to 375 degrees F.

Mix the sea salt with the wings.

Lay the wings in a single layer on the grill and close the top. Do not touch them for 15 minutes!

Flip the wings and grill for an additional 15 minutes.

Check on the wings, If they are to your desired crispiness and char level remove them from the grill.

Once the wings are done, you can either chose to toss the wings in the sauce or dip the wings in the sauce.

Add additional lime and red pepper flakes on top if desired.

ENJOY! If you make this recipe I would love it if you shared the link to this recipe with a friend, left a comment below or tagged me on instagram with a picture @alliannaschneider