This Homemade Elderberry Syrup is perfect for flu and cough season! It has become a staple in my house. The cinnamon sticks combined with the pure maple syrup and dried elderberries not only makes this syrup smell delicious but it tastes delicious too! In my house we use this homemade cough syrup as a home remedy when flu season is upon us. This homemade simple syrup can also be made to make a healthy cocktail or mocktail!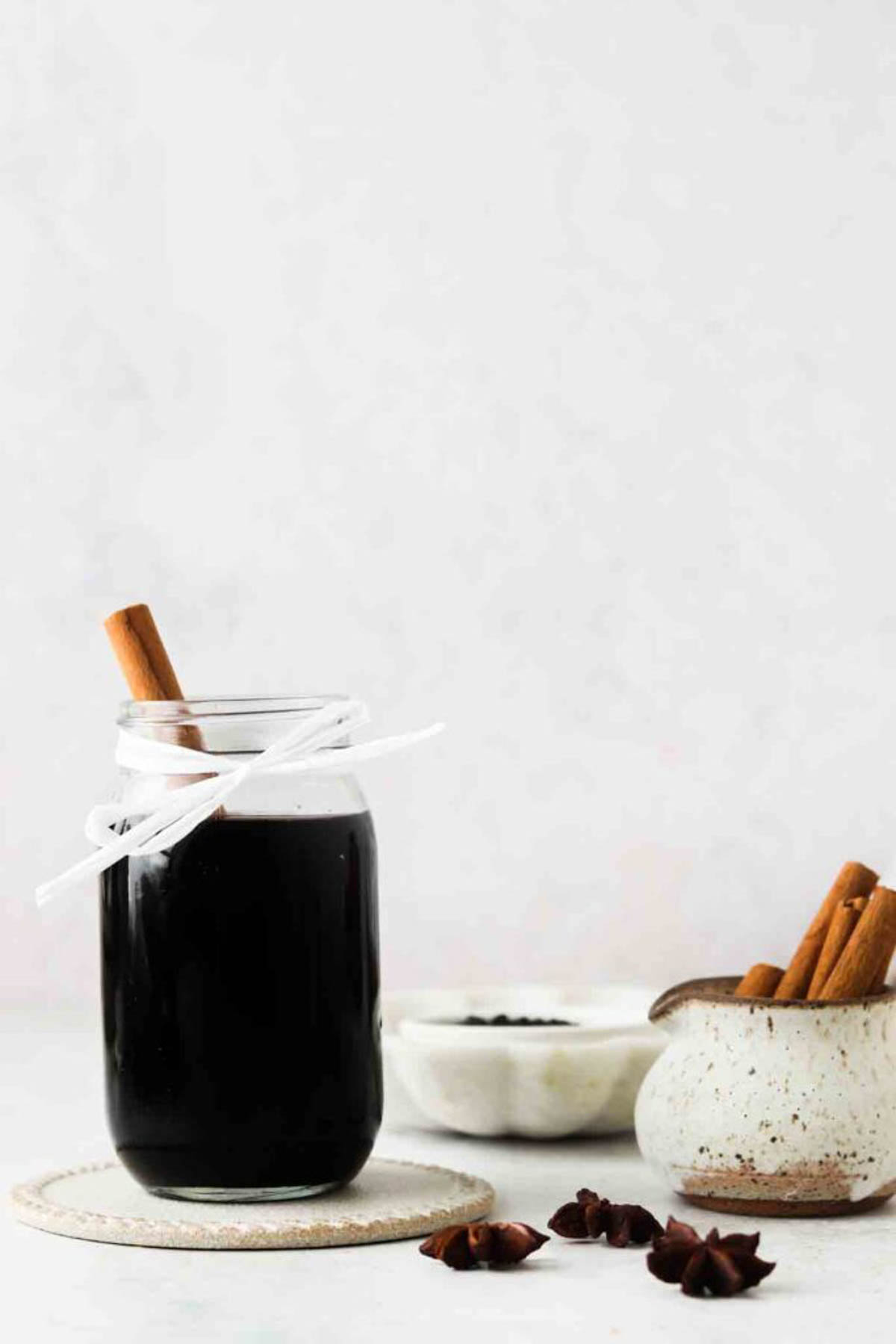 Elderberry syrup is a natural home remedy I have been using for years. In college I babysat for a family who was into homeopathic and used this when their kids got sick with colds. I was blown away with how well it worked and how good it tasted!
As soon as my husband or I start to feel ill this syrup is in constant rotation. Pair this with any of my delicious soup recipes and you will be feeling better in no time. Some of my favorite recipes to make when I am sick are: instant pot turkey soup, gluten free tomato soup, cauliflower leek soup, thai shrimp soup, and pumpkin slow cooker soup.
Jump to:
Why You Will Love This Recipe
This recipe is so simple to make! Just place all of the ingredients into a sauce pot and give it time.
Both adults and kids can enjoy this syrup to help keep away illness.
This recipe is naturally gluten free, dairy free, refined sugar free, soy free, and grain free.
This would be great mixed with my Honey Simple Syrup on ice or warm.
You can bulk make this syrup so that you have it all winter long.
This would be a great addition to any holiday favor or gift.
Ingredients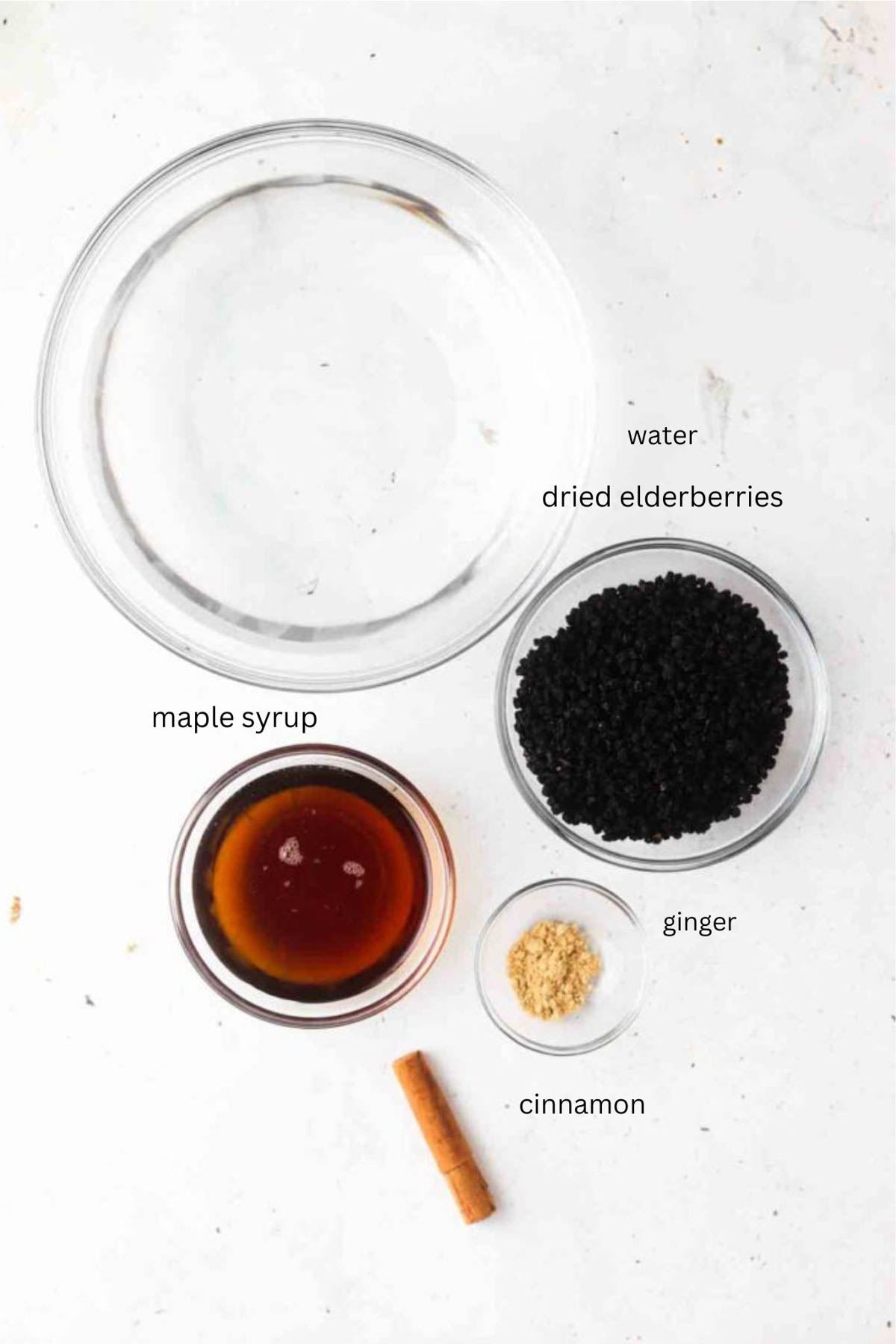 Dried elderberries-I got mine from a natural foods store near me but you can also get them on amazon HERE. They expire fast, so make sure they are within the date!
Maple syrup-To add a dash of sweetness. You can also substitute with honey.
Cinnamon-To flavor.
Water-To make into the syrup.
Ginger-To add a nice kick.
See the recipe card below for a full list of ingredients and measurements.
Substitutions and Variations
You can use either fresh or ground ginger. You will need to adjust the measurement to use a larger amount of fresh than ground.
You can substitute the maple syrup for a sweetener of your choice, such as agave.
This recipe has not been tested with other substitutions or variations. If you replace or add any ingredients, let us know how it turned out in the comments below!
Step by Step Instructions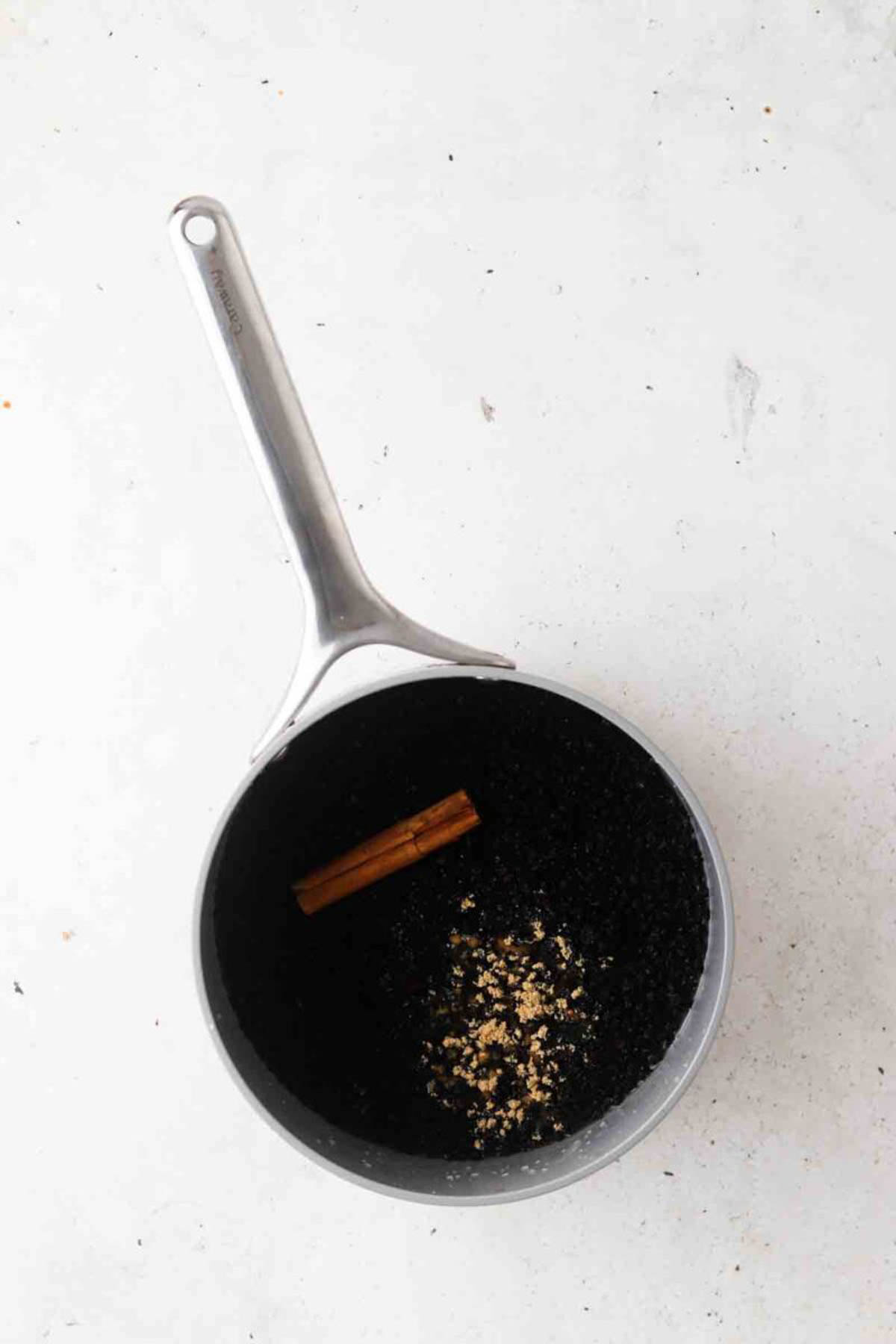 Photo 1: Place all ingredients in a saucepan and bring to a boil.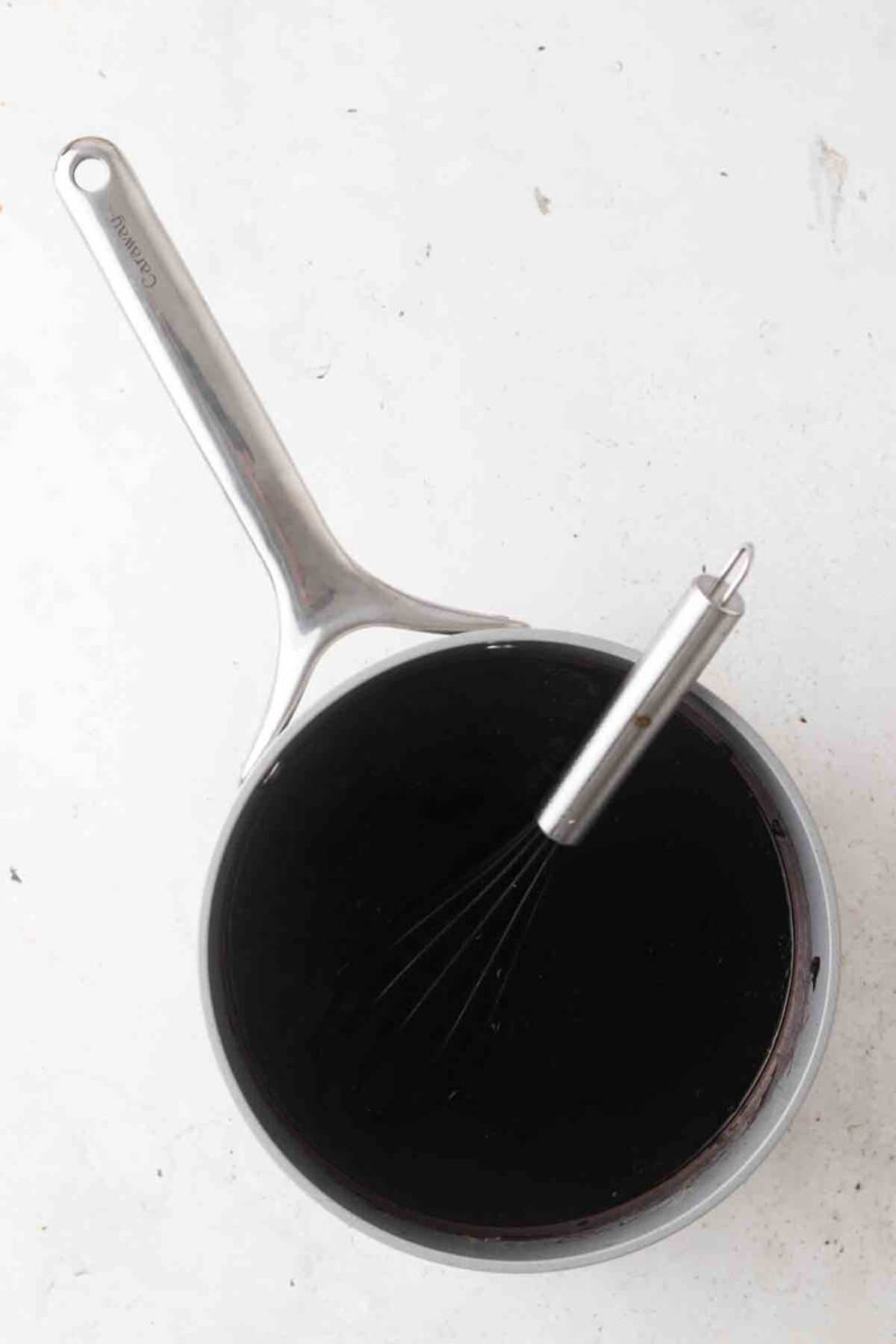 Photo 2: Reduce to a simmer for about 30 minutes and allow to cool.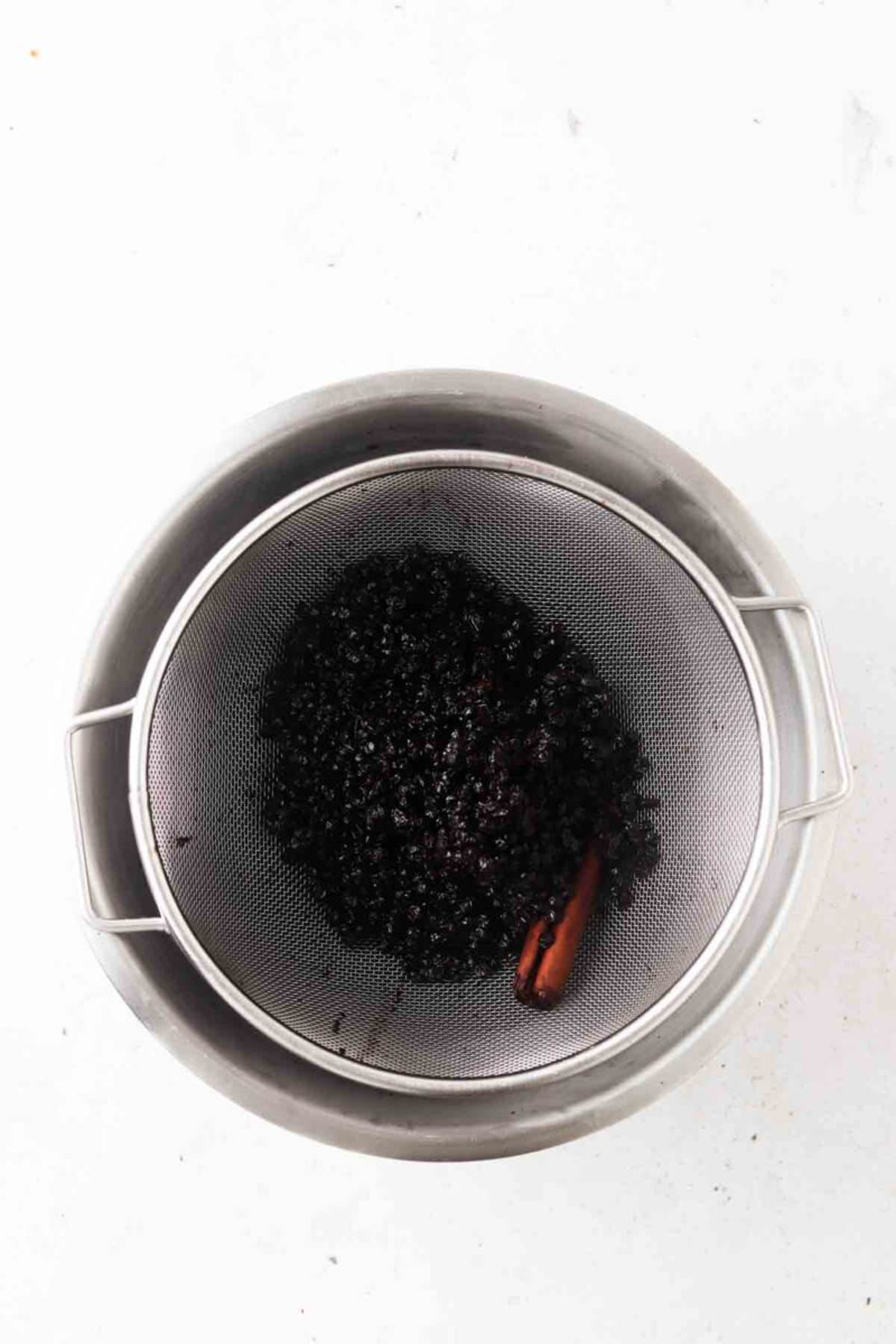 Photo 3: Once cooled, strain the berries with a cheesecloth or strainer and store in an airtight glass container.
Expert Tips
Tip # 1: If you want to save time, you can make this recipe in an instant pot by cooking for only 9 minutes.
Tip # 2: When straining, if you use a cheesecloth, you can ensure that you squeeze out all of the syrup so nothing is wasted.
Tip # 3: For adults you will want to take 1 tablespoon a day. For children, start wtih 1 teaspoon a day.
Recipe FAQs
How long does this recipe last?
The fresh elderberry syrup lasts for about two weeks sealed in an air tight container. 
Can I freeze homemade syrup?
Yes! I highly recommend freezing if you do not plan to use it all right away. You can even freeze it in small ice trays to allow yourself to pop out a little at a time. 
What are elderberries?
Elderberries are a kind of fruit like a berry. They come from a small shrub.
What are elderberries good for?
Elderberries were first discovered in ancient Egypt. They are well known for their medicinal properties. The berries are loaded with vitamin C and antioxidants. Today elderberry syrup is wildy used for boosting the immune system as well as for coughs and sore throats. In my house we use it in place of cough syrup.
Storage Instructions
This recipe can be stored in an air tight glass container for up to 2 weeks in the refrigerator.
This recipe can be stored in an air tight container for up to 3 months in the freezer.
Other Dairy Free Drink Recipes You Will Love
Are you interested in a guide of my go to healthy alternatives?
Download your FREE guide below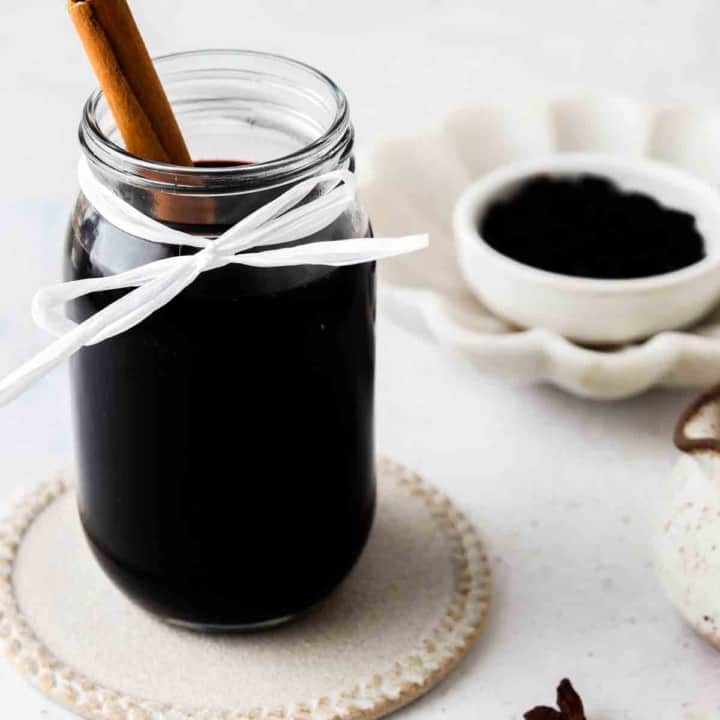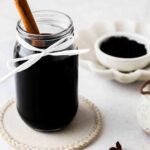 Homemade Elderberry Syrup (Cough Syrup)
885
kcal
Print Recipe
Pin Recipe
Ingredients
1

cup

dried elderberries

4

cups

purified water

1

cinnamon stick

1

tsp

ground ginger

1/2

cup

maple syrup
Instructions
Place all ingredients in a saucepan and bring to a boil, then reduce to a simmer for about 30 minutes. Once the 30 minute is up, allow it to cool and then strain the berries with cheesecloth or a strainer. Store in an airtight glass.
Notes
Storage: This recipe can be stored in an air tight glass container for up to 2 weeks in the refrigerator. Freezer: This recipe can be stored in the freezer for up to 3 months.  Nutrition: The nutrition for this recipe is an estimate and the calorie count is not guaranteed.  It is based on 80 servings.  Servings: This recipe should yield 80 servings.
Quick, easy and delicious refined sugar free cough syrup.
Serving:
1
jar
|
Calories:
885
kcal
|
Carbohydrates:
221
g
|
Protein:
1
g
|
Fat:
1
g
|
Saturated Fat:
1
g
|
Polyunsaturated Fat:
1
g
|
Monounsaturated Fat:
1
g
|
Sodium:
77
mg
|
Potassium:
766
mg
|
Fiber:
2
g
|
Sugar:
193
g
|
Vitamin A:
11
IU
|
Vitamin C:
1
mg
|
Calcium:
417
mg
|
Iron:
1
mg