This fall salad with Whole30 pumpkin vinaigrette salad dressing is perfect for both meals and side dishes. The pumpkin vinaigrette compliments the nutty taste from the acorn squash so nicely. The added grapes, apples, and pumpkin seeds give this salad a salty and sweet crunch. The added salmon option can turn this side salad into a full meal. With kale being a tougher vegetable it can be stored in the fridge with the dressing for up to 5 days, which makes this salad perfect for meal prep!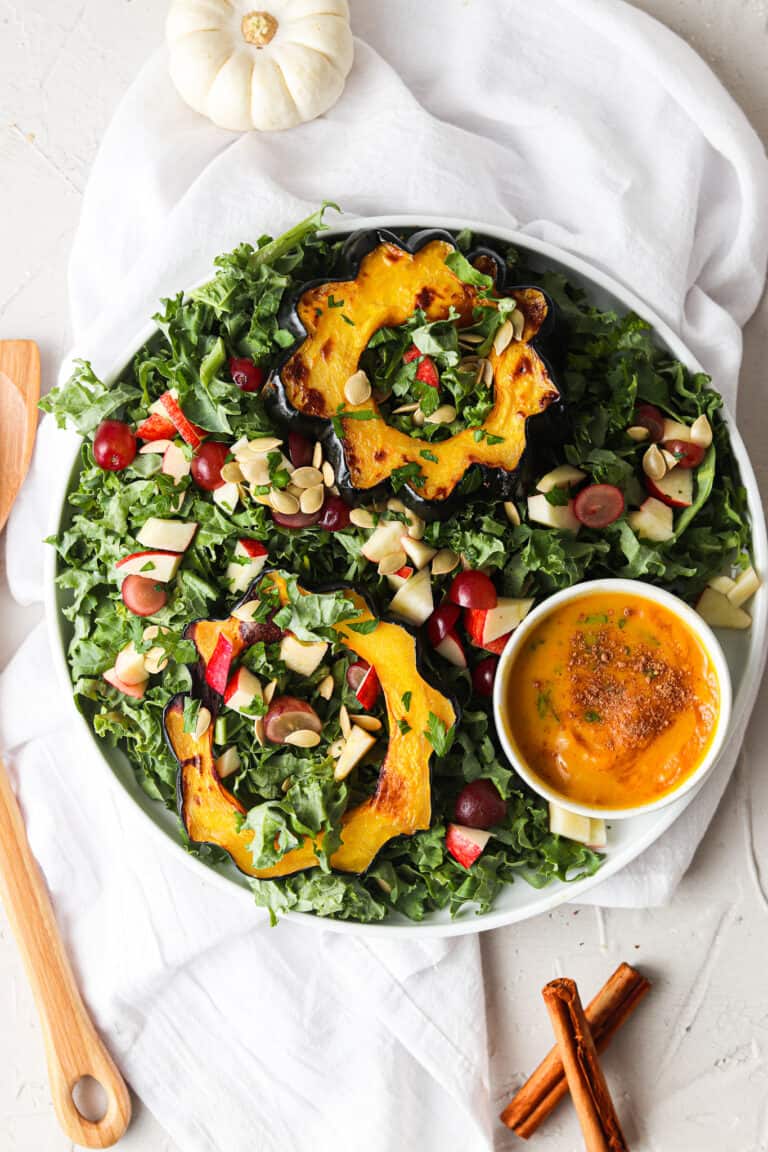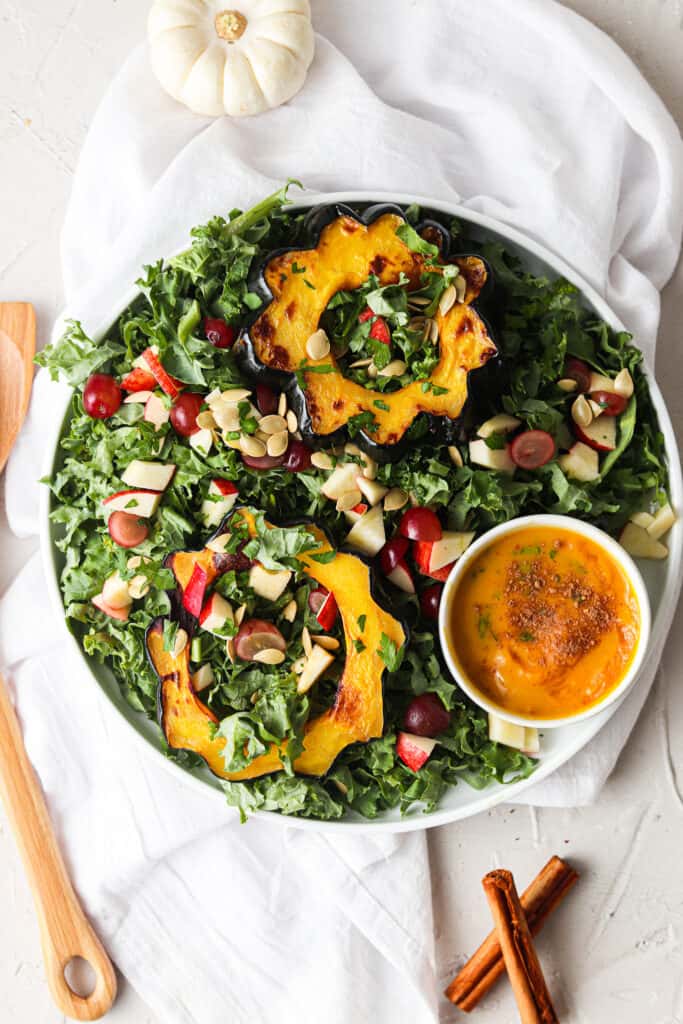 For The Kale Salad 
The kale- I used to not care for kale, but then I realized I was eating it the wrong way. Kale is a tougher vegetable, so we must pair it with a dressing that will help break down the fibers, that is where the apple cider vinegar comes into play from the dressing. 
Acorn squash gives this salad a nutty touch. I like to leave the skin on the squash because 1.) it is loaded with nutrients and 2.) peeling the skin can be tough! If you do not like the skin I still suggest leaving the skin on while you bake it and then taking a spoon and spooning out the inner contents. 
Purple grapes are one of my favorite fruits for fall. You can sub them for green grapes. I like to cut them in half for this salad. 
Roasted and salted pumpkin seeds give this salad an extra salty crunch, you can use any kind of seed you would like, but pumpkin seeds are my favorite!
The red apples add another layer of sweetness, again like the grapes you can swap for green apples if you would prefer!
Dried cranberries are totally optional here but I like to sprinkle on top. Dried fruit without any additives is Whole30 compliant.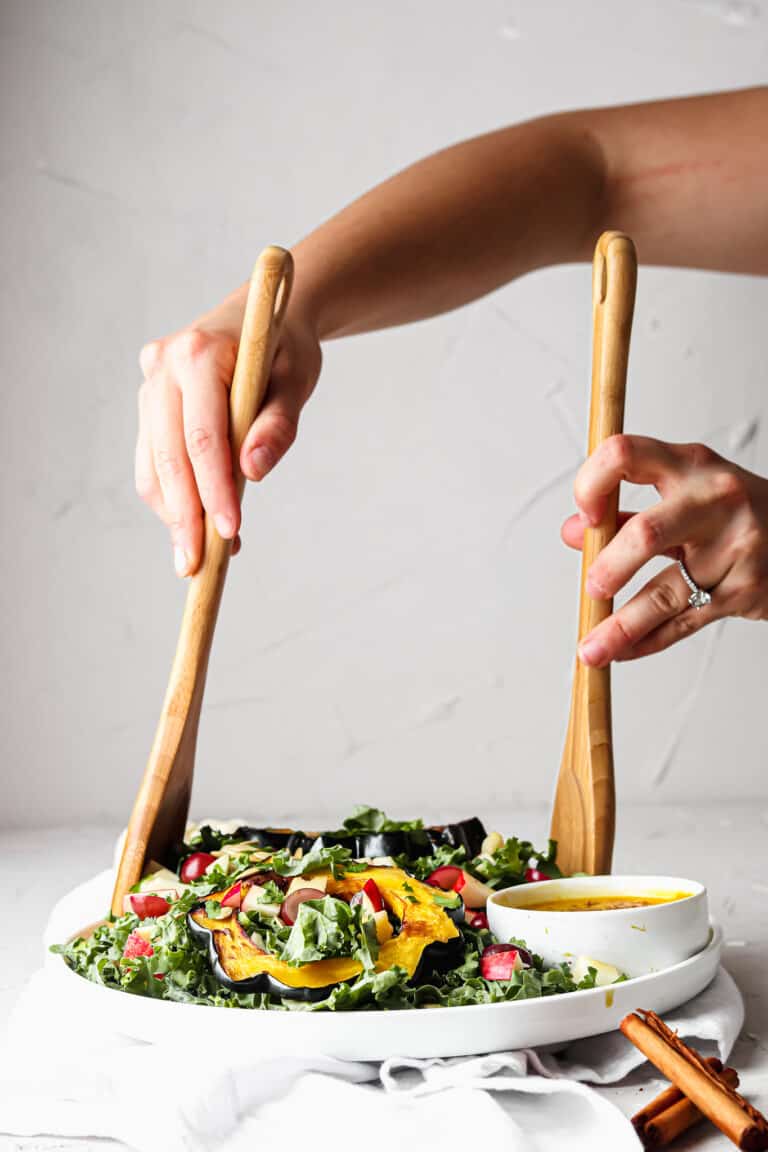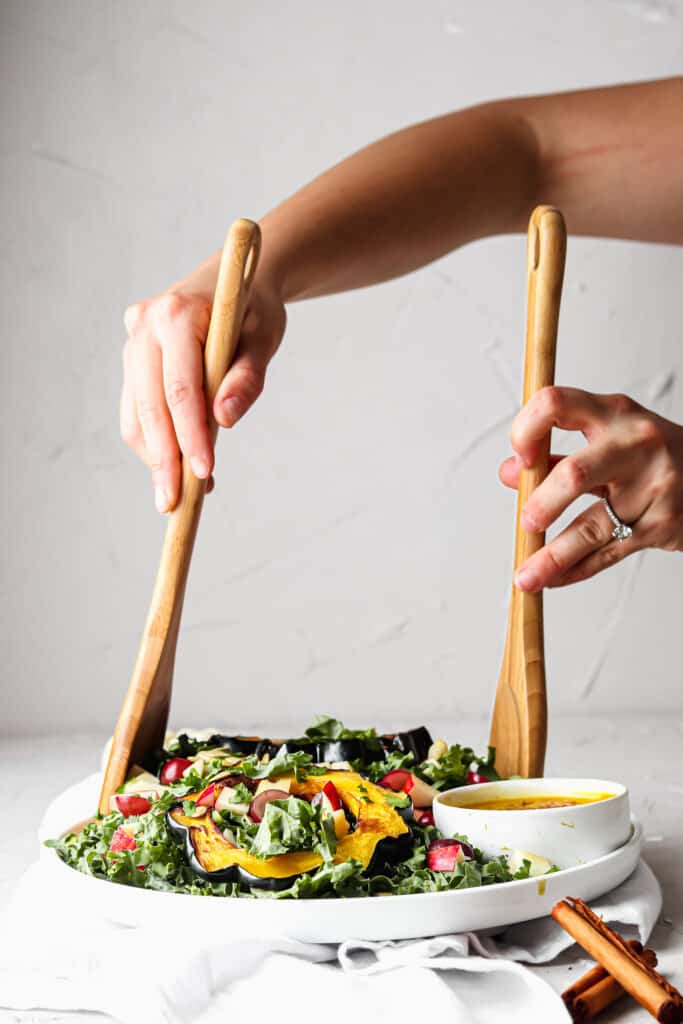 For The Whole30 Dressing
When making a kale salad, the dressing you pair it with is super important! As I mentioned above, kale does best with acidic dressings to help break down the fibers which makes the salad easier to digest. 
The apple cider vinegar is the main source of acid in this dressing, this is what helps break down the fibers. 
I like to use olive oil as my oil of choice in the dressing. You could use avocado oil but I personally have a hard time finding a good one that I like and doesn't smell like rancid avocados.
The pumpkin puree and pumpkin spice are what make this dressing a pumpkin vinaigrette. While the pumpkin spice is optional, I highly recommend it. At the start of fall I bought a large stack of pumpkin from Trader Joe's because I knew I would be using it in a lot of baking. It is important when you buy canned pumpkin for the only ingredient to be pumpkin (no added sugar.) You could totally make your own pumpkin puree here, but in all honesty that sounds like a lot of work. 
The pitted dates are an option to help sweeten the dressing. Personally, I do not think it needs any added sweetener but some of you may think it does, I suggest mixing up the dressing first and then adding the date if needed. Dates are Whole30 compliant! 
The garlic gives the dressing a little kick, and I mean, who doesn't like added garlic? You can mince garlic two ways 1.) with a garlic mincer 2.) you can smash it with the side of a knife. First, remove the paper covering the garlic, then take the side of a knife and smash it! You can watch this video here. 
The added water thins the vinaigrette, I suggest adding a tablespoon at a time to get your desired consistency.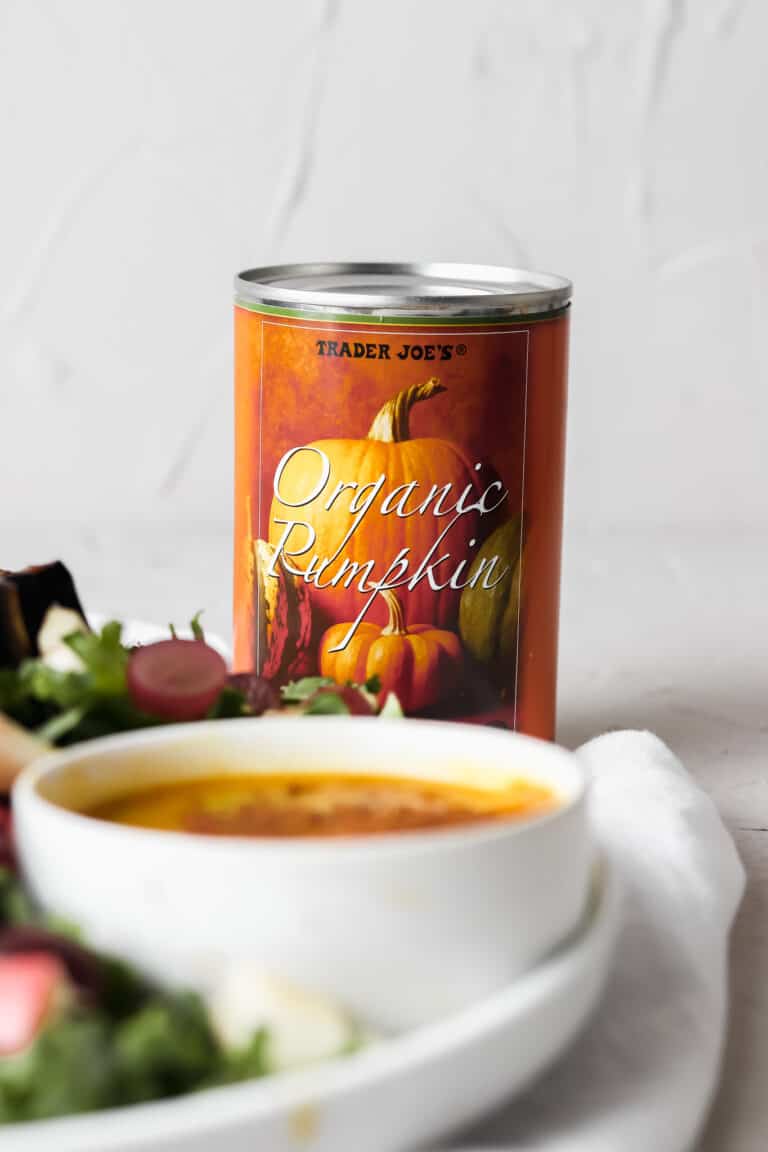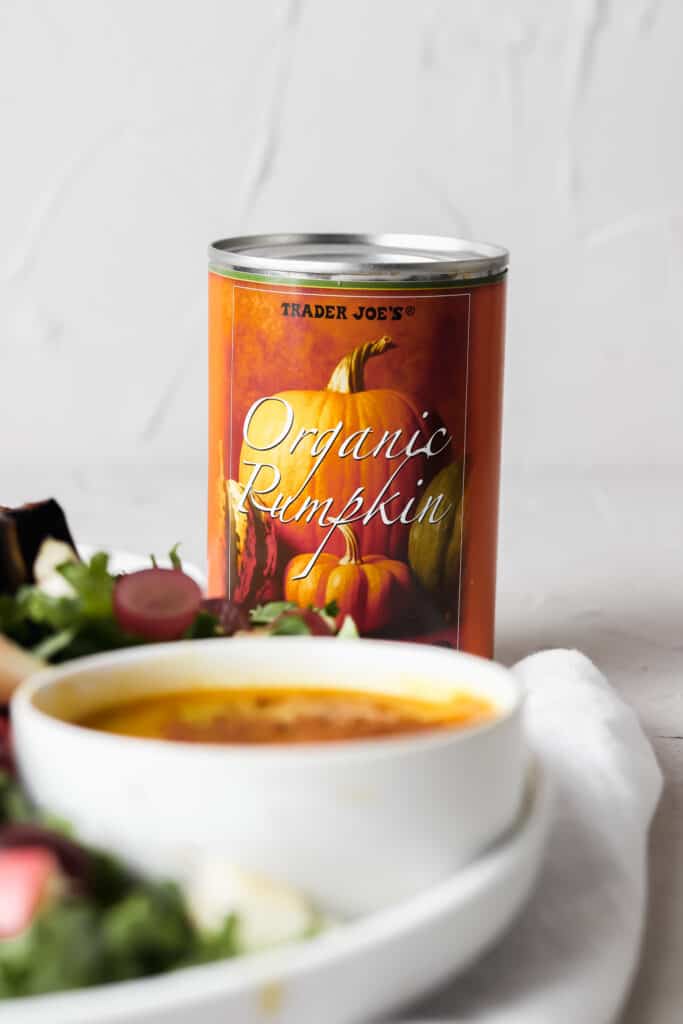 How To Make The Pumpkin Vinaigrette Dressing
I use my ninja bullet to make just about every dressing nowadays. I place all ingredients in the bullet and blend. As I mentioned above, you can add your dressing to the salad and let it sit for days. The salad won't get soggy because of the toughness of the kale.
I sometimes like to add some extra fresh herbs like basil or parsley to the dressing!
For the salmon
Mix the olive oil and the cinnamon and gently pour over the salmon. For more well-done salmon cook for 20 minutes, for less done salmon cook for 15. After the salmon cooks, pull off the skin and shred it with 2 forks.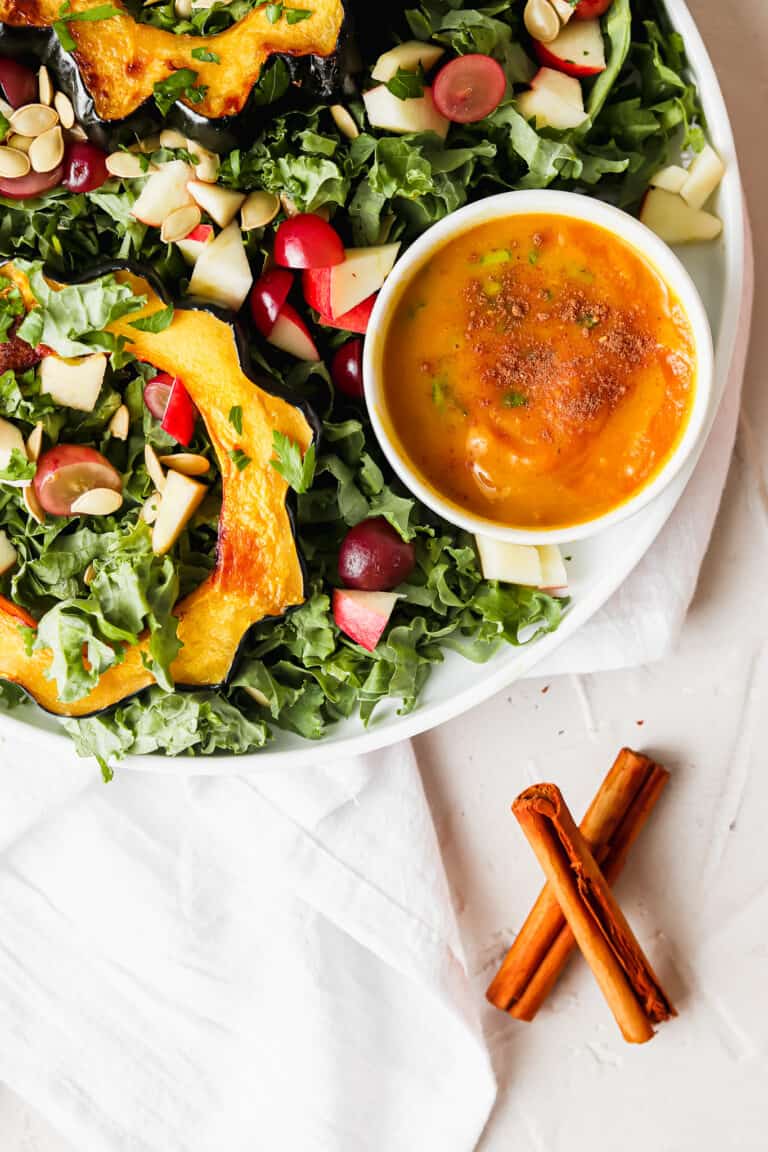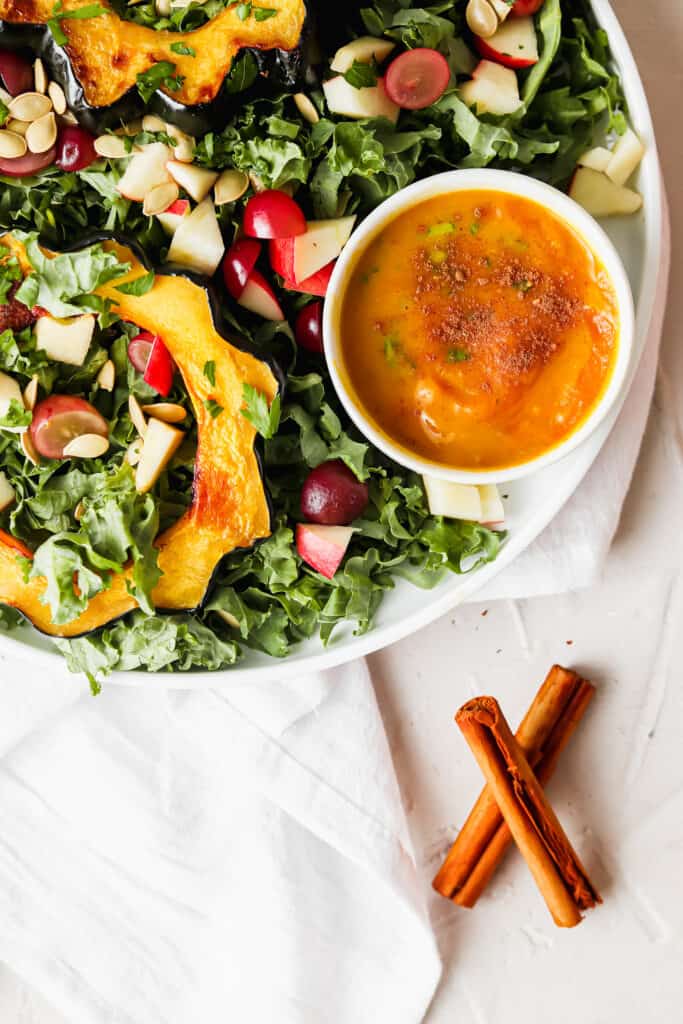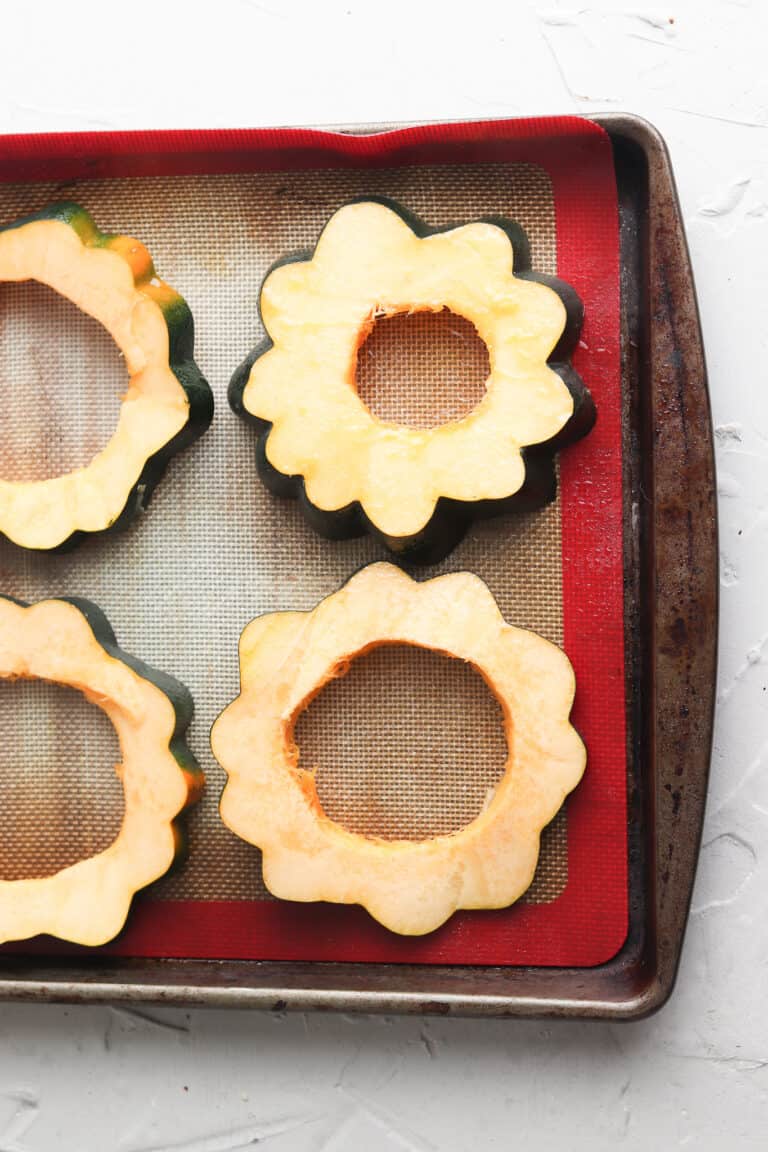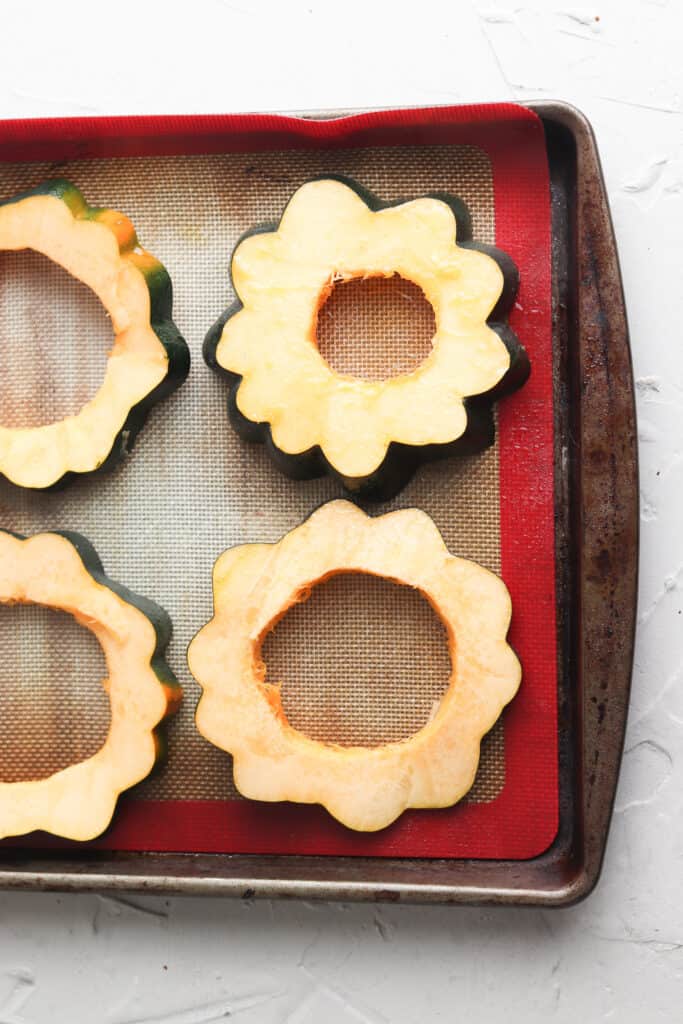 How To Store the Salad & Meal Prepping
You can store the salad in an airtight container for up to 5 days in the fridge. No need to separate it from the toppings, it will stay fresh! Or if you are meal prepping, you can store the salad in individual meal prep containers. 
Keywords: paleo salad, vegan salad, terry wahls diet, wahls protocol diet, aip meal, aip recipes, aip salad dressing, whole30 meal, paleo salad, whole30 salad dressing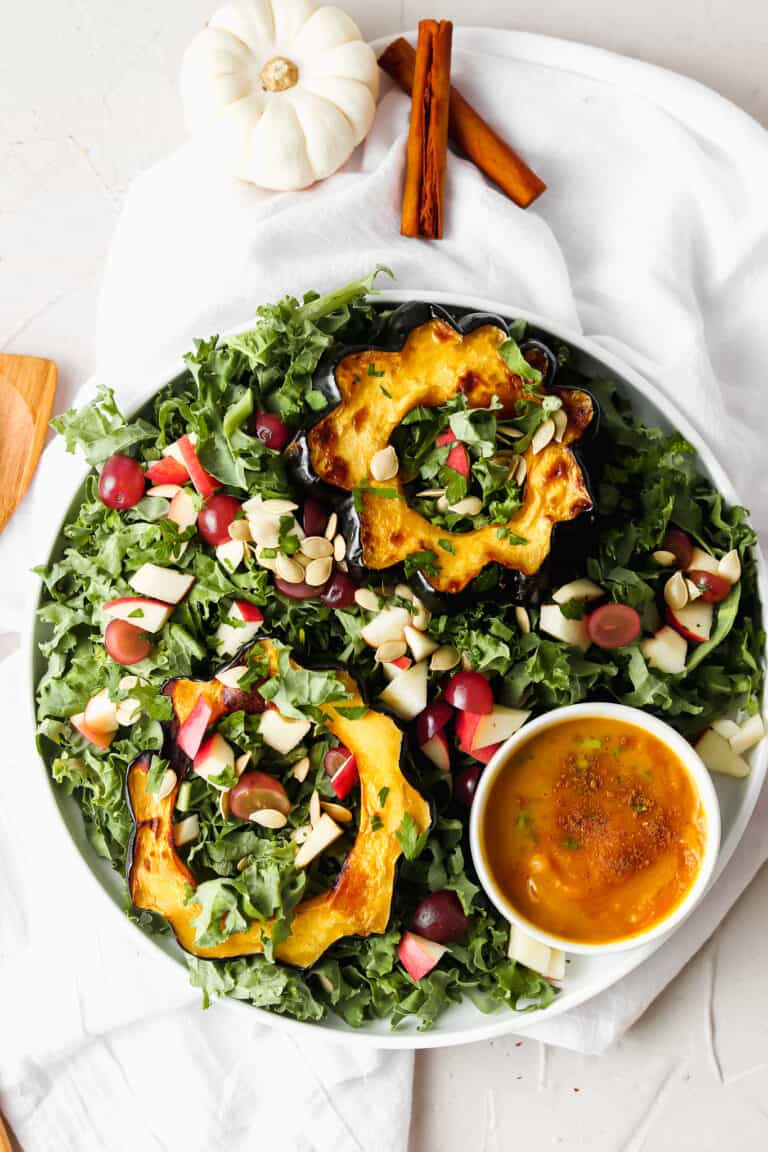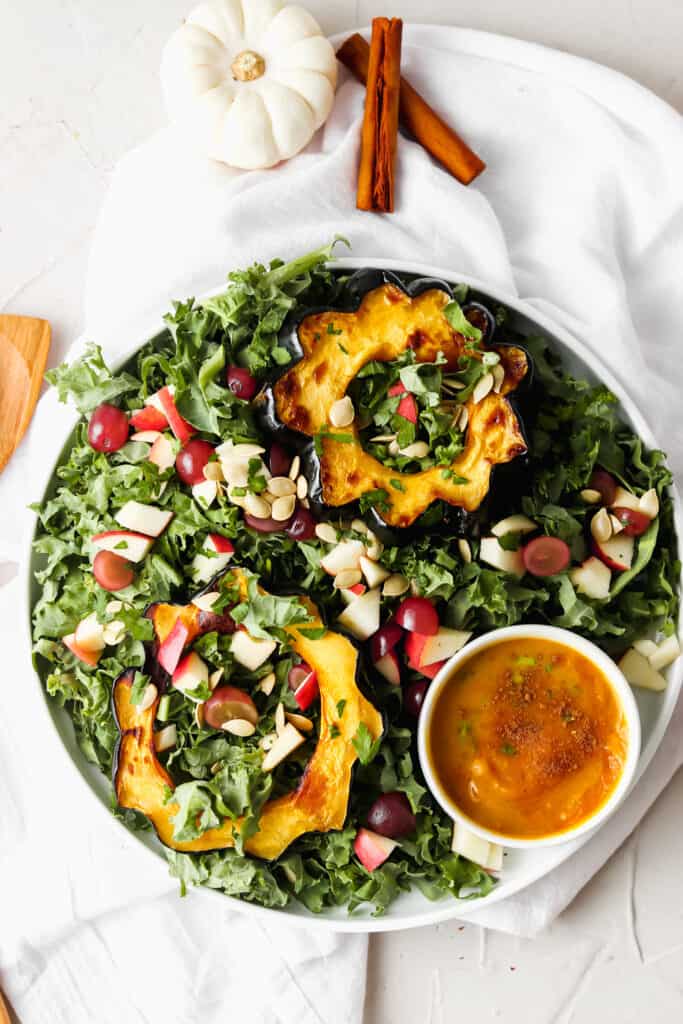 If you like this recipe, you will LOVE:
Shredded Lemon Dill Salmon Salad
Crunchy Pomegranate Kale Salad
Thai Creamy Coconut Cream Chicken Salad
Sweet Potato Blackberry Fig Salmon Salad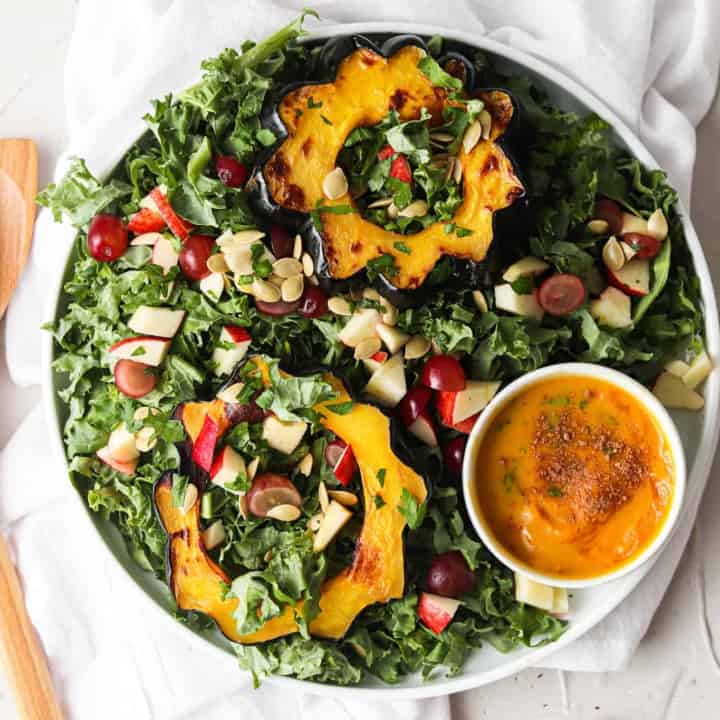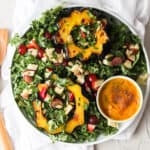 Squash Salad
777
kcal
Print Recipe
Pin Recipe
Equipment
serving dish

salad tongs

kitchen knives

cutting board
Ingredients
For the Salad:
1

acorn squash

I like to leave the skin on, it is good for you!

1/4

cup

pumpkin seeds

omit if following the beginning stages of the autoimmune protocol

2

cup

purple grapes

8

cup

kale

or one bag

2

whole

red apples

1

tsp

olive oil (for roasting squash)

You can either use 1 tsp of olive oil, or use a spray and lightly coat the squash prior to placing them in the oven. I like to use the Trader Joes organic extra virgin Spanish olive oil spray.
For the Vinaigrette:
1/3

cup

extra virgin olive oil

1/4

cup

apple cider vinegar

1/4

cup

pumpkin puree

1

clove

garlic, minced

1/4

tsp

pumpkin spice

*optional

1-2

tbsp

water

to thin the vinaigrette

1

whole

date

optional, add if you like your dressing to have a sweet taste
Instructions
For the Salad:
Using a sharp kitchen knife, slice acorn squash lengthwise into 4-5 pieces. Place on a baking sheet and spray or drizzle with olive oil.

Roast for 1 hour, or until the squash is soft to the touch and golden brown.

Halve the grapes and chop the apple into bite sized pieces.

Combine all salad ingredients together in a large mixing bowl and plate as desired. Once the vinaigrette is finished, massage the kale with the dressing. You do not need to store the dressing separate from the salad, because kale is tough and will not rot unlike lettuce.
For the Vinaigrette:
Place all ingredients in a blender and blend for 30-60 seconds.
For the salmon: (OPTIONAL)
Lay the salmon in a single layer on a cooking sheet.

Mix the olive oil with the cinnamon and pour over the salmon.

Bake for 20 minute for well done salmon, and 15 minutes for more rare salmon.

Once the salmon cooks, remove the skin and shred with two forks and serve over the salad.

ENJOY! If you make this recipe I would love it if you shared the link to this recipe with a friend, left a comment below or tagged me on instagram with a picture @alliannaskitchen
Notes
Store in an air tight container for up to 5 days in the fridge. 
Serving:
4
g
|
Calories:
777
kcal
|
Carbohydrates:
48
g
|
Protein:
54
g
|
Fat:
44
g
|
Saturated Fat:
6
g
|
Cholesterol:
125
mg
|
Sodium:
158
mg
|
Potassium:
2362
mg
|
Fiber:
4
g
|
Sugar:
19
g
|
Vitamin A:
16306
IU
|
Vitamin C:
176
mg
|
Calcium:
282
mg
|
Iron:
6
mg