This Banana Peach Smoothie is creamy, sweet and loaded with protein! This smoothie is naturally dairy free, whole30 friendly, and autoimmune protocol friendly. You can have breakfast ready to go in 5 minutes with this recipe and you would never know it can be made without yogurt! This recipe is not only healthy and nutritious but is also refreshing and can help satisfy that sweet tooth.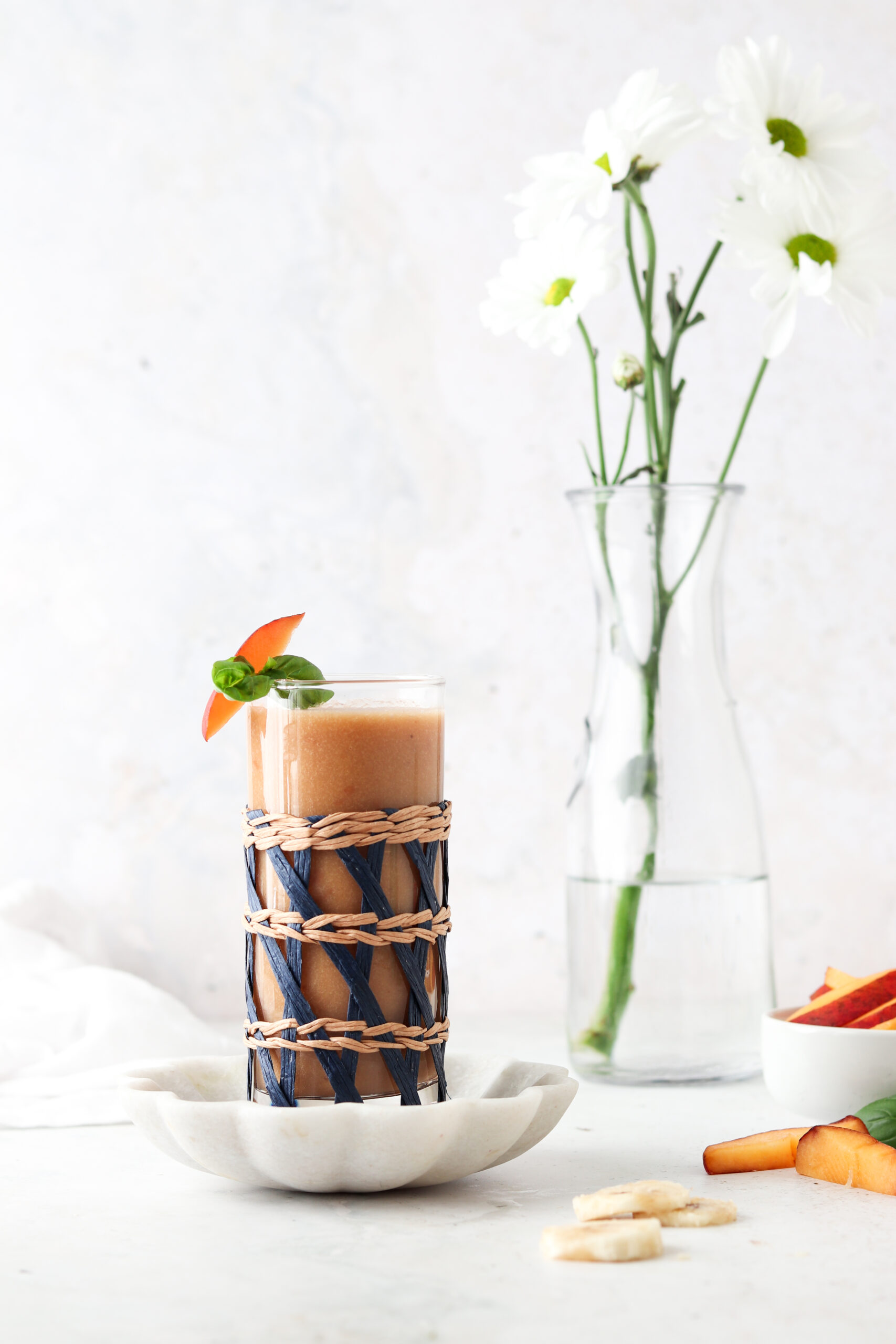 This recipe was inspired by my hubby. The banana peach combo is one of his favorites! You could make these ahead of time and keep them in the refrigerator for a quick breakfast in the car or an easy snack for both adults and kids.
Any recipe that I can dump and go is a favorite of mine! I'm always looking for healthy snacks for on the go. If it is a hot day, I will use frozen fruit so that it comes out thicker and will eat it from a bowl to get the same refreshing and cooling effect as the sorbet from my childhood without all of the added sugar and fillers. If you choose to use fresh peaches, you could also make my Vegan Peach Cobbler with the extra or freeze them for the next time you want this smoothie.
Jump to:
Why You'll Love This Recipe
It is so simple! You just dump everything in a blender, blend it up until smooth, and enjoy!
This recipe is paleo, gluten free, dairy free, whole30 friendly, autoimmune protocol friendly, and soy free.
Kids will love this recipe too!
This is a great way to satisfy your sweet tooth without having to turn on your oven.
You can switch this recipe up by also using it for homemade popsicles or a smoothie bowl.
Not only is it easy to make but the clean up is just as simple!
Ingredients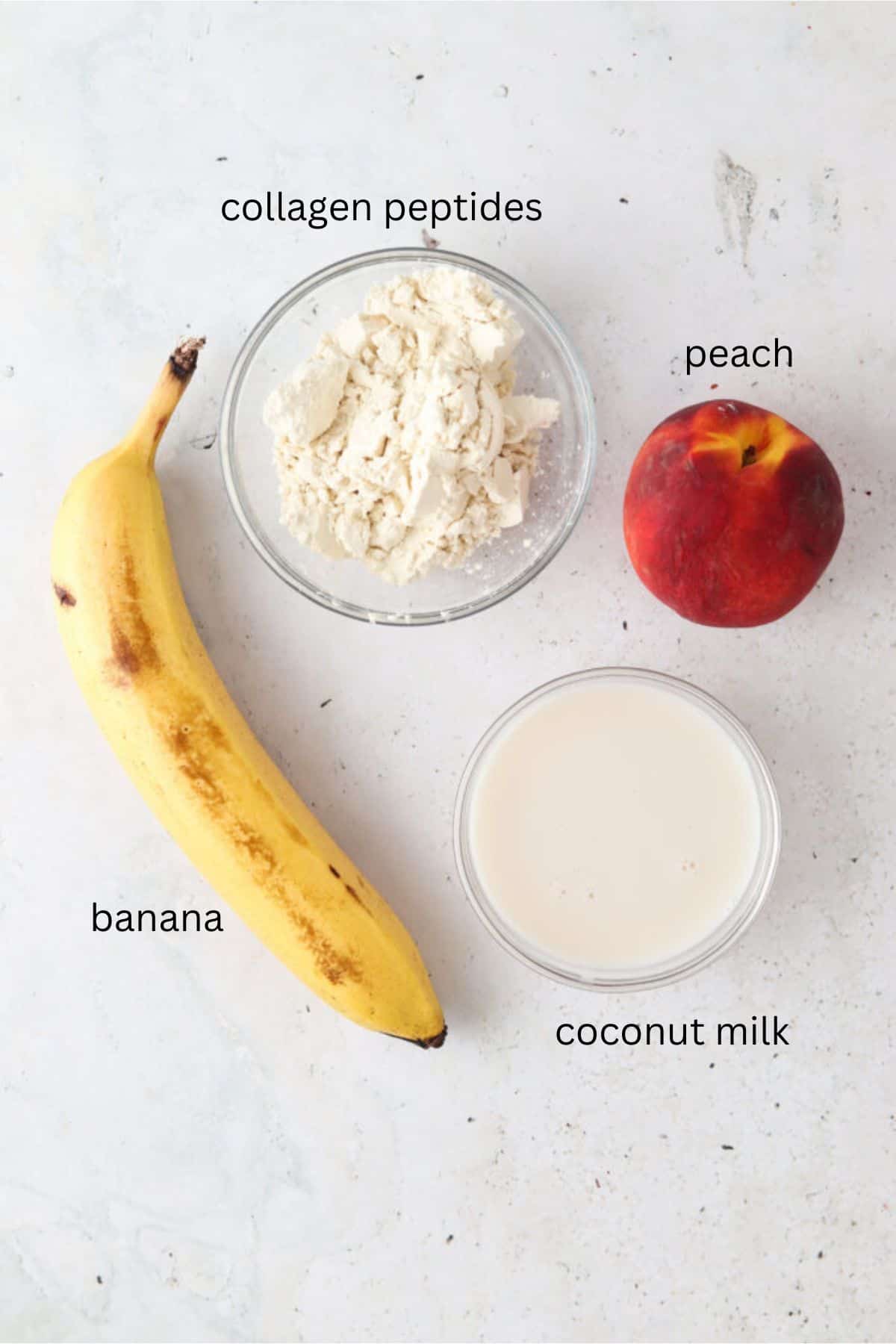 Dairy free milk-I like the canned coconut milk from Trader Joe's. It doesn't have any additives and is delicious. If you are not dairy free or doing the whole30 or AIP you can use regular milk.
Fresh peach-Make sure it is ripe! The best way to tell if a peach is ripe is if it is soft. Frozen peaches will typically go through the freezing process at the peak of freshness.
Ripe banana-I like to eat my bananas with a few brown spots. The riper they are, the sweeter they are. You could also use a banana that you previous froze. You will just want to allow the banana to thaw completely before blending.
Collagen peptides-I use collagen peptides over protein powder. Whey protein contains dairy and I do not do well with dairy nor do I do well with pea protein. If you are not doing the Whole30 or do not have dietary issues, you can use regular protein powder. I like these collagen peptides HERE.
Optional-Mixed greens to get more vegetables in. If you are doing the Whole30 or autoimmune protocol, be sure to add the veggies! I love to add spinach to my smoothies!
See the recipe card below for a full list of ingredients and measurements.
Substitutions and Variations
If you do not have fresh banana and peach, you can use frozen! It will change the consistency of the smoothie though since the fruit will be frozen. You can allow the fruit to thaw first so that you can ensure there is no change to the consistency and no added liquid.
You can use your dairy free milk of choice! I prefer almond or coconut milk. You just want to make sure that you choose a milk that is unsweetened and unflavored.
This recipe has not been tested with other substitutions or variations. If you replace or add any ingredients, let us know how it turned out in the comments below!
Step by Step Instructions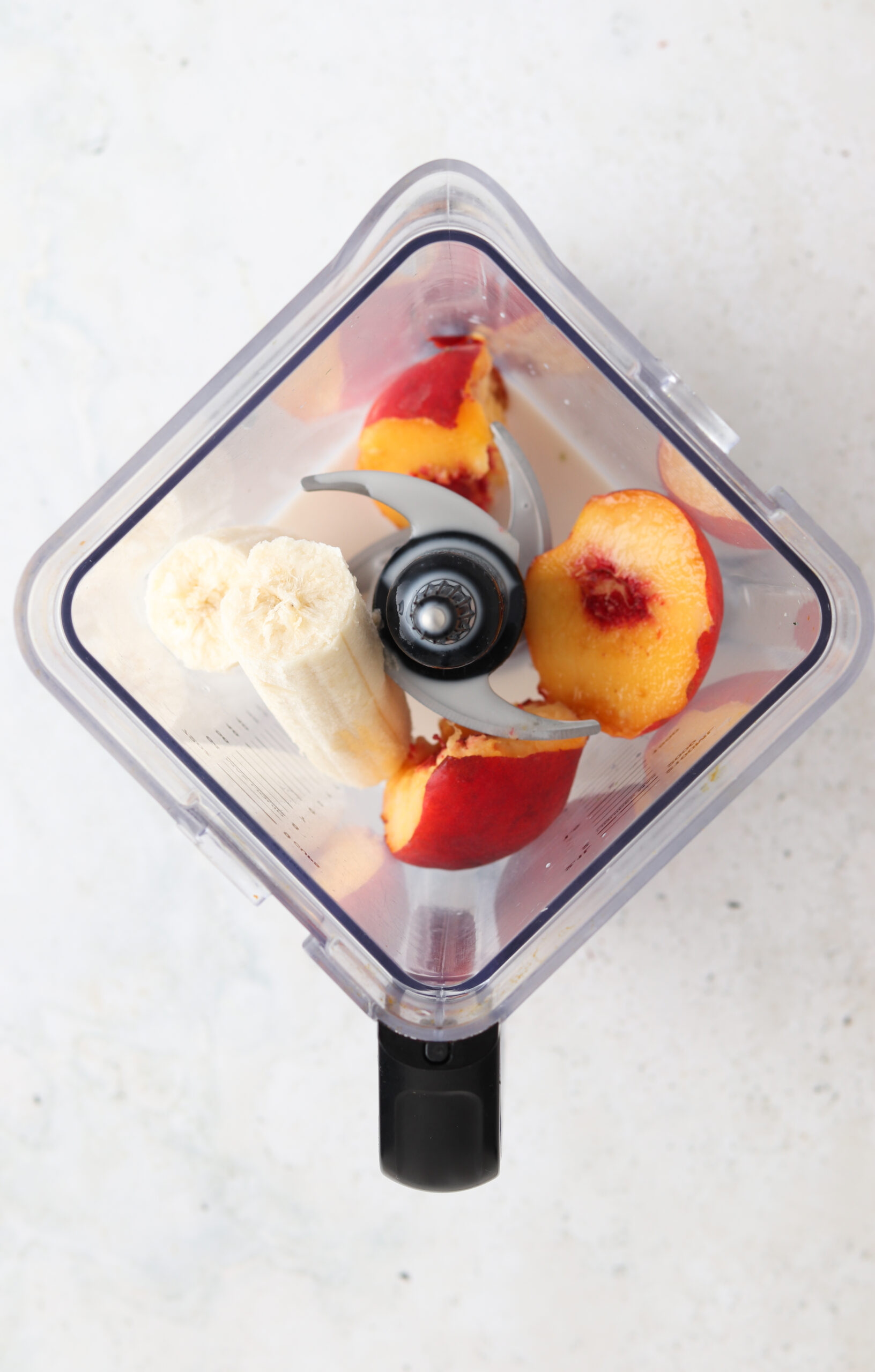 Equipment Needed
Blender – This blender is my number one recommendation to all of my friends and family! It is a great value for what you get and is also great quality. I have had mine for years and it still works great.
Expert Tip
Tip # 1: To save additional time, you can pre-measure your fruit and place in individual bags so that all you need to do is dump your fruit, add your liquids, and blend!
Tip # 2: Make sure you scrape down the sides of the blender and then blend more to ensure the smoothie is fully combined.
Tip # 3: You can change the consistency of the smoothie to smoother by adding additional liquid. Or you can have it be more of a slushy consistency by using frozen fruit or adding ice.
Recipe FAQ
Can I have smoothies on the autoimmune protocol and Whole30?
Yes! What matters is what you put in your smoothies. Typically we suggest staying away from fruit based smoothies when doing both of these diets, however if you add the collagen peptides and greens, you are good to go!
Can I meal prep smoothies?
For sure! I made them at the start of the week for my husband to drink on his way to work. We put them in mason containers, I like these containers. I suggest storing them in the fridge for up to 5 days.
Can I add additional nutrients to this recipe?
Yes! You can add frozen cauliflower or fresh spinach to the smoothie without changing the flavor of the smoothie.
How else can I enjoy this smoothie?
You can either drink this smoothie, or you can turn it into a smoothie bowl and top with your favorite fresh fruit, nuts, nut butters, seeds, and more!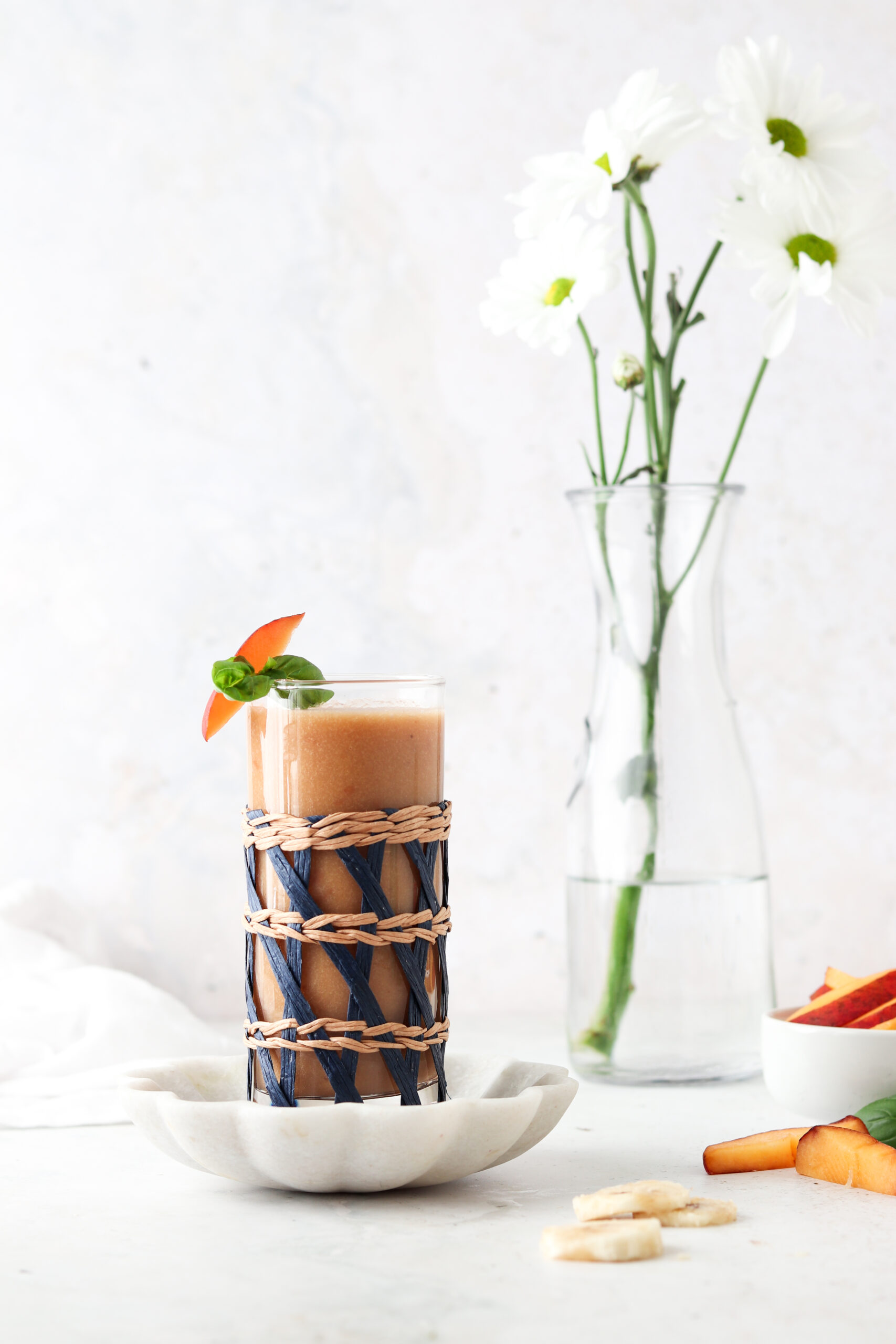 Storage Instructions
This recipe can be stored in the refrigerator for up to 5 days in an air tight container.
I like to store mine in mason jars so that they have air tight lids and I can also just grab and go.
Other Smoothie Recipes You Will Love
Are you interested in getting a list of my go to healthy alternatives?
download your FREE guide below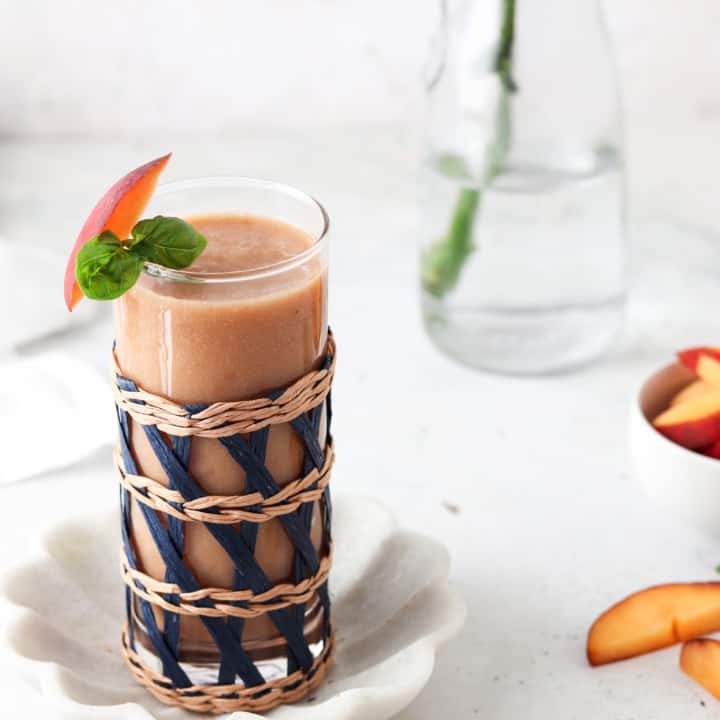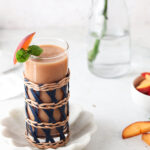 Banana Peach Smoothie
232
kcal
Print Recipe
Pin Recipe
Ingredients
1

whole

peach

make sure it is ripe

1

whole

banana

peeled, frozen if you want your smoothie to be thicker

1

cup

coconut milk

Regular milk if you drink dairy. Trader Joe's canned milk if you are doing the Whole30 or AIP.

2

scoops

collagen peptides

Regular protein powder is ok if you are not doing the Whole30 or AIP. If you are doing it, collagen peptides are the best alternative.
Optional:
handful

mixed greens

This is a must if you are doing the Whole30 or AIP!
Instructions
Place all ingredients in the blender and blend until smooth.
Notes
Storage: This recipe can be stored in an air tight container in the refrigerator for up to 5 days.  Nutrition: The nutrition for this recipe is an estimate and the calorie count is not guaranteed.  It is based on 2 servings. Servings: This recipe should yield 2 servings.
This banana peach smoothie makes for a perfect breakfast or snack alternative.
Serving:
1
serving
|
Calories:
232
kcal
|
Carbohydrates:
5
g
|
Protein:
26
g
|
Fat:
14
g
|
Saturated Fat:
11
g
|
Polyunsaturated Fat:
1
g
|
Monounsaturated Fat:
1
g
|
Cholesterol:
50
mg
|
Sodium:
52
mg
|
Potassium:
217
mg
|
Fiber:
1
g
|
Sugar:
2
g
|
Vitamin A:
82
IU
|
Vitamin C:
1
mg
|
Calcium:
108
mg
|
Iron:
4
mg