These buffalo chicken nugget bites both a crowd pleaser and no one will even know they are paleo and whole30 compliant.  They can function as both a meal, appetizer, or a snack. The crispy breading is what makes these chicken nuggets, nuggets! With two options for the sauce, a homemade one and a store bought compliant buffalo sauce, these nuggets are a no brainer for any occasion.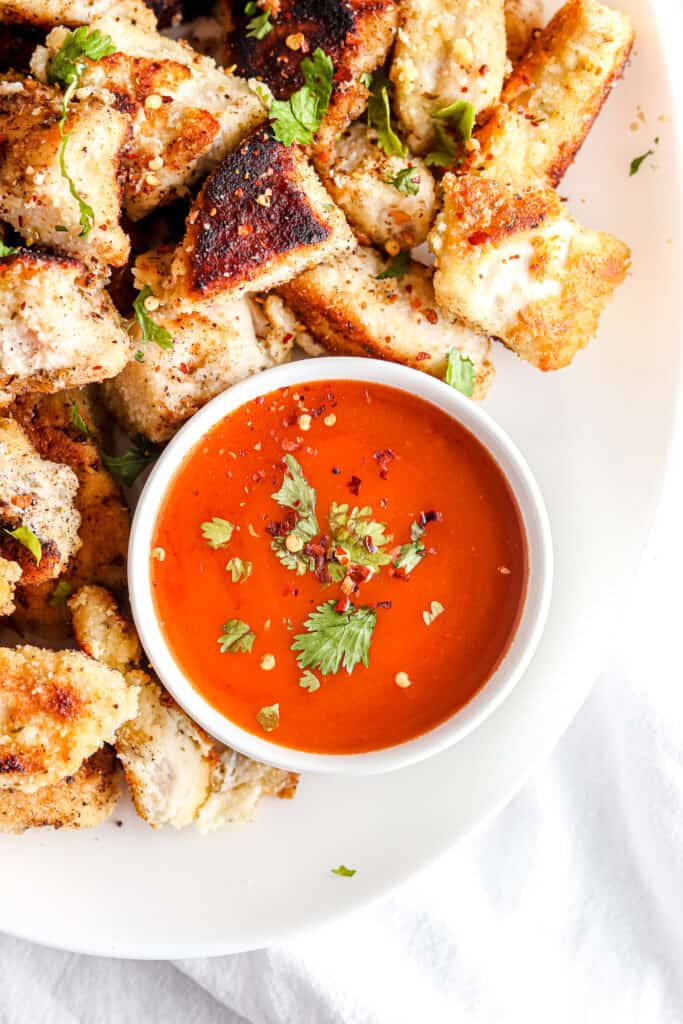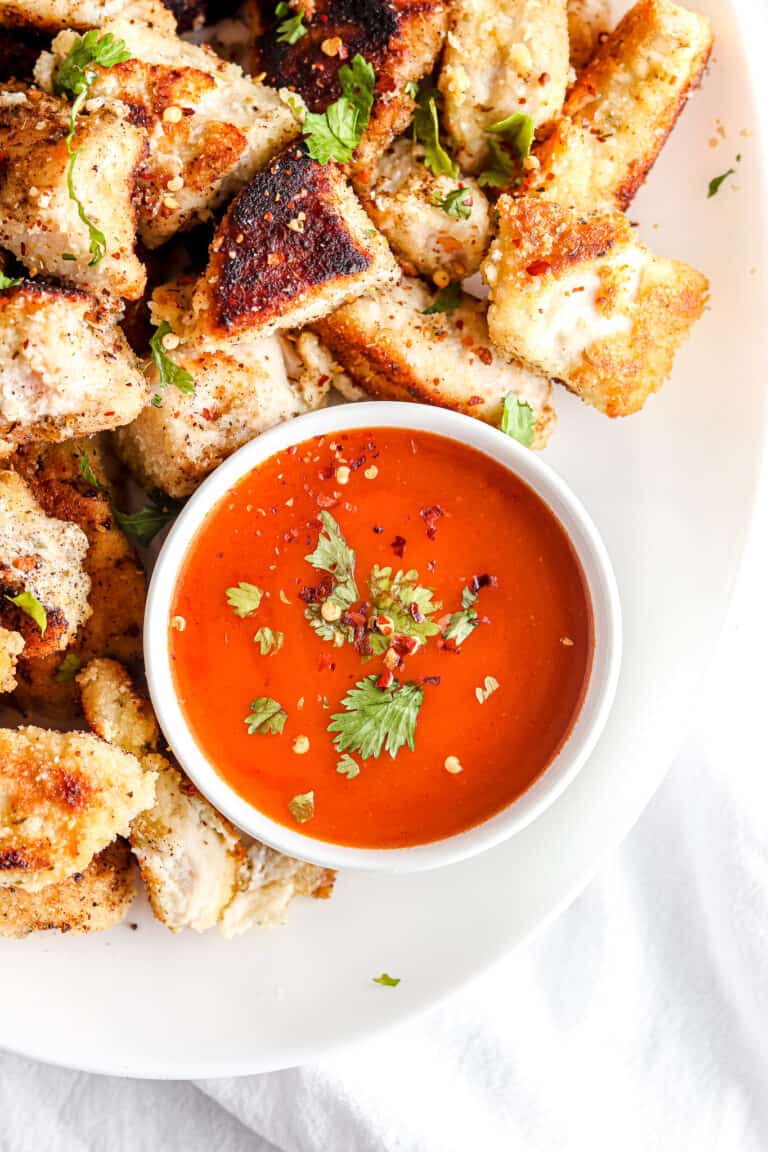 The Ingredients:
For the nuggets:
Chicken breasts-It is best if the breasts are dried with a paper towel and then chopped up into 1 inch cubes. I am a huge fan of kitchen scissors when handling meat. It helps prevent a big mess from taking place!
Eggs-The eggs are used to help the "breading" stick to the chicken breasts. 
Ghee-This gives the chicken nuggets a buttery taste, I prefer ghee almost 99% of the time for stovetop cooking, however if you are strictly dairy free you can use a good quality EVOO or avocado oil. Note:I typically do not have dairy in my diet; however, ghee is the purest form of butter. The milk proteins are removed by burning pure butter, so a lot of people like myself who normally cannot tolerate dairy can have ghee. This is my go to brand of ghee. 
Arrowroot/ tapioca flour- Both of these flours are considered the cornstarch of paleo foods. They are great thickening agents. Neither flours have a scent or flavor. In most recipes you can use the flours interchangeably. I also like to use them both in sauces or jams to thicken things up.
Coconut flour- coconut flour is different than most paleo flours. It cannot be easily substituted because it is made from a coconut. The texture is different so when a recipe calls for coconut flour, use it! Do not substitute it. 
Salt and oregano- Adds the perfect amount of spice to these nuggets. You can also use paprika, cayenne, or crushed red chili peppers if you want to add a kick to the nuggets. I am not a huge spice fan, so the buffalo sauce alone did the job for me 🙂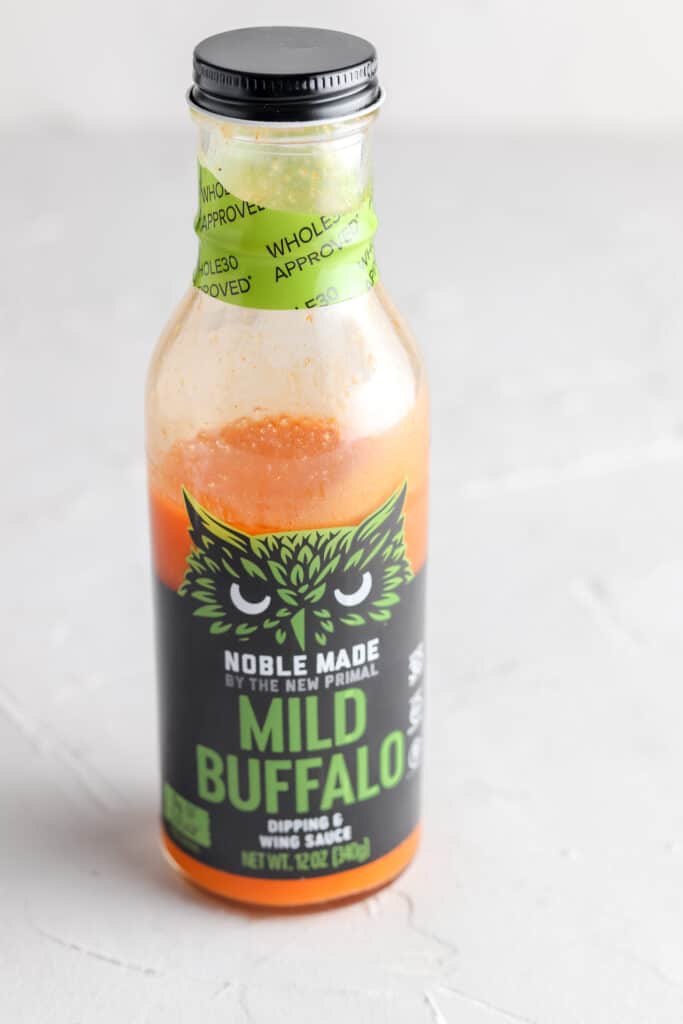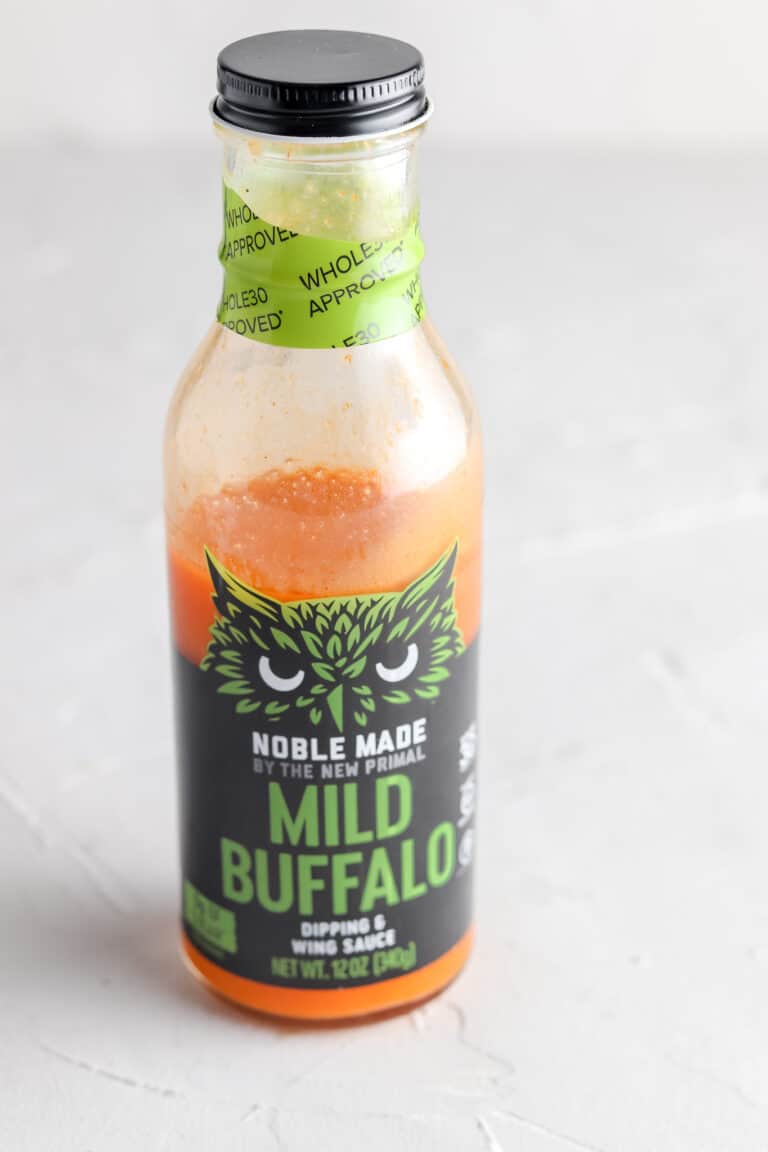 For the Whole30 Buffalo Sauce:
You have two options, you can buy my favorite store bought buffalo sauce brand or you can make your own with the recipe below. This is my favorite store bought brand. As for the homemade sauce, make sure you are buying a whole30 and paleo compliant hot sauce. That is important! Most brands have hidden dairy and other ingredients we do not even think of. This is my go to brand.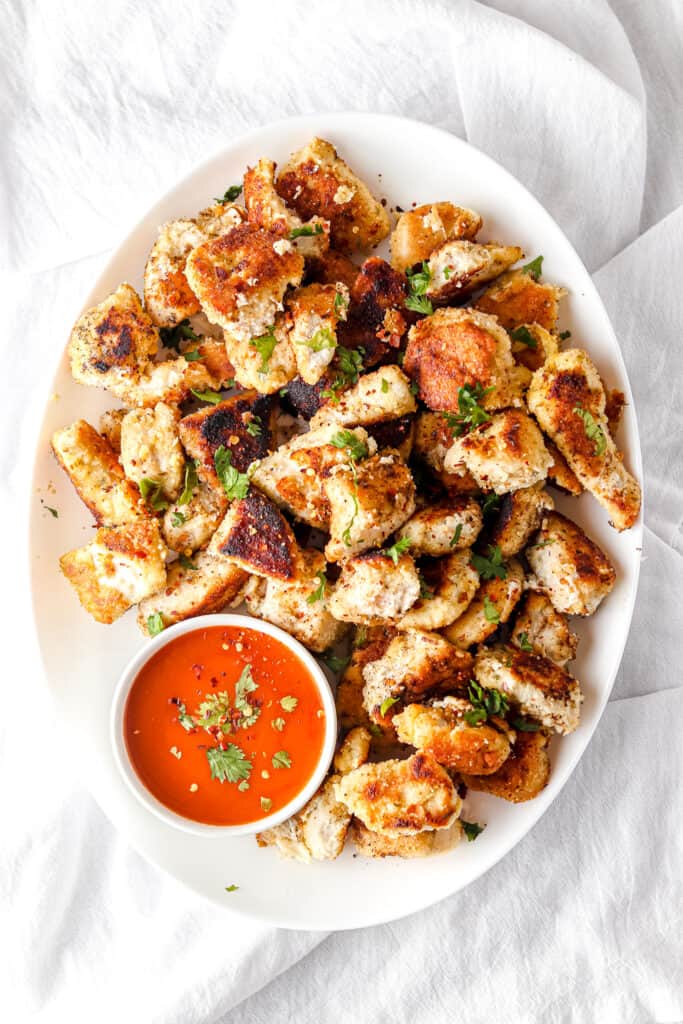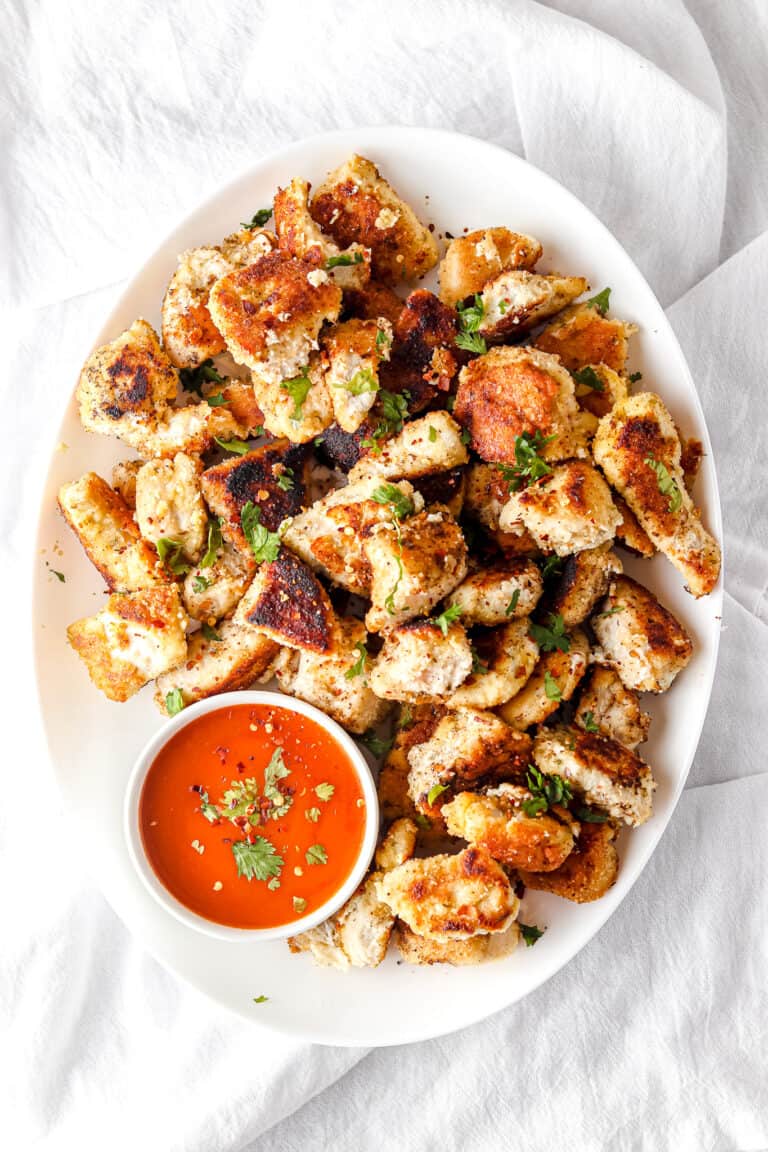 How to Make:
Be sure to use a nonstick frying pan! That makes everything easier. I like to dip my chicken bites in the eggs and breading mixture before I fry them, that way everything is ready to go. Be sure to add more ghee in between batches or the nuggets will stick. 
How to Store:
You can store the nuggets in an airtight container in the fridge for up to 5 days. Be sure to wait to add the sauce until prior to serving or else it will make the chicken nuggets mushy.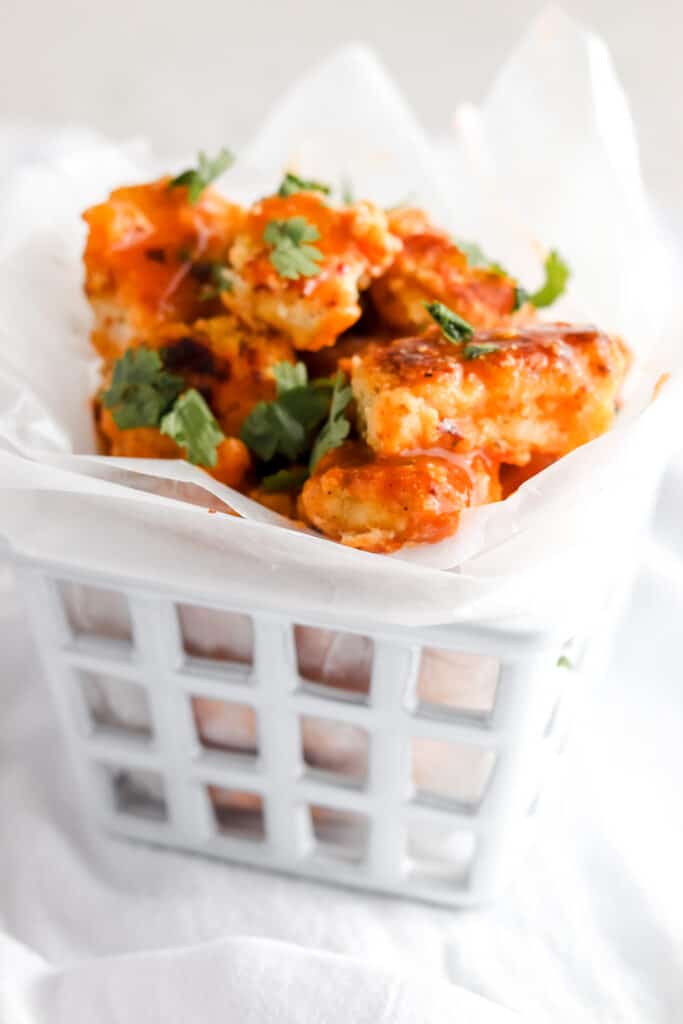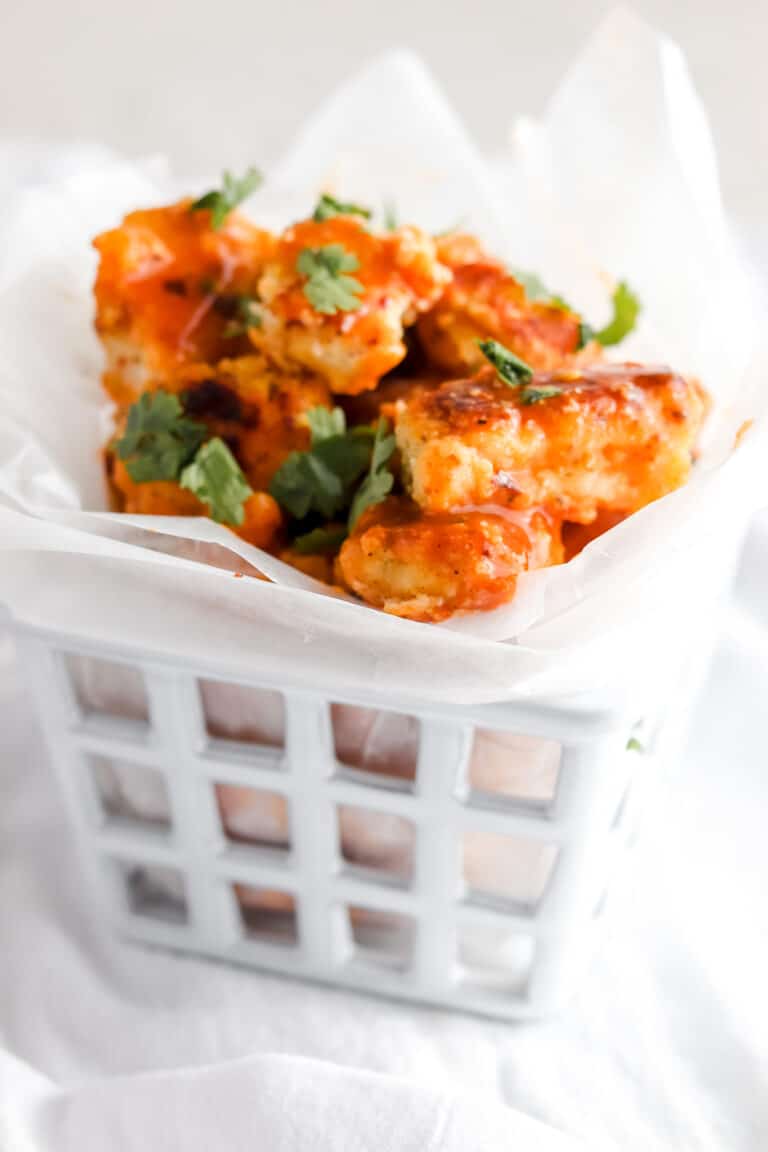 If you like this recipe, you will LOVE:
5 Ingredient Buffalo Chicken Dip
Everything Bagel Seasoned Chicken Wings
Chicken Meatballs in Coconut Curry Sauce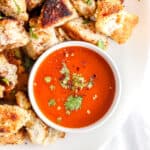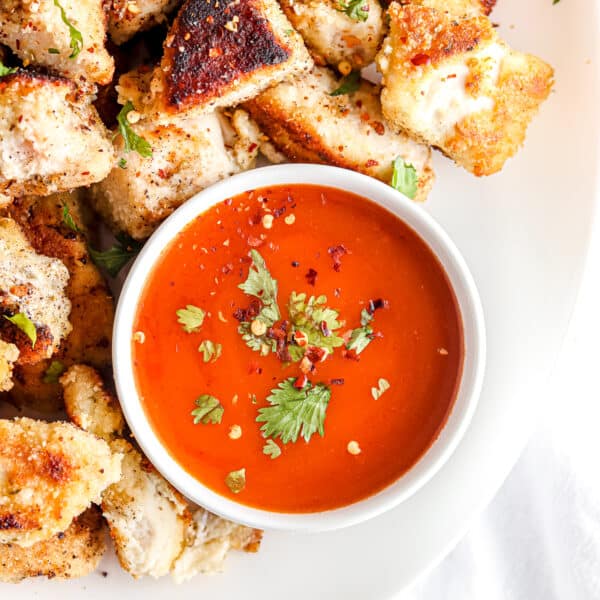 Chicken Nuggets With Buffalo Sauce | Paleo, Whole30
Print Recipe
Pin Recipe
Equipment
mixing bowls

cutting board

kitchen knives

measuring spoons

frying pan

tongs

kitchen plates
Ingredients
For the store bought buffalo sauce:
Instructions
For the chicken nuggets:
Dry pat the chicken breasts with a paper towel. Begin by using kitchen scissors to cut the chicken breast into 1 inch chunks.

Designate an area on your counter where you will prepare the nuggets. In one bowl, combine the flours and spices.

Crack the eggs into a seperate bowl and whisk them together. Set the bowl with the flours and spices next to the bowl with the egg wash.

Next, dip each piece of chicken first into the egg wash, then into the flour mixture to coat. Set on a plate until ready to place into the frying pan. Be sure to coat all of the nuggets prior to beginning the frying process.

Heat a frying pan over medium heat with 2 tbsp ghee for 30 seconds to 1 minute. Place half the batch of nuggets into the pan.

Leave the chicken untouched for 3 minutes. Flip and allow another 3 minutes for the chicken to cook. The exterior should appear golden brown and crispy upon flipping the nuggets to the other side. Be sure to cut through one of the nuggets on the side to be sure they are cooked throughout. No pink should be showing.

Between batches of nuggets, add another 2 tbsp ghee to the frying pan. Allow the ghee to melt, and repeat the frying process.

Once chicken is cooked through, place on a plate lined with paper towels. Allow to cool for about 5 minutes, then place in a mixing bowl and toss with buffalo sauce.

ENJOY! I would be so greatly appreciative if you left a review and star rating in the comments section below, took a picture of your yummy soup and tagged me on instagram @alliannaskitchen or shared the link to this recipe with a friend.
For the sauce homemade sauce:
Mix all ingredients in a sauce pan and simmer for 10 minutes.
Notes
You can store the nuggets without the sauce in the fridge for up to 5 days!
These buffalo chicken nuggets are crispy on the outside and tender on the inside, offering a zesty kick with each bite. They would be perfect as a snack or a meal, and are packed with protein!