These gluten free chocolate donuts with pumpkin maple cream frosting are officially my favorite fall treat. The almond cream based frosting paired with pumpkin and sweetened with pure maple syrup bring out all of your favorite fall flavors! These donuts are a crowd pleaser and simple to make.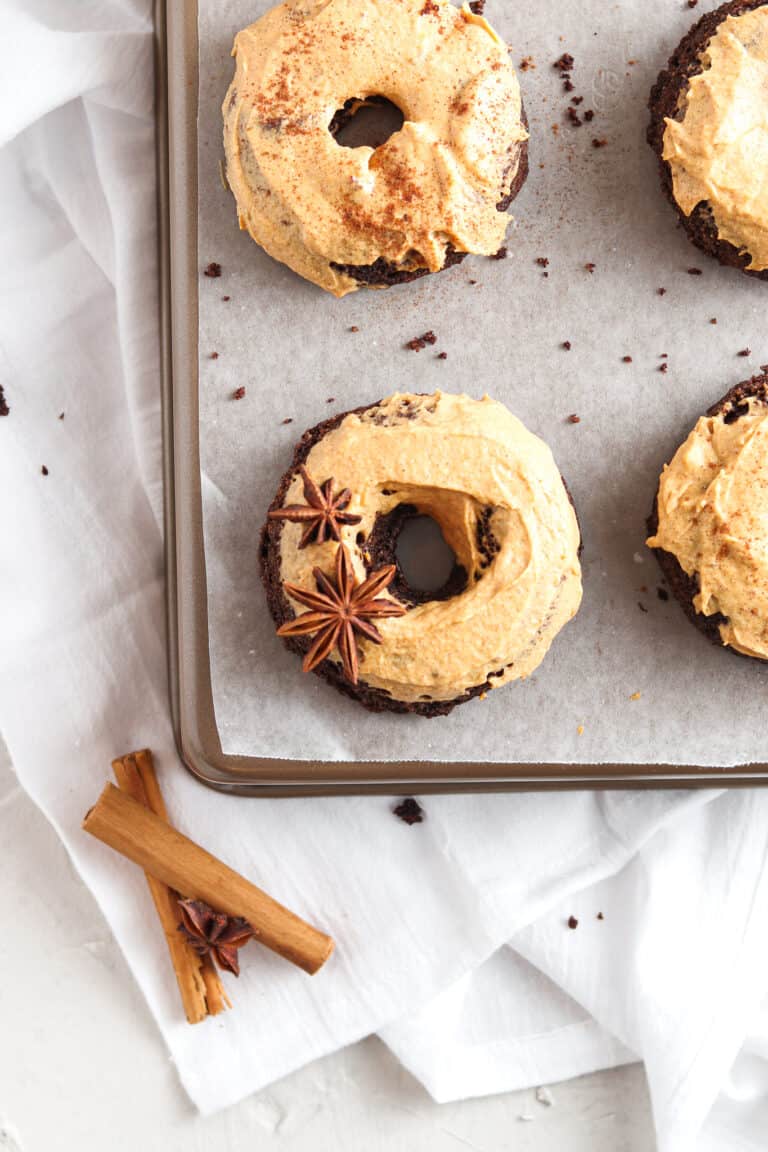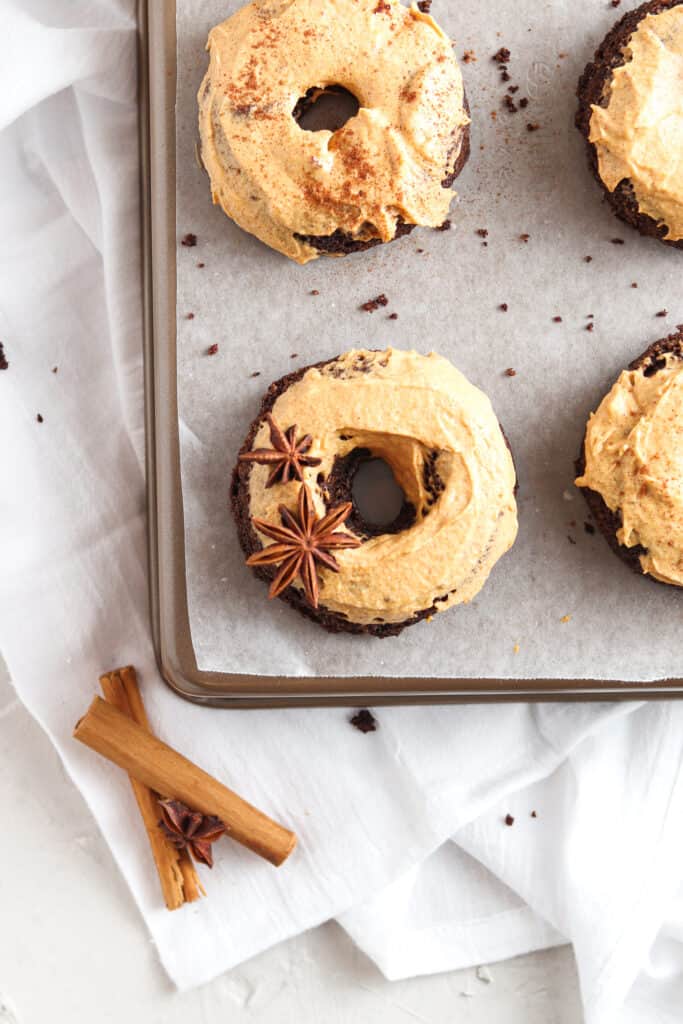 What You Need For Gluten Free Chocolate Donuts
Almond flour- my go to base in gluten free baking. This cannot be subbed out. Keep in mind not all gluten free flours are made equally, therefore, if a recipe calls for almond flour. Be sure to use it!

Cocoa powder- this is what is going to give your donuts that chocolate flavor. Make sure your cocoa powder does not have added sugar in it. You need plain cocoa flour for this recipe.I like using the Trader Joe's cocoa, but any brand will work!

Baking soda- do not skip this small ingredient! Baking soda is needed to make the donuts rise. 

Eggs-the eggs are used to bind all of the ingredients. I like using cage free eggs, but any kind of chicken eggs could work. I have yet to test this recipe using flax eggs. 

Maple syrup-the syrup is used to sweeten the donuts. If you are like me and do not like things overly sweet ½ cup is the perfect amount, if you like things to be sweeter, you can add a little more maple syrup. Make sure you buy pure maple syrup, I like Costco's brand. Like a lot of ingredients some brands add in extra sugar in it, which I do not recommend using. 

Olive oil spray- I use Trader Joe's olive oil spray to spray the donut tin to ensure that they do not stick. This is a crucial step! If you don't have spray olive oil, another type of oil should work.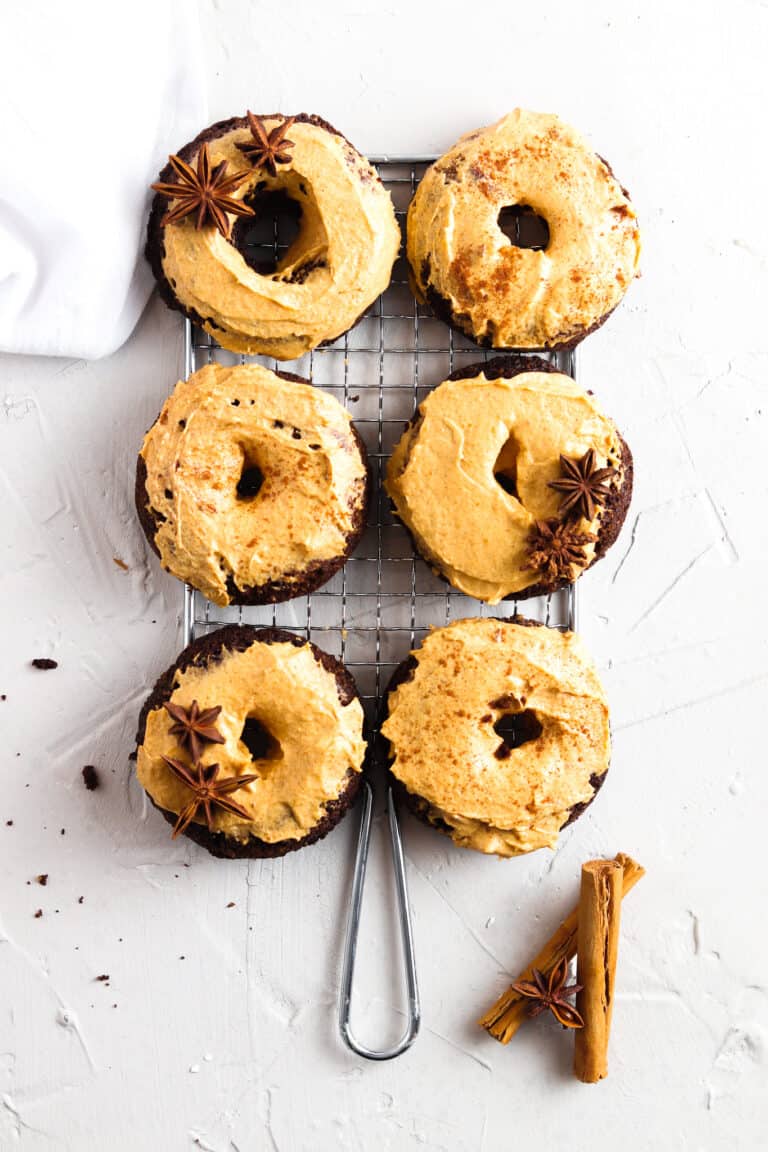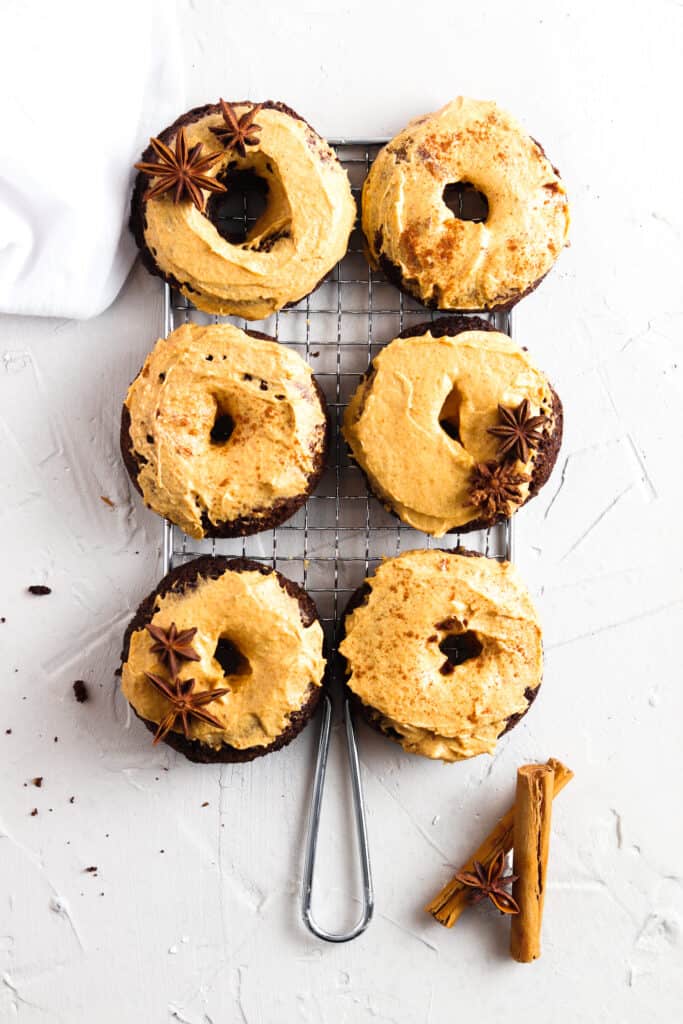 For the frosting:
Almond cream cheese- I am obsessed with the Kite Hill Brand. It is naturally dairy free and made from almonds. I like almond based cream cheeses over soy based because personally I believe they taste richer and actually like cream cheese. If you tolerate dairy you can use regular cream cheese for the frosting. 

Maple syrup- This is what sweetens the frosting and gives it that maple flavor. If you like things extra sweet, you can continue to add one tablespoon of maple syrup to the frosting until you reach your desired level of sweet.

Pumpkin- Make sure you are buying pure canned pumpkin. Most cans have other added ingredients which are not necessary for this recipe. I like the Trader Joe's brand so much that I went and bought 15 cans to stock up for fall baking 🙂

Ghee-you can omit the ghee, but I like it because it adds a buttery taste to the frosting.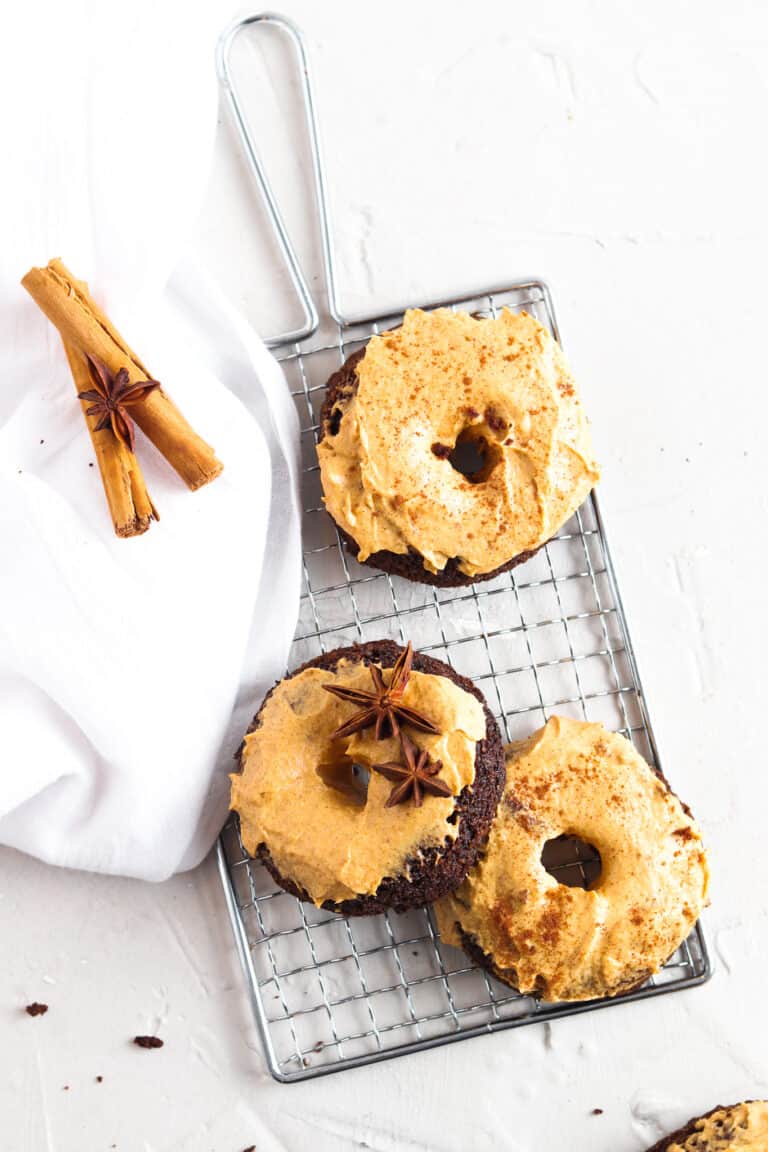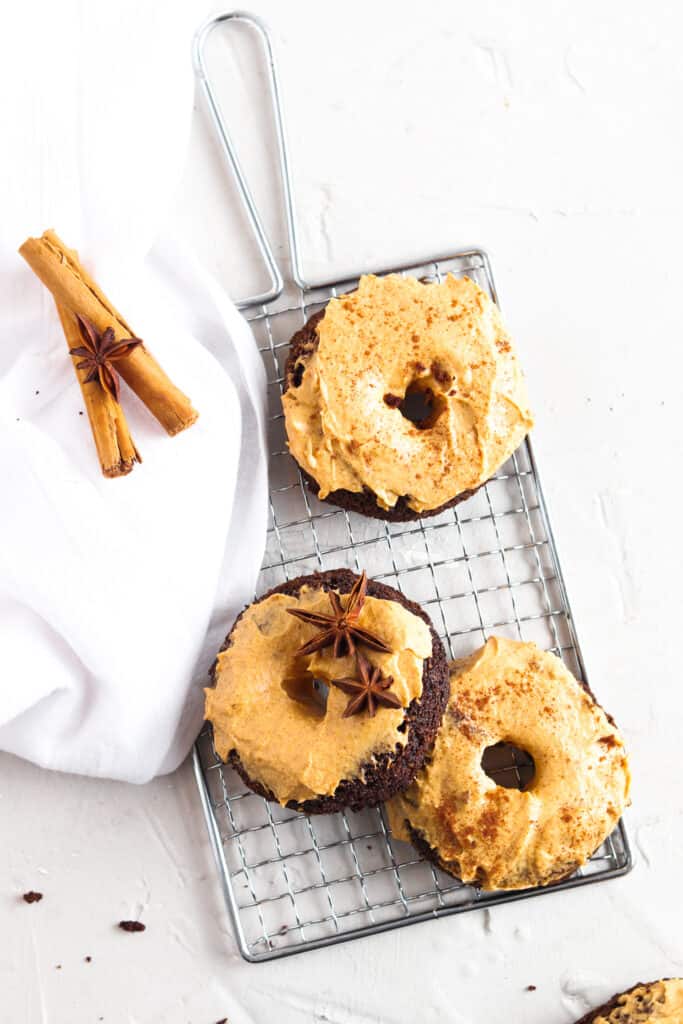 Equipment For These Gluten Free Chocolate Donuts:
Donut pans- I use these

donut pans

. You can also use

silicon ones

, which could help prevent them from sticking.

Hand mixer

-This is to be used for maxing the frosting!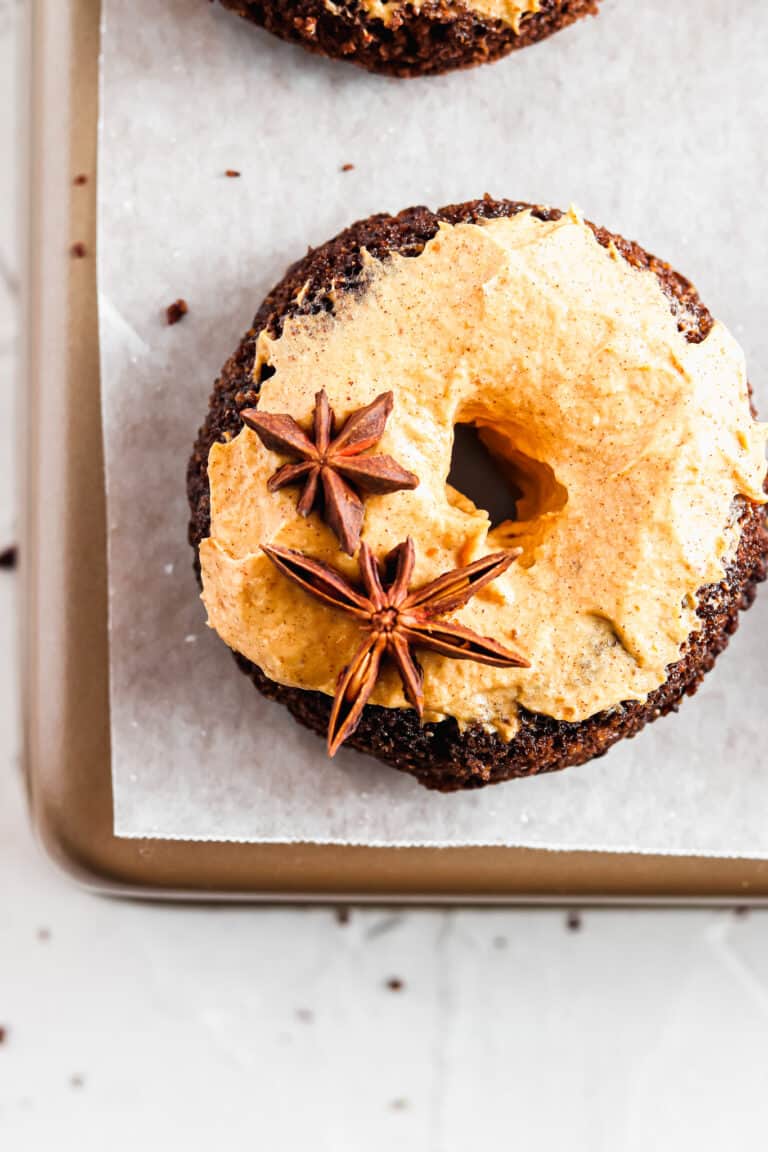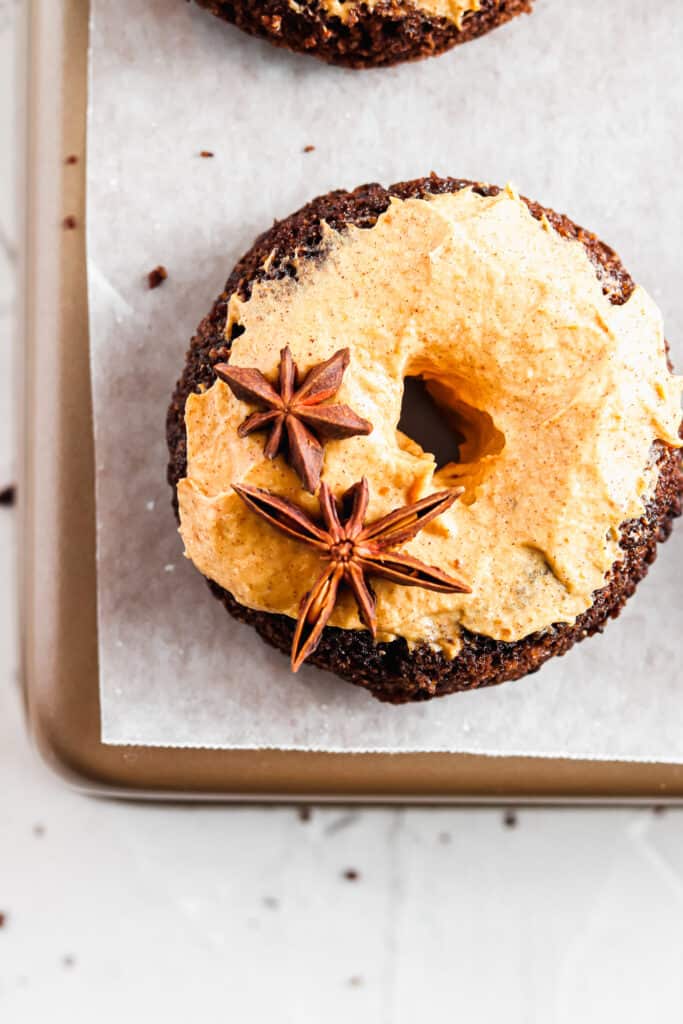 If you like this recipe, you will LOVE: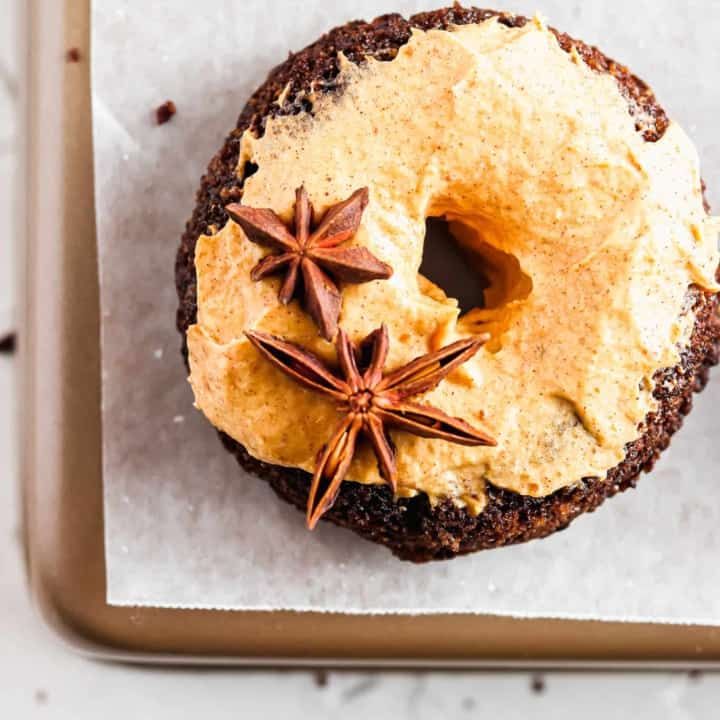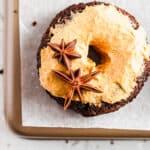 Gluten Free Chocolate Donuts with Pumpkin Maple Cream Frosting
Print Recipe
Pin Recipe
Equipment
mixing bowls

electric mixer

donut molds (linked above)

icing spatula
Ingredients
For the donuts:
1 1/2

cup

almond flour

1/2

cup

cocoa

1

tsp

baking soda

1

tsp

cinnamon

4

egg

1/2

cup

maple syrup

olive oil spray
For the icing
2/3

cup

canned pumpkin

1

tsp

cinnamon

1

tbsp

ghee

2/3

cup

maple syrup

For a sweeter icing, add maple syrup 1 tbsp at a time until desired taste is met.

1

container

Kite Hill Plain Cream Cheese

If you aren't dairy-free, substitute with 8 oz regular cream cheese.
Instructions
For the frosting:
Add all listed ingredients to a bowl and use an electric mixer to combine.
For the donuts:
Gather two mixing bowls and required ingredients. Begin by adding and incorporating all dry ingredients in one mixing bowl.

In a seperate bowl, add and whisk together all wet ingredients.

Slowly add and mix the wet ingredients into the dry ingredients.

Spray donut molds with olive oil spray, then spoon batter into each mold, filling to just beneath the brim of each mold.

Place in oven for 16 minutes. Once finished baking, remove and let doughnuts sit in their molds for about 10 minutes to cool. During this time, use a spoon to edge around each donut. This separates the edges from the pan and makes it easier to remove them from the molds.

After cooling, use a spoon to remove the donuts from the molds. The best way to do this is to use the spoon to lift and twist each doughnut from its mold.

Adding the donuts to the freezer for about 10 minutes prior to frosting will help the frosting stick to and spread evenly on the surface of each doughnut. 

Using a kitchen knife or icing spatula, spread desired amount of frosting on each donut. Frost the side that was facing down in the donut pan. Garnish with anise stars, cinnamon, and cinnamon sticks.

ENJOY! If you make this recipe I would love it if you shared the link to this recipe with a friend, left a comment below or tagged me on instagram with a picture @alliannaskitchen
Notes
Store the donuts in the fridge for up to a week. 
Perfect for fall, these donuts have subtle notes of chocolate and cinnamon, with a delectable cream cheese pumpkin frosting on top.