These AIP breakfast sausage patties are perfect for meal prep. The combination of nutty and minty tasting fresh sage leaves with the cinnamon, pure maple syrup, and blueberries make these patties oh so delicious. This egg-free breakfast option is naturally low carb. With these patties taking less than 30 minutes to make we love making them at the start of the week so we have breakfast planned and ready to go.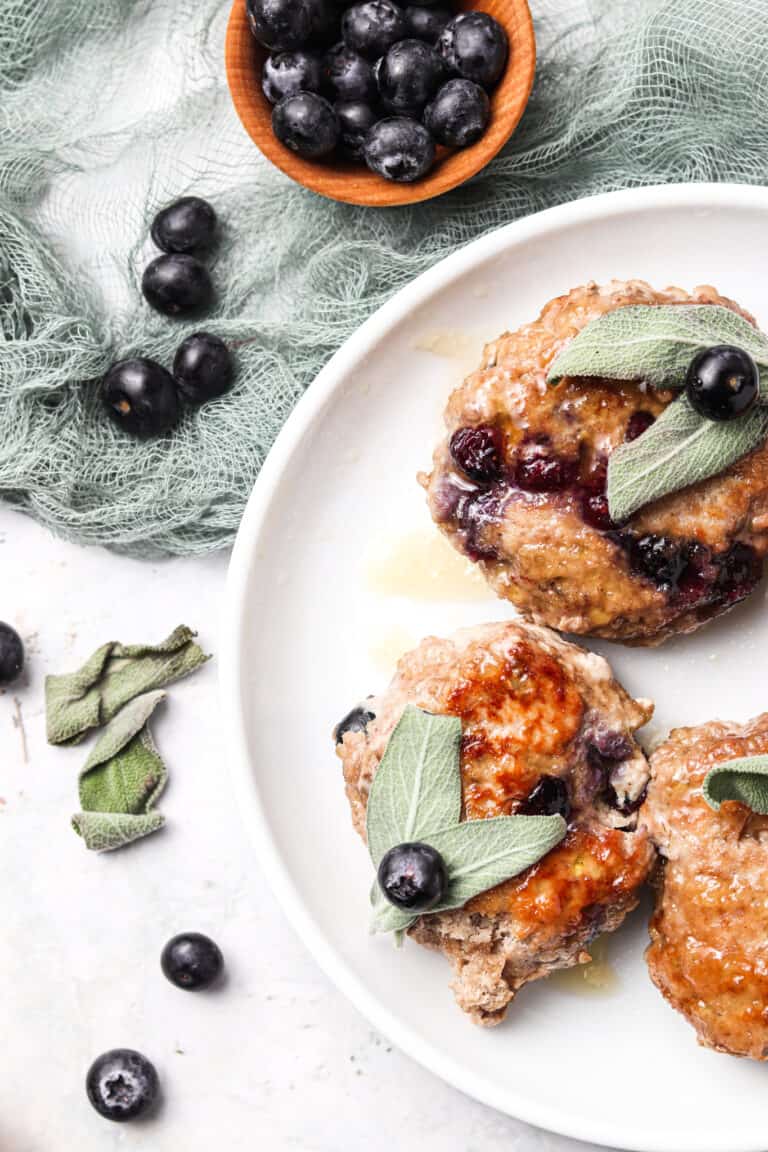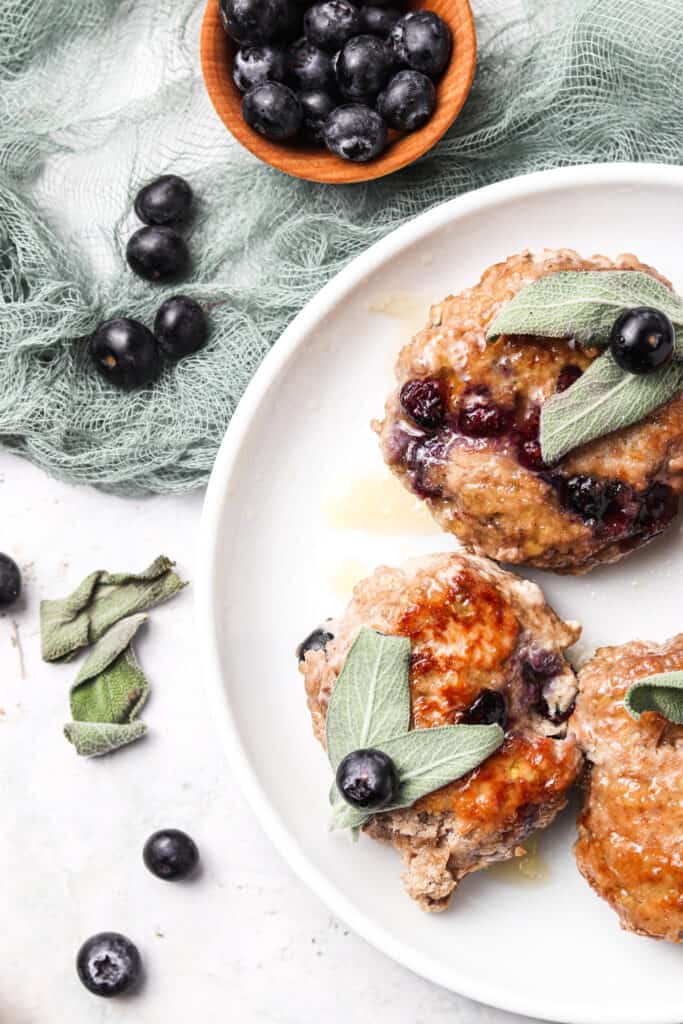 What You Need Need To Make Aip Breakfast Sausage:
Ground turkey- Ground turkey is my go-to nowadays for all things with breakfast. Pork can be rough on the stomach, especially those doing AIP. However, you can sub for pork if you would like. As far as the turkey meat goals, I always prefer the darker meat because it naturally has more flavor, both will work!

Sage-The natural nutty and minty flavors from the fresh sage give these AIP breakfasts sausages a nice kick. This recipe calls for fresh sage vs. dried sage.

Ginger-This is a staple in a lot of my paleo recipes. Fresh ginger can give dishes a nice zest. Fresh ginger can taste both peppery and sweet in a dish. 

Pure maple syrup- My go-to sweetener in AIP baking and cooking. When buying maple syrup make sure it is the pure stuff. Check out the ingredients to be sure there are no extra added ingredients. I like the Kirkland brand from Costco. It is pure and you get the best bag for your buck. The only ingredient is pure maple syrup. 

Cooking spray- I like to use Trader Joe's cooking spray, but anything will work. The oil is only used to prevent the patties from sticking to the pan.

Garlic & salt- Add a bit of extra flavor. 

Blueberries- You can use fresh or frozen. Both will work great.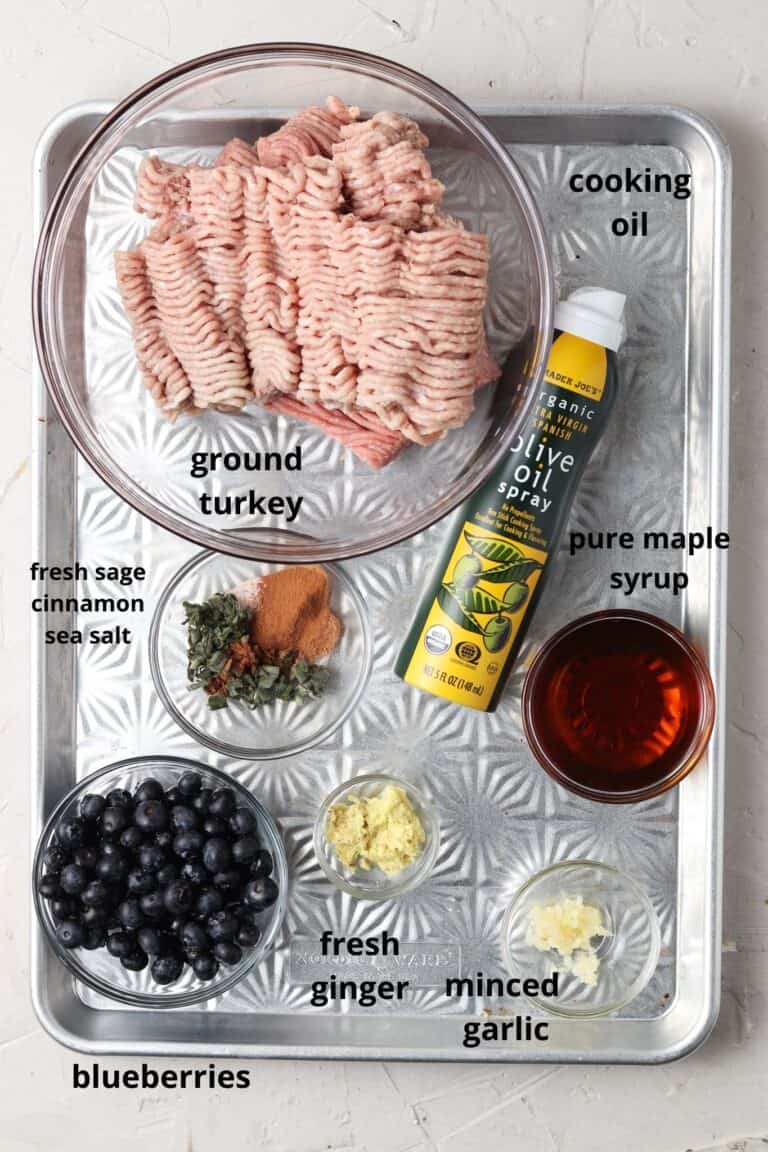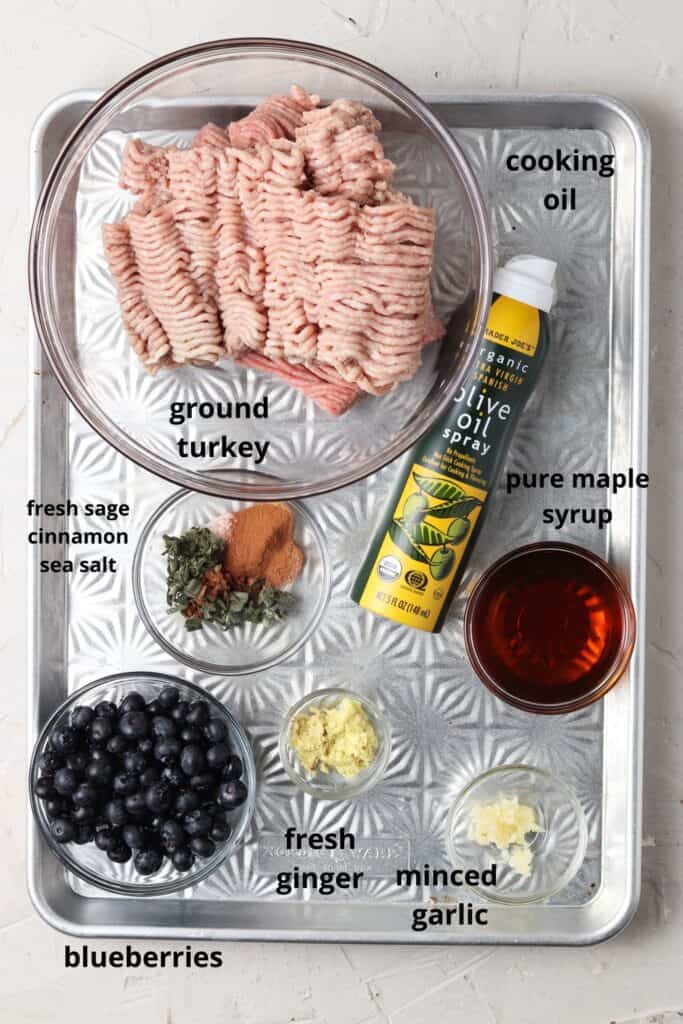 How To Make These Maple Blueberry Turkey AIP Breakfast Sausage Patties:
If you have not already yet, I highly suggest investing in a

nonstick frying pan

. This will save you SO much time in the kitchen both cooking and cleaning up.

First thing is first you want to mix all ingredients in a mixing bowl with your hands. 

Then, you want to have a clean plate handy. Now it is time to divide up the meat into 10 patties. Set them on the plate.

Next, turn the frying pan on medium high. Add the oil. If your frying pan is nonstick  free as some you will want to add even more oil to ensure that the patties do not stick. 

Once the oil and pan heats up, add 5 or so patties to the pan and let them sit for 6 minutes, then flip the patties. At this point, you want the patties to be cooking at a medium heat. 

If your frying pan is not big enough to cook all of the patties at once, you will now do the second batch. Keep in mind it is not ideal for the patties to stick, so be sure you spray the pan again in between batches to prevent them from sticking.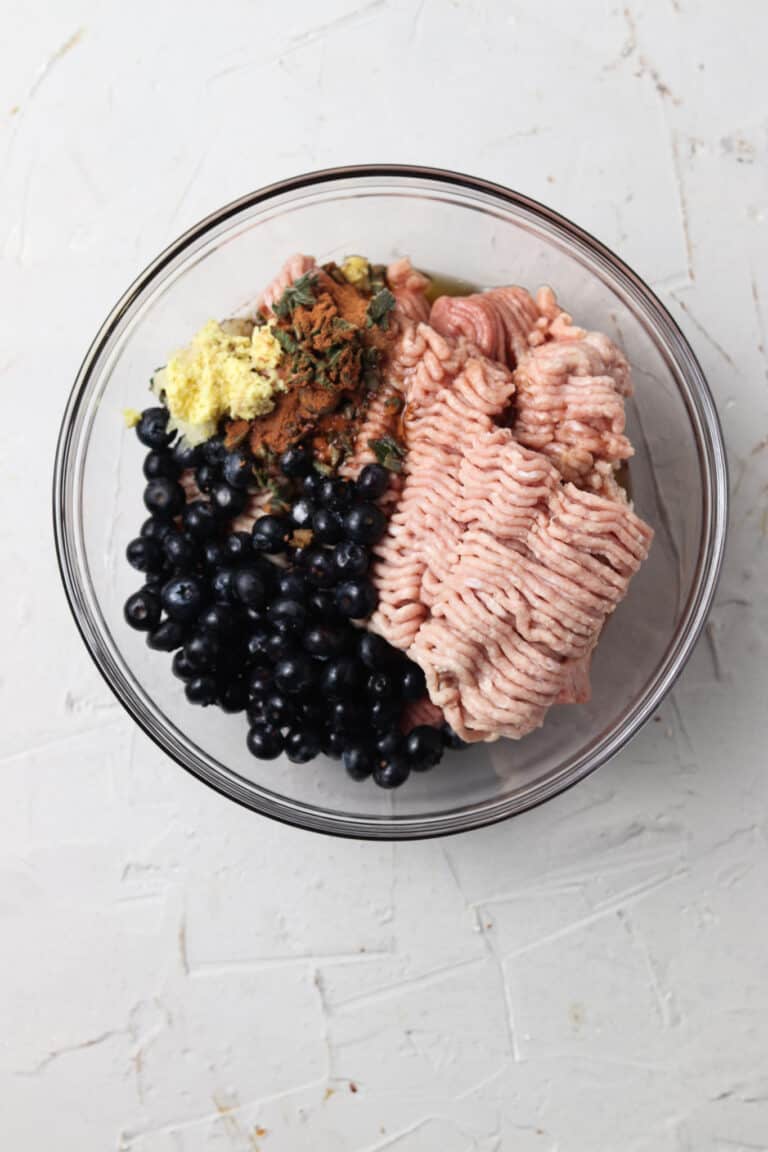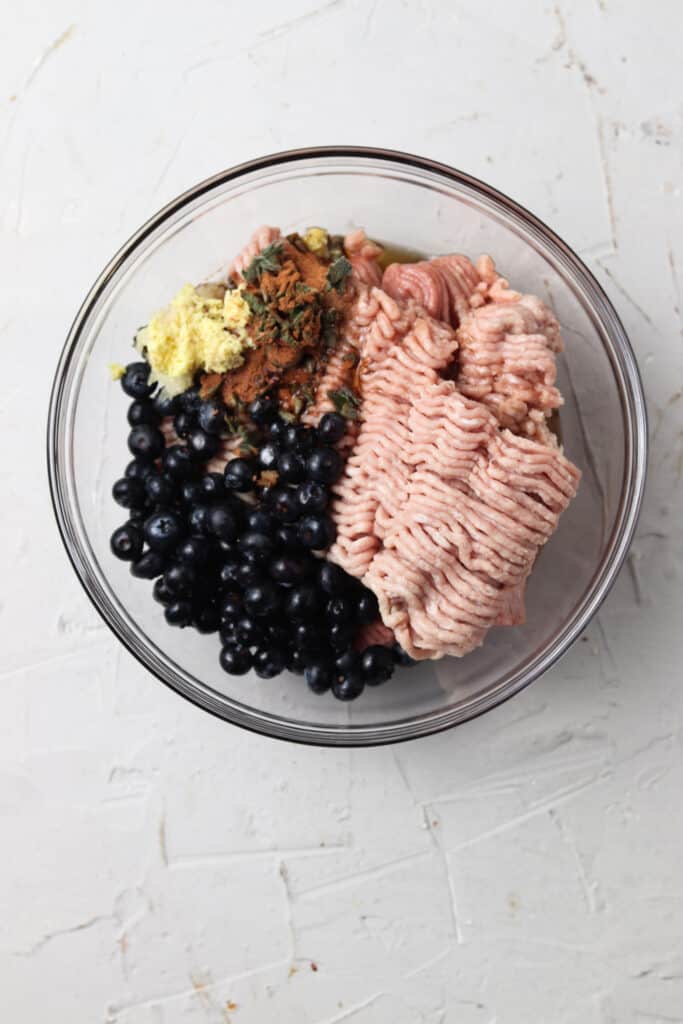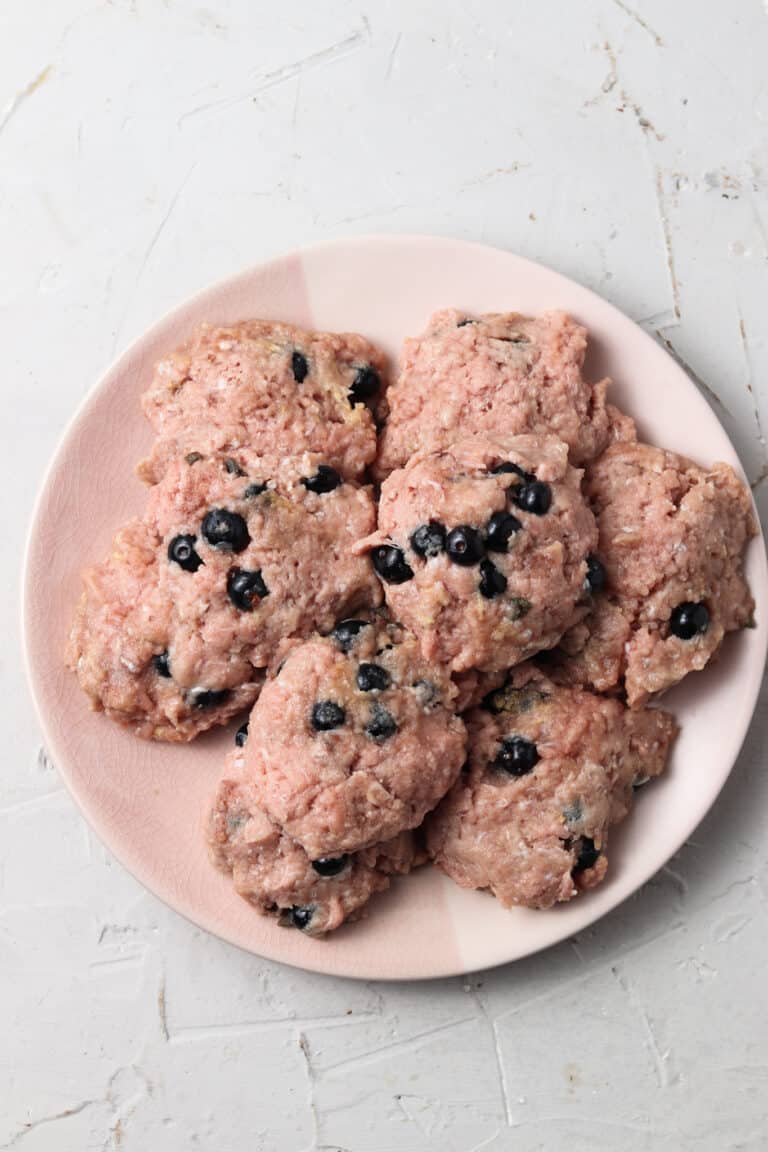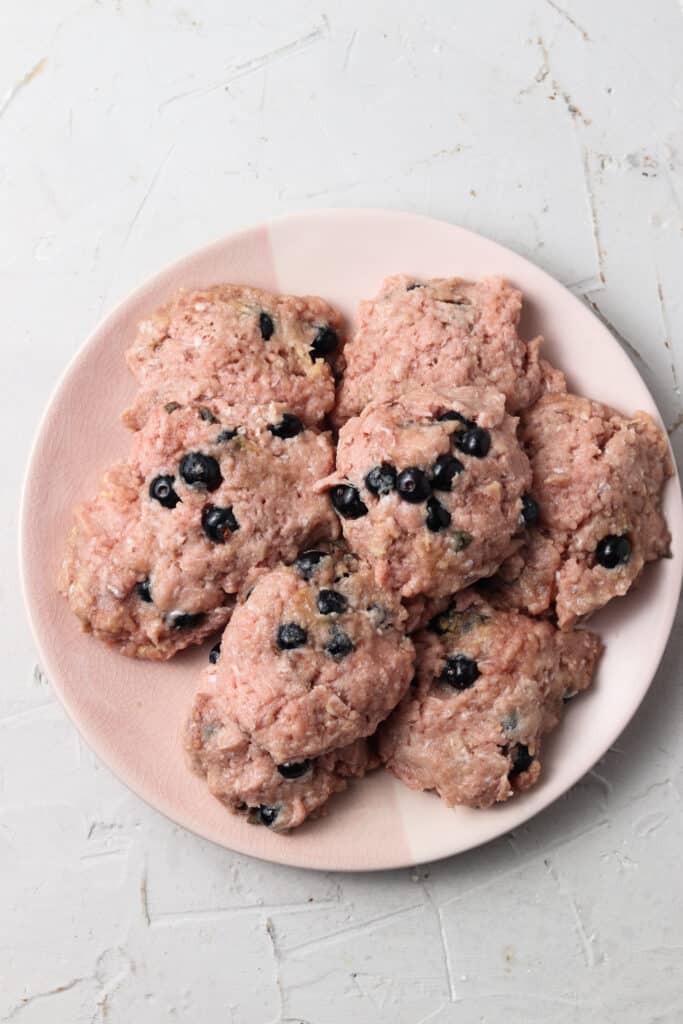 How To Reheat Breakfast Sausage:
If you do not want your meat rubbery, do NOT reheat it in the microwave. 

I am a big pan of reheating the breakfast sausage in the toaster oven for 5 minutes on 350 or even on the stove top. You can throw the patties in there when you are sautéing your eggs! I have never had a problem with the meat drying out.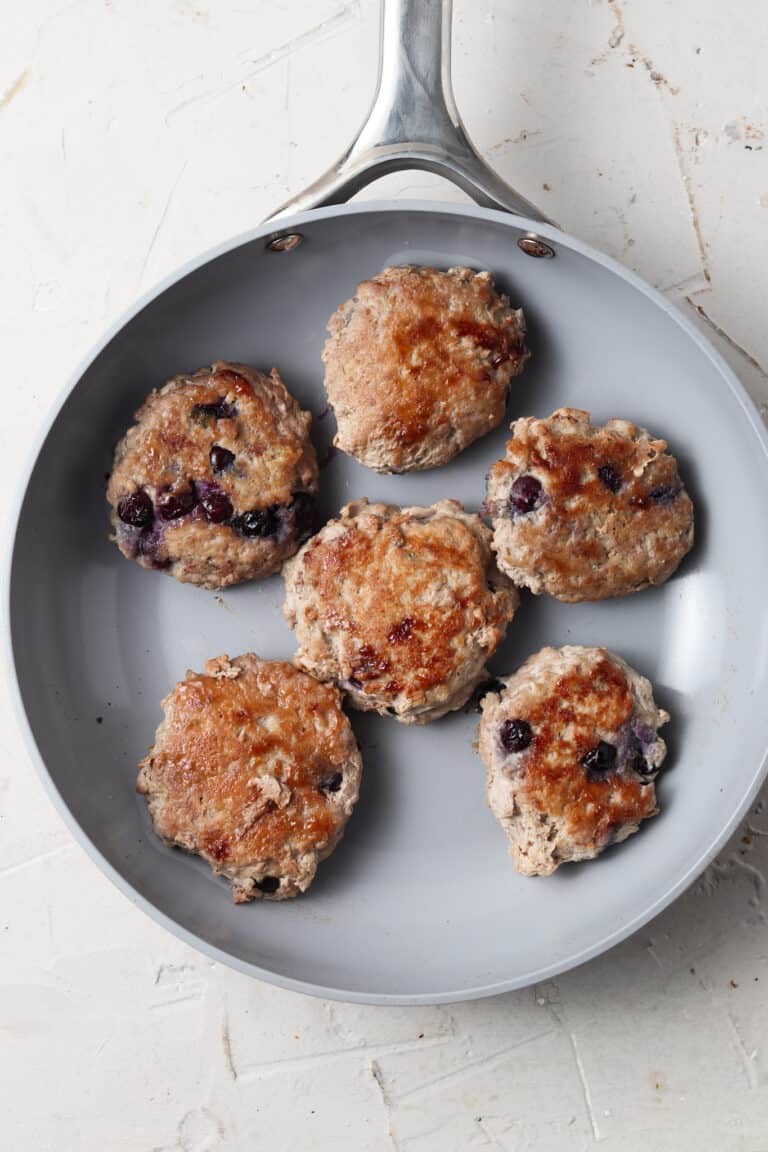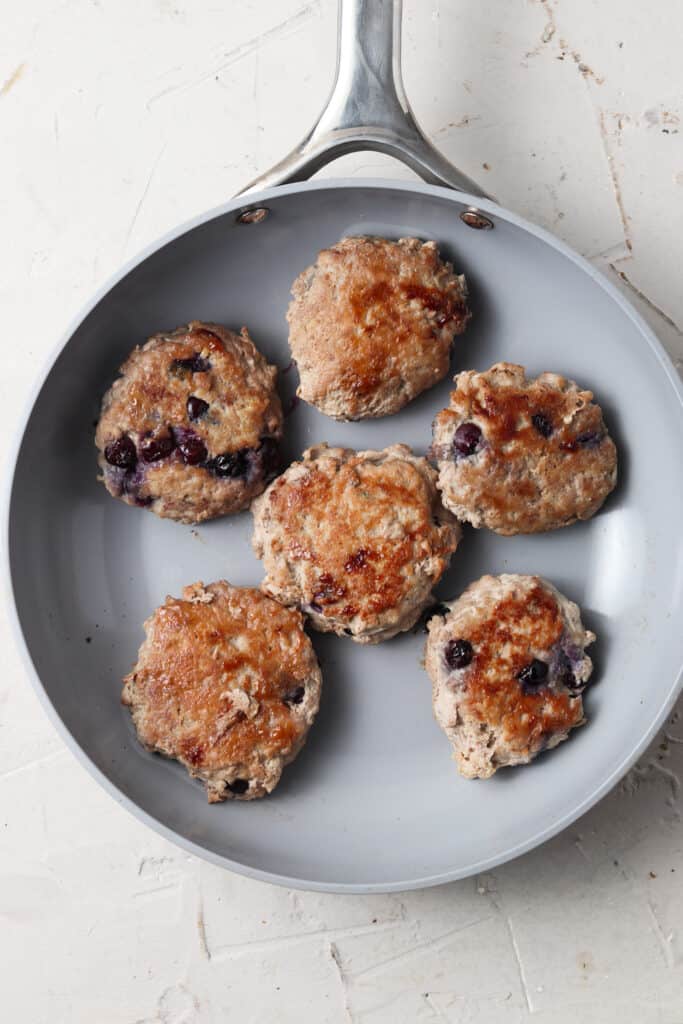 Can I Freeze These Patties?
Yes! I suggest freezing them in a

glass container

in a single layer. If you want to layer them be sure to place a sheet of wax paper in between. Be sure to wait until the patties cool before putting them in an airtight glass container and then in the freezer. I have only frozen them for a 2 week period.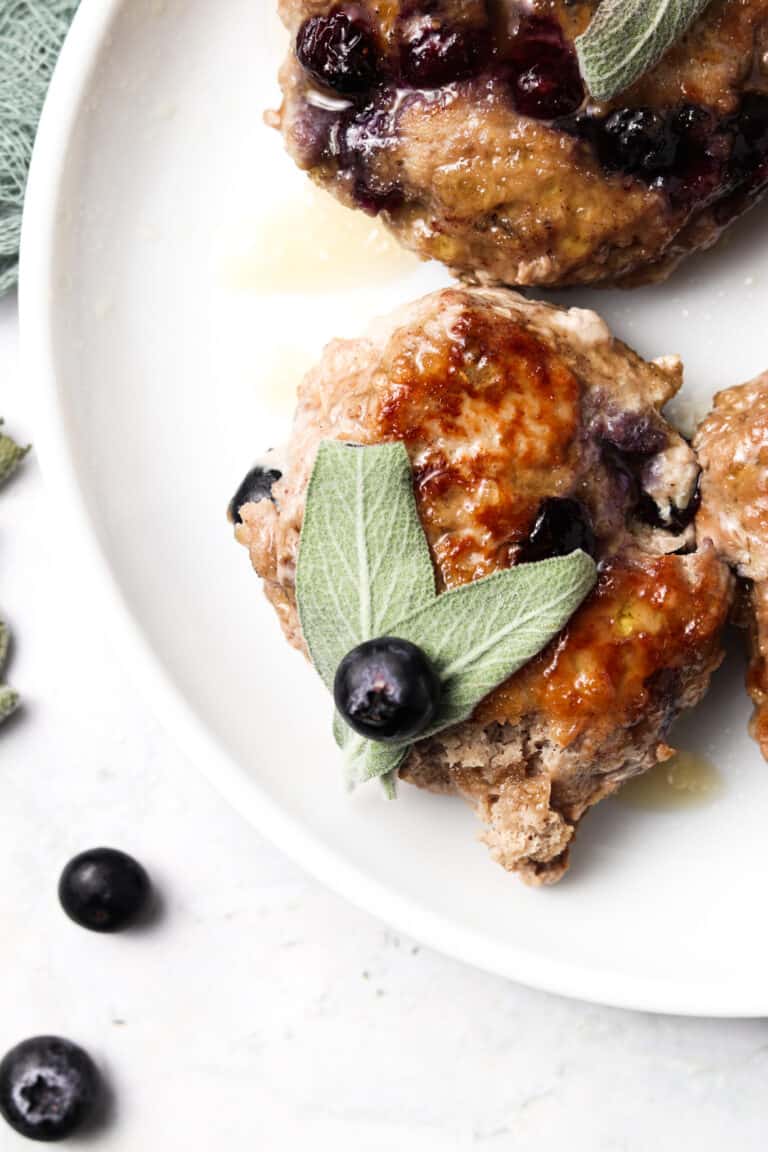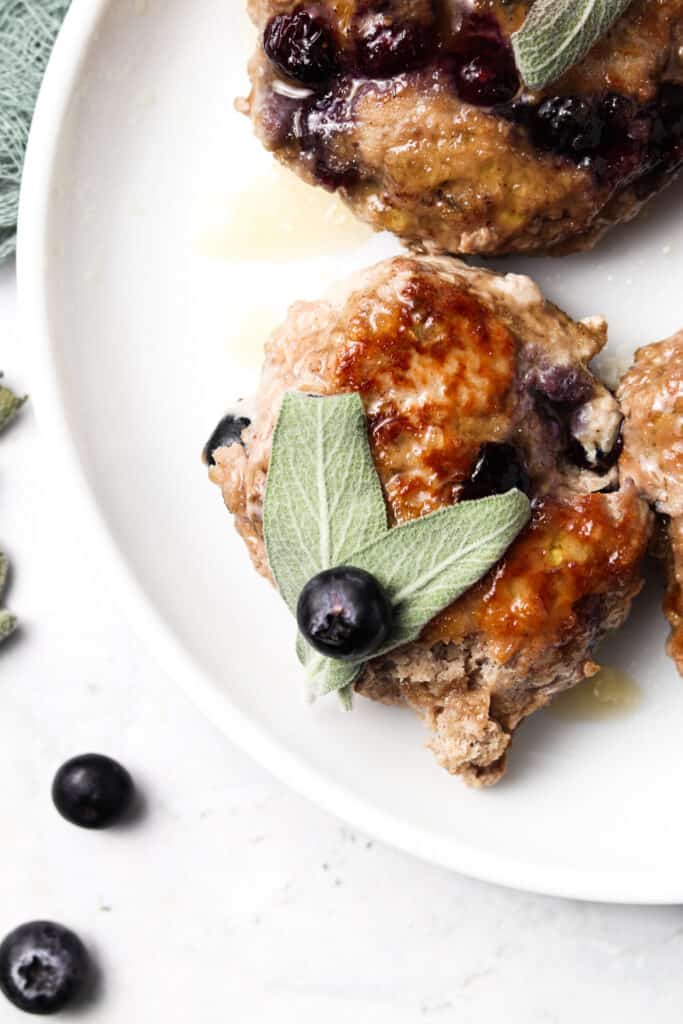 What Can I Serve Breakfast Sausage With?
We love to eat these patties with eggs.

My partner likes to take it a step further and eat the patties on a breakfast sandwich with gluten free bread, eggs, and avocado.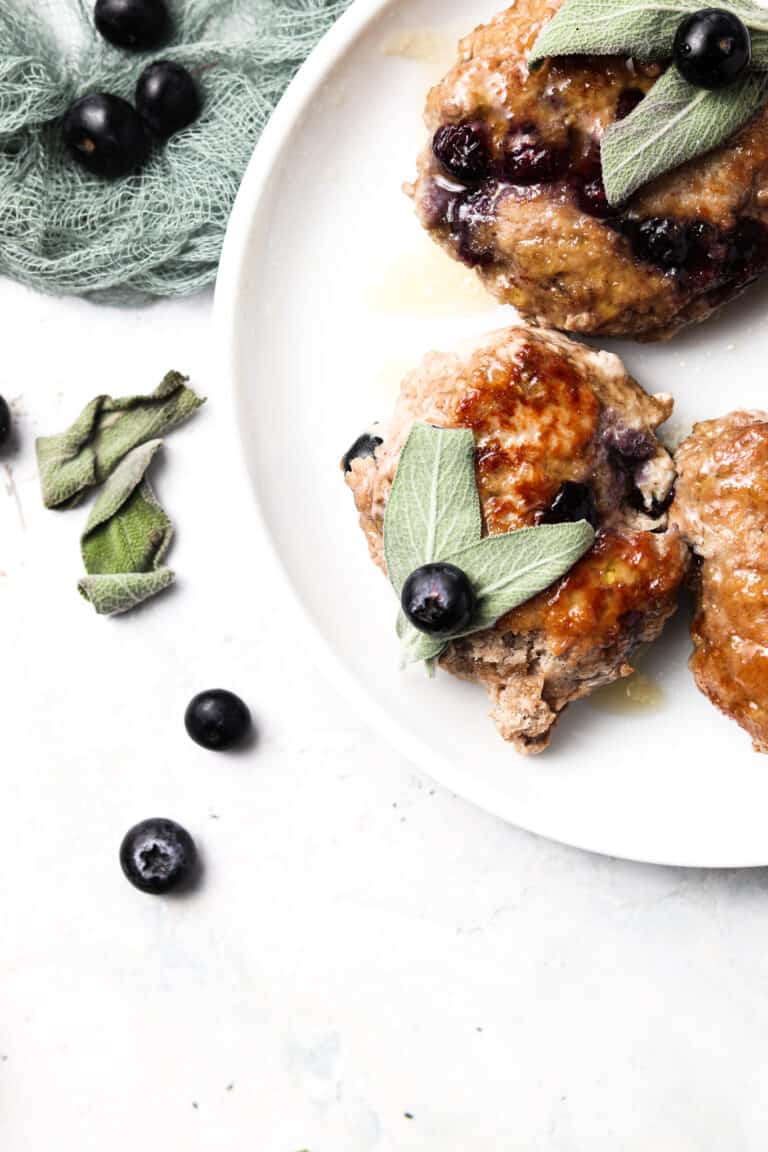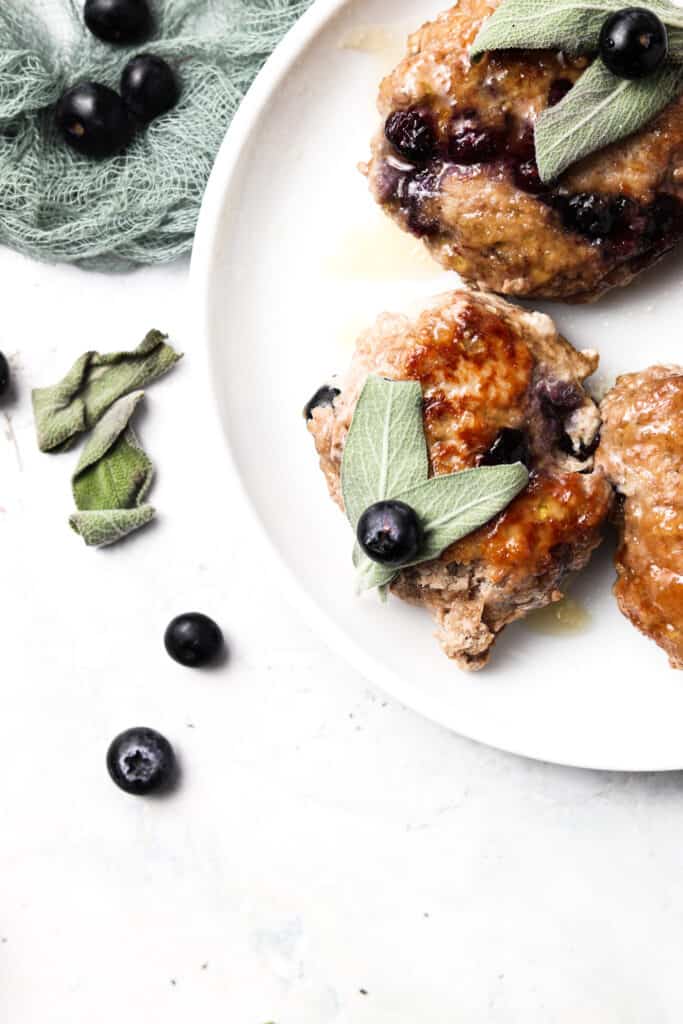 If you like this recipe, you will LOVE my other breakfast recipes: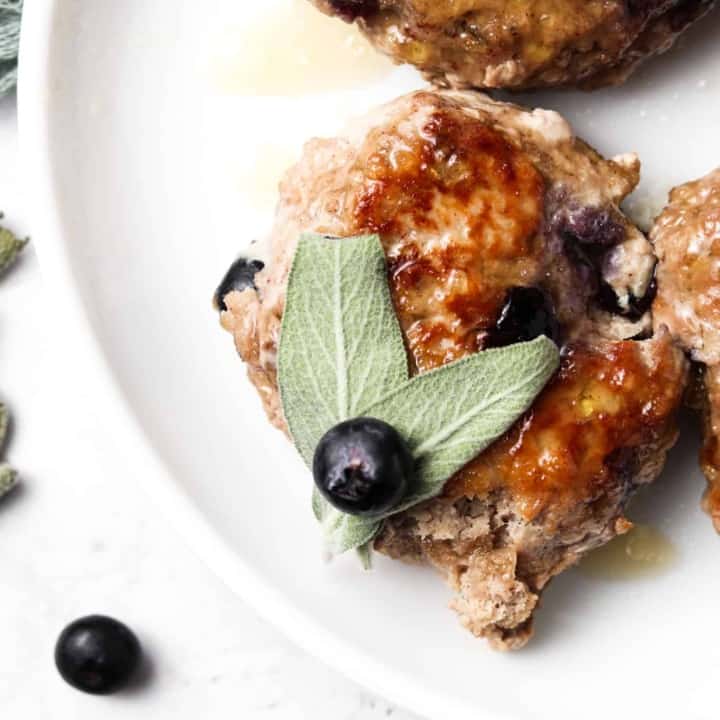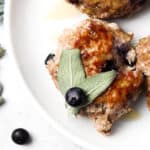 Blueberry Maple Turkey Breakfast Sausage (Paleo, AIP)
138
kcal
Print Recipe
Pin Recipe
Equipment
mixing bowl

Garlic mincer

measuring spoons

measuring cups

cutting board

mixing bowl

large frying pan

knife

zester for the ginger

spatula

2 plates
Ingredients
2

pounds

ground turkey

1/4

cup

maple syrup

pure maple syrup, make sure there is no extra added ingredients.

1

tbsp

fresh ginger

I use a zester for this.

1/2

tsp

cinnamon

4

cloves

garlic

minced

1

cup

blueberries

I prefer fresh.

1

tsp

extra virgin olive oil

3

leaves

sage

fresh and chopped

1/4

tsp

sea salt
Instructions
Place all ingredients in a bowl EXCEPT the oil and mix.

Turn on a frying pan to medium high heat, add the oil.

While the frying pan is getting hot, mix all sausage ingredients in a mixing bowl with your hands.

Divide up the mixture into 10 patties. Set the patties on a clean plate.

Add the sausages to the frying pan. If you do not have enough room you will have to make them in two batches, which is ok! Just make sure you adjust the oil accordingly so the sausage does not stick.

Let the sausage sit on medium heat for 6 minutes, then flip and cook for an additional 6 minutes.

Remove the sausages from the pan.

ENJOY! If you make this recipe I would love it if you shared the link to this recipe with a friend, left a comment below or tagged me on instagram with a picture @alliannaskitchen
Notes
You can store the patties in the fridge for up to 5 days. 
Sweet, savory, and juice paleo and AIP approved breakfast sausages.
Serving:
1
sausage patty
|
Calories:
138
kcal
|
Carbohydrates:
8
g
|
Protein:
22
g
|
Fat:
2
g
|
Saturated Fat:
1
g
|
Cholesterol:
50
mg
|
Sodium:
47
mg
|
Potassium:
302
mg
|
Fiber:
1
g
|
Sugar:
6
g
|
Vitamin A:
31
IU
|
Vitamin C:
2
mg
|
Calcium:
15
mg
|
Iron:
1
mg