This nutrient dense and delicious aip beet hummus is made from beets and cauliflower. This recipe is simple and only requires 15 minutes of hands on time. This pretty dip is loaded with flavor and is a crowd pleasing snack. It is perfect for all of your hosting needs as well as a healthy snack alternative.

What Do I Need To Make AIP Beet Hummus?
Beets-I love beets but always struggle with what to add them to. In this Whole30 hummus it adds the perfect natural coloring as well as the earthly taste of beets. You can buy your beets already steam/ baked. If you choose this option they are more than likely to be smaller than regular sized beets. If that is the case, you will need 5-6 small beets.
Cauliflower-Is what gives this recipe the hummus texture. I don't like to waste the stems, so we include the stems in the food processor.
Olive Oil-This is my oil of choice for this recipe, you can sub olive oil with avocado oil but it will slightly impact the taste. Do not use vegetable oils!
Garlic-Is hummus even hummus without garlic? We do not take the garlic lightly. This recipe calls for at minimum 6 cloves.
Lemon-Adds even more flavor to this recipe.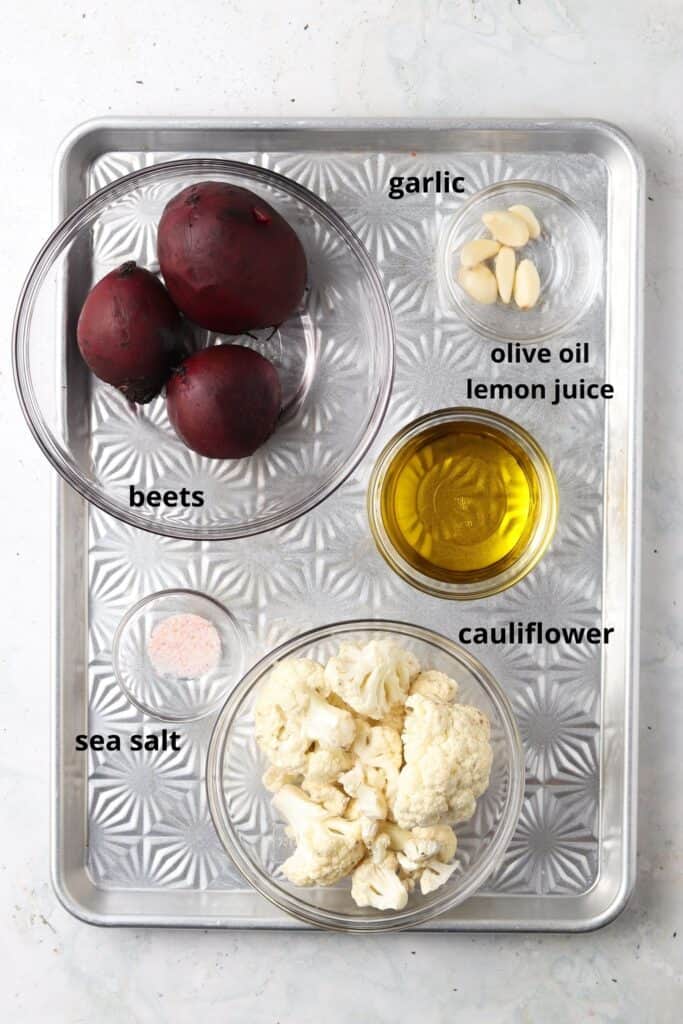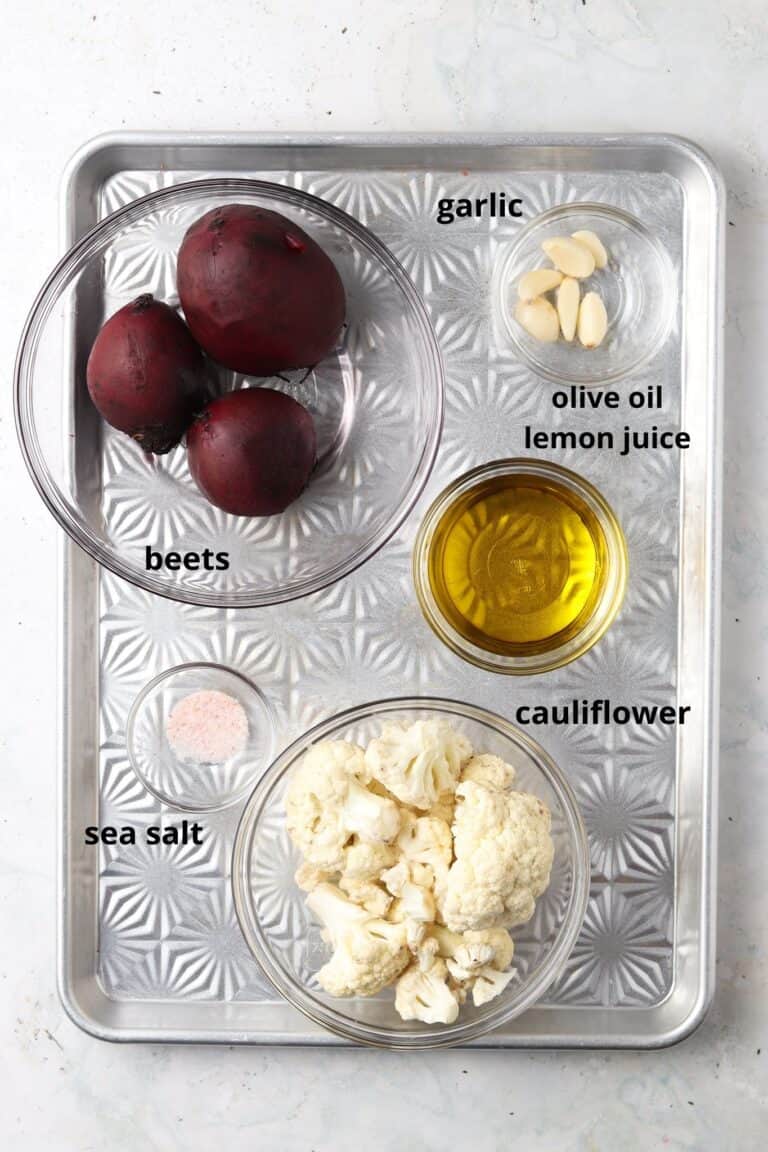 How Do I Make AIP Beet Hummus?
First, we want to make the beets. In this recipe I have included two ways to make the beets nice and soft. You can use an instant pot or also cook the beets in the oven. Personally I prefer the instant pot. Cooking the beets in the oven takes longer and I am constantly checking to see if they are soft enough due to the fact some beets will take longer to cook due to the size. In terms of the instant pot, regardless of the size of the beets, you will set the setting on 15 minutes HIGH pressure with the vent on top closed. One the time is up, carefully open the vent on top. I like to use a hand towel to prevent myself from burning my hand. Let them cool, then peel them. In the oven you will cook them for at least an hour.
For the cauliflower, I like to steam it on the stovetop with a little bit of water. You want to be sure not to add too much water or it will become mushy. Add just enough that it doesn't burn it. Place the cauliflower and water on medium high heat on the stovetop with a lid on for 7 or so minutes until the cauliflower is soft. If needed, you can add more water.
Once the veggies are made you will place all ingredients in your high speed blender for 30-60 seconds until a dip like substance forms.
How Can You Make Hummus Without Tahini?
Tahini is not allowed on AIP. Once you add seeds back into your diet, you can add tahini.
How Should I Eat With This?
We love eating this dip with traditional veggies like carrots and celery.
To serve, we enjoy eating it with fresh herbs like parsley.
How Long Does This Dip Last?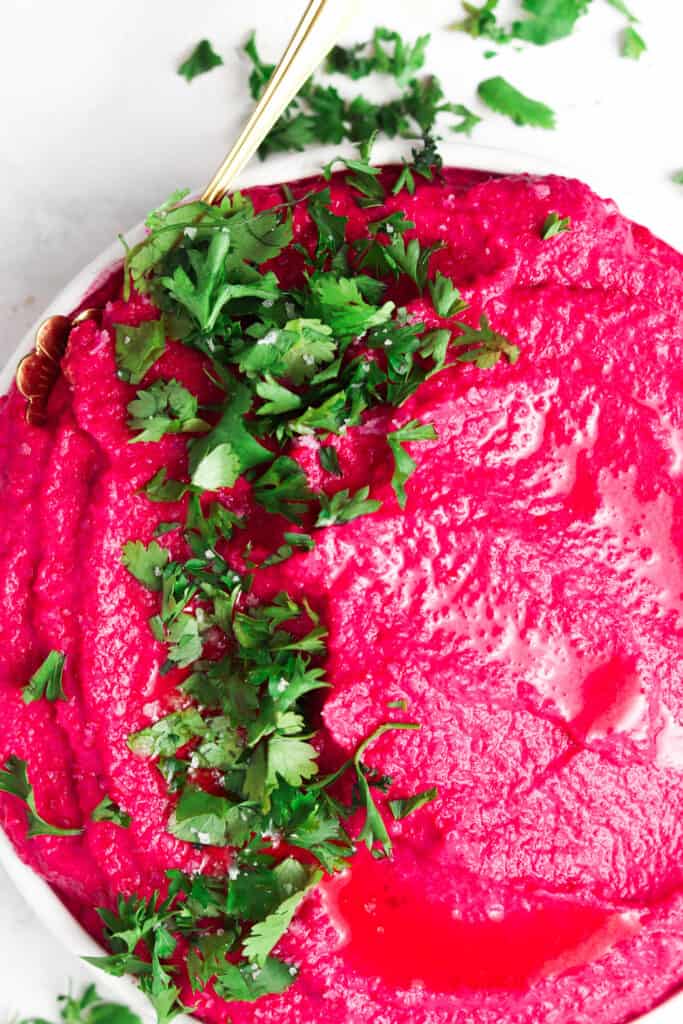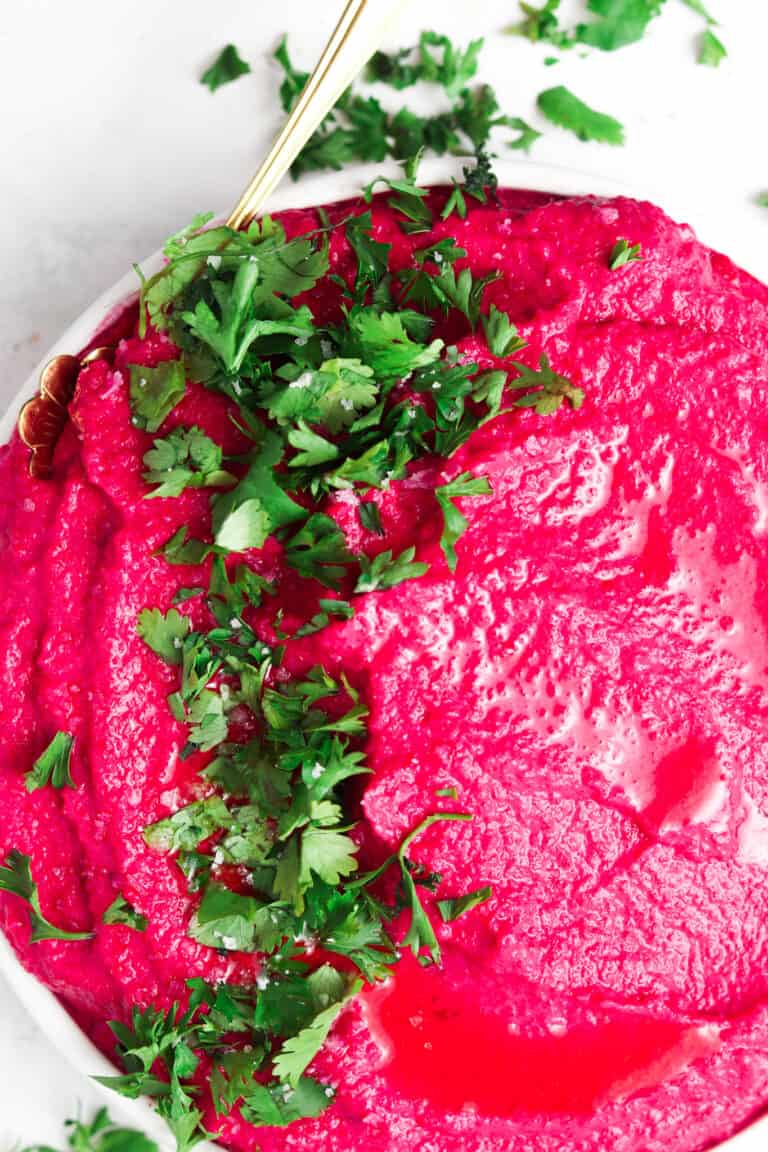 If you like this recipe, you will love my other AIP recipes:
Hey-you've made it this far! If you make this recipe, I would love for you to give it a star ★ rating and review below. Make sure you are following me on Instagram, Pinterest, and Facebook too!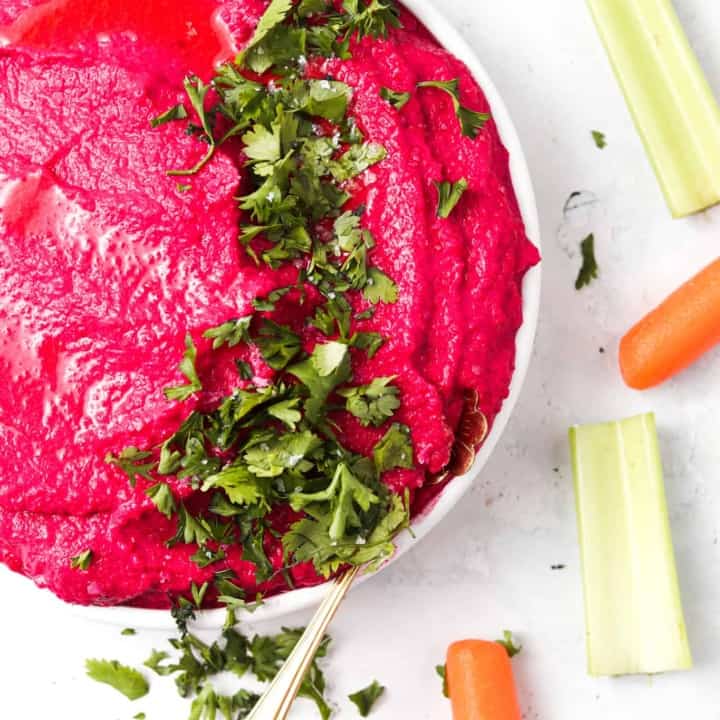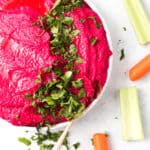 AIP Beet Hummus
271
kcal
Print Recipe
Pin Recipe
Equipment
baking sheet or instant pot

Garlic mincer

frying pan

high speed blender
Ingredients
Instructions
For the oven option:
For the oven option: Preheat the oven to 425. Wrap the washed beets in foil and 1 tablespoon olive oil. Bake for 1 hour or until soft. Once the beets cool, peel the beets.
For the instant pot option: (my favorite)
Place the beets in an instant pot on pressure cook HIGH for 15 minutes with 2 cups of water with the vent on top closed. When the time is up open the vent VERY carefully or you will burn yourself. I like to open it with a hand towel. Once the beets cool peel them.

While the beets are cooking add the chopped cauliflower into a sauce pan with 1/2 cup of water and steam the cauliflower for 7 minutes on medium high heat with a lid. You want to cook the cauliflower just enough so that it is soft, but not mushy. If you need more water, you can slowly add 1 tablespoon at a time to prevent the cauliflower from drying out.

Once the beets and cauliflower cook, place all ingredients in a high speed blender for 30 seconds. To serve, you can add fresh chopped parsley or almond slivers to garnish.
Notes
Tasty and nutrient dense bean-less hummus. This hummus is perfect for a snack and all of you hosting needs.
Serving:
1
cup
|
Calories:
271
kcal
|
Carbohydrates:
14
g
|
Protein:
6
g
|
Fat:
23
g
|
Saturated Fat:
3
g
|
Sodium:
262
mg
|
Potassium:
524
mg
|
Fiber:
4
g
|
Sugar:
5
g
|
Vitamin A:
27
IU
|
Vitamin C:
50
mg
|
Calcium:
61
mg
|
Iron:
2
mg