This gluten free red velvet cake is exactly what you need for the holidays. This cake only takes 10 minutes to prep, making it a no brainer for all of your holiday dessert needs. The maple almond cream frosting compliments the tangy vanilla cake with a splash of cocoa oh so nicely. This dessert is naturally grain free, dairy free, and refined sugar free.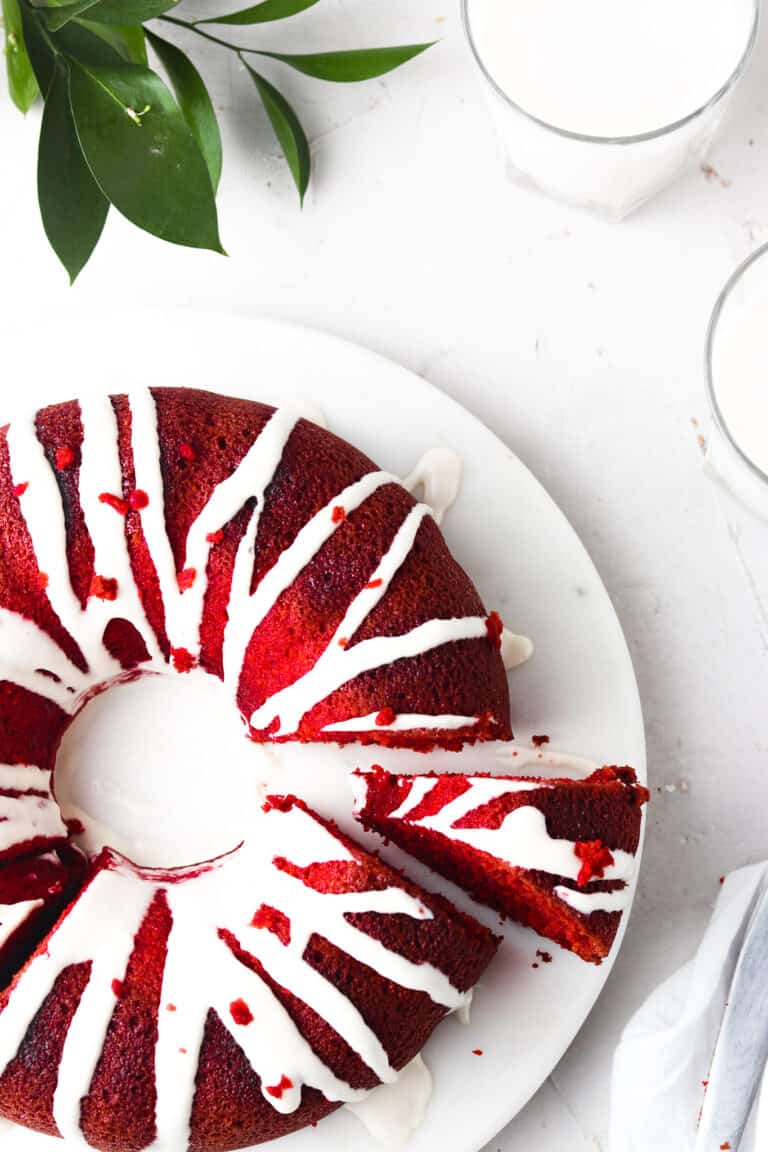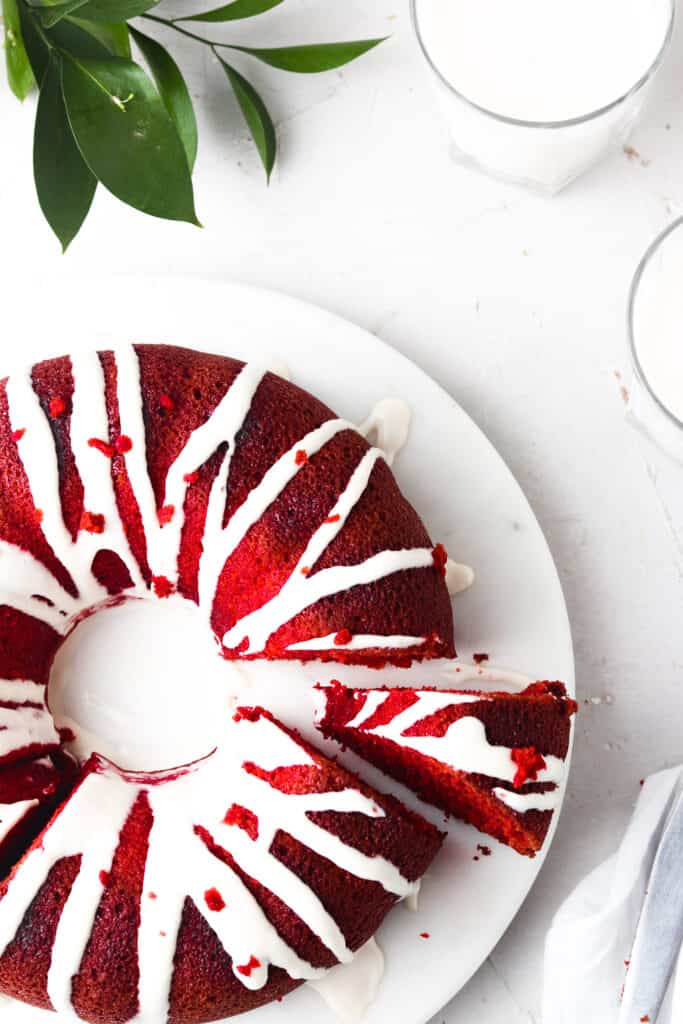 The Ingredients for this Gluten Free Red Velvet Cake
-Almond flour is the base ingredient and is my go to flour in paleo baking. It cannot be used interchangeably with other flours. Make sure you use almond flour vs. almond meal. It can be found next to the regular flour in the grocery store. 
-Tapioca flour is known as a thickening agent. In most of my recipes it can be used interchangeably with arrowroot powder. Think of tapioca and arrowroot as cornstarch in the paleo world. Tapioca and arrowroot can be found in the regular flour aisle of the grocery store.
-The baking soda and baking powder allow this cake to rise and expand.  Make sure the baking powder you buy is gluten free. 
-The blonde coconut sugar is used in place of regular coconut sugar because it is much lighter. A big part of a red velvet cake is the color of it, red! While the darker color of coconut sugar works It will require more food coloring to make the cake red. 
-The maple syrup adds the perfect amount of sweetness along with the coconut sugar in this recipe. I like the maple syrup from Costco. Make sure you are buying pure maple syrup rather than pancake syrup, pure maple syrup will not have any added ingredients. 
-The apple cider vinegar gives this cake a tangy and sour taste. 
-The coconut oil keeps this cake SOFT!
-The eggs work as a binding agent in keeping the ingredients in this recipe soft and moist. 
-The vanilla and cocoa are what makes this cake red velvet-y!
-The food coloring. I prefer to go the natural food coloring route even if it means that it may not come out as vibrant. You can use Red40 or natural food coloring, but just know you may need more of the natural stuff if you choose to go that route, as it will require more dye.
How To Make this Gluten Free Red Velvet Cake
I love my silicone bundt cake pan for a few reasons.
It is super easy to clean!

It doesn't stick.
I still spray the bundt cake pan prior to pouring the batter in. Prior to pouring the batter in you are going to want to mix up the ingredients well. First dry, then wet in separate bowls. You do not want to over-mix! Then, spray the bundt cake pan with your favorite cooking oil. Mine is Trader Joe's olive oil, then place the cake in the oven at 350 degrees for 55 minutes. Once the timer goes off, stick a fork in the cake and pull it out. If there is batter on the fork that means it needs a few more minutes, If there is no batter, that means it is done! Now, let the cake sit and cool for 20 minutes before inverting it over a drying rack.
How To Ice The Cake
If you do not plan on eating the cake right away, wait to frost it. Carefully wrap the cake in tight plastic wrap to keep it moist for up to 5 days. Prior to serving, mix the almond cream and maple syrup in a food processor. It will come out very smooth. Then, add it to a piping bag. You can also pour the icing in a zip block bag and snip the corner off and ice with that! If you do not have piping bags or a zip block bag, you can use a spoon. Carefully drizzle over the cake.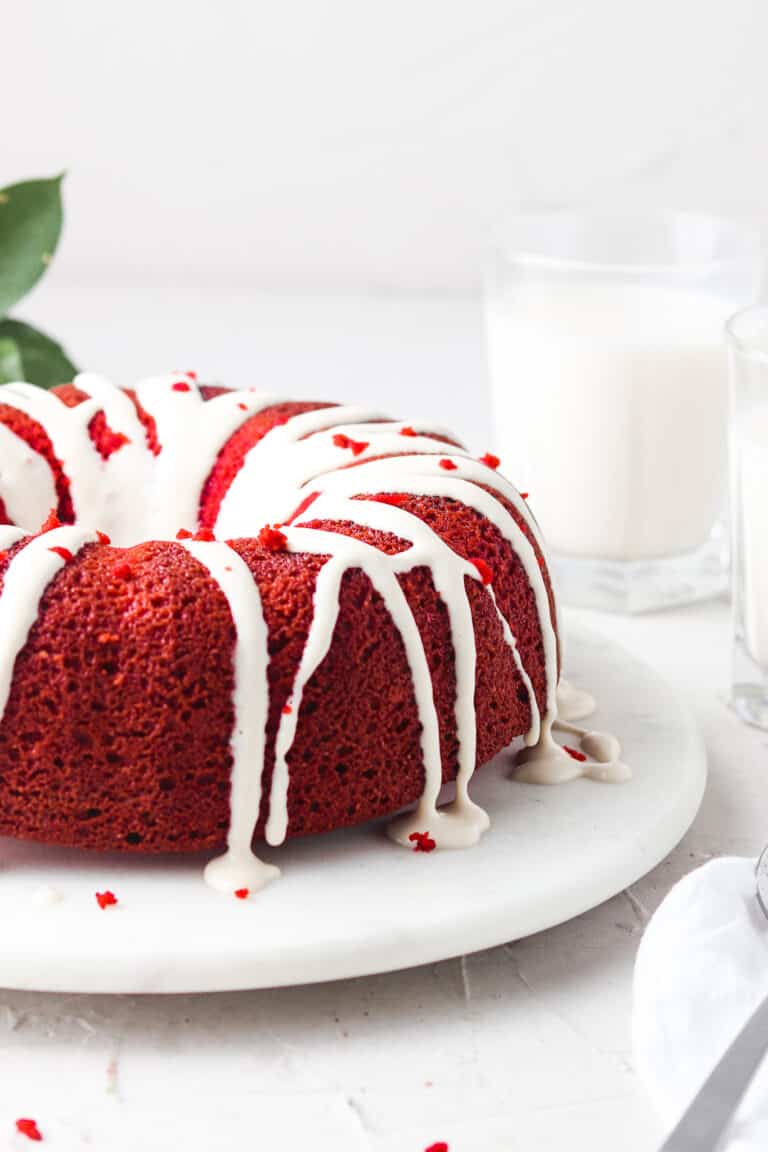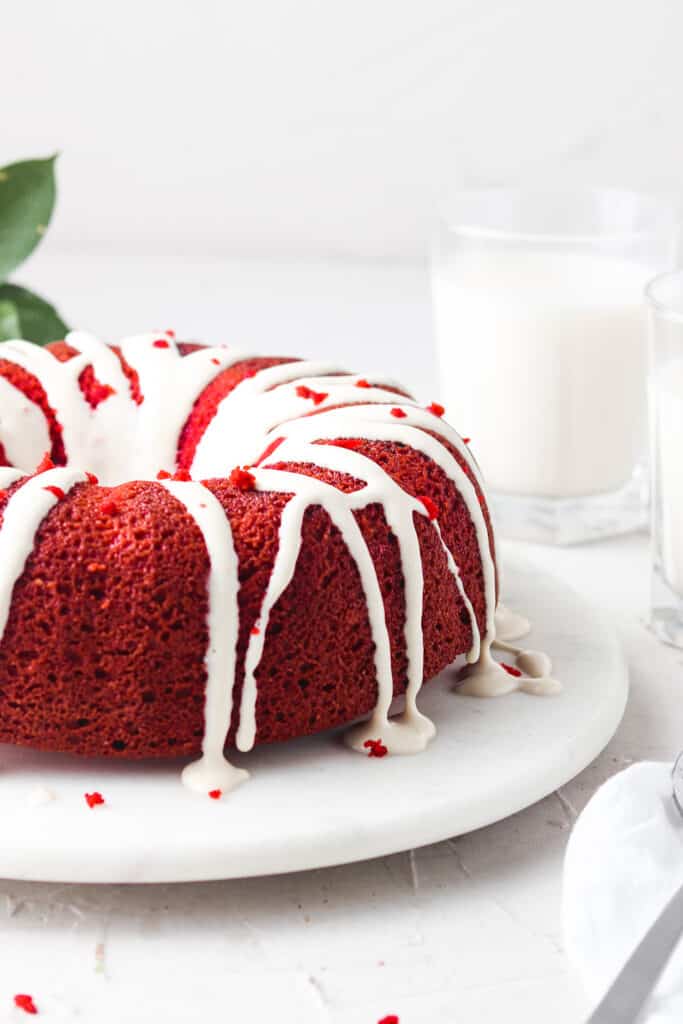 How To Store the Cake
Store your bundt cake in the fridge nicely covered for up to 5 days.
Keywords: paleo cake recipe, paleo dessert recipes, red velvet cake, paleo red velvet cake, paleo holiday, paleo red velvet, gluten free red velvet cake, grain free red velvet cake, christmas cake, holiday cake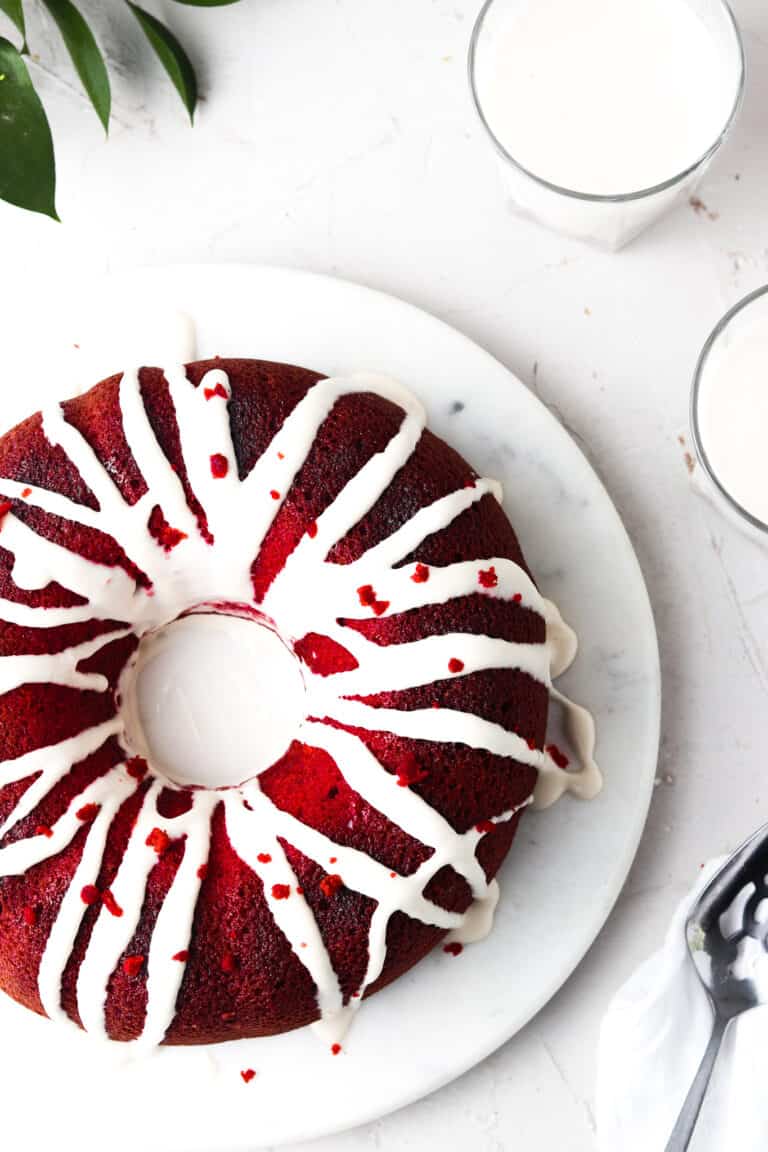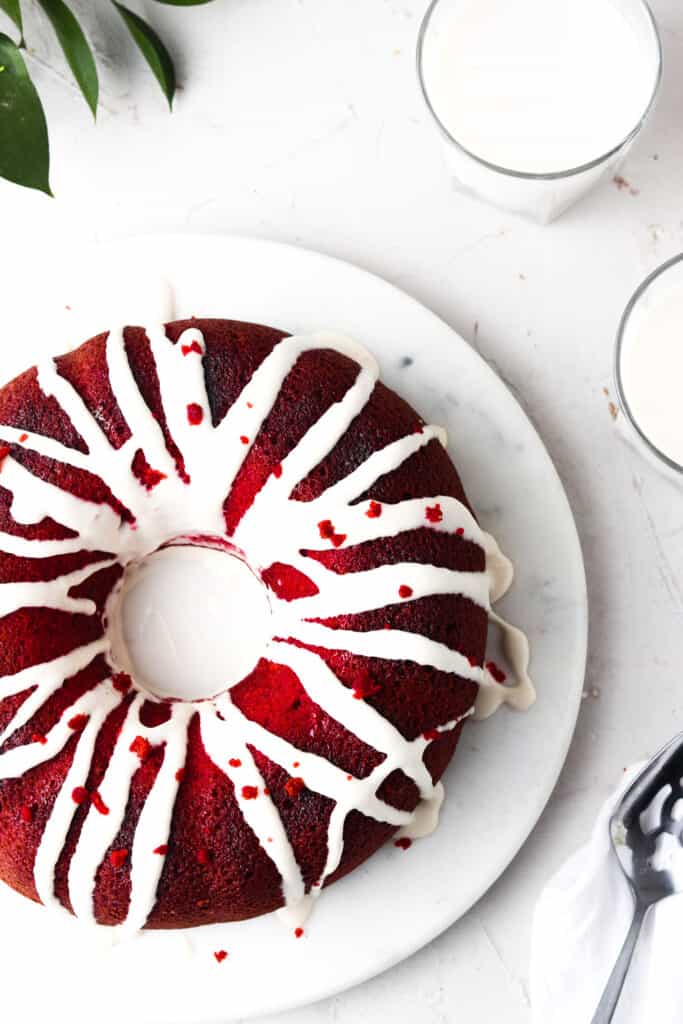 If you like this recipe, you will LOVE:
Protein loaded banana blueberry zucchini muffins 
Pumpkin Spice Oat Flour Muffins
Paleo Chocolate Donuts with Maple Pumpkin Frosting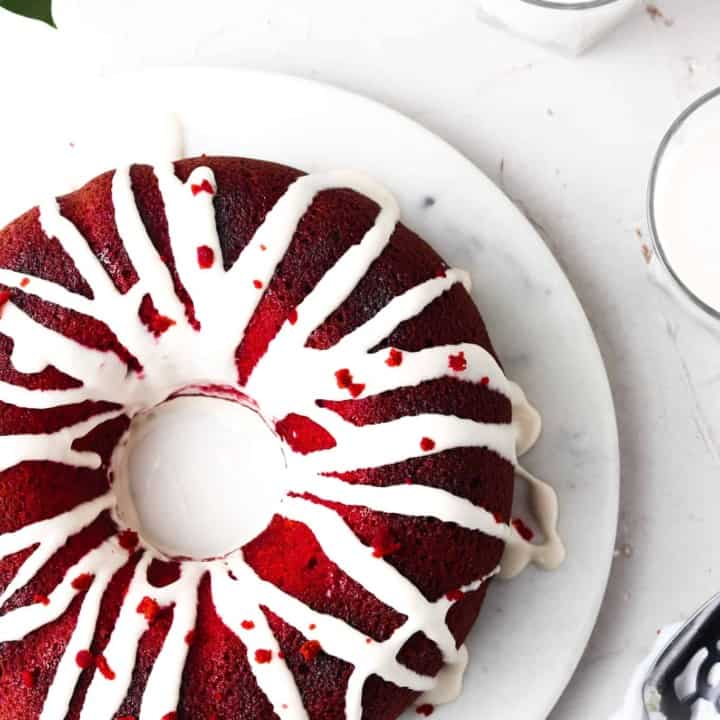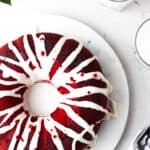 Paleo Red Velvet Cake With Cream Cheese Frosting
334
kcal
Print Recipe
Pin Recipe
Equipment
mixing bowls

electric mixer

spatula

10.5 inch silicone bundt cake mold

sheet pan (to place mold on)

cutting board or large plate (for flipping cake)

frosting piping bag or spoon
Ingredients
3 3/4

cup

almond flour

3/4

cup

arrowroot flour or tapioca flour

Either can be used interchangeably for the sake of this recipe.

1 1/2

tsp

baking powder

3/4

tsp

baking soda

1

tbsp

cocoa powder

3/4

cup

blonde coconut sugar

the coconut sugar has to be blonde if you want the color to come through in this cake!

3/4

cup

maple syrup

1

tbsp

apple cider vinegar

2

tbsp

coconut oil

6

whole

eggs

1

tsp

vanilla

0.5

fluid oz

Red food coloring

You can use a plant based dye free food coloring, but just note that the color may not be as bright.

olive oil (for spraying bundt cake mold) 

I love Trader Joes Extra Virgin Spanish Olive oil spray!
For the cream cheese frosting:
8

ounces

(one container) kite hill almond cream cheese

If you are not dairy free, you can use regular cream cheese. I have always

1/4

cup

pure maple syrup
Instructions
Preheat oven to 350 F and spray the silicone baking mold with olive oil spray or your nonstick spray of choice.

In a large mixing bowl, mix all of the dry ingredients. In a separate bowl mix the wet ingredients, then combine gently.

Place the bundt mold on a sheet pan for support prior to pouring any batter in. Slowly and evenly pour the batter into the mold.

Place in the oven and bake for 55 minutes.

Upon removing from the oven, allow the cake to sit for 20 minutes to set.

Place a cutting board or large plate on top of the silicone mold and flip the cake over, allowing it to separate from the mold.
For the frosting:
Mix the almond cream or the cream cheese with the maple syrup in a food processor for 30 seconds.

Put the frosting in a piping bag and drizzle over the cake. If you do not have a pipping bag you can use a spoon.
Notes
You can store the cake in the fridge for up to 1 week. 
This paleo cake is perfect for every holiday occasion!
Calories:
334
kcal
|
Carbohydrates:
34
g
|
Protein:
7
g
|
Fat:
21
g
|
Saturated Fat:
6
g
|
Cholesterol:
18
mg
|
Sodium:
179
mg
|
Potassium:
75
mg
|
Fiber:
3
g
|
Sugar:
20
g
|
Vitamin A:
203
IU
|
Calcium:
127
mg
|
Iron:
1
mg