This past week we just got back from our honeymoon in Turks and Caicos. It was beautiful, we had a blast! Ever since I started feeling better and taking better care of myself I do not want to jeopardize that feeling. I have been on so many trips before where I have come home bloated and foggy. I knew I wanted to get the most out of my honeymoon and feel my absolute BEST! One of the things that helps me feel my best is eating paleo aka super clean. Below are 6 tips to help ensure you feel your best while traveling too!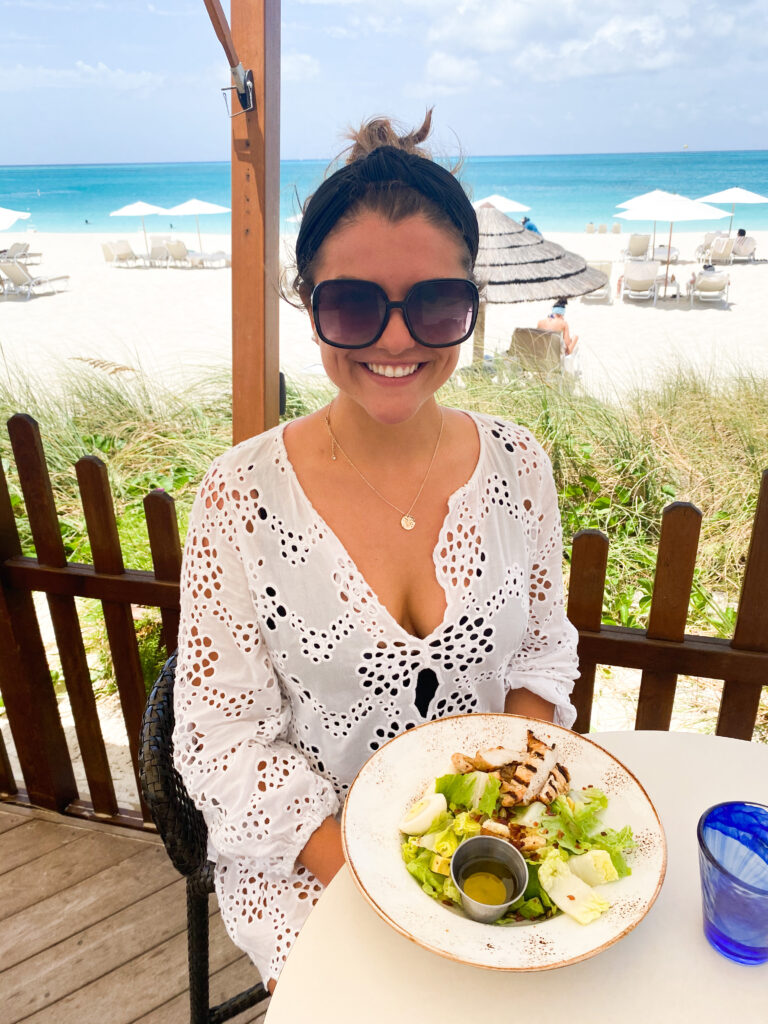 How To Eat Paleo While Traveling- 
Talk to the chef-If you are staying at an all inclusive hotel like we did on our honeymoon, go up to the chef on the first day and talk to them about your dietary restrictions. I slipped the guy a $20 dollar bill and he took care of me all week. A little tip goes a long way. Everyday as I walked in he gave me the rundown of the things that I could eat. If you are eating somewhere for just one meal, tell your server what you can and cannot have in advance. Do NOT try to guess and pick something on the menu that looks "paleo." There can often be hidden ingredients in dishes.  Also, do not be afraid to speak up. As a business owner of a meal prep company I am always so thankful when clients tell me what they cannot have upfront, I want them to feel good eating my food and come back!

Keep it simple-Paleo is simple. It is what our ancestors ate. Vegetables, protein, fruit, spices and healthy fats. Look for simple items on the menu. 

Focus on vegetables-I always eat my vegetables first, then everything else. Fiber is filling! The more we fill up on vegetables, the less we crave other stuff. 

 Focus on how food makes you feel-I wanted to feel my best on our honeymoon so I was sure to make decisions that aligned with how I wanted to feel. 

When in doubt, order a salad-I love ordering a salad with a ton of vegetables, grilled chicken and I always ask for a cup of olive oil and lemon slices on the side to use as my dressing. Olive oil and lemon juice makes for the best simple dressing!

Fruit for dessert-After every meal I would order a few pieces of fruit and it comforted my sweet tooth every single time. 
If you liked this blog post, be sure to check out my other healthy lifestyle posts here.
Hey-you've made it this far! If you enjoyed this post. I would be so grateful for you to give it a star ★ rating and review below. Make sure you are following me on Instagram, Pinterest, and Facebook too!