This paleo and whole30 middle eastern nut crusted chicken bowl is loaded with flavor. The earthy tahini sauce pairs oh so nicely with the ground up dates which gives this dish a sweet touch. This paleo chicken bowl has become a staple in my meal prep rotation.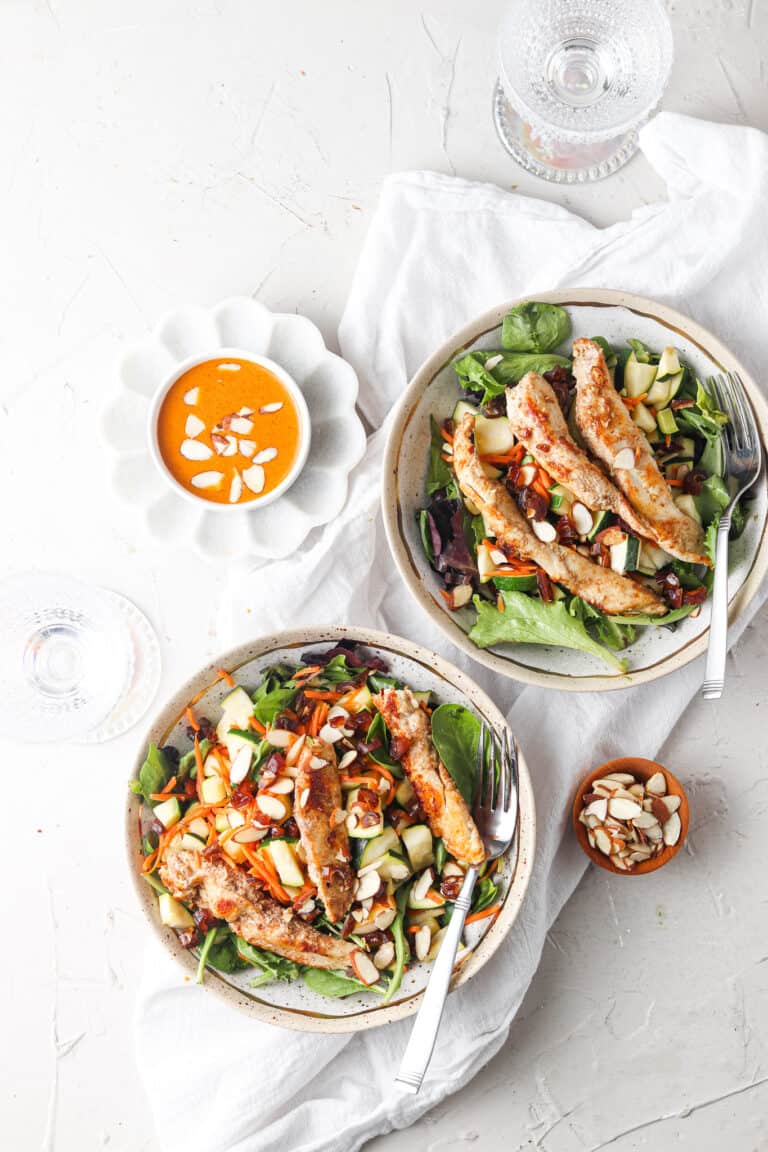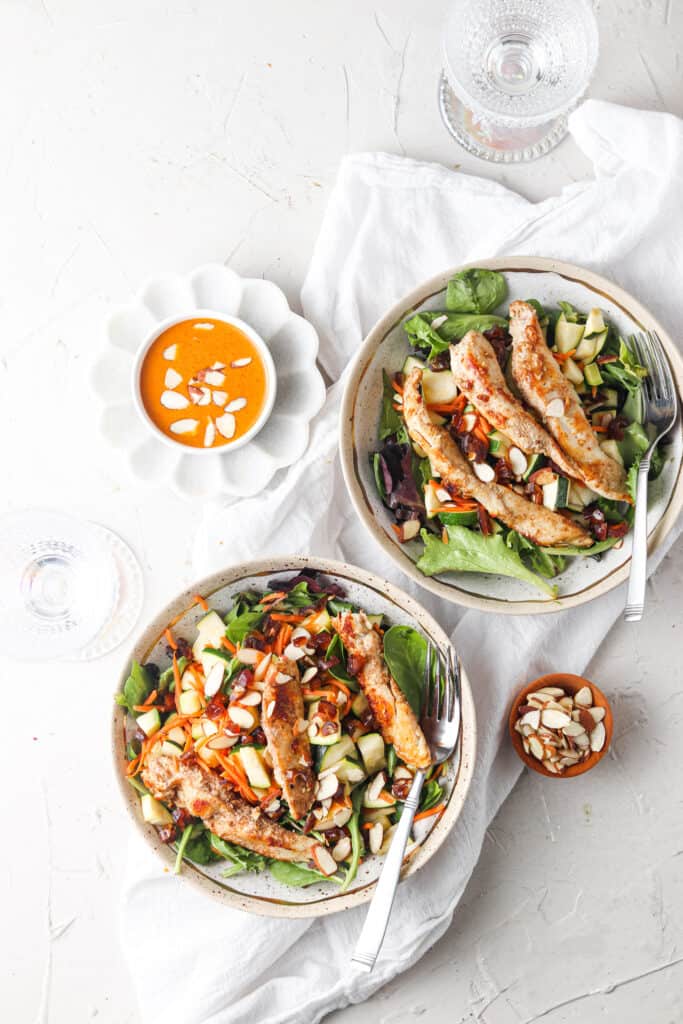 How To Make The Dukkah Spice Blend
First off, what is dukkah? Dukkah is a mix between middle eastern spices and nuts. In this recipe it is a mix between almond slivers, cumin, sesame seeds, coriander, allspice and salt. 
You can mix and grind up the nuts in this spice blend using a mortar and pestle OR you can just smash the nuts with a spoon or blend them with the spices. I found the easiest way to do this is in the mortar and pestle. Then, once you make the spice blend you want to place the chicken in a zip block bag with the oil and spices and let it sit for at least 10 minutes.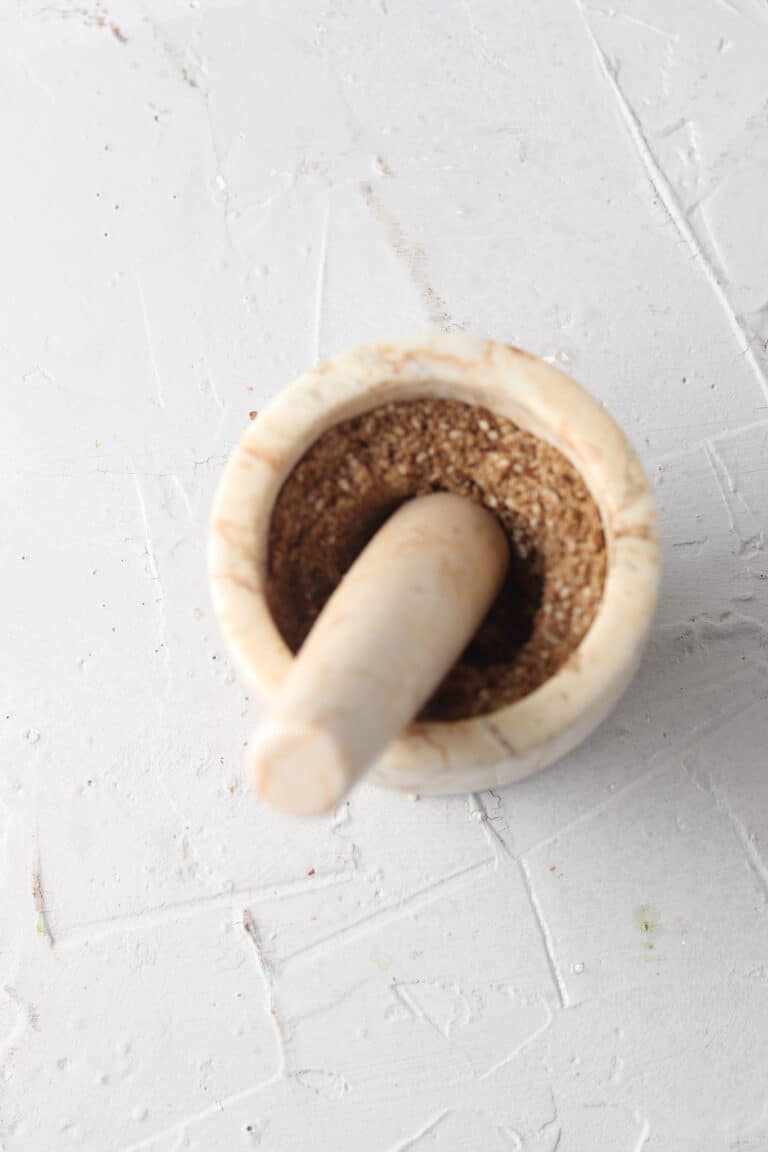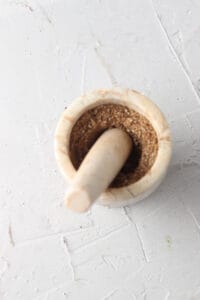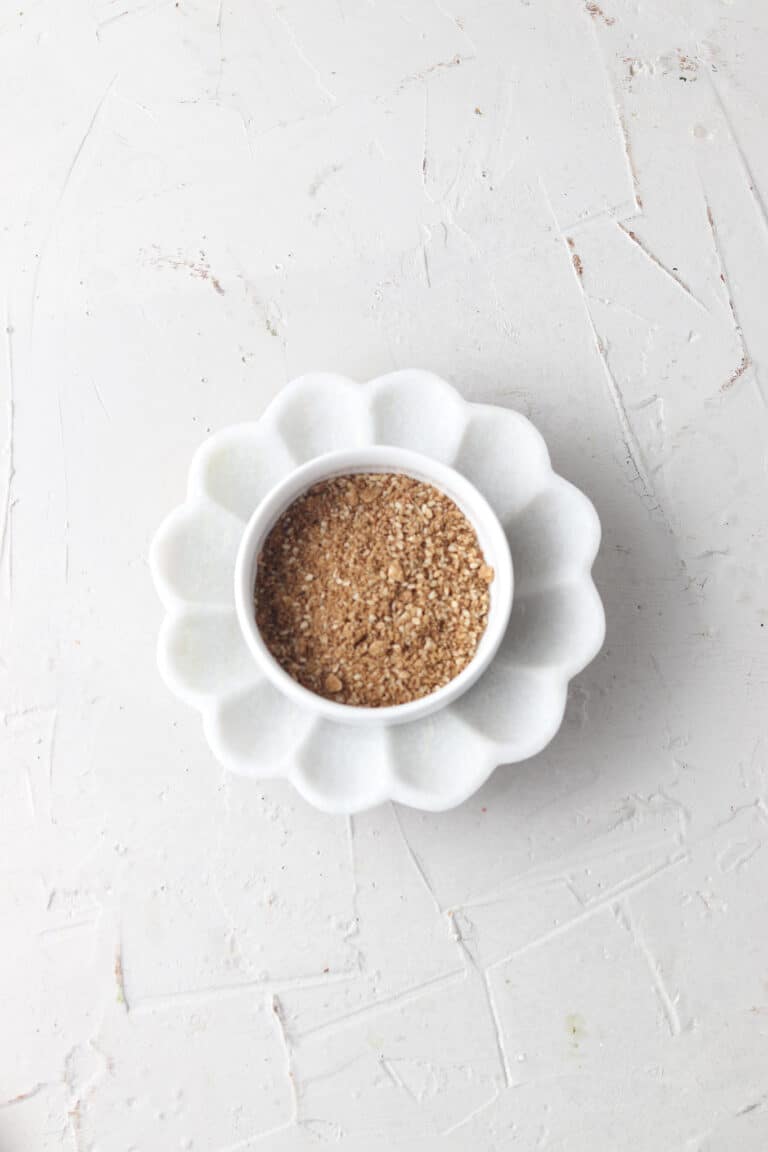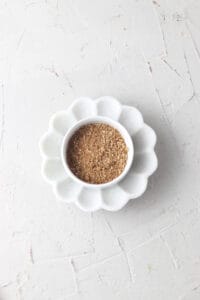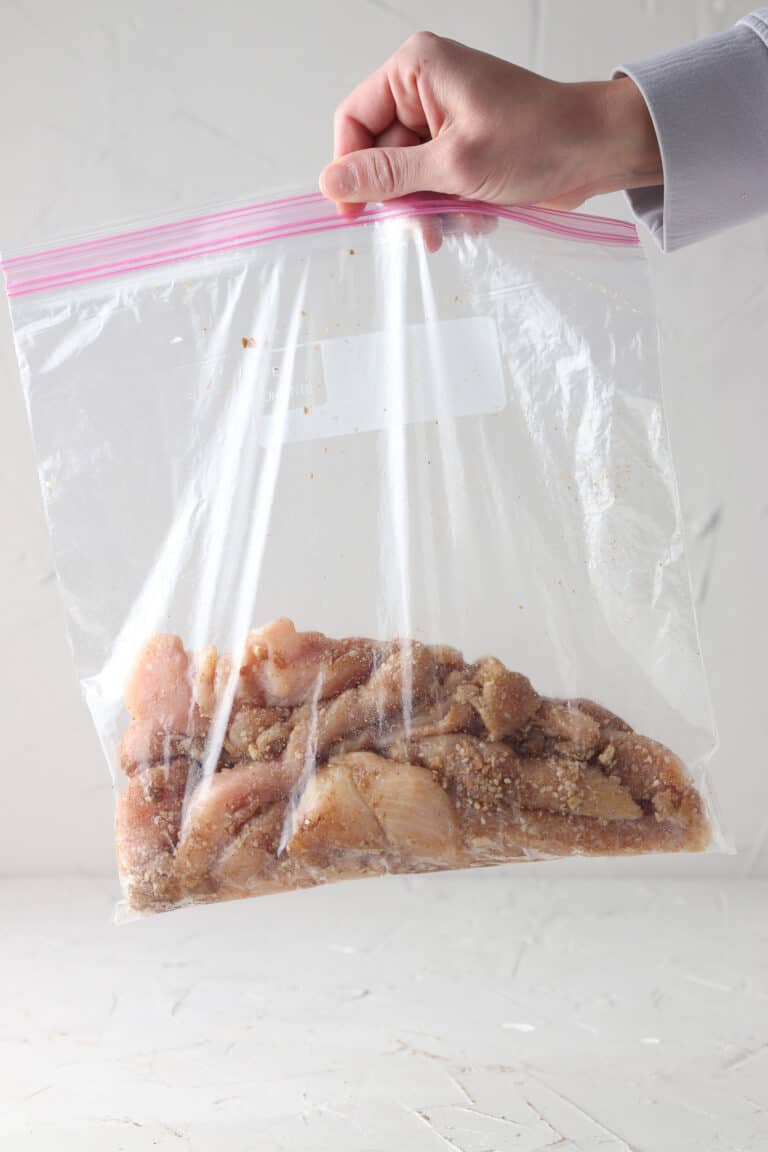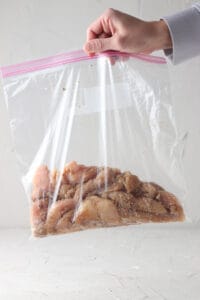 Prepping the Veggies & Dates
In my years as a personal chef I have learned it is all about the details! When it comes to the veggies in a dish, cut them small, it makes a huge difference. Think about it this way, when you are taking a bite of something you want to be able to get as many different flavors on your fork at once! As far as the dates, make sure to take the pit out and cut them really small. The dates are used as a garnish to sweeten things up.

How To Cook The Chicken
You want to make sure the chicken is well marinated with the dukkah spice, then add a tiny bit of oil to your non-stick frying pan and cook for 5 minutes on each side. Make sure you cut through the chicken to ensure there is no pink before serving.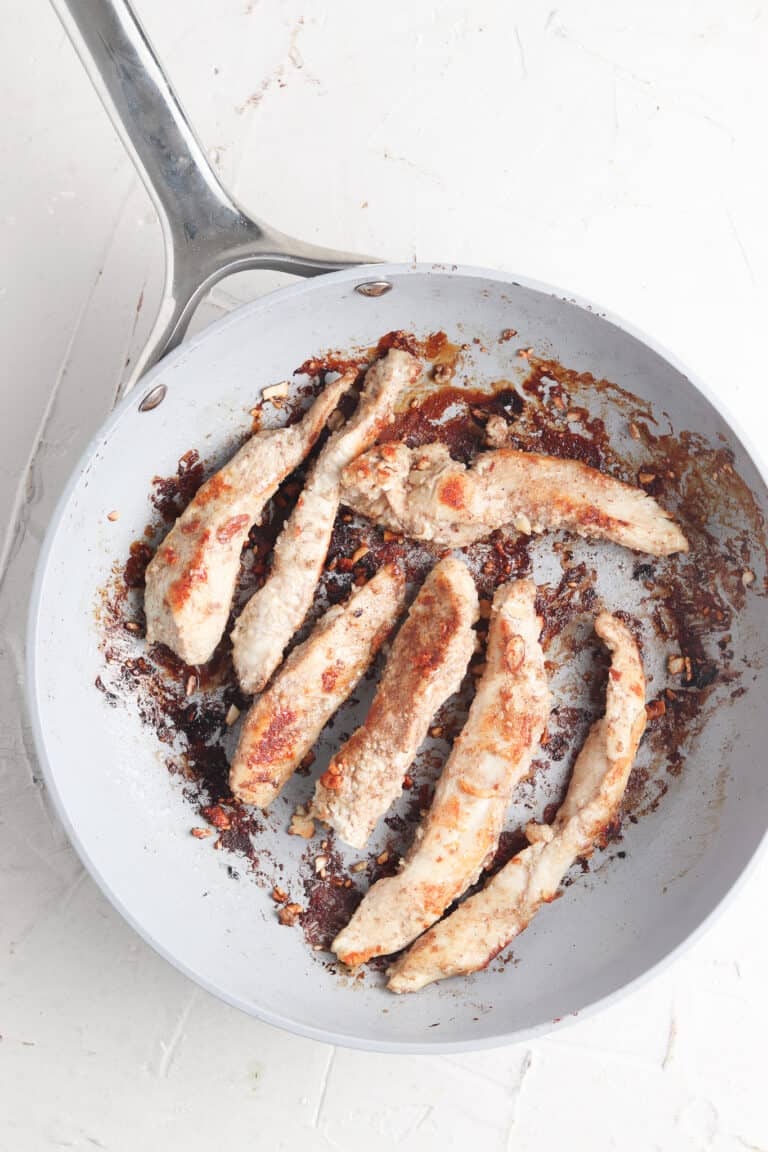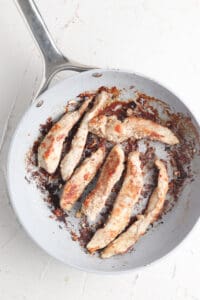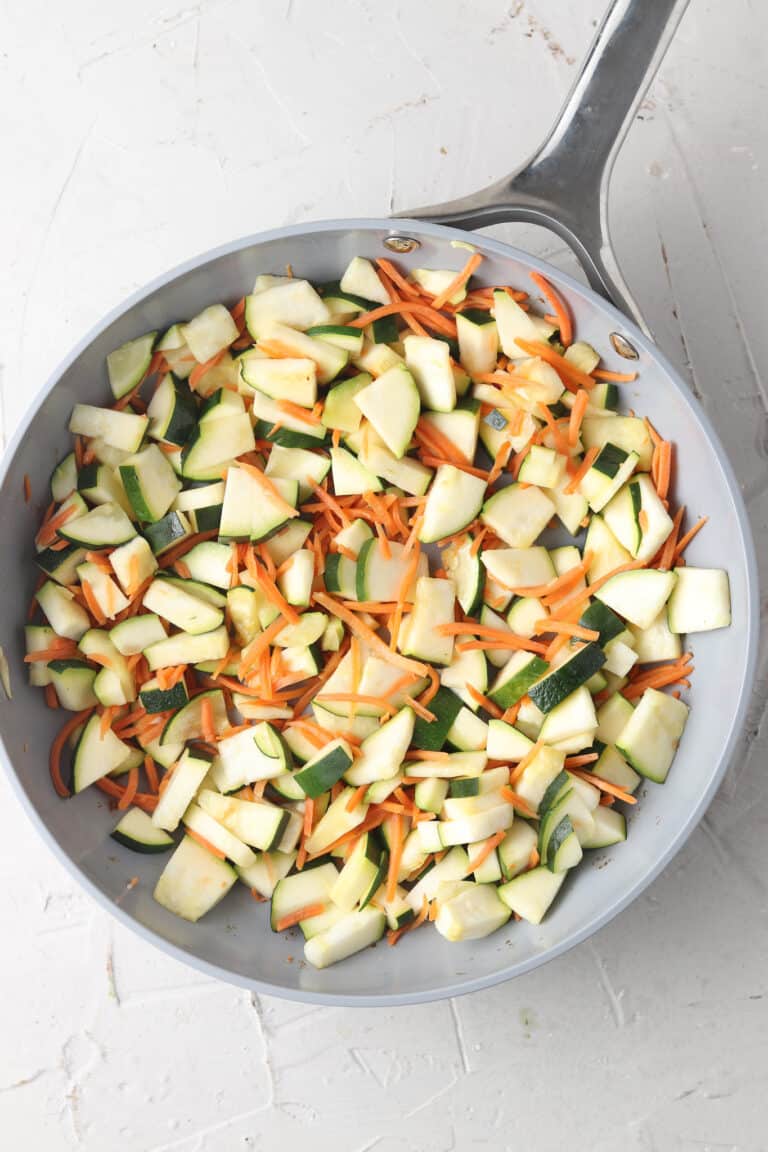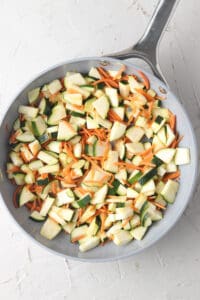 How to Cook The Veggies
You want to cook the veggies in a non stick pan with 1 tsp of oil for 5 minutes or so with the lid on, this is just to get them warm and a tad bit soft. You don't want them too soft or they will get mushy.
Storing the Dish
Storing the dish. I suggest storing the sauce on the side. If you are meal prepping, I love these containers! They are great for when you are on the go and want to eat healthy!
Keywords: whole30 chicken salad, whole30 chicken recipes, paleo chicken recipes, quick paleo meals, paleo bowl, whole30 bowl, middle eastern chicken, paleo middle eastern, middle eastern spices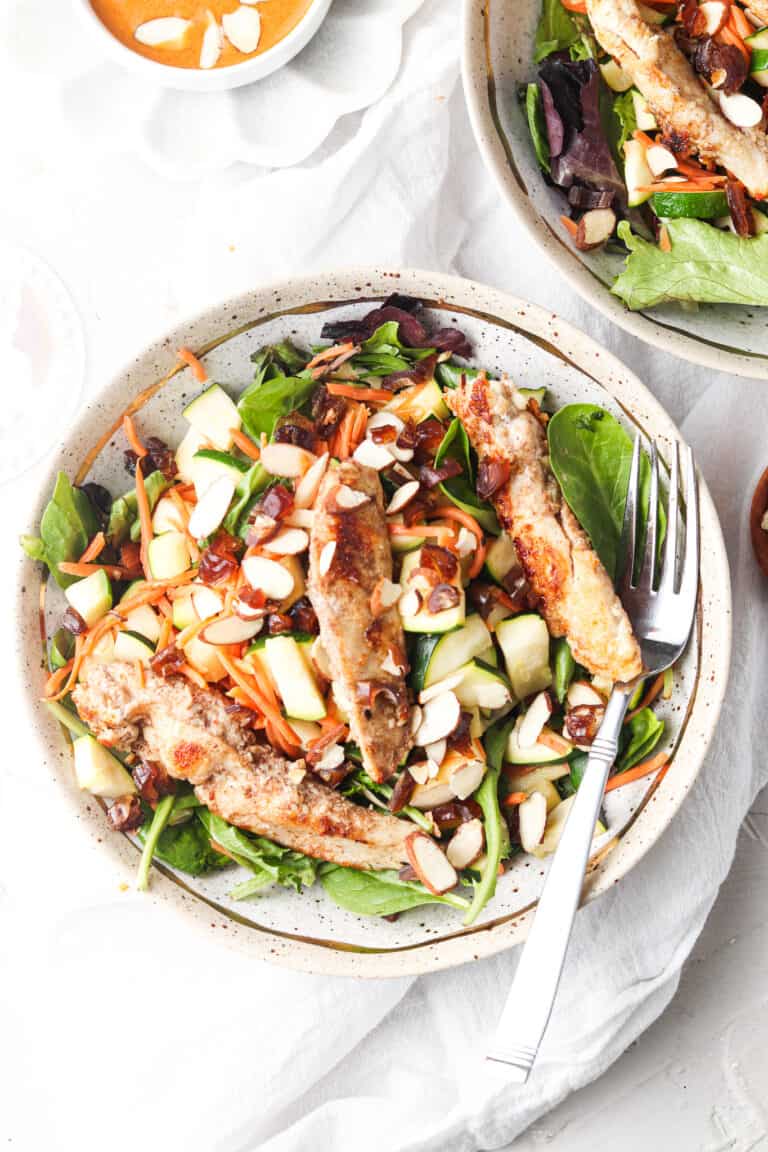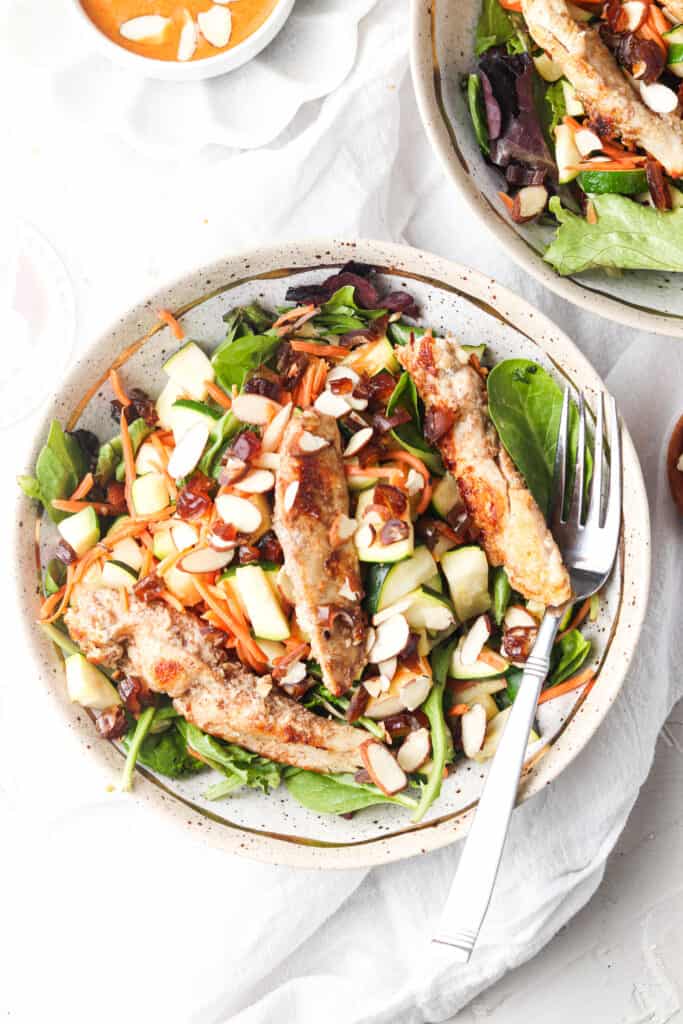 If you like this recipe, you will LOVE:
Acorn Squash Grape Apple Salad With Pumpkin Vinaigrette
SUBSCRIBE NOW
Join my online community for FREE and get a weekly newsletter from me.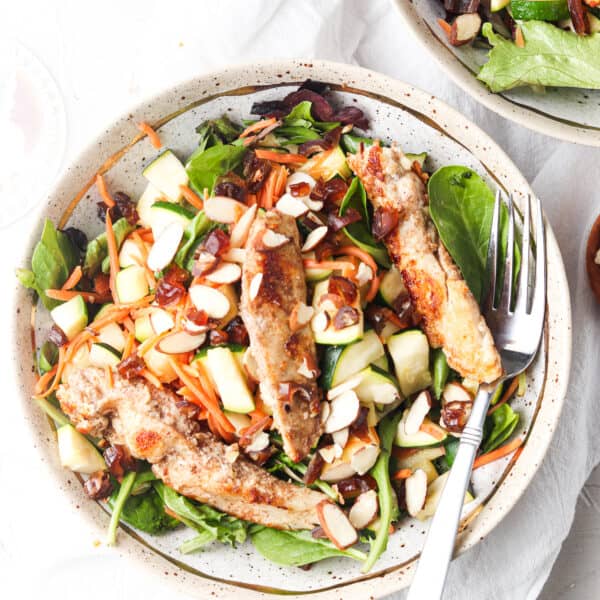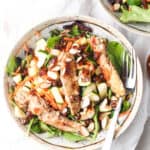 Middle Eastern Chicken
745
kcal
Print Recipe
Pin Recipe
Equipment
mortar and pestle or spoon/bowl

cutting board

kitchen knives

gallon plastic bag

skillet
Ingredients
Middle Eastern Chicken
1.5

lb

chicken tenderloins

4

cups

mixed greens

2

whole

zucchini, chopped

1

cup

shredded carrot

6

dates

chopped

1

small

yellow onion, halved and sliced vertically

2

clove

garlic, minced

2

tbsp

almond slices

1

tbsp

extra virgin olive oil
Homemade Dukkah Spice Blend:
1

tsp

slivered almonds

1

tbsp

sesame seeds

1

tsp

coriander

1

tsp

cumin

1/4

tsp

allspice

1

pinch

sea salt

1

tsp

extra virgin olive oil
Instructions
For the Dokkah Spice Blend:
Place all ingredients into a mortar. Use the pestle to grind everything together until the almond slivers and spices blend to form a fine powder. If you do not have a mortar and pestle, place the spice blend ingredients into a bowl and use a spoon to crush/grind everything together into a fine powder.
For the Chicken:
After the spice blend is complete, place the tenderloins into a gallon plastic bag with the minced garlic and Dokkah spice blend. Knead the bag and the spices together with the chicken and 1 tsp of EVOO.

Allow the chicken to marinade with the spices and garlic for 10 minutes.

Now, in a non-stick pan cook the chicken on medium heat for 5 minutes on each side. Before turning off the stove, cut through the chicken to ensure no pink is showing.
For the Spiced Tahini Sauce:
Place all ingredients in a food processor and blend for 30 seconds.
For The Veggies & Dates:
Remove the pits from the dates and set aside.

Dice up the zucchini into 4 long pieces then chop it into small bite size pieces.

Sauté the veggies in 1 tsp of oil in a non stick pan for 5 minutes or so, this is just to get them a little soft. You do not want too cook them too long or they will get mushy.
To Assemble:
You can serve over greens if you desire, then add the veggies, chicken, and sprinkle the dates & almonds. I like to drizzle the dressing over the bowl.

ENJOY! If you make this recipe I would love it if you shared the link to this recipe with a friend, left a comment below or tagged me on instagram with a picture @alliannaskitchen
Notes
You can store in the fridge for up to 5 days. 
Nutrition Facts
Middle Eastern Chicken
Amount Per Serving
Calories 745
Calories from Fat 459
% Daily Value*
Fat 51g78%
Cholesterol 145mg48%
Sodium 719mg31%
Potassium 1392mg40%
Carbohydrates 18g6%
Protein 57g114%
Vitamin A 11684IU234%
Vitamin C 63mg76%
Calcium 184mg18%
Iron 4mg22%
* Percent Daily Values are based on a 2000 calorie diet.