This Paleo & Whole30 Steak bowl is one of my go to steak dinners. It is quick, easy, and nutrient dense. The quick pickled carrots combined with the ginger lime aioli top this steak bowl off oh so nicely. This dish reheats so nicely making it perfect for weekly meal prep. This dish was inspired by Conflict Kitchen On Pitt's campus. During my time at Pitt I would hit up this restaurant weekly where they would change the menu to represent different countries. At the time, I was not following the paleo protocol but remember eating this Vietnamese steak banh mi sandwich, it was delightful.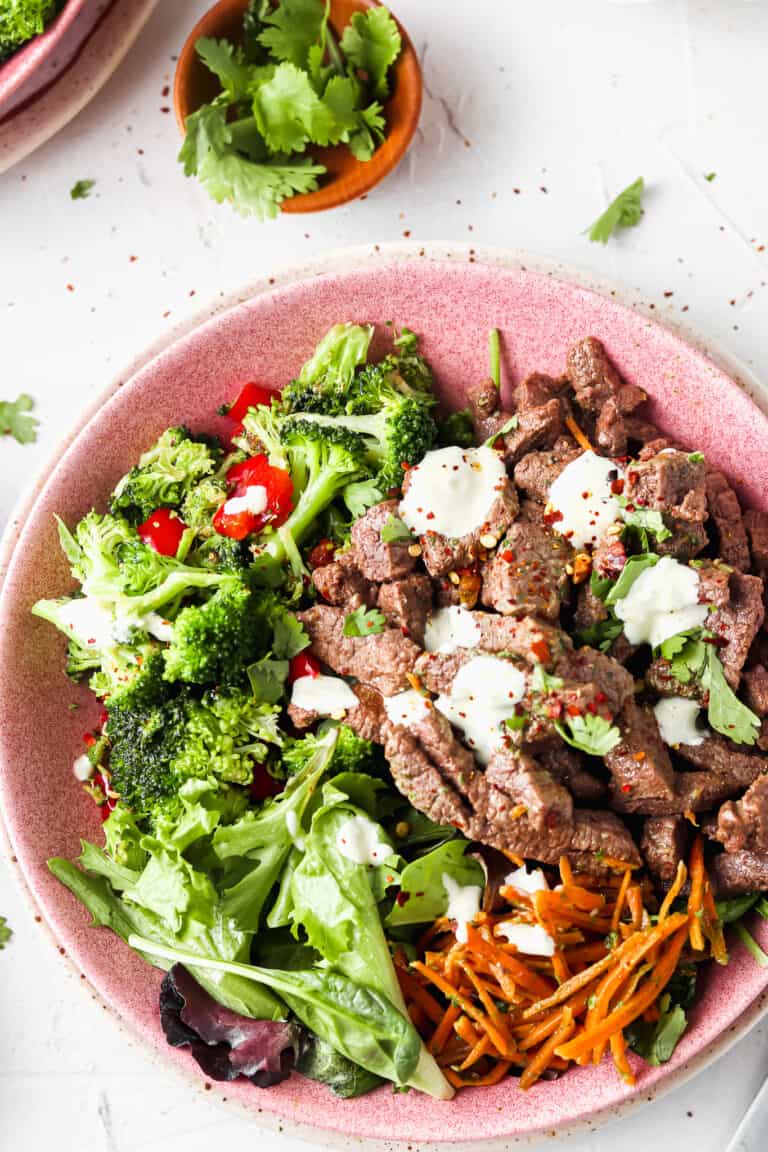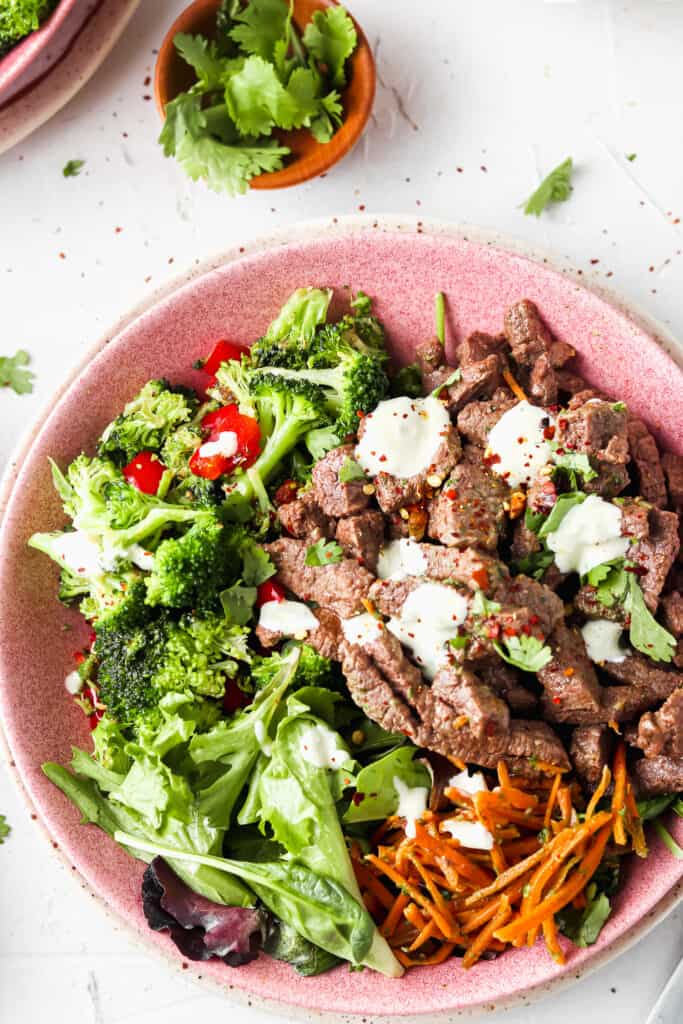 Whole30 Banh Mi Steak Bowl Ingredients 
For the steak and broccoli- 
Flank steak or stir fry steak- Sometimes some grocery stores have steak already shredded and labeled for a stir fry, but more often than not you will need to ask the butcher to shred it for you. Sometimes they will do it for you but other times they won't. If they won't do it for you, you can put it in your food processor for 30-60 seconds. This is the method I actually prefer because I find the pieces are smaller. 
The Chinese five- spice blend- You can find this in almost any grocery store, online or make your own. 
The coconut aminos act as a replacement for soy sauce. Coconut aminos are a staple in any paleo kitchen!
I like using the roasted sesame oil because it adds more flavor, but you can get away with using regular olive oil if you need to. 
Broccoli is one of my go-to veggies for all paleo bowls. You could sub this for cauliflower rice if desired.
The added roasted red peppers make all of the difference. If you would prefer to use fresh ingredients that you already have you can sub for fresh red pepper. 
The spicy ginger lime aioli-
In my years as a personal chef I have learned it is all about the sauce. Everyone loves a good sauce. I use avocado mayo as the base in the sauce. Avocado mayo vs. conventional mayo is a healthier option because of the different kinds of fats used.    
For the fresh ginger I use a zester. Ginger is a staple in many of my recipes because a tiny bit can add so much flavor.                                        
Lime and orange zest- I use the same zester that I use for the ginger to zest the lime and orange.        
The garlic adds a hint of flavor. 
The orange juice adds a nice kick. You can either cut an orange in half and squeeze it or use orange juice that does not contain any sugar. 
For the pickled carrots: (omit for keto)
I like buying already shredded carrots because it saves you a step. 
The apple cider vinegar "pickles" the carrots. 
The added red pepper flakes, garlic and cilantro are what gives these carrots a kick!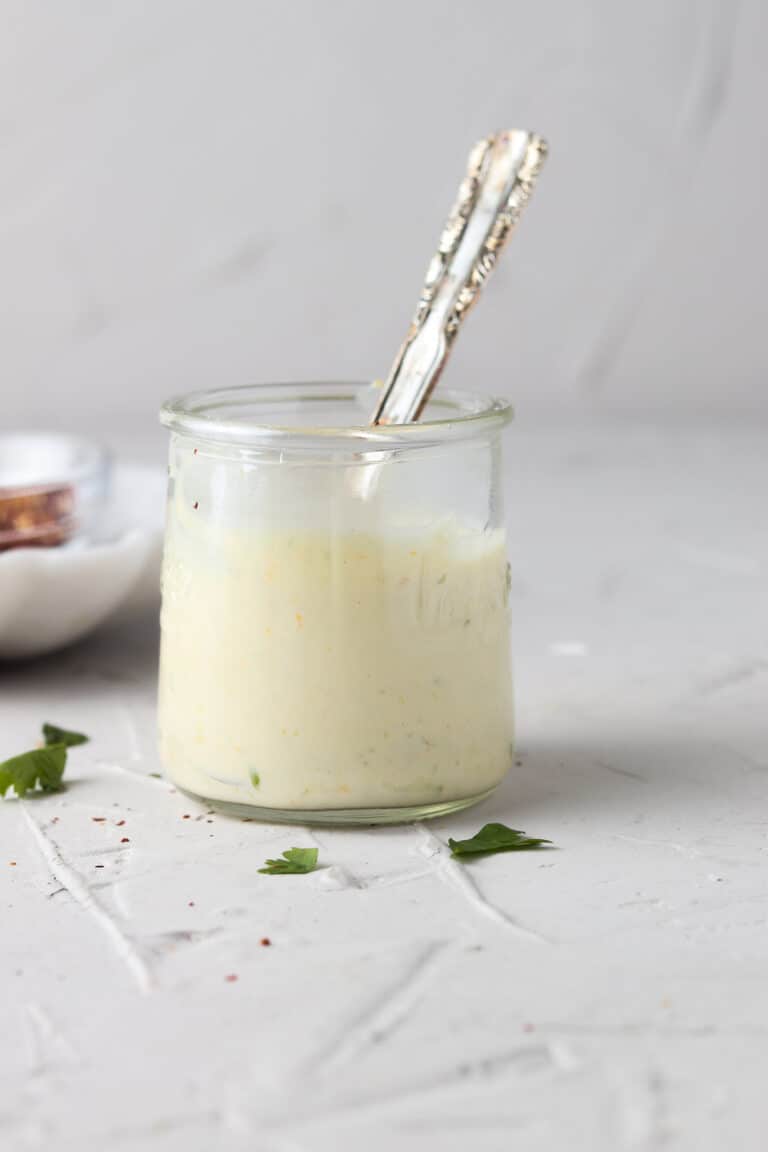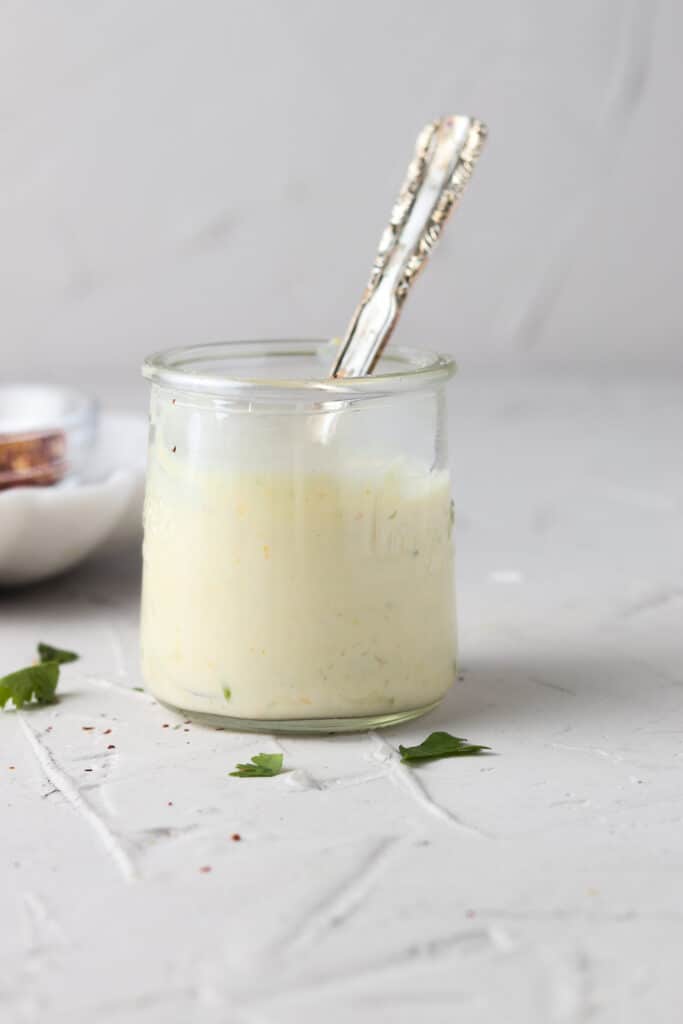 Spicy ginger-lime aioli- Place all ingredients a bowl and mix. You do not want to over-mix or it will separate the contents in the avocado mayo. As I mentioned above, I love using this zester. You can either use store bought OJ or make your own by squeezing the orange.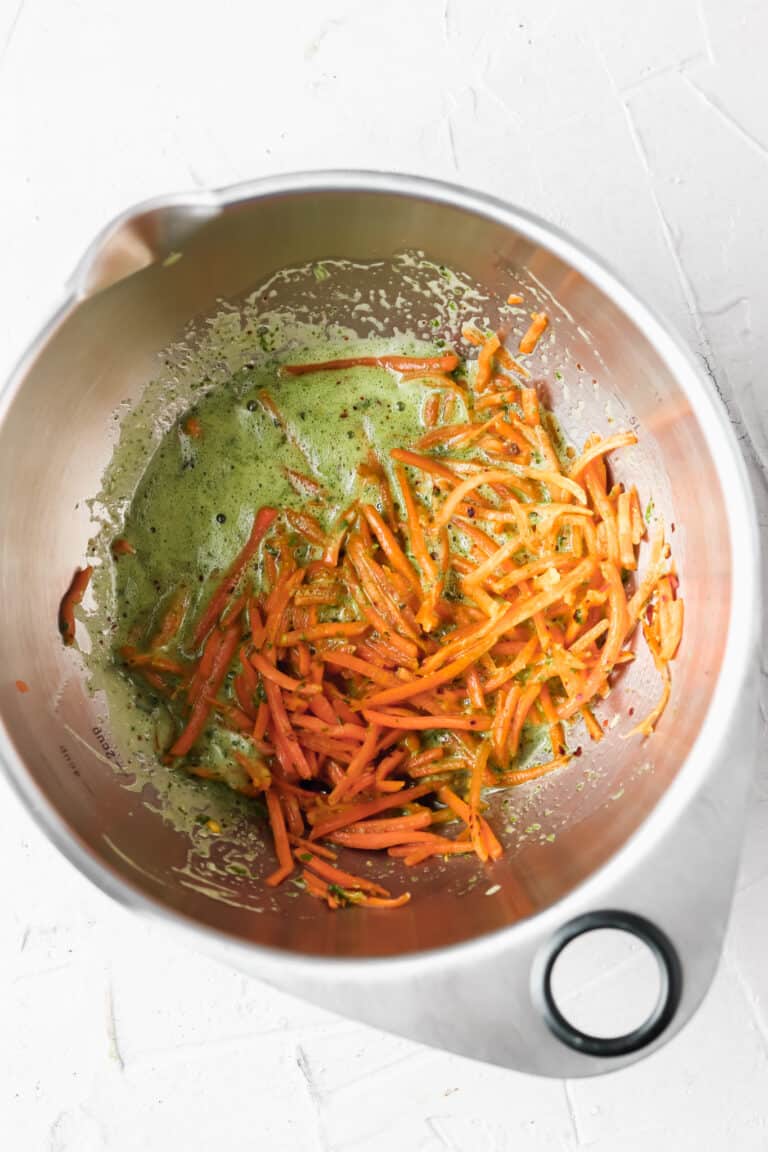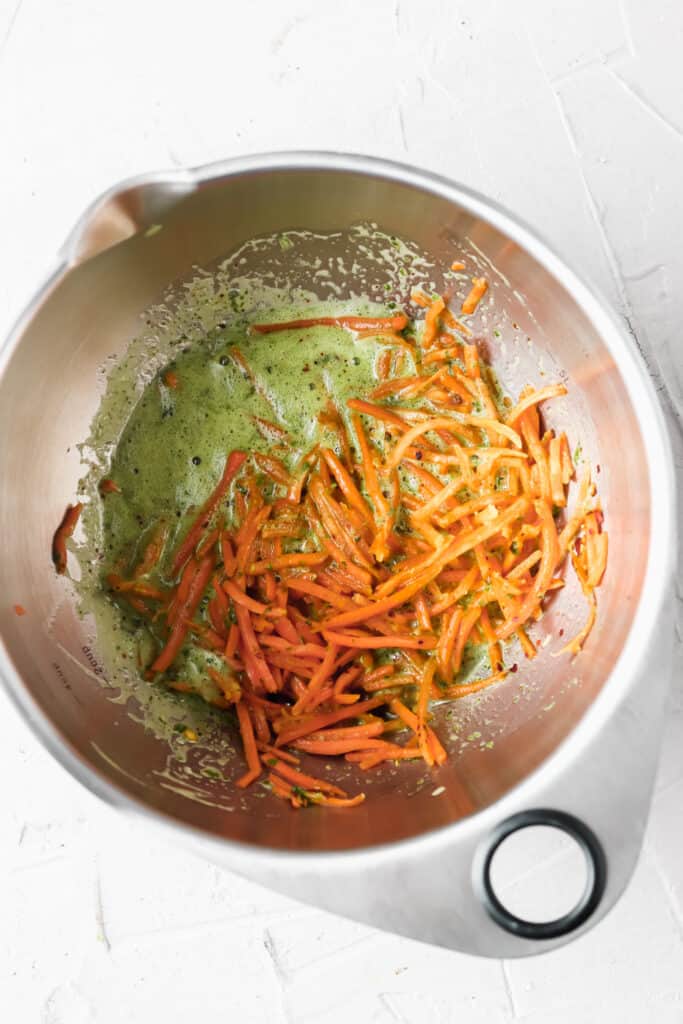 For the pickled carrots- Place all ingredients aside from the carrots themselves in either a ninja or food processor. Hit blend for 30 seconds. Once the marinate has blended add it to a bowl with the carrots and let it sit for 10 minutes to "pickle."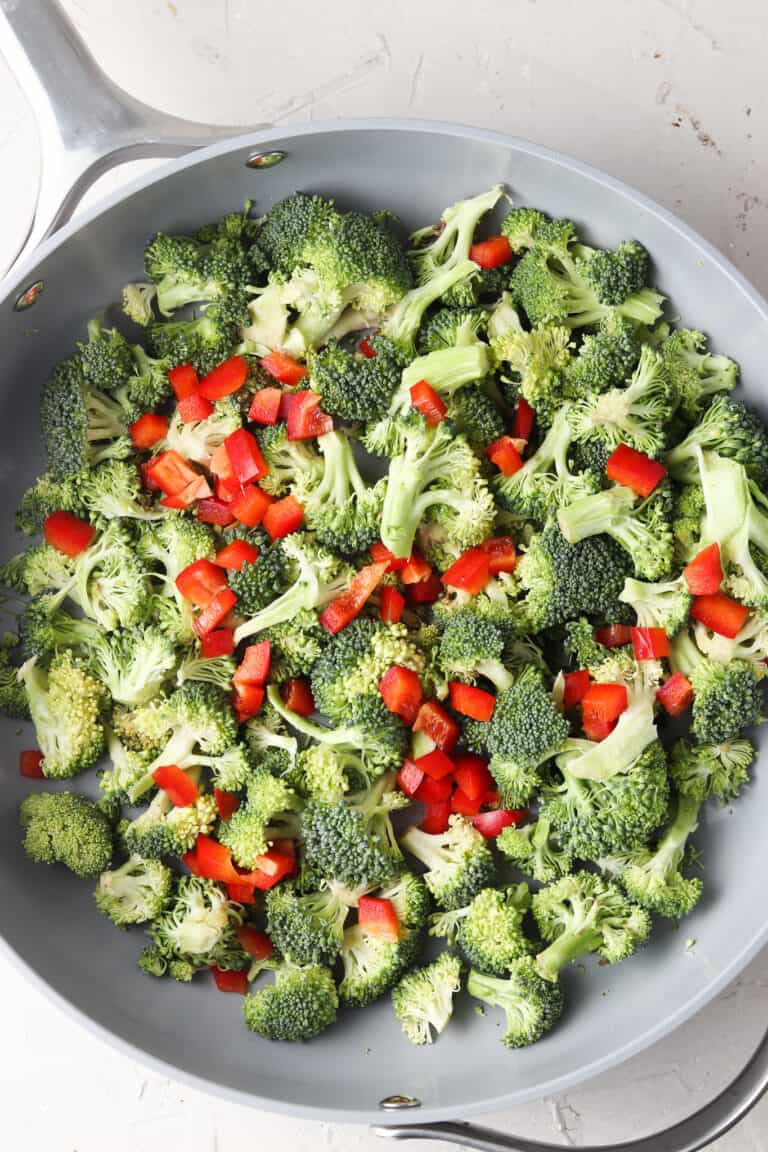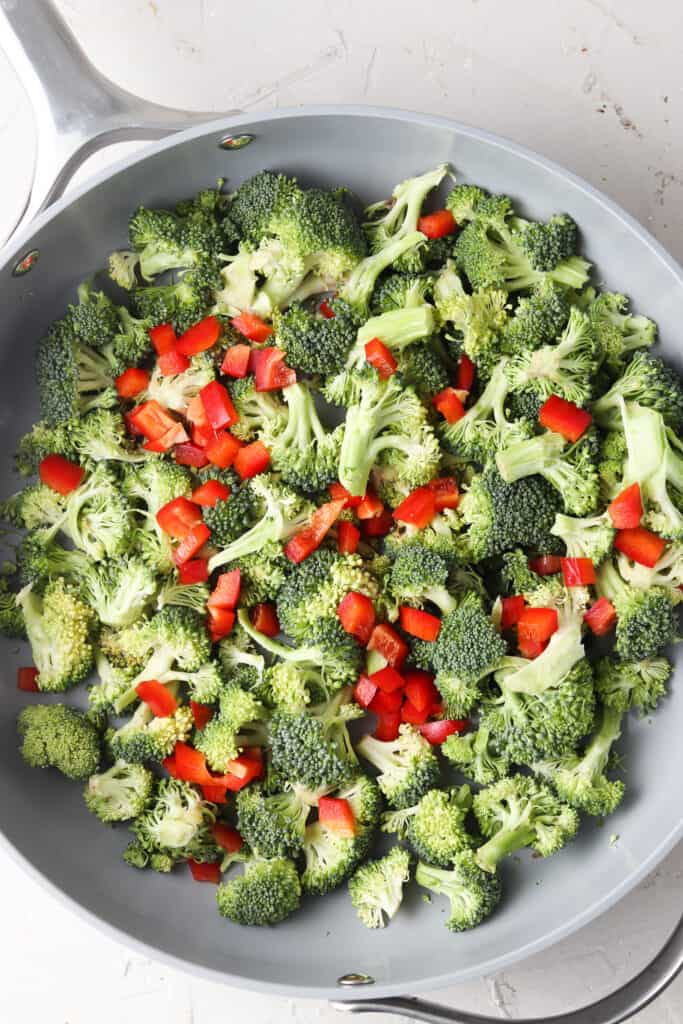 For the broccoli and roasted red peppers- Use 1 teaspoon of roasted sesame oil and sauté for 5-6 minutes. Then cook the steak second, giving it time to marinate.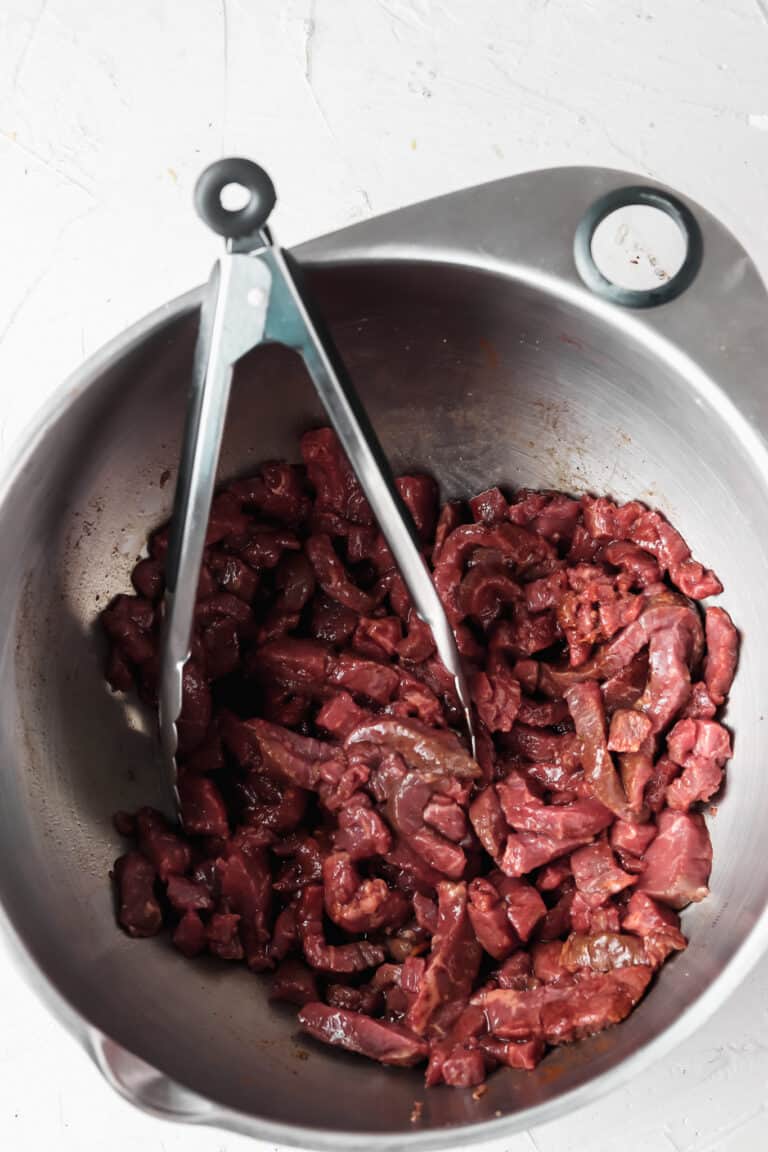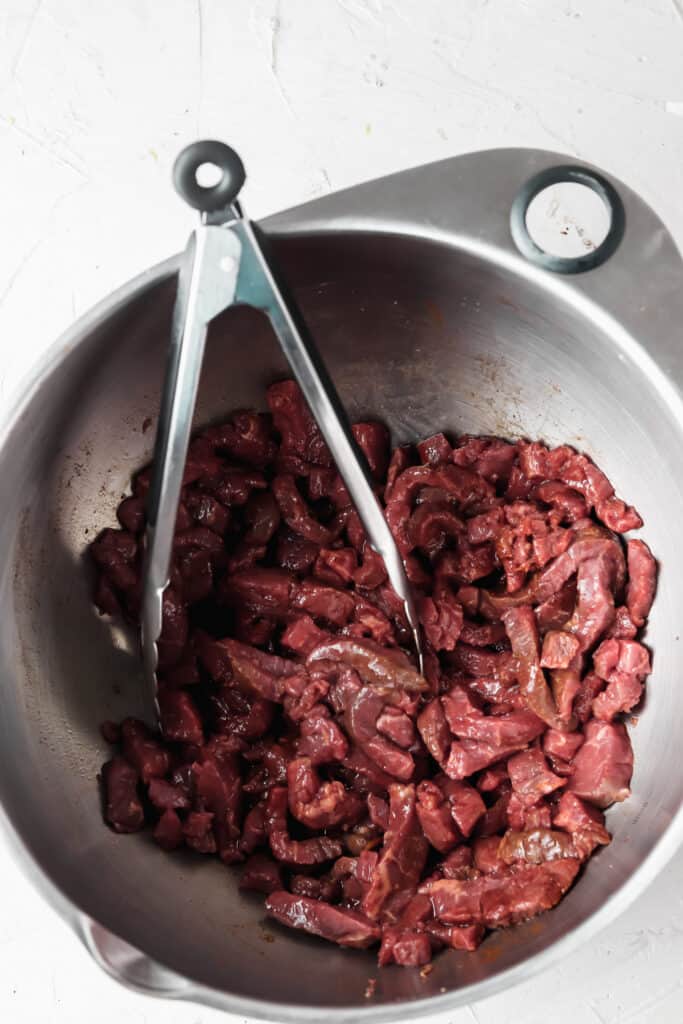 For the steak- It is important to let the steak sit and marinate. Place the spices and coconut aminos in a bowl and move around with tongs, be sure to let it sit for 10 minute before sautéing it. Sauté in 1 teaspoon of roasted sesame oil  for 5-6 minutes until steak is no longer pink and set aside.
Keywords: Whole30 steak, paleo steak, paleo bowls, paleo meal prep, whole30 meal prep, paleo Vietnamese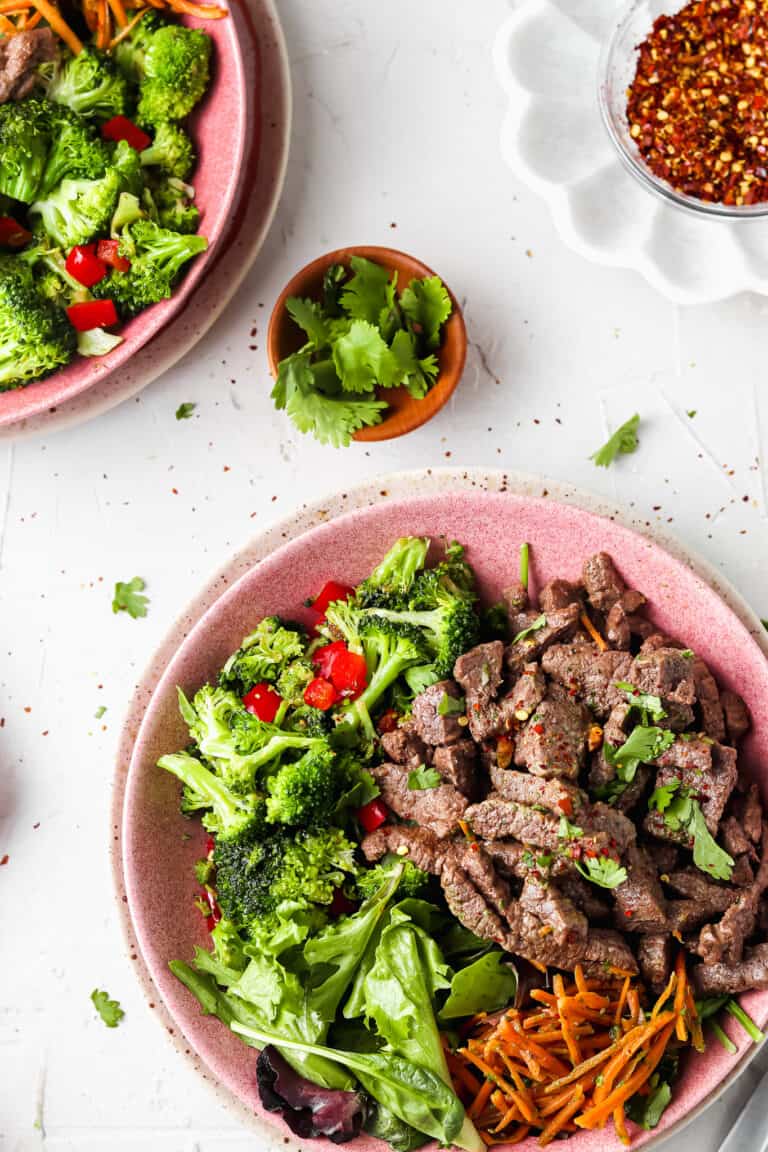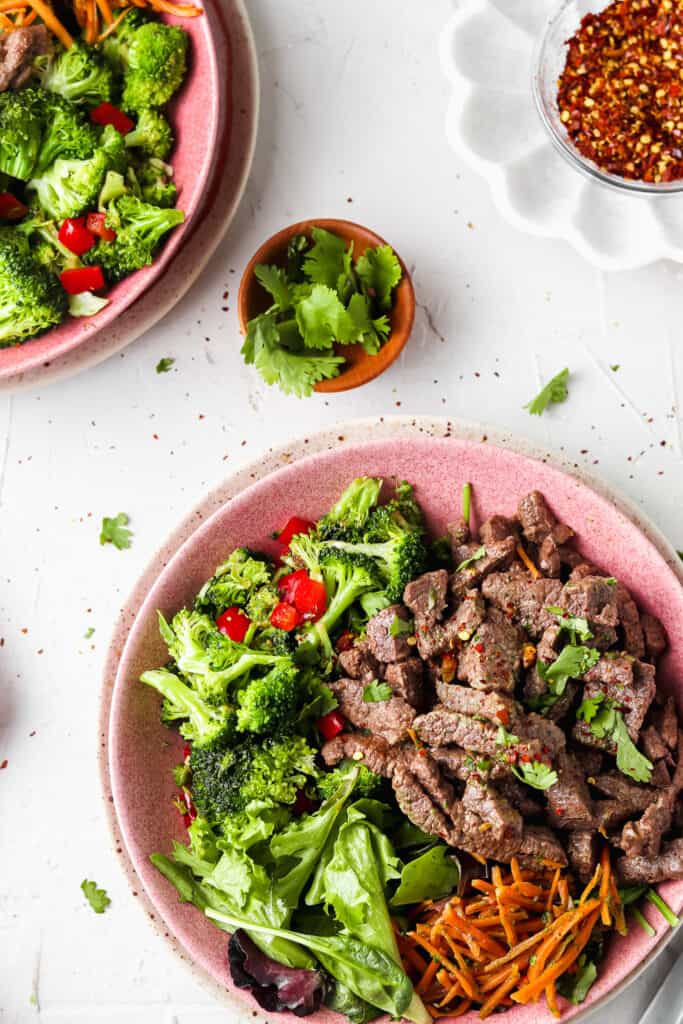 If you like this recipe, you will LOVE:
Acorn Squash Grape Apple Salad With Pumpkin Vinaigrette
SUBSCRIBE NOW
Join my online community for FREE and get a weekly newsletter from me.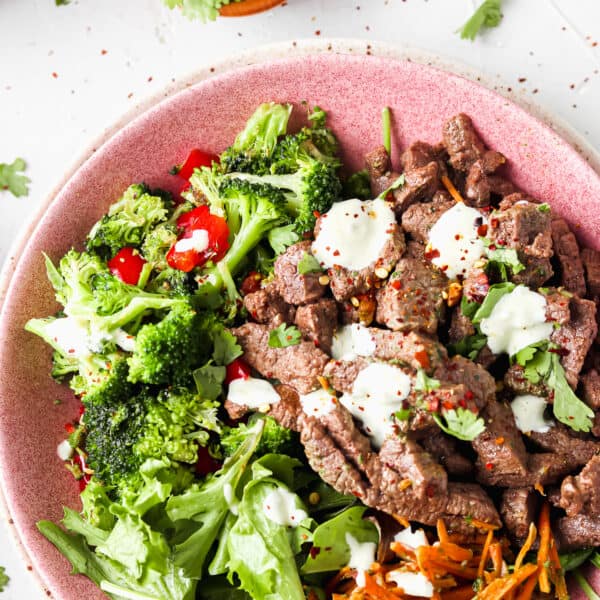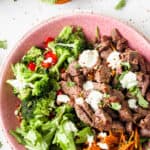 Paleo and Whole30 Steak Banh Mi Bowl
554
kcal
Print Recipe
Pin Recipe
Equipment
Non stick frying pan.

Ninja or food processor.
Ingredients
For the broccoli and red peppers:
1/2

cup

roasted red peppers

You can buy them in a a jar or you can use fresh red pepper if you would prefer. I like the jar ones for added flavor.

1

pound

broccoli

also about 1 head of broccoli

1

tsp

roasted sesame oil
Spicy ginger lime aioli
1/2

cup

avocado mayo

You can use regular mayo, but I prefer avocado mayo for the healthy fats.

1/2

tsp

lime zest

1/2

tsp

orange zest

1

tsp

fresh orange juice

You can just squeeze half of an orange.

1

tsp

freshly grated ginger

1

clove

garlic, minced

A

pinch

black pepper
Apple cider vinegar w/ cilantro carrot marinate (omit carrots if keto)
1/2

bunch

fresh cilantro

1

clove

garlic

1/4

tsp

red pepper flakes

1/2

cup

apple cider vinegar

1

cup

shredded carrots
OPTIONAL:
added greens (spring mix)
Instructions
For the pickled carrots:
Place the cilantro apple cider vinegar marinate ingredients (except the carrots) in the food processor.

Place the shredded carrots along with the marinate in a bow, mix, and set aside.
For the steak & broccoli:
Place the steak in the food processor for 30-60 seconds (skip this step if the butcher did it for you.)

Add the coconut aminos and spices to a bowl with the steak and allow to marinate for 10 minutes.

Cut the broccoli up into bite size pieces.

Heat up 1 tsp toasted sesame oil and then add the roasted red peppers and broccoli to the pan.

Stir for 5-6 minutes until the broccoli is tender.

Remove the broccoli from the pan.

Next, add the shaved steak to the pan with the remaining 1 tsp of roasted sesame oil.

Cook for 5-6 minutes or until the steak is no longer pink.
For the spicy ginger lime aioli:
Stir all ingredients together with a bowl.
To serve:
Add the broccoli, steak, and carrots to a bowl and serve with a side of the aioli. You can serve as is or over a bed of greens.

ENJOY! If you make this recipe I would love it if you shared the link to this recipe with a friend, left a comment below or tagged me on instagram with a picture @alliannaskitchen
Notes
You can refrigerate in an air tight container for up to 5 days. I like to keep the aioli separate, then drizzle before eating. 
Nutrition Facts
Paleo and Whole30 Steak Banh Mi Bowl
Amount Per Serving
Calories 554
Calories from Fat 243
% Daily Value*
Fat 27g42%
Cholesterol 136mg45%
Sodium 857mg37%
Potassium 1451mg41%
Carbohydrates 20g7%
Protein 54g108%
Vitamin A 8331IU167%
Vitamin C 151mg183%
Calcium 142mg14%
Iron 5mg28%
* Percent Daily Values are based on a 2000 calorie diet.